A backyard makeover can seem like an overwhelming endeavor. There are entertaining spaces to design, decks and patios to be built, landscaping to be planted. There are materials to choose, and you need to decide on patio furniture and lighting. And there are so many backyard ideas but you don't know which ones are right for your space.
A dreamy backyard transformation, though, does not have to be a nightmare. You can take advantage of the existing design to create your own backyard oasis.
Whether you have a deck, patio, or blank slate, thoughtful design and statement pieces can help you maximize the potential of your backyard. These homeowners took advantage of an existing deck and created an "addition" with a Master Spas swim spa. The style of installation and landscaping choices turned their backyard into an oasis.
This backyard can inspire your own outdoor transformation. These backyard ideas can help you create the ultimate outdoor retreat and relax in your backyard season after season.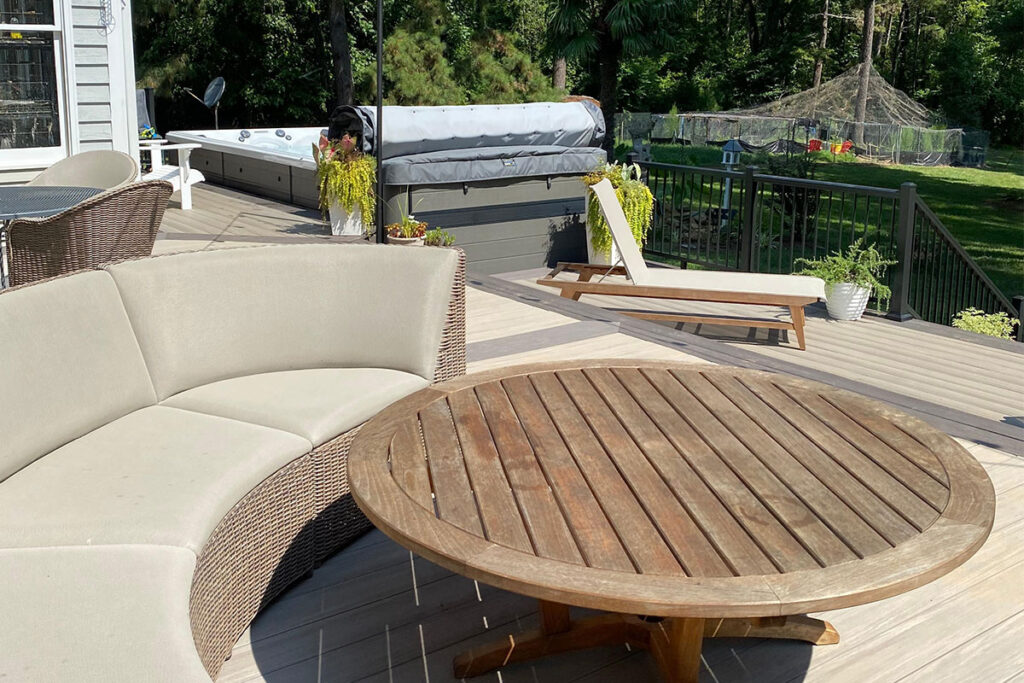 6 backyard ideas to upgrade your space
The best backyard is the one that you don't want to leave. It should be a place where you can get away from the stress and busyness of life and enjoy some fresh air.
When you are planning to upgrade your backyard, elements such as lounge furniture, water features, and landscaping can transform the space.
It's important to invest in pieces that not only suit your lifestyle but reflect your personal style.
Balance function and design
There are two things that make a furniture piece great — it's well-designed and it's functional. And this is especially true for outdoor furniture.
You want your deck or patio to look great. However, your patio tables, chairs, and lounges need to be able to hold up to the elements.
The homeowners chose resin furniture that has the appearance of wicker, as well as a wooden coffee table. These materials hold up to the UV rays of the sun, summer rain, and even winter snow.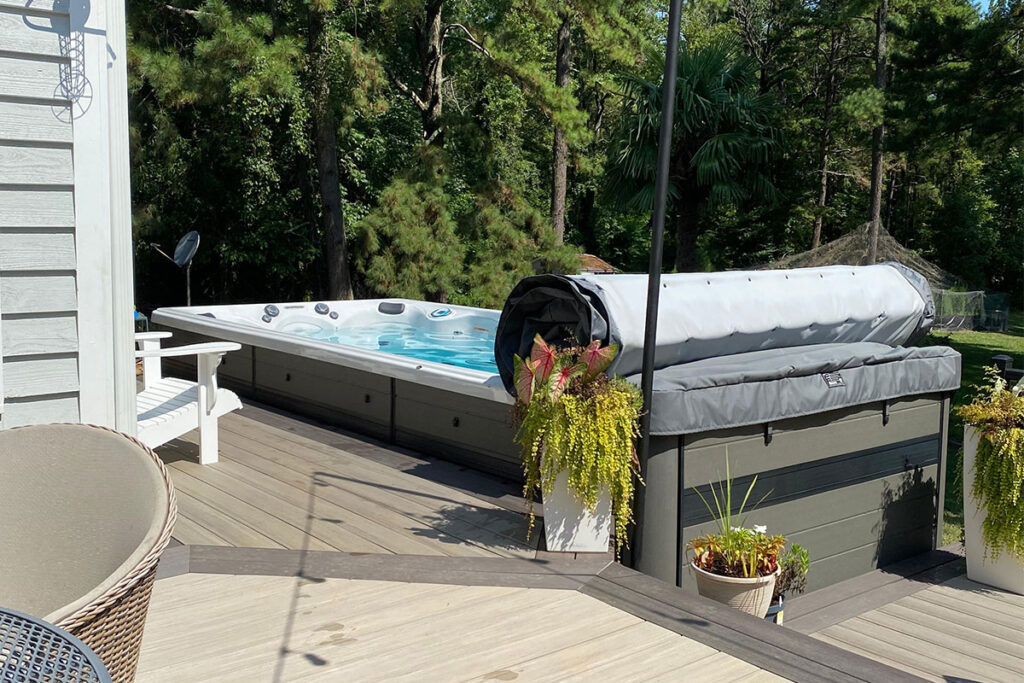 Outdoor lighting ideas
Your backyard is more than a place to enjoy a summer afternoon. It's a space to enjoy after the sun sets or on the short winter days. And, outdoor lighting is key to making the most of your backyard. Most homes have porch-style lighting on the exterior of the home, which adds ambiance and safety.
However, one of the most popular choices for backyard design are string lights. This style of outdoor lighting is because they are easy to install, affordable, and provide plenty of ambiance. They also come in a variety of designs to fit your personal style and home.
These homeowners chose to hang string lights over part of their deck, securing part of the set to the home and using poles to define the space. If you are concerned about connecting to a power outlet, there are battery-operated and solar-powered string light options.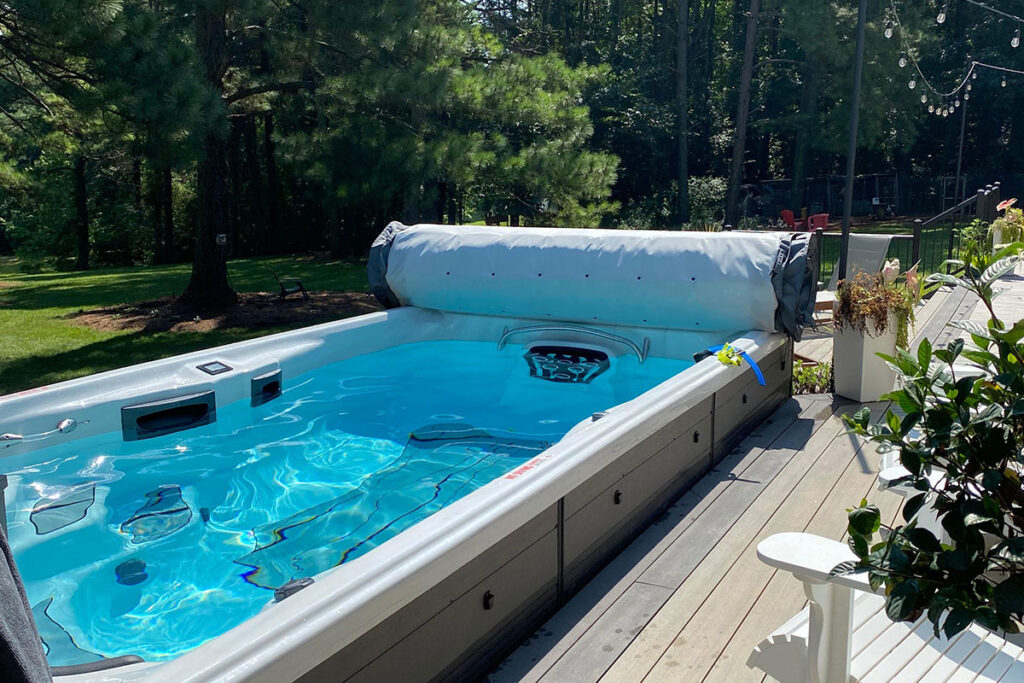 Incorporate a water feature
Do you want to make a statement in your backyard? Or, would you like your space to stand out from others in the neighborhood? Your landscaping and deck design can take you far in creating a stylish backyard space. But a backyard water feature can complete your backyard transformation.
A backyard water feature will not only add a soothing sound but creates a focal point. But these homeowners show that you can go beyond a fountain or small pond.
An H2X Fitness Swim Spa by Master Spas provides space to swim, play, and relax. The spa was installed next to the deck, which brings it into the existing entertaining area but did not require a major project.
What is a swim spa? It's an all-season pool alternative that can be used for swimming, exercise, recreation, and relaxation. H2X swim spas have a jet system that creates an endless current for stationary swimming. Plus, there are massage seats — just like a hot tub. They are designed to be used in all seasons in all climates so you never have to "close" up your pool.
The backyard also featured a slope, which some might see as a challenge. However, it was an opportunity to incorporate a swim spa where a pool would not have been possible. Depending on the size of your space, a swim spa can be placed so long as there is a level, stable foundation that can support the filled spa.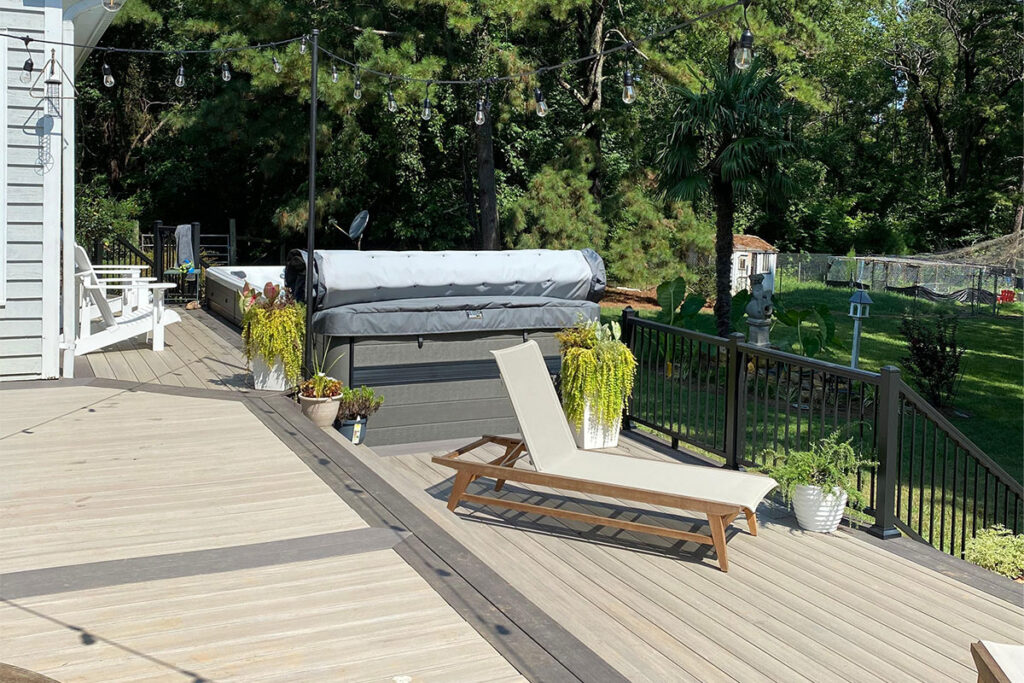 Lounge away
Every backyard needs a comfy spot to stretch out after a long day or curl up with a book. Patio couches with plenty of comfortable cushions will create an inviting space. A hammock, whether on a stand or strung up between two trees, can be a place to rest your eyes.
But if you are going to have a water feature, like a swim spa or pool, you need a place to dry off or take a break. These homeowners chose lounge chairs made of teak and a comfortable mesh. It's a simple yet chic look.
Personal style
Your backyard is your backyard. In the end, the design and features need to reflect what you love and how you want to use your spaces.
There are myriad ways to incorporate your personal style into your backyard, from furniture to flowers. One of the ways these homeowners added style to the space was incorporating planters with lush green ferns. In addition, there's a flower bed that borders the back of the swim spa. Bushes, boulders, and other natural elements add texture and color.
Privacy with mature trees
No matter how much you enjoy hanging out with your neighbors, sometimes you just want to enjoy a quiet night. Whether you are floating in the swim spa, around a fire pit, or just reading a book, you want the feeling that you are in a secret retreat.
Privacy is an important consideration when you are planning any kind of backyard update. There are many options for adding privacy, from temporary screens to permanent fencing.
These homeowners took advantage of existing trees to offer the feeling of privacy, especially near the swim spa.
But if you don't have trees on your property, you can incorporate evergreen bushes in containers and a living wall for a similar feel.
Create a backyard oasis
Are you ready to enjoy your own backyard oasis? Having a Master Spas swim spa at home invites you to relax and make the most of your backyard. Download our guide to creating a backyard oasis. Or, contact your local Master Spas retailer to learn more about swim spa ownership. Wondering how much a Master Spas swim spa costs? You can request a quote here.