Naughty or nice, the Elf on the Shelf has become a holiday tradition for many families. The sometimes mischievous helper moves from place to place throughout your home from December 1 to Christmas Eve. But it can be challenging to come up with new Elf on the Shelf Ideas each year. After all, how many times can he draw Minions on a bunch of bananas?
It's time to think outside the box — and outside the house. Make a splash this Christmas season by hiding your elf in one of the family's favorite spots, your Master Spas hot tub or swim spa.
These fun and easy Elf on the Shelf ideas that your kids will be so excited about that you make it on the nice list.
Your children will wake up excited, waiting to discover whether the elf has gone for a swim or is ready to take a day off from Santa's workshop and just relax.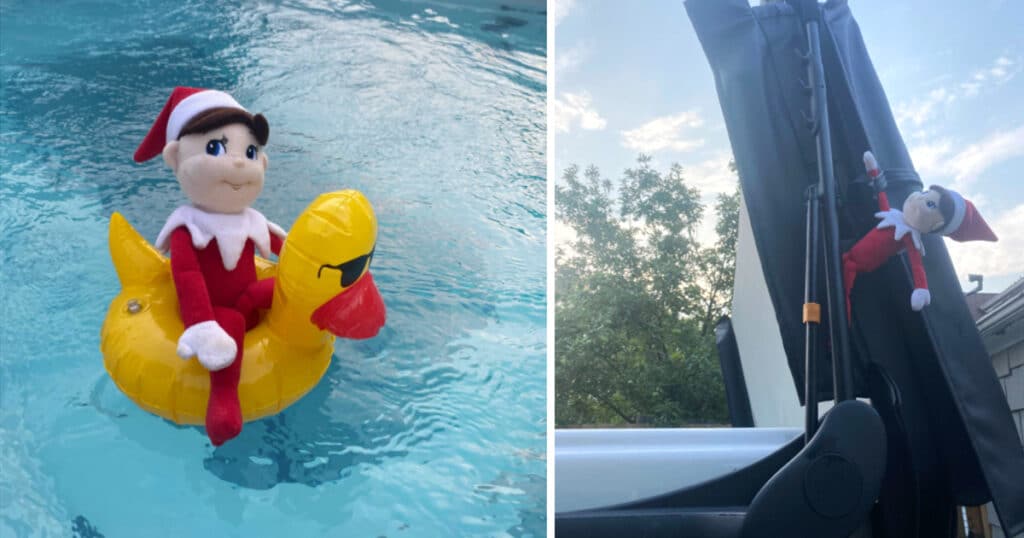 NEW, Creative Elf on the Shelf Ideas
Your Elf on the Shelf is making nighttime visits to keep an eye on your kiddos before Santa arrives. Just because the elf has a job to do, it doesn't mean he can't have fun.
Swim-Up Movie Theater
Set up your iPad to play your child's favorite holiday movie for an elf-sized swim-up viewing experience.
Elf on the Shelf Goes Tubing
Your elf might enjoy some winter sports like skiing and tubing. But with a Master Spas swim spa, you can savor the best of summer year-round. Set your elf to go tubing in the current of the swim spa. You can use a tether to attach the tube to the stainless-steel grab bar.
Under Cover
Part of the fun with Elf on the Shelf is when he gets himself into mischief. Move the elf so it looks like he tried to open up the swim spa cover but got stuck in the fold.
Under the Sea
Use a slip-on tail to turn your elf into a mermaid. She can be sitting on the side of the spa or relaxing on a float.
No Diving
There's no diving in a swim spa. But does your elf always follow the rules? You can use a diving board from a dollhouse to set up this Elf on the Shelf idea. The elf can go for a cannon ball or test his skills with a swan dive. Just be sure to print out a "No Diving" sign.
Spa Day
What's more relaxing than a day at the spa? Relaxing in a spa whenever you want. For this Elf on the Shelf idea, set up a cozy spot for the elf to kick up her feet and enjoy the waterfalls and LED lighting.
Pool Party
A swim spa can be a great place to swim solo or enjoy some peace and quiet. But the elf knows it's also the perfect spot to hang out with friends. He's sure to host at least one swim spa party over the holidays. Grab some action figures, stuffed animals, dolls — whatever you can find — and set up a party scene. The elf and his cadre of buddies can sit spa side or float on inflatable drink rafts.
Gone Fishing
Fishing for goldfish crackers? It's been done. Fishing for dive toys … well that's a new idea for your Elf on the Shelf. Find some dive toys in the shape of fish and fashion a pole for your elf.
Have a Ball
Part of the fun of a hot tub or swim spa is enjoying "the bubbles" that the jets create. But what happens when there's too many? It must mean the elf is up to no good! Putting actual bubbles in your spa is asking for a water care disaster. Instead, you can fill your spa with plastic balls (think ball pit). You can buy them in a rainbow of colors and use them for fun later.
Hanging Around
This easy Elf on the Shelf idea definitely falls into the "mischievous" category. While it will require some extra work, it's definitely with the effort. The mischievous little ones will especially love this elf on the shelf idea, and they'll be dying to know how he got up there.
Shark Attack
Shark Week is typically during the summer but that does not mean you can't unleash some surprise on your family. Create a transparent bridge using clear film with sharks floating underneath. You can also shark attack using an inflatable shark that will float on the surface of the water.
All Aboard
Skip "King of the World." Your Elf on the Shelf can be the king of the holiday season as captain of the SS Challenger. The elf can chart his own adventure as he navigates the high seas of your swims pa.
Spa Maintenance
It can be all fun and no work. Give your elf some "chores" and have him help with some of the spa maintenance. Whether it's using a skimmer or cleaning the skirting, your elf can help you with some of the tasks on your hot tub maintenance checklist.
Duck Race
Are your holidays just a little "quacky"? Well this fun Elf on the Shelf idea is for you! Gather up your team of ducks (or raft of ducks as they are also called) and have your elf host the ultimate Duck Race.