See the potential of your space with these small backyard hot tub ideas!
You have big dreams for your backyard. But your backyard? It's not so big. 
While it can feel like you need acres upon acres of green grass and gardens to create your dream backyard space, a small backyard is full of potential. You can create your own backyard oasis where you can dine outdoors, entertain friends, relax with a book, or soak in a hot tub.
From simple paver patios to a custom pergola, you can make the most of the space you have. These small backyard ideas will show you how you can incorporate a hot tub into your landscape design. You can choose a small hot tub to allow for more free space or make the spa the star with a larger model.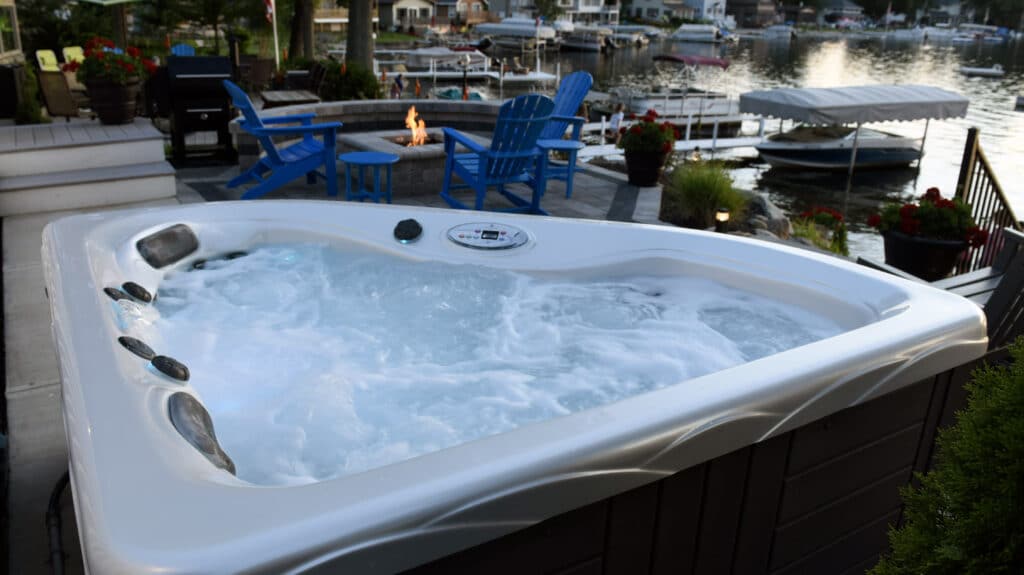 Small hot tubs
Hot tubs come in a variety of sizes. Some spas measuring 70 inches by 84 inches while others are 108 inches by 94 inches. Small hot tubs might seat two to three people. Large hot tubs are spacious enough for up to eight adults.
There are three standard hot tub sizes: 78 inches by 78 inches, 84 inches by 84 inches, and 94 inches by 94 inches.
While some hot tubs might have smaller dimensions, they do not have fewer features. Master Spas small hot tubs have LED lighting, water features, and unique jet patterns to target your problem areas.
Small hot tubs by Master Spas include the TS 240 corner hot tub,TS 67.25 hot tub, and Getaway Series Ocho Rios.
Small backyard hot tub ideas
Green oasis
This small hot tub is installed in a cozy nook of the homeowner's backyard. The overall is a lush look with plants for privacy, a wall covered in greenery, and a colorful garden. The spa is installed on a gravel pad with a deck surround. The owner also chose to incorporate an outdoor hot tub enclosure. The free-standing pergola has a metal roof to protect him from the elements while soaking.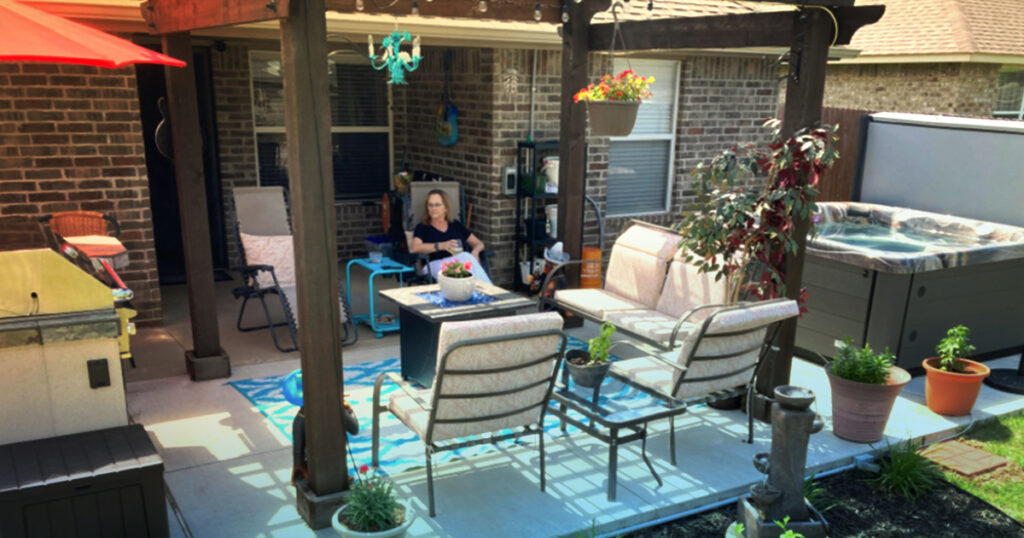 Ready to enjoy
The best backyard is one that you can enjoy day after day. The homeowners made their most of their small backyard with a hot tub and other landscape accessories. The hot tub was installed on a small patio, placed almost off to the side. There's plenty of seating with the outdoor patio set and lounge chairs. An outdoor bar is on the opposite side of the patio from the hot tub. Free-standing planters add color and texture, while a pergola creates shade on a hot summer day.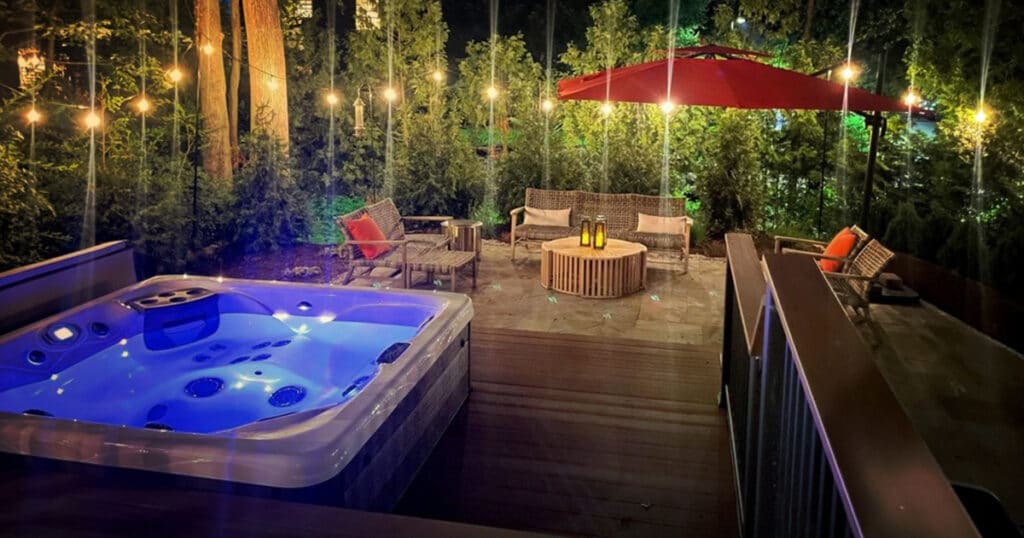 Level up
Creating an outdoor space that has changes in height not only creates a dramatic look but can maximize your small backyard. With a custom deck, unique stone patio, and modern outdoor furniture, this backyard is full of small outdoor hot tub ideas. The homeowners chose to install a small hot tub on the second level of the deck, even though there's room for a larger spa. The choice of small hot tub allows for more entertaining space and, on its own level, there's a dedicated zone for relaxation. Other features of this space include string lights, an off-set umbrella, outdoor lanterns, and a patio heater.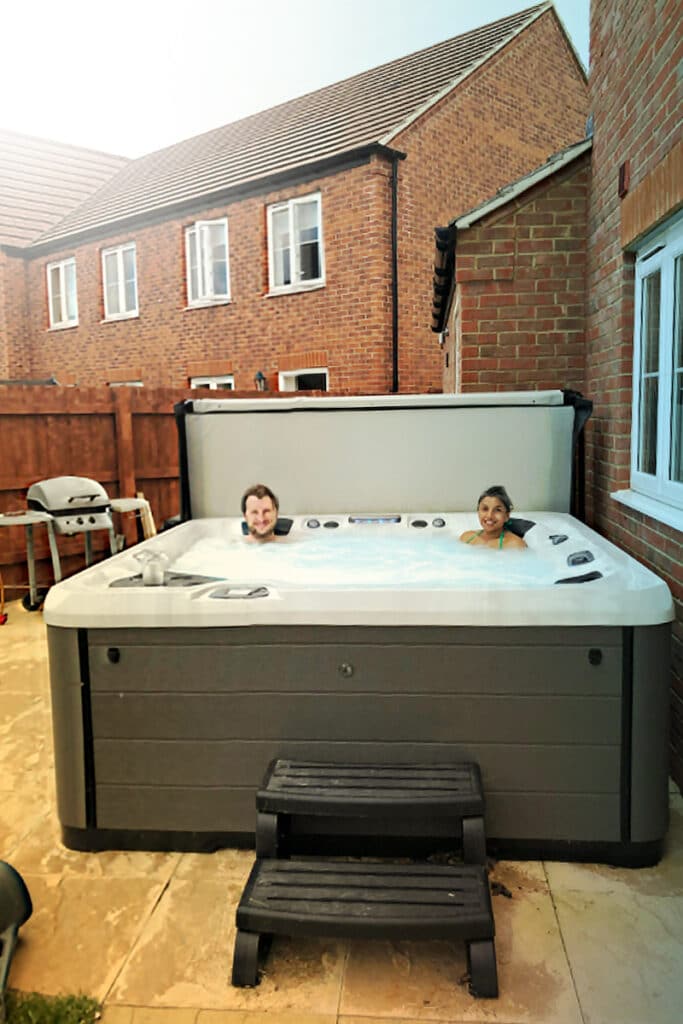 Urban sanctuary
City homes are not known for having spacious backyards and some have almost no backyard. But even with a small patio you can find a place for a hot tub. These homeowners have a small urban backyard with patio and a swath of grass. A small hot tub by Master Spas was the perfect fit into the yard. The homeowners had plenty of room for a grill, landscaping, and hanging out. A bonus: The hot tub cover adds to the privacy so the homeowners can soak in the peace and relaxation.
Discover how you can incorporate these small backyard hot tub ideas. Download the "5 Secrets to Creating your Perfect Backyard Oasis" guide.