You enjoy soaking in a hot tub, feeling the massage jets on your back. But your backyard does not seem big enough for a spa — at least the ones you have seen. But a small space does not mean that you cannot make room for relaxation and self care. Small hot tubs can be installed in a backyard with limited space, on a patio or balcony, or even indoors.
Small hot tubs allow you to enjoy the benefits of a hot tub without sacrificing your entire yard.
But just because a hot tub is smaller, it doesn't mean that it has fewer features. Master Spas has models designed for small spaces, including two-person and three-person hot tubs. These spas have plenty of jets, water features, the StressRelief Neck and Shoulder Seat, and the MasterForce™ Bio-Magnetic Therapy System.
What our customers are saying: "When our older model hot tub finally gave up, my wife and I decided to get a smaller hot tub. This hot tub is amazing — so comfortably laid out and it has the same pumps as the larger models so there is a lot of power there. Highly recommend it!" — Owen, Ontario, Canada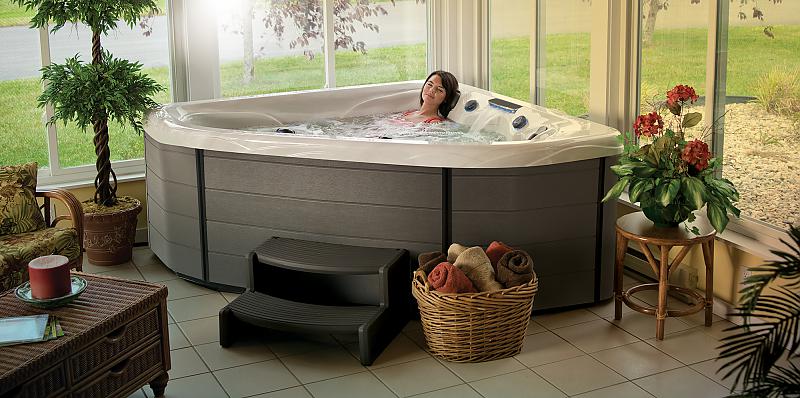 3 Hot Tubs for Small Spaces
Twilight Series TS 240 hot tub
This cozy corner hot tub is like the sports car of spas. It has all of the premium features that you expect out of a larger hot tub — just in a smaller package. The TS 240, which is a customer favorite, has the popular Master Blaster® Foot Therapy, a cascading waterfall, beautiful lighting, and a lounge seat.
BY THE NUMBERS
2-3 seating capacity
26 jets
205 gallons of water
78″ x 78″ x 34″ (dimensions)
Check out five-star hot tub reviews for the TS 240.
Twilight Series TS 67.25 hot tub
This petite spa is packed full of features including Master Blaster® Foot Therapy, cascading waterfall, and colorful lights. It's not only designed to fit small spaces but is also an ideal choice for smaller families.
BY THE NUMBERS
4-5 seating capacity
28 jets
245 gallons
70″ x 84″ x 34″ (dimensions)
Getaway Series Ocho Rios
This small hot tub is made from a lightweight, durable material that makes it easy to install and easy to enjoy. It's the perfect four-person hot tub for people who want a budget-friendly option. With space to relax on your own time, you can enjoy the LED lighting and massage jets.
BY THE NUMBERS
4 seats
17 jets
225 gallons of water
71″ x 87″ x 34″ (dimensions)
Indoor Hot Tubs: Considerations
Small hot tubs are often an option for people who want an indoor spa. But if you want to install an indoor hot tub, there are some things to think about.
First, you need to plan for ventilation and humidity control. When the hot tub is in use, considerable amounts of moisture are produced. This moisture can damage walls and ceiling surfaces over time. Check to make sure that your paint, wallpaper, and woodwork can withstand increased humidity levels. In most cases, an exhaust fan is needed. 
A floor drain is also important, as water can accumulate around the hot tub. For safety reasons, proper floor materials should be installed that are slip resistant when wet. 
For an indoor installation into an existing space, it is best to consult your local Master Spas dealerto determine the exact size of the opening needed to move the hot tub into the room.
Download our Backyard Planning Guide for more information.
Installing a Small Hot Tub Outdoors
A hot tub is a great addition to your backyard, and a smaller spa can easily fit on a deck, small patio, or even balcony.
However, you need to make sure your spa can support the filled hot tub. Remember, a hot tub can weigh several thousand pounce once it's filled with water — and people.
The recommended foundation is a reinforced concrete pad. Just because the tub is smaller doesn't mean you need less support!
But you can also use a brick or paver patio. Remember: The patio has to be properly level and have a layer of compacted pea gravel or sand.
If your patio is not level, the uneven surface can put stress or even damage the frame or shell of the hot tub.
A structural engineer or contractor should evaluate your structure if you want to put your hot tub on a deck.