"Mom, can I watch TV?" "Where's my phone?" "Can you unlock the Switch?" The requests to turn on screens can become an almost constant refrain in our house. And while my children enjoy riding bikes, playing catch, and building towers of Legos, it was all too easy for them to lose hours in front of the television. As a parent, it can feel like you need to create a diversion to get their attention — for even five minutes.
Spending time together as a family, though, is important. Children and parents alike thrive off of the support and love a family can provide. Family time can improve a child's self confidence and mental health. It also improves social and communication skills, while providing valuable bonding experiences.
In addition, excessive social media use is one of the biggest risk factors for loneliness, a study published in the American Journal of Health Promotion reports.
But how do you make space for those opportunities for family time? For our family of four, it was not taking things away or booking a vacation. It was adding to our family and home … with a Master Spas swim spa.
Our backyard: Before
Our city backyard was just the right size for the family. It was spacious enough for a playset and summer afternoon games of catch. Our two Siberian huskies could run around while we relaxed in patio chairs. However, it is not so big that we spend hours on lawn maintenance in the summer.
When we bought the house, we pictured hours on end in the backyard. Summer nights on the covered porch and fall days around a portable fire pit.
But the busyness of family life can make it challenging to find the time to bring those visions to life. We get caught up in all the things we need to do — errands to the home improvement store or quick trips to the grocery.
We found that we weren't getting the most out of the space and definitely not enjoying it as much as we could.
In northeast Indiana, when summer feels all too short, we weren't sure how to maximize the potential of our backyard.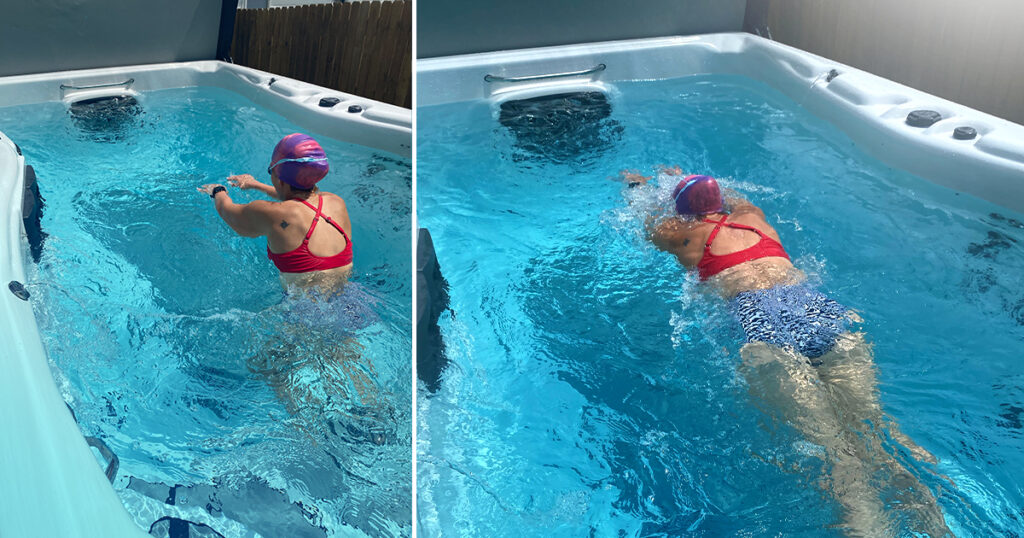 Making a splash
An H2X Challenger 15D was supposed to make my life easier. Training for my first half-distance triathlon, I was tired of trying to schedule a time at the nearby high school pool. The water always felt too cold and, inevitably, I would spot a bandage or other debris on the bottom as I swam lap after lap. A swim spa would help me balance my training with work and family.
The 15-foot swim spa seemed like the perfect size for our lifestyle and backyard. I would have plenty of room to swim while my boys could still play catch.
My husband and I knew the kids would hop in from time to time. However, we were surprised by how much it changed our family life and exponentially increased how much time we spent together as a family.
In the summer months, our boys enjoyed hopping in the water after playing catch. They could play with pool noodles and water toys. The boys also enjoyed turning on the swim current and having it push them to the back of the spa. Friends would come over, and the kids would play for hours in the water — never once asking to go inside and play video games.
But more than that, they loved to have my husband and me in the spa with them. We could play fun games or toss them into the air, catching them just as they splashed in the water. They were even happy to sit in the therapy seats while I was swimming, anxiously waiting for me to wrap up my sets.
Swim spas in the winter
By Labor Day, most homeowners in Indiana are beginning to close up their pools for the season. But we knew that we planned to continue to use our swim spa throughout the winter.
The H2X Challenger 15D swim spa is fully insulated and can maintain a comfortable water temperature. While I was in the off season, I could continue swimming regularly — working on my form and doing shorter, faster swims. We could turn up the temperature to soak on a winter night. Holiday stress? Say goodbye!
But my husband and I weren't sure that the swim spa would hold the same allure for the kids during the winter. It's easy to settle into a routine of screens, blocks, and books when the weather is cold. They could easily say they didn't want to go outside because "it's too cold."
Kids are curious, though. If Mom and Dad are relaxing in the swim spa on a regular basis, they want to see what all the "fuss" is about. Soon, we saw little boys in swim trunks darting from the back door to the spa steps.
They loved the warm water and trying out the jets in the seats, especially after dinner. With the slower pace and relaxing atmosphere, they spoke more freely and were more apt to tell us about their days.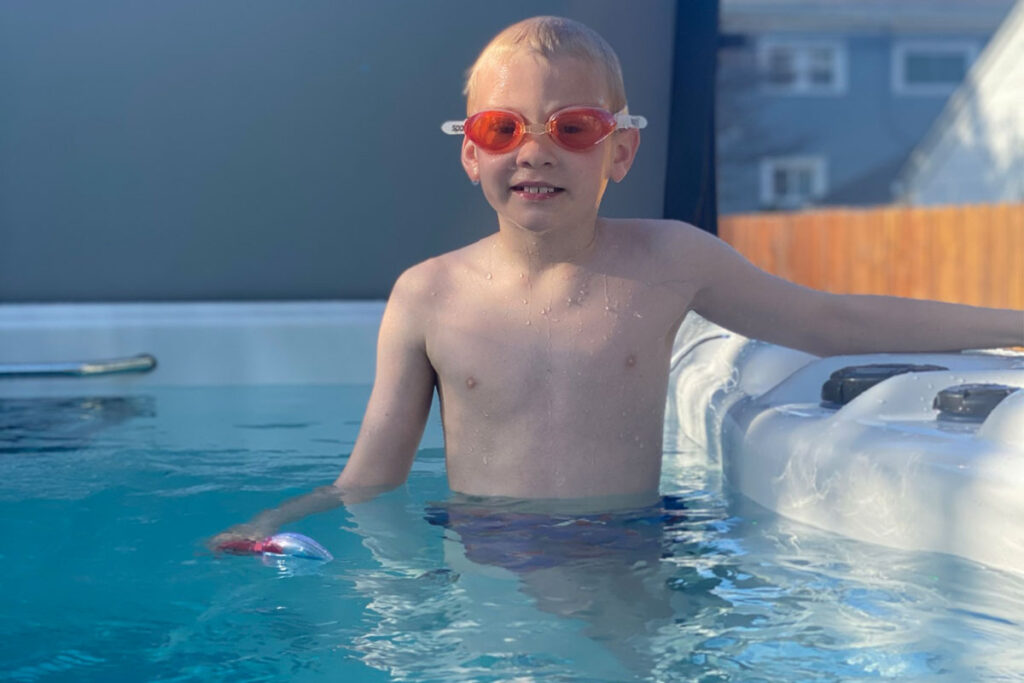 Family time ideas for the swim spa
No matter how much children love the swim spa, there are times that you might have to do more convincing to turn off the screens.
The key to getting kids into the swim spa is making sure that it's fun and without expectations. You could incorporate games, challenges, and other activities into your swim spa time.
If you are looking for family time ideas in the swim spa, here are some fun ways to spend time:
Rowing challenge. Master Spas swim spas come with exercise equipment, including rowing bars. Adults can use the rowing bars as part of a circuit workout to strengthen the upper body. But you can also challenge the kids to a rowing contest. See how long they can row and whoever rows the longest wins a prize.
Swimming challenge. Do you have kids who love to swim? Have them test their speed or endurance against the swim spa current. Choose a speed and the kids swim as long as they can against that speed. Parents can even take part, and the kids are sure to love going head-to-head with (and maybe beating) Mom and Dad.
New skill challenge. Swim lessons are one of the best ways to encourage water safety. Your kids can participate in private swim lessons with a swim spa. In between lessons, you can challenge your kids to learn a new skill. Maybe they try to float on their back, blow bubbles in the water, or even swim the butterfly stroke like Michael Phelps.
Better family time awaits
Are you ready to enjoy more time as a family? Having a Master Spas swim spa at home makes it easy and fun to spend time with family and friends. You can click here to find out more about how the whole family can enjoy a swim spa. Or, contact your local Master Spas retailer to learn more about swim spa ownership. Wondering how much a Master Spas swim spa costs? You can request a quote here.