One of the first hot tubs to come off the Master Spas production line had 36 jets. It was a lot of jets compared to the first hot tubs that had just a handful. But fast forward 25 years, and 36 hot tub jets might not seem like a lot.
When you are shopping for the best hot tub, the number of jets is one of the features that you look at. After all, the spa massage is one of the things that many people look forward to when making the investment.
But if you are comparing hot tubs solely on the number of jets, you might be surprised to discover that more isn't always better. From the location of the jets to the hot tub pump, there are a number of factors that play a role in your spa massage.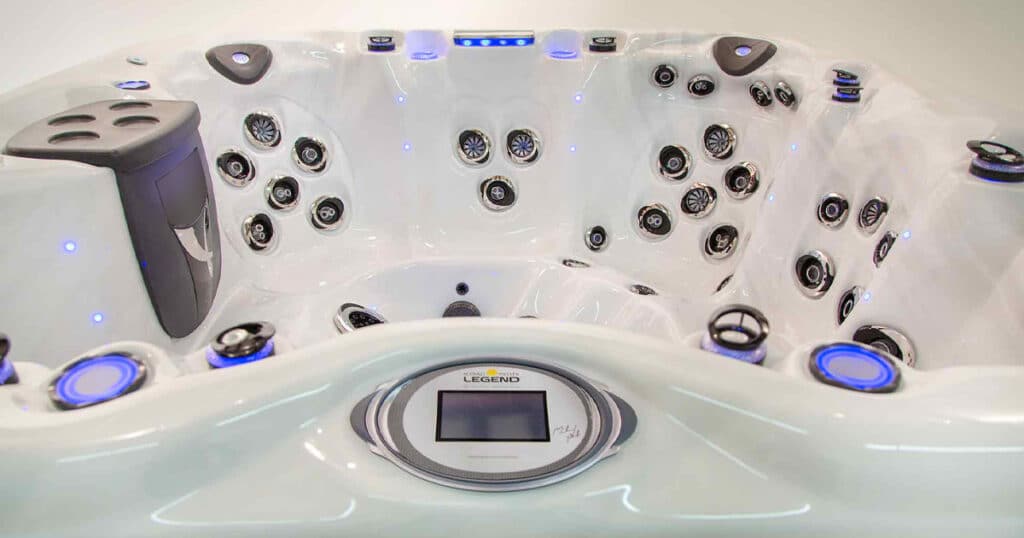 Hot tub jets
Hydrotherapy "is the use of water in the treatment of different conditions, including arthritis and related rheumatic complaints." [source] With a hot tub, the benefits of hydrotherapy are multiplied with the addition of jets.
A massage-like effect is created when water and air are pushed out of the jets. The pressure of the water is controlled by settings on the control panel and adjusting the diverters.
A hot tub's design, the location of the jets, the type of jet, and the pumps should be factored in just as much as the number of jets the hot tub has.
Types of jets
There's not just one type of hot tub jet. There are larger jets that have multiple nozzles, while others are positioned out of the water. Some hot tub jets rotate while others create a whirlpool effect. You might not notice the difference when looking at the spa but you will when you are soaking in the water.
Many Master Spas hot tubs feature a combination of pulsating, rotating, and directional jets. The flow of water depends on the jet and delivers a different sensation. A deep tissue jet feels akin to a thumb manipulating the muscle. The spinner jet feels like a hand squeezing. The smaller jet might feel like a palm.
Many jets in Master Spas hot tubs are adjustable and can be directed at your trouble areas. Another feature in some models is the ability to interchange jets so that you can customize your massage.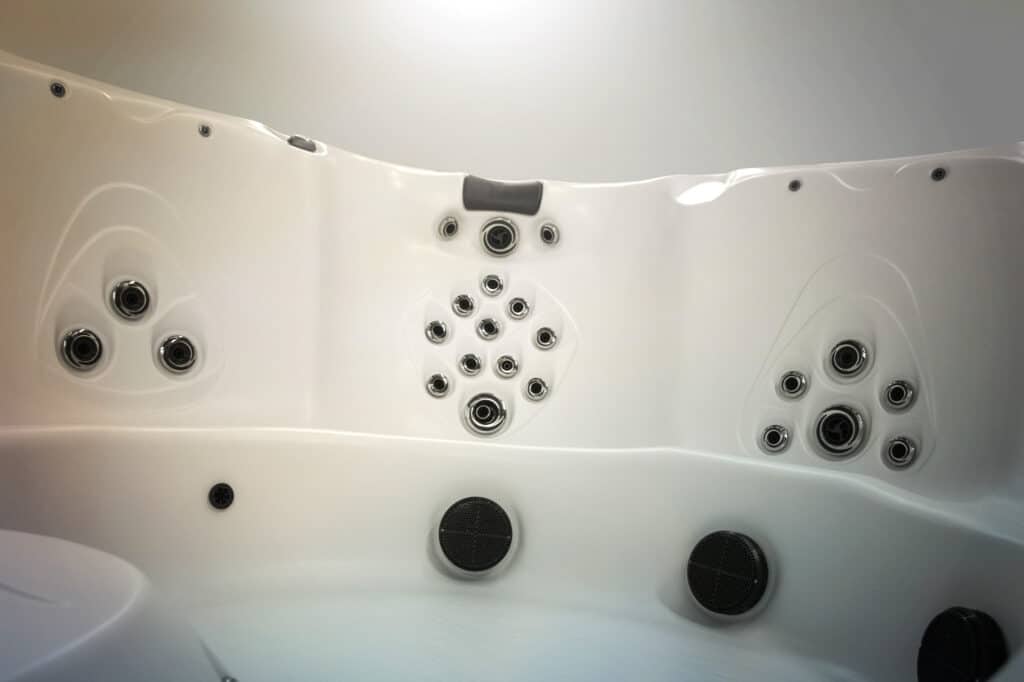 Jet placement
Some hot tub seats have just three jets while others might have six, or even 20. The Master Blaster foot therapy jets have 14 individual nozzles, while a lounge seat targets calves and things.
When you are searching for the best hot tub, it's important to consider where you seek relief. Do you carry a lot of tension in your neck and shoulders? Or, do you suffer from low back pain? Some people who have physical jobs might have sore legs and feet.
Consider how you will use the spa and the benefits you want to see. Then, look at the placement of the jets to see which model will best aid your discomfort.
Master Spas hot tubs feature a variety of jet arrangements, with each seat providing a different experience. You can target different areas simply by moving from seat to seat or seat to hot tub lounge.
Hot tub pumps
No matter how many jets your hot tub has, your hot tub can only create so many "bubbles." Why? The power and flow of water depends entirely on the quality and number of the spa pumps, as well as the plumbing design.
Hot tubs can have one pump or up to three. When you are looking at the model specifications, consider the size of the hot tub and number of jets. A smaller spa with fewer jets can still deliver a powerful massage with one or two pumps. Comparatively, a hot tub with a lot of jets and the same number of pumps might not have the power you want.
Master Spas hot tubs are designed to maximize the flow of water — and air — through the jets.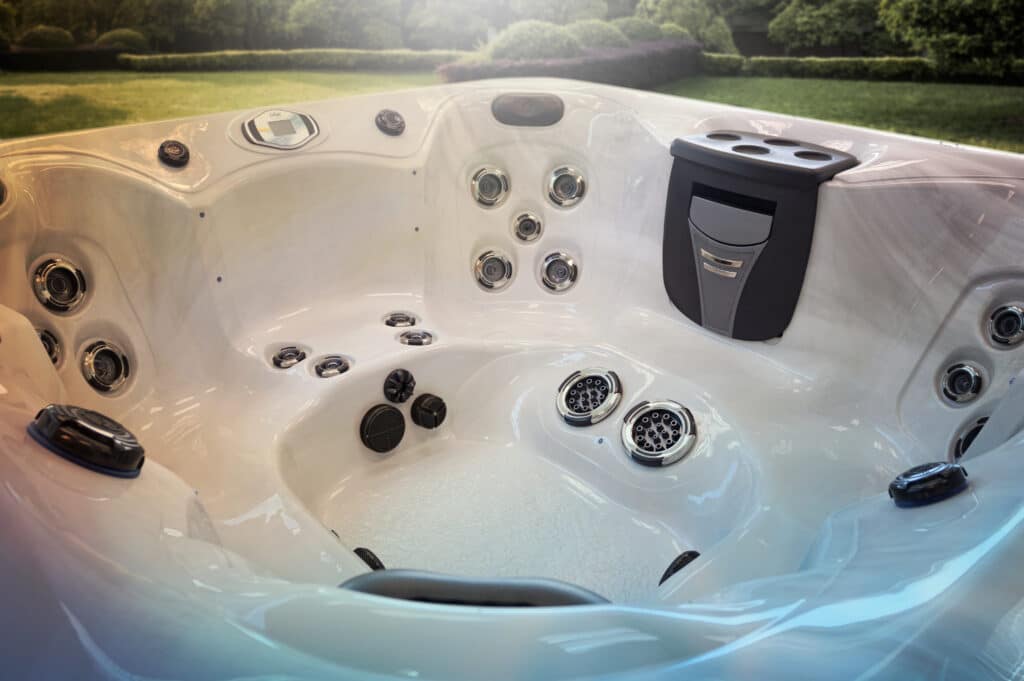 How many jets should a hot tub have?
The saying that "a number is just a number" applies to more than just your age. When you are shopping for a hot tub, there's more to consider than the number of jets.
But if you want an answer to "how many jets should a hot tub have?", you should look at how many jets there are per seat. You can also consider the jet to pump ratio.
For example, the Michael Phelps LSX 900 has 72 jets and three pumps. The jet to pump ratio is 24:1. The Twilight Series TS 8.2, one of the best-selling Master Spas hot tubs, has 44 jets and 2 pumps. The jet to pump ratio is similar to the LSX 900 at 22:1.
At-home relaxation awaits
Whether you want a spot to soak and relax or take advantage of the "bubbles," a Master Spas hot tub creates a relaxing home oasis. You can click here to learn more about the benefits of hydrotherapy. Or, contact your local Master Spas retailer to learn more about hot tub ownership. Wondering how much a Master Spas hot tub costs? You can request a quote here.