Retirement. It feels as if you worked your entire life for this moment. It's an exciting milestone — no more morning alarms, no more meetings. You no longer start a Monday with dozens of emails. You don't have to call in sick or request vacation. Your days now belong to you.
But what should you do during your retirement? You might be looking forward to traveling, spending more time with family, or volunteering with an organization close to your heart. Or, maybe you are looking forward to just spending more time at home.
Some people choose to downsize during retirement while others might want to make updates. Home projects can help make your home a place that you love to be and allow you to "age in place" safely.
It's not just about creating a main floor master suite or installing an easy-to-use shower. Your outdoor living space is just as important as your indoor living space. Whether you want to create a yard with minimal maintenance or want to be able to relax, you can design a backyard ideal for retirement.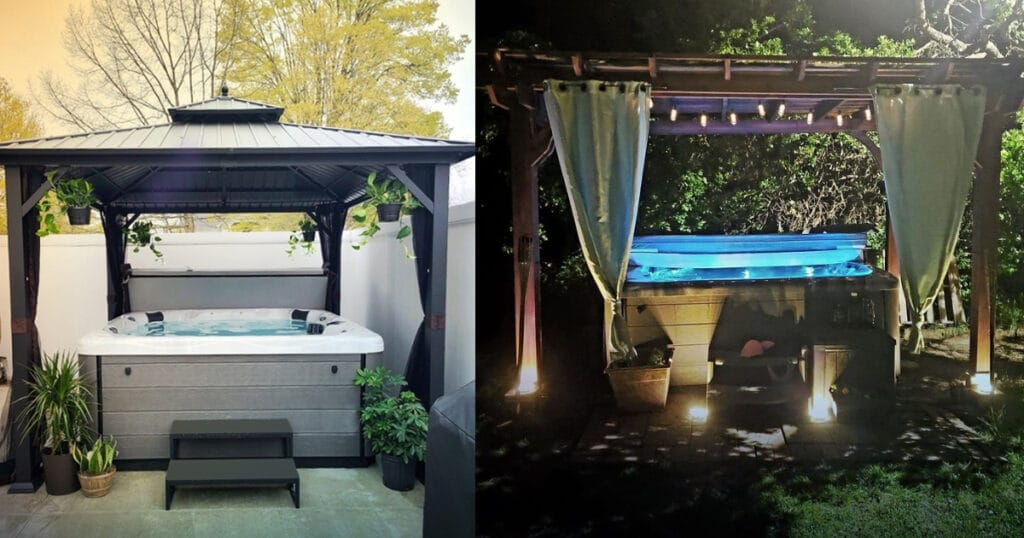 Backyard ideas for retirement living
The average American spends 90,000 hours of their lives working. Once you retire, though, you can spend your time how you wanted.
While you might want to travel or spend time outside the home, you need a comfortable space to unwind and relax. What better place than your own backyard?!
Design for shade and comfort
Backyard design is not just about creating spaces for basking in the sunlight. Incorporating shade is important, too. Shade offers a space to cool off on the hottest of summer days. It can also protect you from the harmful UV rays. Why does this matter? As you age, you might find that you overheat more quickly or are more sensitive to sunburn.
And, if you have a four-legged companion in retirement, your pet will appreciate a place to relax in the summer.
From patio umbrellas to custom pergolas, there are so many stylish and functional ways to add shade to your backyard. You can also get creative and drape fabric over a pergola or go traditional with an awning.
Related post: Shade sails for your backyard swim spa
Climate control
A well designed outdoor space will draw you to spend more time outdoors. Enjoy your coffee on the patio on a crisp fall morning. Spend summer nights with friends. But if you get too chilly or feel too warm, you can't just walk over to the thermostat to adjust the temperature.
However, there are ways to make the temperature of your outdoor living space more comfortable. And this is especially important as you enjoy your backyard throughout retirement.
If you have a covered patio or pergola, a ceiling fan will circulate air and make hot summer days more comfortable. Propane heaters can be positioned around your space to keep you warm. Fire pits are also a popular way to incorporate a heat element into a backyard design.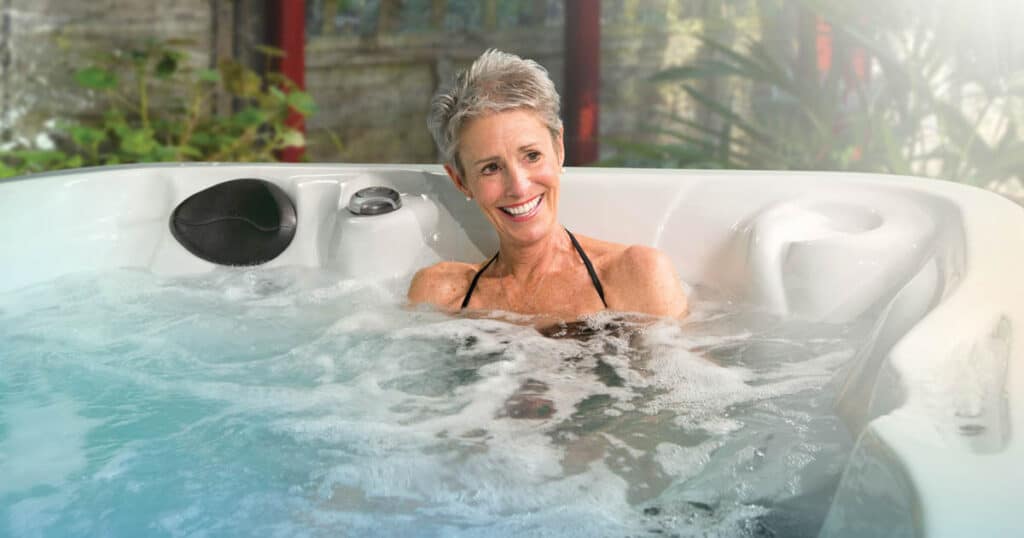 Rest and relax
After spending decades in the workforce, you might be ready for some well-deserved relaxation. Soaking in a Master Spas hot tub can offer just the relief and rest you are looking for.
Just picture it: What better way to spend retirement than soaking in the evening, when you know you don't have to set an alarm? Or, taking advantage of your spa in the morning, without the hassle of the morning commute?
Research shows that immersing yourself in warm water can reduce stress, ease anxiety, help you sleep better, and more. More than that, the warm water and massage jets can help you manage the aches and pains that are all too common with getting older. Hot tubs can also be used to manage chronic conditions like low back pain, arthritis, and fibromyalgia.
But you might discover that your hot tub gets more use than just those soothing soaks. Master Spas owner Judy says her spa is "the best decision I could have made. I use my hot tub every day, and my grandkids think it's awesome!"
Outdoor seating considerations
The best outdoor furniture will transform your patio into a living space. From cozy couches to dining tables, quality and functional furniture creates a space that's inviting and comfortable.
If you are updating your outdoor furniture as you head into retirement, you need to consider more than how it looks. Yes, you want it to be attractive. However, you want to be able to use it. Furniture that sits too low to the ground or minimal will be uncomfortable to sit on. Chairs with armrests will be easier to get out of compared to a lounge.
Outdoor lighting
One of the ways to make your backyard more "liveable" is to add more outdoor lighting. Whether you choose string lights or built-in pendants, outdoor lighting can set the mood for your space. Plus, it will extend the day so you can spend more time outside.
But one benefit of outdoor lighting that should be top of mind is safety. Spotlights on walkways and LED lights in deck stairs make it easier to safely navigate your backyard. If you are making any upgrades to your backyard after you retire, be sure to add lighting to any dark spots or areas that see a lot of foot traffic.
At-home exercise
Exercise and staying active is important to staying healthy and supporting your quality of life — whether you are 22 or 72. In fact, incorporating physical activity into your daily life might be even more important the older you get.
A natural part of aging is losing muscle mass. According to Harvard Health, you will begin to lose up to 5 percent of your muscle mass per decade. If you are male, data shows that you will lose about 30% of your muscle mass over your lifetime.
But regular exercise can help you slow or prevent muscle mass, as well as have less joint pain and issues. Plus, it can improve your mental health.
However, you do not have to do strenuous workouts to see the benefits. You can go for daily walks, try yoga, or take advantage of the benefits of water aerobics.
A Master Spas swim spa can make it more fun to incorporate daily exercise — without ever leaving home. Swim spas have space for stationary swimming, water walking, and other exercise.
But it's not just about an inviting space for working out. Master Spas owners discover that having an at-home swim spa invites family to spend more time with you.
"We are a couple that has raised our children and put them both through college. Now it is our time," says Frederick, who has an H2X Trainer 15D. "My wife and I haven't talked so effortlessly like this for over 23 years. The swim spa has brought open, free communication back to our relationship. We are exercising and swimming in our swim spa, but to me that is just icing on the cake. We found each other again."
Small gardens
Gardening is one of the most popular hobbies that retirees look forward to. And for good reason! The hobby is a great way to get outdoors and stay active. A Kansas State University study reported that even small tasks like filling pots, weeding, and watering was a great way to strengthen hands. The data also showed that gardening helped improve self esteem.
When you are planning your garden, the options are endless. You can plant vegetables or stick to containers. Incorporating fragrant flowers into your garden will create a sensory experience that can benefit your overall well being. You can plant herbs for cooking. Perennials offer beauty without the work year after year.
As you get older, you might find that you prefer container gardens or raised beds. These options are easier to maintain and do not require as much squatting.
Prepare for the future
Retirement can feel like the next chapter or the start of an adventure. But you do need to prepare for the future, especially when it comes to accessibility in maintenance. As you make changes to your backyard, make sure that it's easy to get around your yard. A cool paver patio might create a fall hazard later in life. Small spaces or deep steps might be hard to navigate if your joints are stiff.
Create a retirement oasis
Look forward to spending more time at home during retirement and create a backyard oasis. A Master Spas hot tub or swim spa can help you stay active as you age. You can click here to learn more about the benefits of water exercise and hydrotherapy. Or, contact your local Master Spas retailer to learn more about spa ownership. Wondering how much a Master Spas costs? You can request a quote here.