The sail has gone from the calm open waters, where the sea stretches to the horizon, to the suburban backyard. Instead of catching the wind and taking you to an idyllic destination, the sail is creating a backyard retreat. Shade sails are a rising backyard trend, offering an attractive way to beat the summer heat.
A residential sail shade is just what you think it is. It's a sail similar to what you would see on a boat but designed to offer shade outdoors. Homeowners can attach the sail to the roof of their house, mature trees, or posts.
For spa owners, the sails can also help you increase the comfort. On hot summer days, it can help you manage the water temperature of your swim spa. On fall days, it can keep fall leaves from floating on the surface of your hot tub water.
But patio shade sails are more than a functional element of your backyard. They offer a modern way to anchor your backyard design. Available in a range of colors and shapes, the floating design adds a light, airy look.
Choosing a shade sail
From 8-foot by 10-foot to 20-foot by 16-foot, shade sails come in a variety of sizes to fit most any backyard.
The first step in buying a shade sail for your backyard is to consider what shape you like. The sails come in three shapes — rectangle, square, and triangle. The best shape will depend on the layout of your backyard and design preferences.
Another factor to consider is whether you want just one sail or would like to mount more than one. A bold look is to mount several sails at varying heights, creating an overlapping effect. Multiple sails also create more shade areas, with beams of light peeking through the gaps.
Steps before buying:
Measure your yard and decide how much you want under the sail.
Select where the sails will be mounted. Will you install sail posts or use trees?
Purchase mounting hardware or kit. Sails have grommets in the corners so that you can attach hooks and turnbuckles.
Check the UV rating of the material. The protection offered will vary from manufacturer to manufacturer.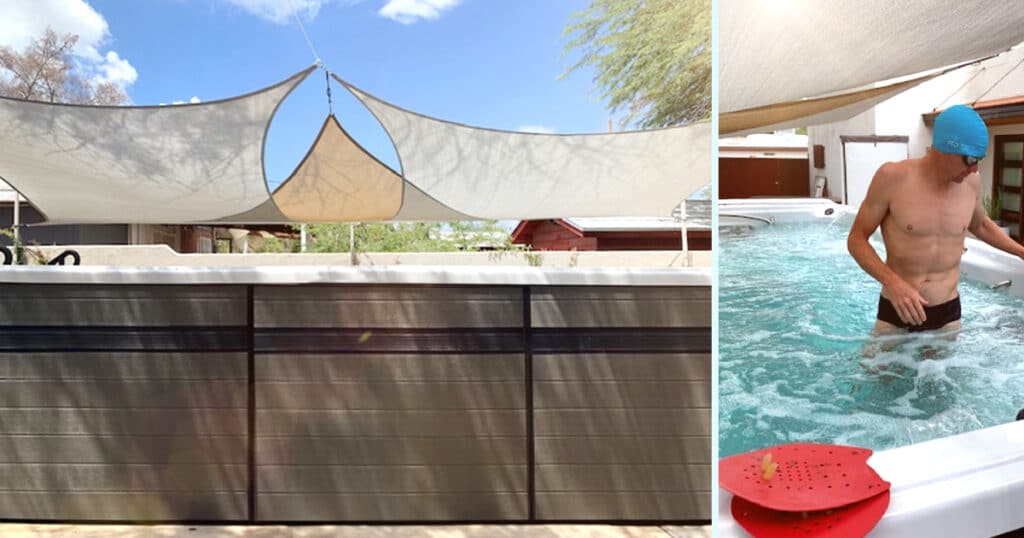 The new spa cover?
Soaking in a hefty dose of vitamin D while soaking in your hot tub can sound like the perfect way to spend the morning. However, there are times when the sun is, well, just too much. Or, there are times when you desperately want the sun to make an appearance as rain clouds loom overhead.
Shade sails are a way for hot tub and swim spa owners to "enclose" their hot tub. Pergolas and automated covers are popular choices but they are more permanent — and expensive — options. You can use it seasonally if you live in an area that sees all four seasons or year-round if you live in a desert climate.
Master Spas brand ambassador and professional triathlete Ben Hoffman installed shade sails over his H2X Challenger 18D Pro. The sails provide respite from the hot Arizona sun and help keep the water temperature comfortable.
For spa owners, a surprising benefit might be making it easier to keep your water clean. The sails will keep out leaves, twigs, and other natural elements. Plus, they offer sun protection as you can buy a sail with a high UV rating. Sunscreen and other lotions can negatively affect your water quality.
You can swim in the great outdoors, even as rain falls around you.
Depending on how you position the sail, it can also offer privacy. It can be used almost as a screen, filtering the light and blocking the neighbors' view.
More Shade Sail Inspiration
Could this cozy backyard be more picture-perfect? The space features lush tropical plants in containers, a wood slat privacy wall, and a ground-level deck. A rectangle sail provides shade over the patio and makes soaking in the a Master Spas hot tub even more comfortable. The TS 240 is a corner hot tub that is roomy enough for adults but still feels cozy when soaking solo.
---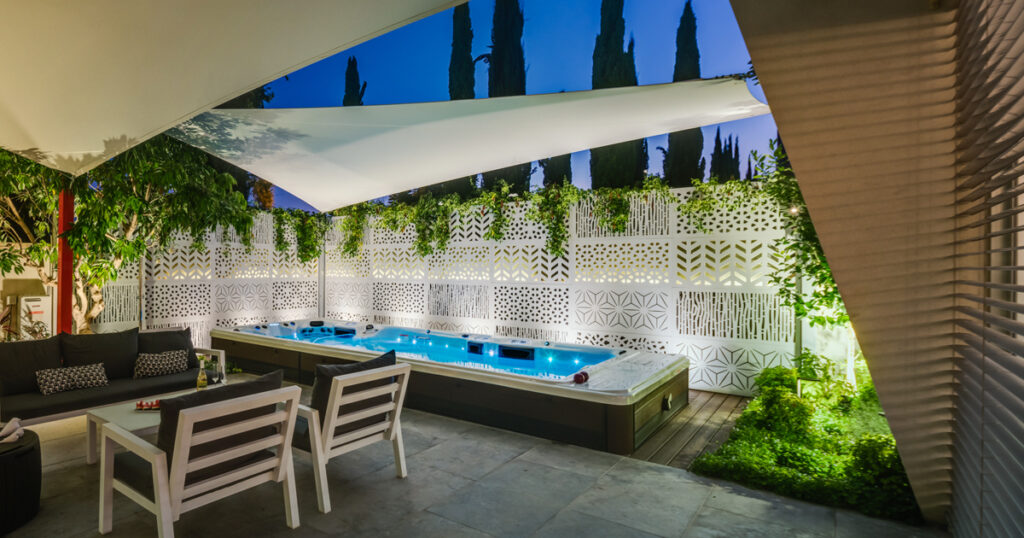 This chic, contemporary space is thoughtfully designed to make the most out of the outdoor living space. Latticed panels offer privacy and greenery adds texture. Triangle sails were installed at varying heights to provide shad and dimension.