Colorful blooms, comfy patio furniture, and water features are often the elements we focus on when planning a backyard makeover. Why? Because those are the things that we see when we go outside.
The underlying design principles, however, help create that inviting space. A well-designed backyard — or any creative project — includes balance, a focal point, proportion, rhythm, proportion, and unity.
"Using these as guidelines helps designers and homeowners create a landscape that 'makes sense' to look at," according to the Michigan State University Extension.
Whether you are taking on a full backyard remodel or just want a refresh, you can incorporate one, two, or all of these design principles. Achieve balance in your backyard design by combining the healing power of water and the warmth of fire.
A Master Spas hot tub and fire pit are popular additions to a patio or backyard, creating an outdoor living space that can be enjoyed year-round.
Why a hot tub and fire pit?
While they seem different, a hot tub and fire pit share similar benefits when incorporated into your backyard design.
The two elements extend your living space into the outdoors, creating a cozy atmosphere for family and friends to enjoy. Entertain friends, reconnect with loved ones, or simply enjoy the crackle of the fire and whir of the jets as you relax and unwind.
For those who have considering an in-ground pool as part of a backyard remodel, a swim spa by Master Spas could be a better alternative. Part exercise pool and part hot tub, a swim spa by Master Spas would add the relaxation elements you want as part of the design. And, you would still have a place to splash and swim in the sun.
Top Backyards with hot tubs and fire pits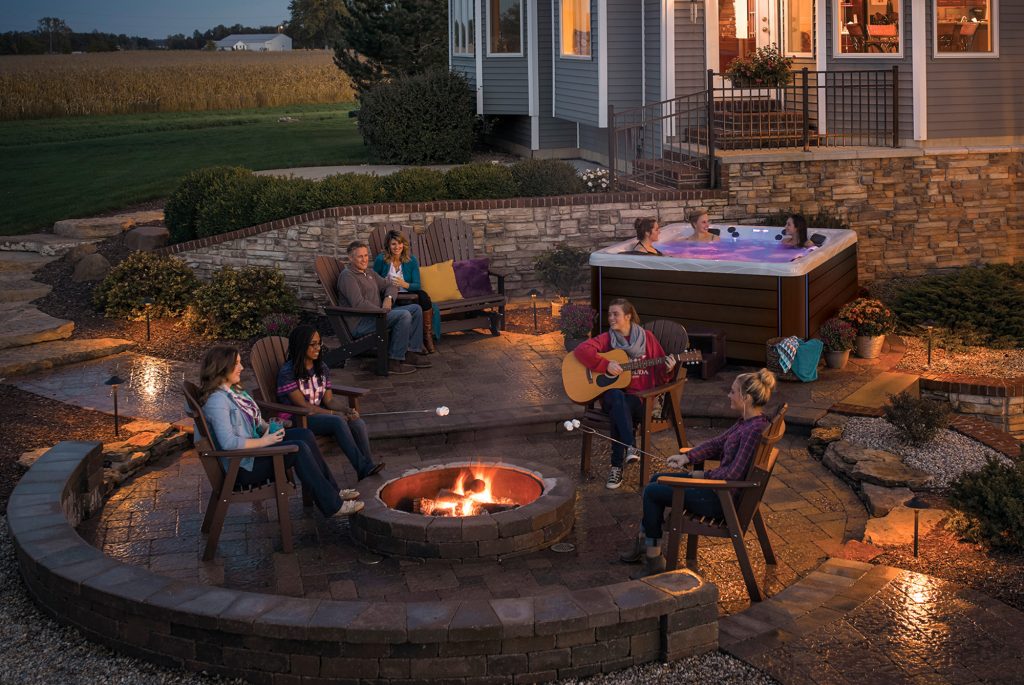 Backyard for entertaining
The sloped backyard could have been a challenge for the homeowners.However, they turned the space into a unique stone patio. The multiple levels of the landscape design not only elevated the space but created more usable space. The space has a built-in fire pit and Master Spas hot tub.
Make s'mores, play some music, or soak in the warm water of the hot tub. While big, this backyard feels cozy thanks to the separate seating areas and the choice of greenery. Landscape rocks and a stone wall add texture and dimension while defining the space. 
The homeowners made the space more inviting by adding a basket of towels. You can also add sandals or other creature comforts.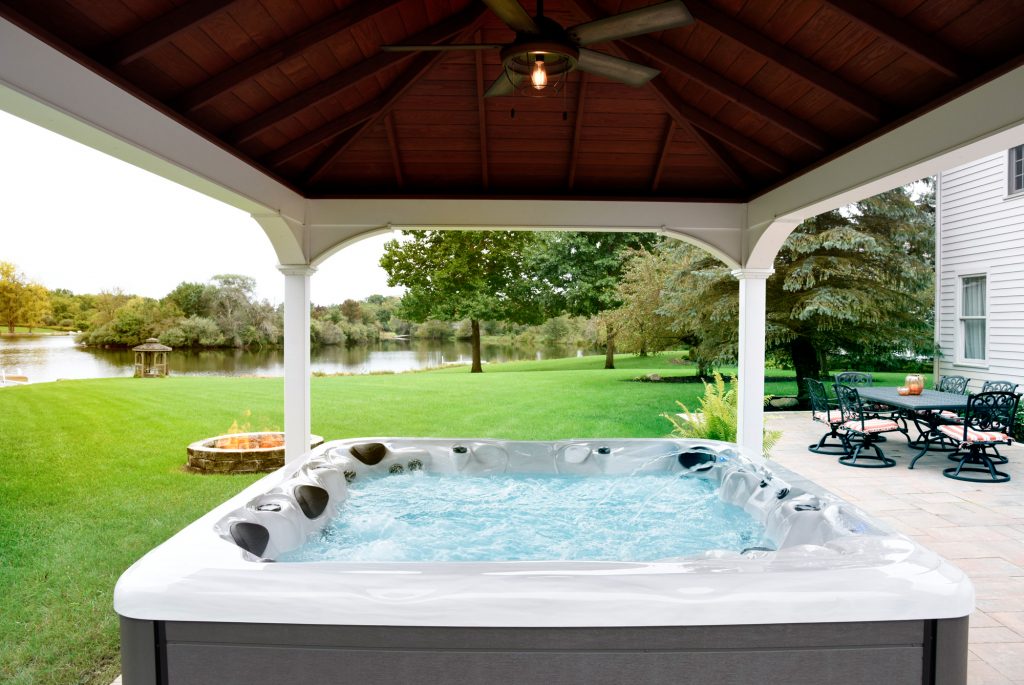 Live the lake life
Soak in the views of the water from this spacious hot tub or grab a chair and warm up by the fire. This backyard also has a pergola for shade and protection while the ample seating offers a space to enjoy eating al fresco. 
You can enjoy the crackling of the fire as you soak in the at-home spa.  Alternately, you could pull up an Adirondack chair to enjoy the warmth.
Related post: Pergola Designs for Your Backyard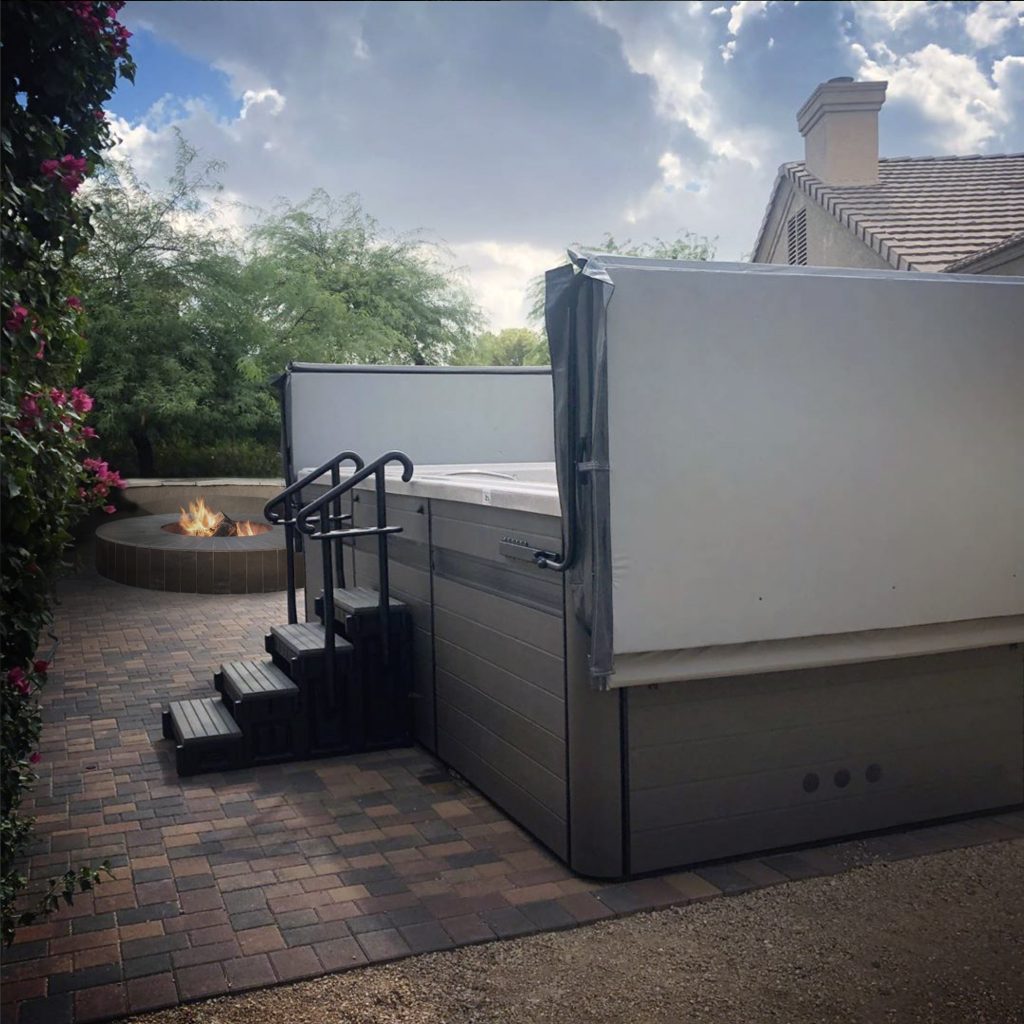 Picture perfect paver patio
Privacy is often a planning consideration for swim spa owners. There's nothing better than being able to swim at your pace or floating in the spa without worrying about others looking on. These homeowners took advantage of the existing landscape to create a private sanctuary.
Surrounded by climbing flowers and mature trees, the built-in fire pit and swim spa provide a holistic relaxation experience. You can enjoy the aroma of the flowers as the fire burns and the waterfall cascades into the swim spa. LED lights also add to the mood of the space.
While the most common swim spa foundation is a concrete patio, a swim-in-place pool needs a flat, level surface that can hold the weight of the spa. This paver patio is a unique surface for the spa. If you are considering a paver patio for your swim spa, it will need be properly prepared so that there's no settling.
Download our Backyard Planning Guide to get more details about how to install a swim spa.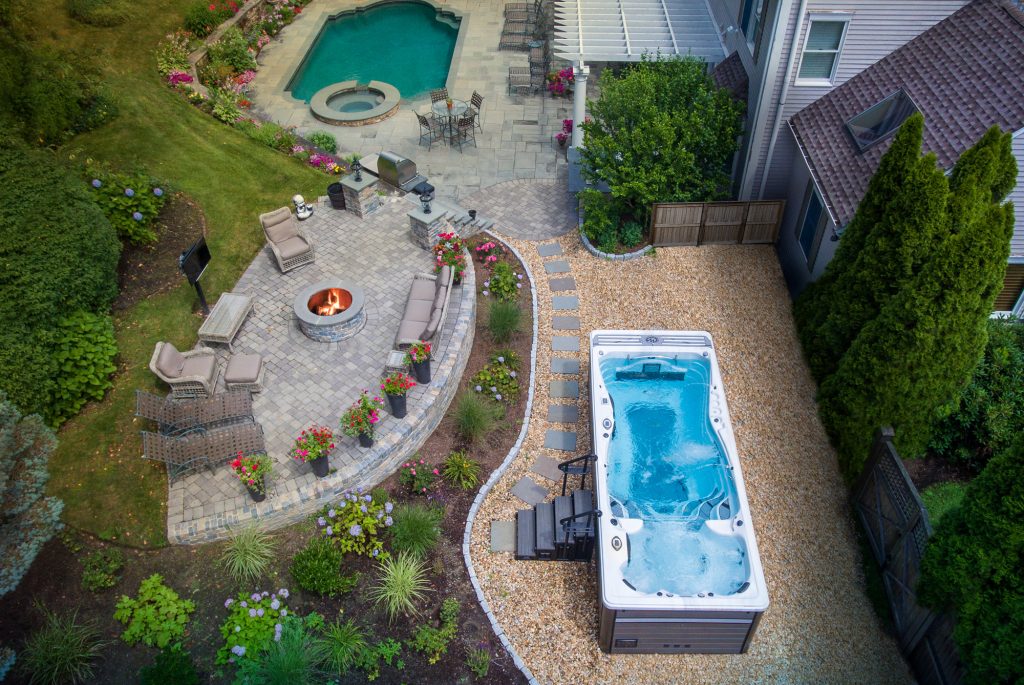 Contemporary oasis
This backyard space has something for everyone. An MP Momentum Deep swim spa is surrounded by landscape rock, and a fire pit is on a raised patio. There's colorful flowers, in the ground and in planters, as well as plenty of patio seating.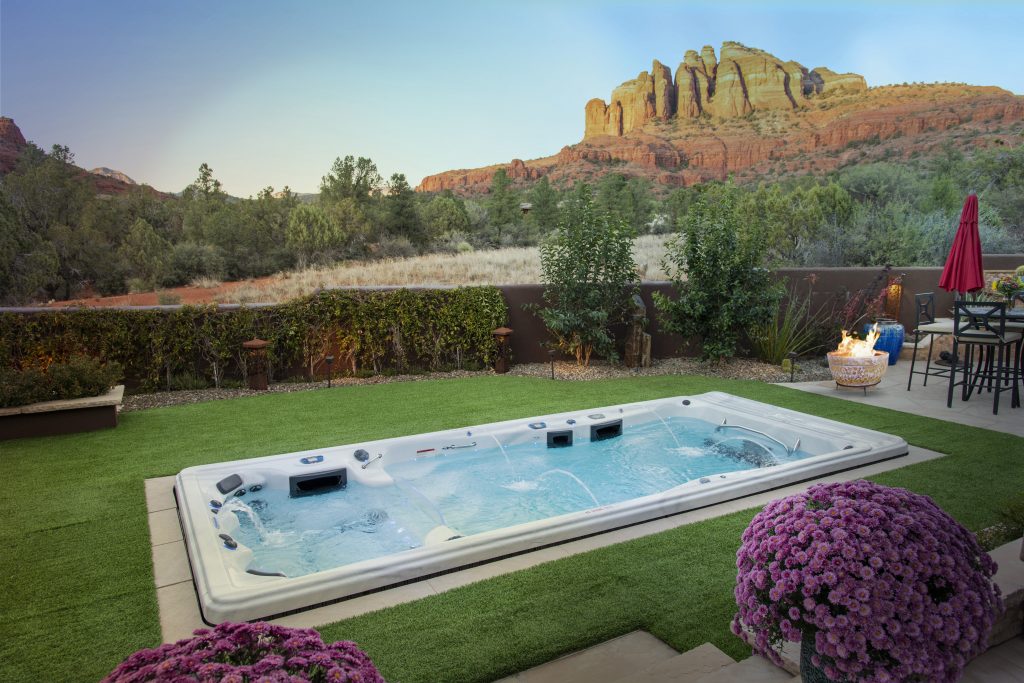 Desert views
Days in the desert are hot but the nights can be chilly. Warm up in the hot tub of the MP Momentum Deep, which is a part of the Michael Phelps Signature Swim Spas line. Or, enjoy a late dinner next to the patio fire pit. This backyard design also has brilliant blooms, raised flower beds, and a privacy wall. 
Your backyard but better
Are you ready to transform your backyard into an oasis? A Master Spas hot tub can help you relax and unwind in the convenience of your backyard. You can click here to discover our secrets to creating a backyard oasis. Or, contact your local Master Spas retailer to learn more about spa ownership. Wondering how much a hot tub costs? You can request a quote here.