Create an outdoor sanctuary with these stylish structures
From the rustic designs with salvaged farm wood to sleek modern styles, a pergola is just as much about function as it is about design. The garden feature adds definition to your space, while extending your outdoor living area.
Pergolas have consistently ranked among the top outdoor trends. Why are they so popular?
According to LoveYourLandscape.org, pergolas "are now becoming more sophisticated with major upgrades, including rolldown windows, space heaters, lighting and sound systems. When paired with a luxury kitchen, seating area or fire feature, pergolas can become the iconic structure for outdoor sanctuaries."
You can install a pergola over an existing patio, deck, or in a tucked-away spot in your backyard. They are also a popular way to add shade and protection over a spa.
These pergola ideas, especially combined with a Master Spas hot tub or swim spa can transform your space into a retreat. Master Spas will take a pergola from design element to retreat.
Hot tub and pergola ideas for your backyard
Whether you are just starting your backyard project or want to add privacy and shade to your hot tub, a pergola can elevate your space.
These backyard structures are popular for many reasons. You can go the DIY route, purchase a kit, or work with a contractor for a more custom look. Choose from a variety of materials and sizes so that you can define the look and feel of your space.
While pergolas are primarily open at the top, if you are installing one over a spa, consider a design that has a roof or optional canopy.
These spa and pergola ideas are sure to inspire you as you create an oasis in your backyard.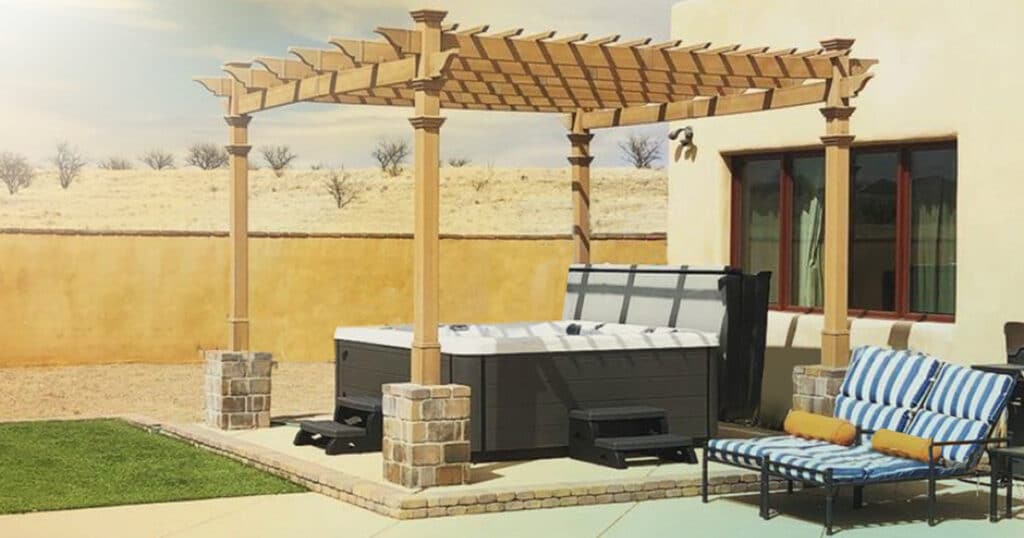 A desert dream
While this property is surrounded by sky and sand, the backyard is designed for relaxation. There are sleek lounges with comfortable cushions and lumbar pillows adding just a splash of color. A Master Spas hot tub has been installed on a slightly elevated patio, helping to set it apart from the rest of the backyard. The pergola was crafted from wood, and bricks were added around the posts.
---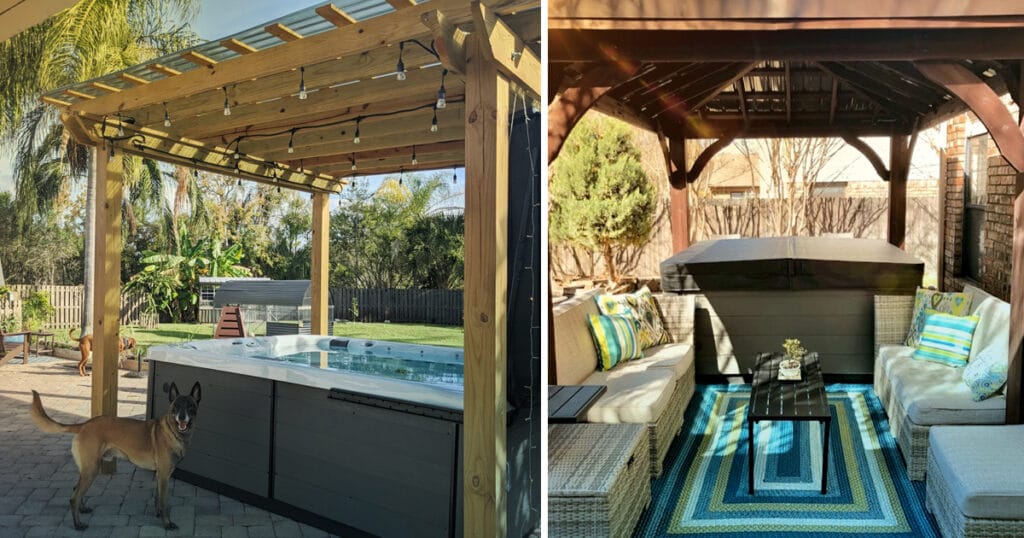 Beautiful pergola ideas for any yard
Stargazing can add to the relaxation of your hot tub. With an open-air pergola, you can look up at the sky or feel the breeze as you soak. However, there are times when you want the benefit of a roof. These two backyard pergolas offer protection from the elements while still adding privacy.
You can personalize your patio space, like these homeowners, by adding string lights, furniture, outdoor rugs, and throw pillows.
---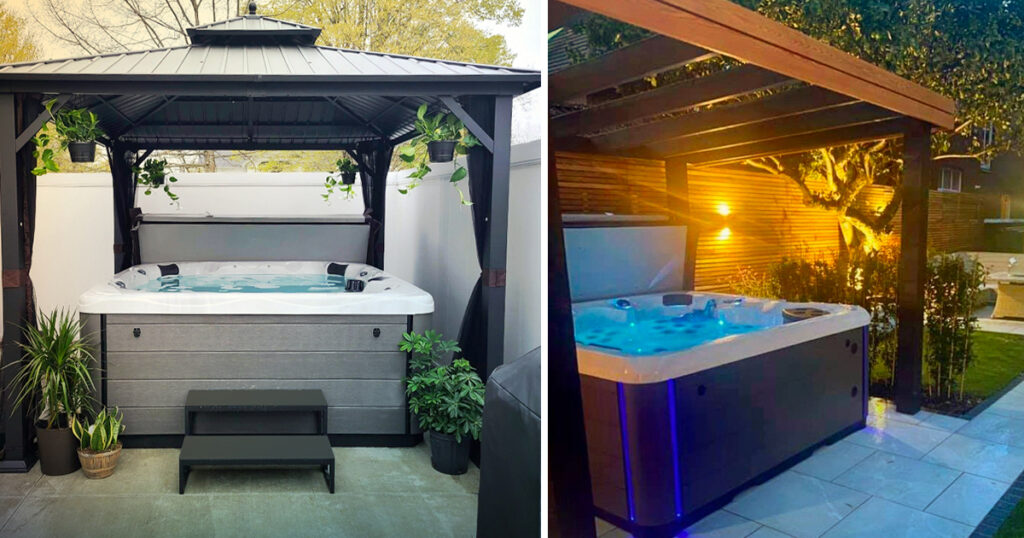 Lush landscape ideas
Hanging plants, containers, and trees can add a sense of privacy and dimension to your backyard. And when you are looking at pergola ideas, the structures can sometimes feel cold. These homeowners used thoughtful landscaping choices to warm up the spaces. You can use houseplants on the patio once the weather warms. Or, alternately plant vining perennials or bamboo. An added benefit of the latter is that the mature plants will add privacy.
---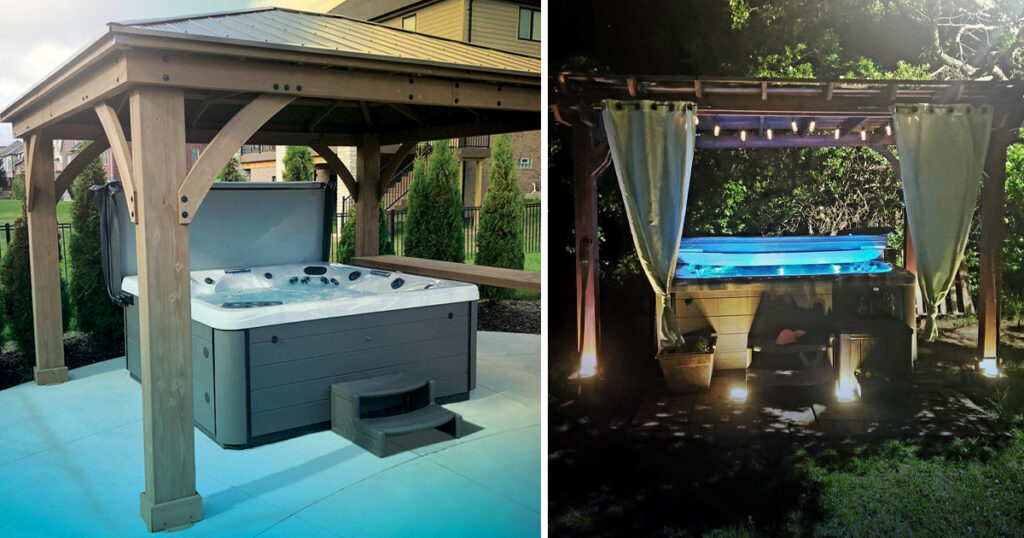 Backyard privacy ideas
A soak in a hot tub can help you start your day off in the right headspace. It can also help you unwind after a stressful day. No matter what time you soak, though, you want to be able to take advantage of the peace and quiet. You can replicate the feeling of a luxe retreat by factoring in privacy to your hot tub installation. Evergreen hedges can create a border around your spa. However, outdoor curtain panels attached to your pergola can block a neighbor's view.
---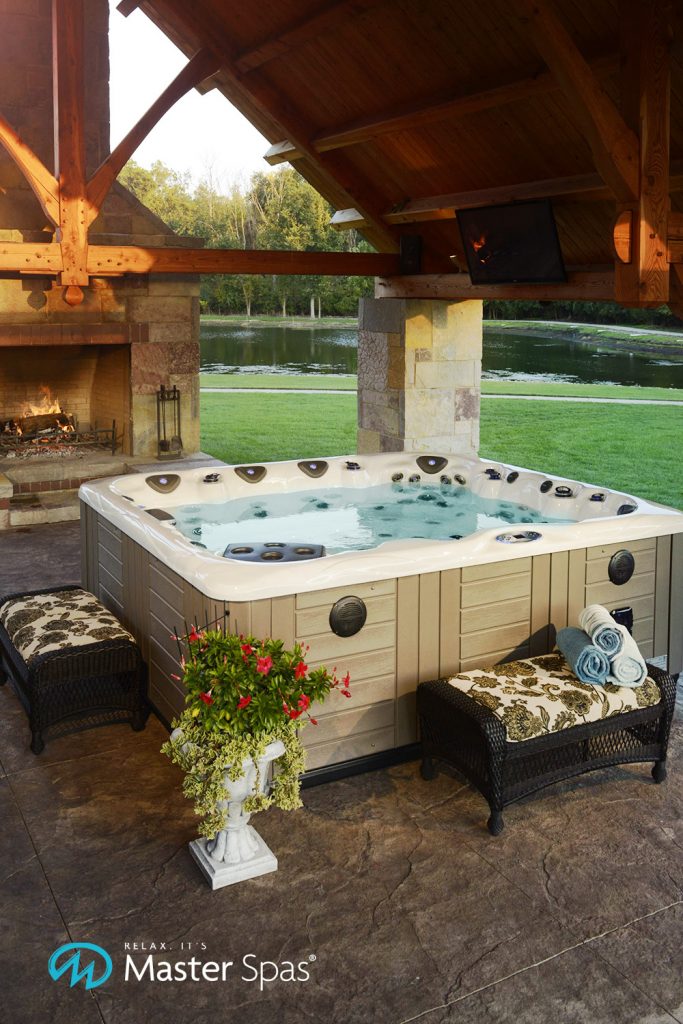 Grand retreat
Featuring a mix of stonework and wood, this pergola design features a spacious hot tub that fits at least six adults. The fireplace offers a place to warm up on cool summer nights or brisk winter mornings. Bright blooms in planters add color, and wicker benches offer cozy seating.
---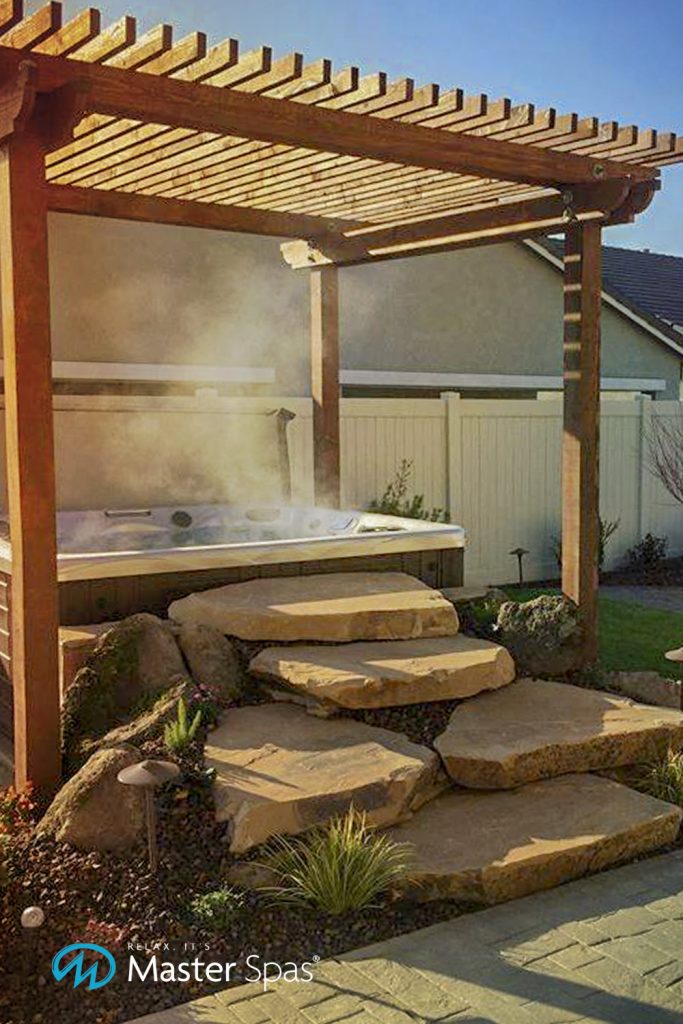 Everyday escape
A streamline pergola offers a warm contrast to the cool stone steps and adds height to a suburban backyard. Landscaping rocks and greenery add a modern touch to the backyard.
---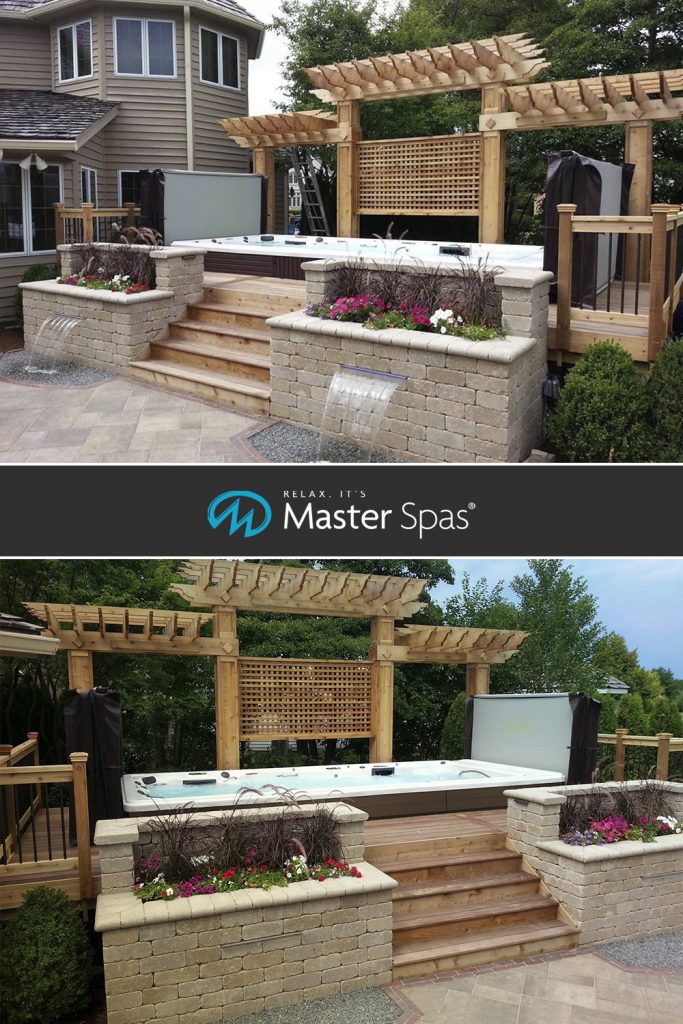 Zen oasis
This pergola design features varying heights, wood steps, and a wrought iron fence. The thoughtful design also includes built-in planters and fountains that make this backyard a true oasis. A swim spa by Master Spas is the focal point of the design, creating a space where relaxation is the priority.
---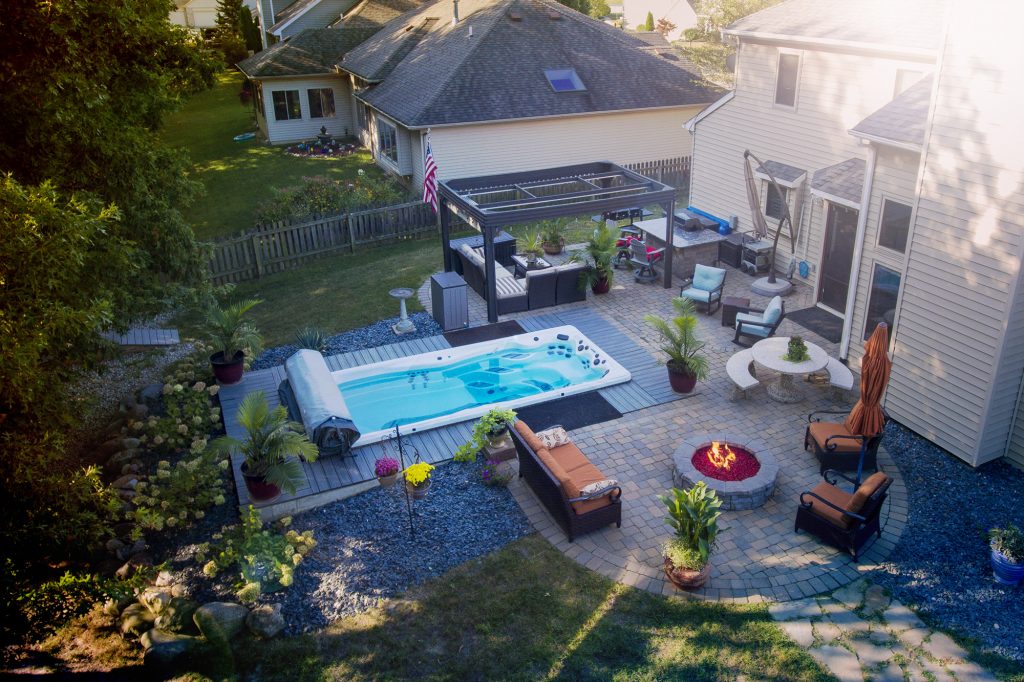 Cozy Corner
This easy-to-install pergola from a home improvement store defines a seating and dining area in this backyard. As guests relax on the cozy outdoor sofas, they can enjoy the ambiance that lush tropical plants and string lights add. The pergola also features retractable shades to protect people from the summer sun. An H2X Fitness Swim Spa is just steps away, allowing the owners and their guests a space to which they can retreat during a party.
How to buy a spa
Are you ready to transform your backyard into an oasis? Relax, unwind, and reinvent family time with a Master Spas hot tub or swim spa. You can click here to discover our secrets to creating a backyard oasis. Or, contact your local Master Spas retailer to learn more about spa ownership. Wondering how much a hot tub costs? You can request a quote here.