Professional triathlete Ben Hoffman placed third at IRONMAN Chattanooga in September 2021. While a podium finish might be notable for many, Hoffman was excited to be the first out of the water for the first time in his nearly 20-year triathlon career. The 2.4-mile swim in the Tennessee River took Hoffman just over 42 minutes, earning him a well-deserved break.
But the Hoffseason, as he likes to call it, is over.
The 2022 triathlon season is gearing up and promising to be a year like no other. There are two world championship events at the full triathlon distance, one in St. George, Utah, in May and the capstone event in October in Kailua-Kona, Hawaii.
Hoffman, who has been a Master Spas brand ambassador since 2019, says that a May world championships adds a different dynamic.
"I am just trying to focus on the best performance that I can deliver at both of them," he says.
Hoffman came into the sport of triathlon when he was in college. He had zero swim background but had the drive to work on his swim. Early on, he got good swim coaching, instruction, and underwater filming — all of which helped him to develop into a competitive swimmer.
Still, swimming is very technique-oriented. To be a competitive triathlete, Hoffman continues to reinforce good movement patterns and focus on small improvements that can add up to big improvements.
"At the end of the day we all know that swimming is extremely technique oriented. If you have inefficiencies in your stroke, when you start to add it up, it's just so detrimental," Hoffman says. "The swim spa allows you to slow down and focus on some of the technique elements."
Hoffman trains, recovers, and relaxes in an H2X Challenger 18D Pro swim spa. Not only can he swim in place, he can recover after a hard session or play with his two children — all in the convenience of his backyard.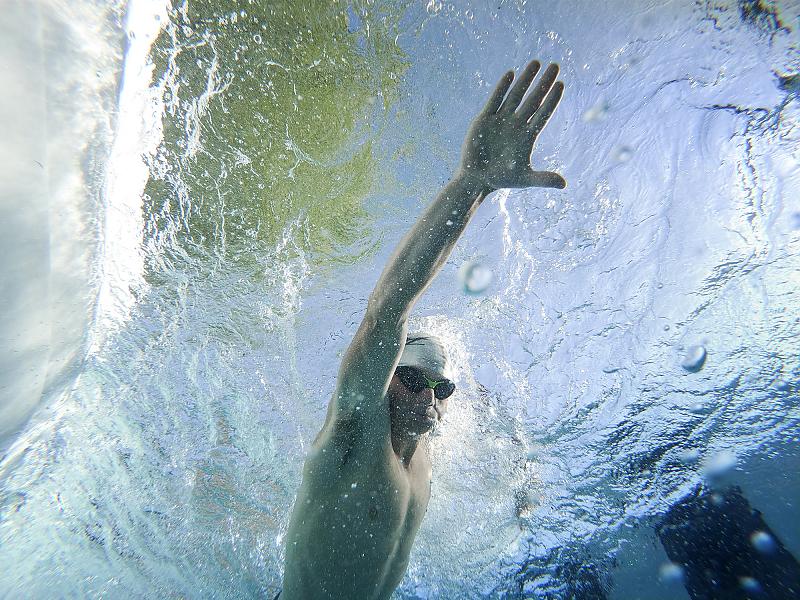 5 questions with Ben Hoffman
Swimming, biking, and running are all in a day's work for Hoffman, who is a seven-time IRONMAN champion and has been on the podium in Kona.
Master Spas sat down with him to see how a swim spa benefits triathlon training — and daily life.
How are you training for two IRONMAN World Championship races in one year?
I have never done it before so it's a new experience for me. It's similar in some regards to things I've done before. I usually focus on two IRONMANs a year and try to do my best at those. The structure isn't terribly different there is an added gravity having it be two world championships. I will say if I had to prioritize one, my heart is still in Hawaii. Trying to keep perspective and remember at the end of the day, Hawaii is where I want to put my majority of my energy for the rest of the year.
In 2021, you upgraded to an H2X Challenger 18D Pro from an H2X Challenger 15D. What has the switch been like?
I think it's a major leap forward, even from the H2X Challenger 15D. For sure, the power is more significant. It's really awesome, especially for the professionals or the faster swimmers out there. The extra bit of space is really nice, both for the swimming aspect and the relaxation. We have a little more room to play around with the kiddos in there now.
You had the opportunity to test swim the H2X Challenger 18D pro at Master Spas HQ. What was one of the first things you noticed about this new swim spa?
One of the things that I noticed right away when I first swam in it was that the extra power created extra buoyancy. Some of the jets underneath you give you a little left. It was a nice thing because it guided you to a better body position in the water. You really want to have your hips at the surface of the water. It will teach you how to hold that body position and what that feels like, which will make you a better swimmer overall.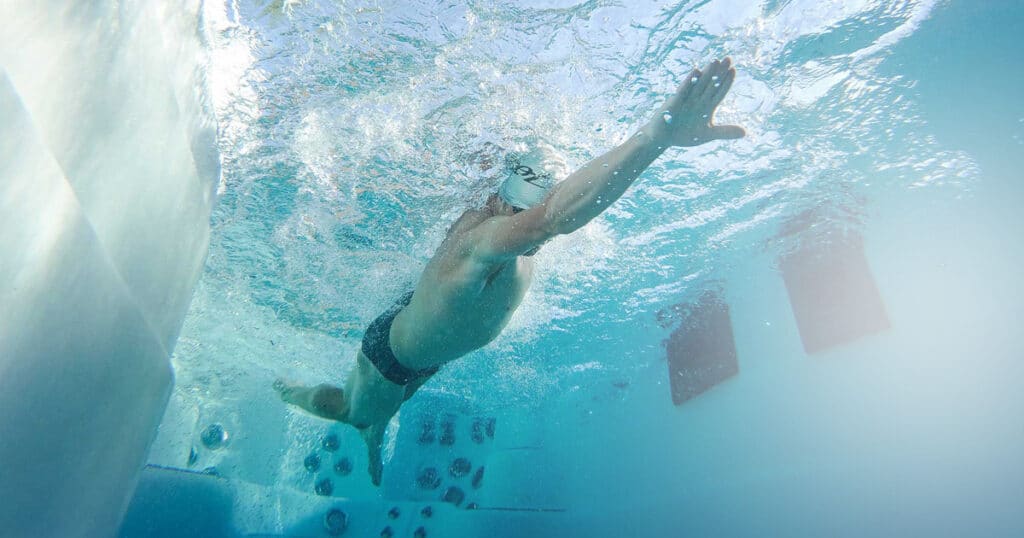 How does the swim spa complement your other swim training?
Unless we have another surge in the pandemic, and then we might find ourselves at home like we did in 2020, when I did all of my swims in the spa … For most people, you are going to use it as an addition to the pool or open water, if you have access to that. For me, I remove some of the pressure that I feel at the pool or in a group scenario. There are people that I swim with and my coach is on deck, analyzing my stroke. Those are all good things if you are a coachable person. It is sometimes nice, though, to zen out on your own and be completely relaxed. When I get in the spa at home, I'm not necessarily looking to go in there and smash out the hardest session of my life. I'm looking to really drill down on proper form and technique and really swimming easy. Swimming slow allows me to focus on those things, and I don't have the pressure of people watching me. I don't have to feel the pressure of hitting a certain pace for a set that we're doing as a group.
I do kick sets, too, with a kickboard against the current. I'll do this a few times a week, even if I don't have a swim. It might not be continuous but I'll be in there for 15 to 20 minutes total. I always feel better the next day. It makes the recovery a lot better and faster the next day.
How do you stay engaged when you're swimming in the spa?
Typically what I like to do is to break it up into pieces. If I have a 30-minute swim that's continuous, for the first 10 minutes I might focus on a certain drill. Then I might incorporate something like a snorkel and pull buoy and bring some toys into it to make it a little more engaging and change it up a little bit.
Really, I think for me, I'm constantly thinking about why I'm doing these things. It certainly can be difficult. But when I remind myself that I'm training for races that I want to perform well at, it's not difficult to keep going. Plus, my coach said so.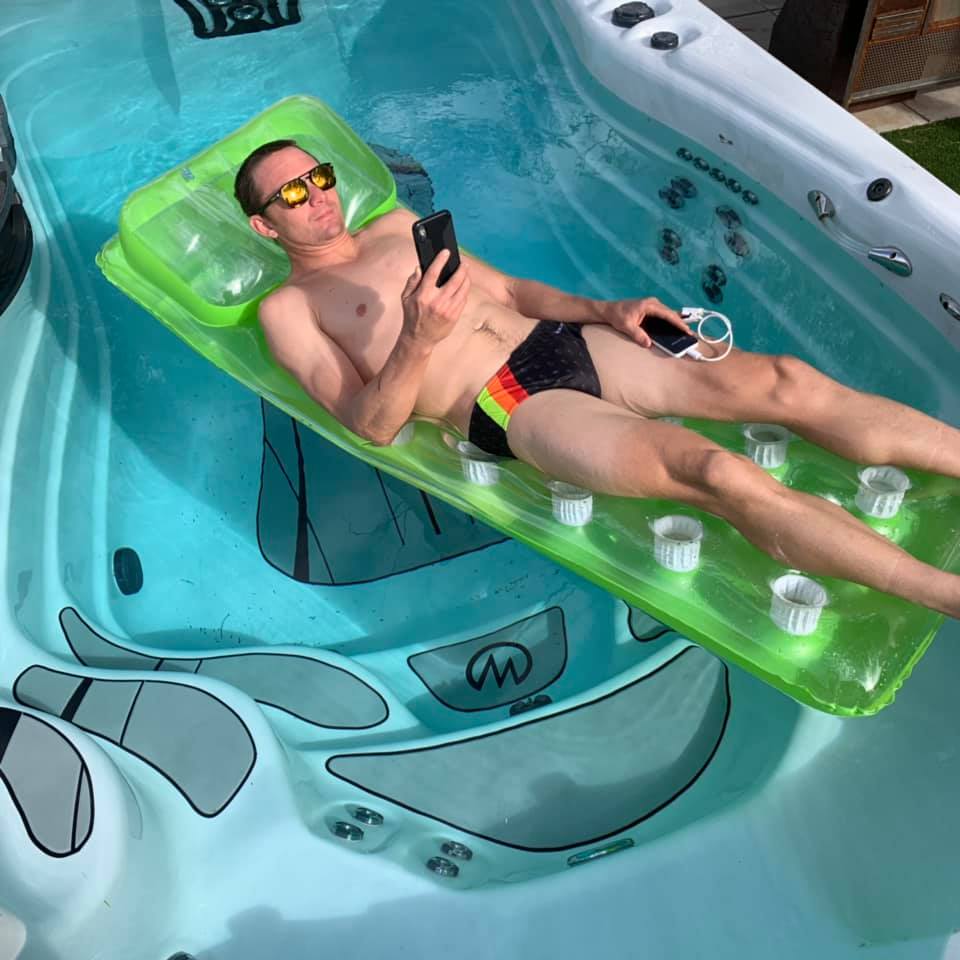 How has it been balancing training with your growing family?
With two kids, I do feel like every second of the day that I'm not training, I'm with them. It's made that a lot more efficient and likely to be completed. You just have to start workouts. If you start something, you'll be surprised how many times you feel good and get them done. A swim spa is something that will encourage you to get it done.
Julian really seems to enjoy being in the water, as well. It's been awesome that way because we've been able to reinforce what she has learned
Sneak in some relaxation and time with them. It has that double benefit.
A lot of kids don't grow up to learn how to swim or access to that. Teaching them to be safe and comfortable around the water is critical, especially at an early age.
How important is recovery to your schedule?
It's difficult to say that recovery is as important as it is to training. However, recovery is your main job outside of training. Every minute that I'm not training, there is some element of recovery. The nice thing about getting in the spa, whether I'm with the kids or relaxing, is that water is very relaxing. Just being in water helps me relax, and I find I'm not thinking about some of the stressors of daily life. That's the big thing — creating a space where I'm mentally relaxed. The physical relaxation will follow that mental relaxation.