When you buy a home, you want to enjoy your entire property — inside and it out. But it can be challenging to create an inviting outdoor space when you have a backyard with a dramatic slope.
You don't have to let your backyard dreams go downhill with the rest of your yard, though. With proper planning and an experienced crew, you can create the space you've always wanted — complete with a place to swim and splash.
This Massachusetts property has a severe drop-off and a high water table. The owners, though, wanted to be able to walk out their backdoor and straight to a swim spa by Master Spas.
What started as an underutilized lot with a gorgeous tree line became an inviting deck complete with a place to exercise and relax.
A swim spa can be installed in many backyards where a pool isn't possible. Depending on the size of your space, a swim spa can be placed so long as there is a level, stable foundation that can support the filled spa.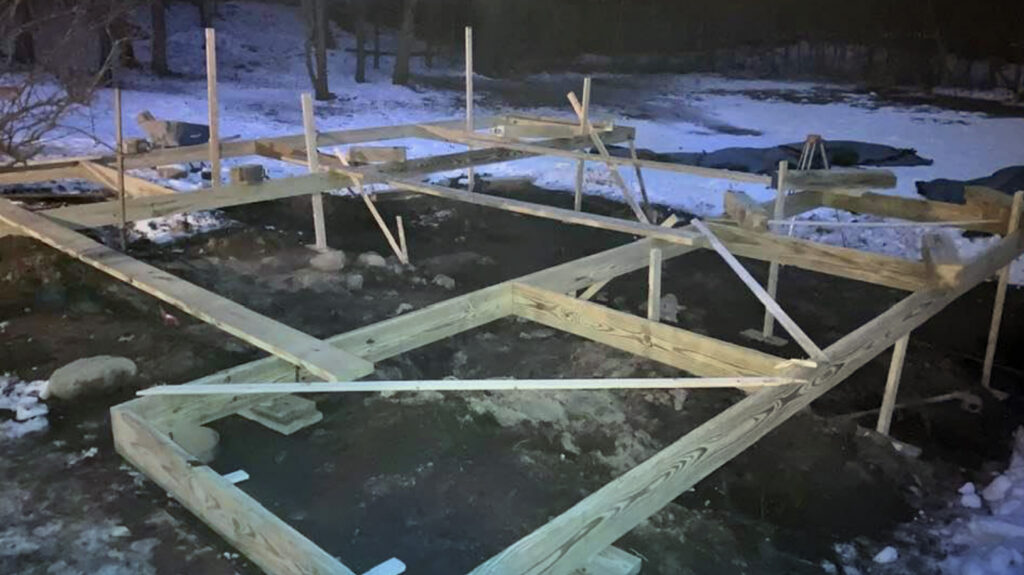 Building a Deck on a Slope
Many people might think that you can't build a deck when the backyard has a severe slope. While it can be tricky, there are ways to overcome the challenges of a sloped backyard.
So what are the challenges?
In addition to just getting around, yards with a steep grade are more likely to experience problems with rain run-off and erosion. Precipitation will go down the hill, and it can cause a muddy mess. More than that, it can take part of the yard with it.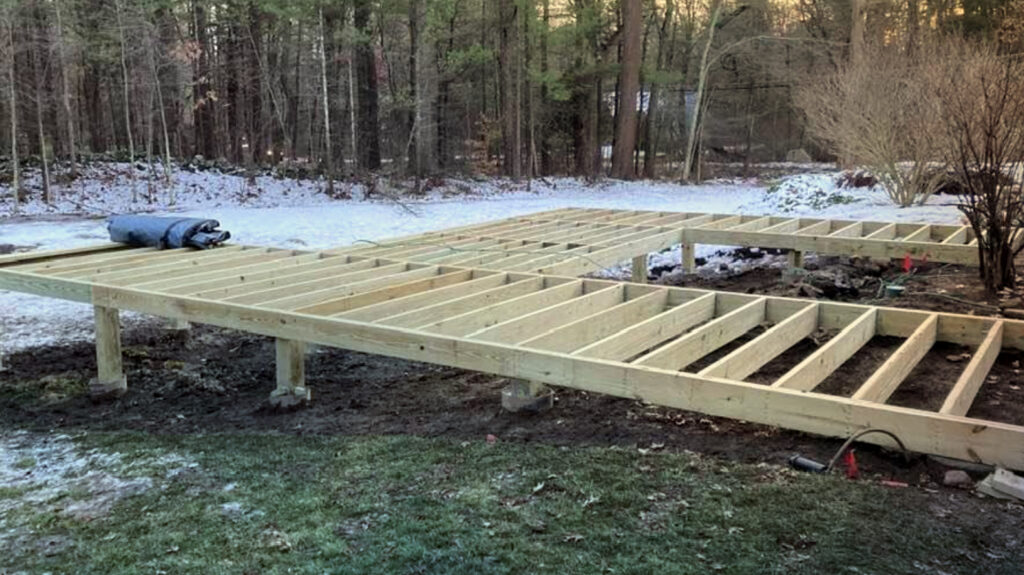 However, you can address the problem with landscaping. Choose plants and landscape rocks that will make the most of your yard and prevent unsightly issues.
When it comes to the deck design and building plans for a sloped yard, it comes down to footings. The steeper the grade, the deeper the footings will need to go.
Consulting an engineer is often the best choice, especially if your yard slopes more than 45 degrees.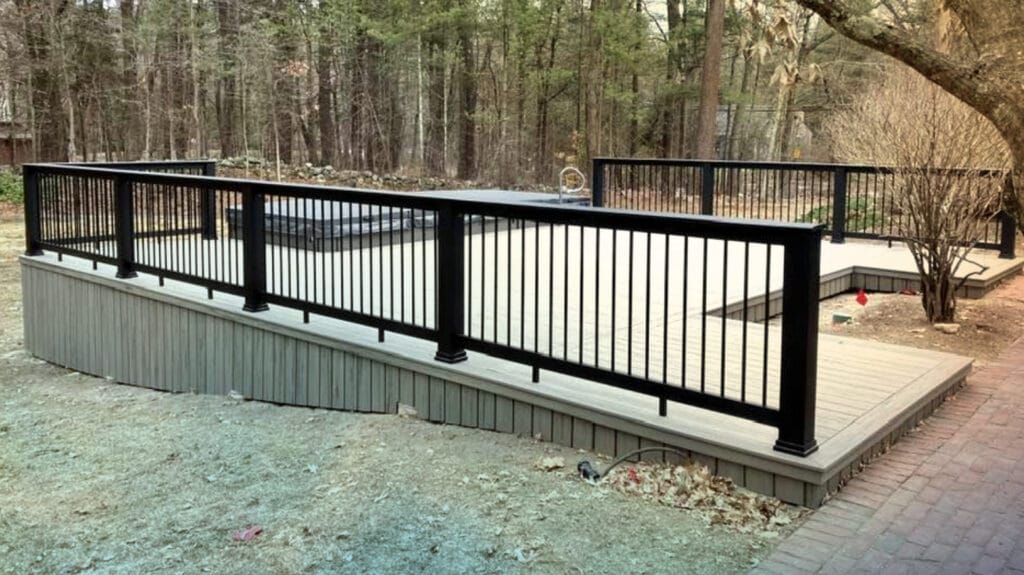 Behind the Build: Sloped Backyard Deck Project
A sloped backyard can feel uninviting, and it can feel challenging to create a functional space for relaxing and hosting friends and family.
But you can take advantage of your yard's potential and make it a space to enjoy the great outdoors.
The homeowners wanted to walk out from the back door and have convenient access to the Challenger 18D swim spa.
This deck project took advantage of the slope to create the look of an in-ground swimming pool, which would not be possible in this yard. A concrete pad was poured on a different "level" of the deck but looks seamless from the patio door.
A modern railing helps define the space. However, it does not compromise the views of the surrounding woods.
With more outdoor space available, it's easier and more fun than ever to entertain family and friends.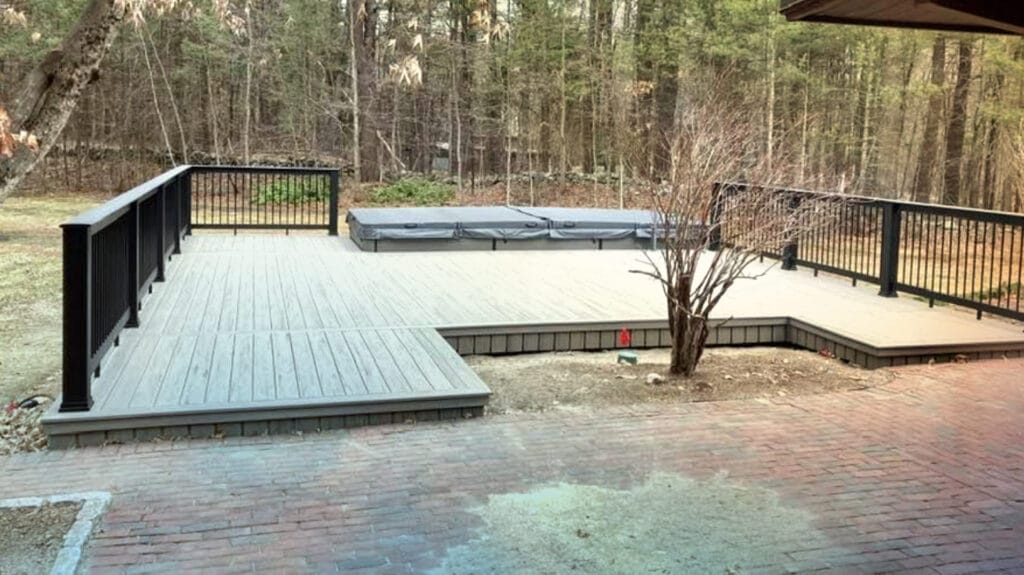 About the Challenger 18D Swim Spa
The Challenger 18D has a generous swim area that is free of obstacles. As a result, it is ideal for swimming, exercise, and recreation.
With an airless jet system, this swim spa is ideal for endurance athletes, fitness enthusiasts, and wellness seekers. The variable speed current lets you set the pace, whether you want a challenging workout or recovery session. After a workout, you'll enjoy the relaxation and rejuvenation of the Xtreme Therapy Cove and contoured seats with massaging jets.
Challenger 18D Review
"My only regret with my swim spa is that I didn't buy it sooner! After finally deciding the time had come to make an investment in my health and well-being, I did a lot of research to choose the Master Spas brand. I chose the H2X Challenger 18D, and I love it! I'm swimming daily and improving my endurance, but I also find that there is no end to the variety of exercises I can do in my swim spa! Keeping it clean and the water perfect is easy and my dealer gave me lots of tips and instructions to make it simple. There is nothing better than the feel of being in water."

— Liza, North Carolina