It can be challenging enough to pick a side — swim or therapy seats — when you are talking about swim spas. But what do you do when you try to pick a winner in a swim spa and hot tub comparison?
In a recent Facebook Live video, Master Spas' swim spas specialists Ben and Mari put the best-selling products in a match-up. They looked at the advantages and features of the most popular swim spas and hot tubs to see which will come out on top.
Which swim spa and hot tub were voted the best? The answer might surprise you. The best swim spa and hot tub depends on you. Master Spas designs each series to meet different lifestyles, needs, and budgets.
Keep reading this swim spa and hot tub comparison to see the benefits of each model.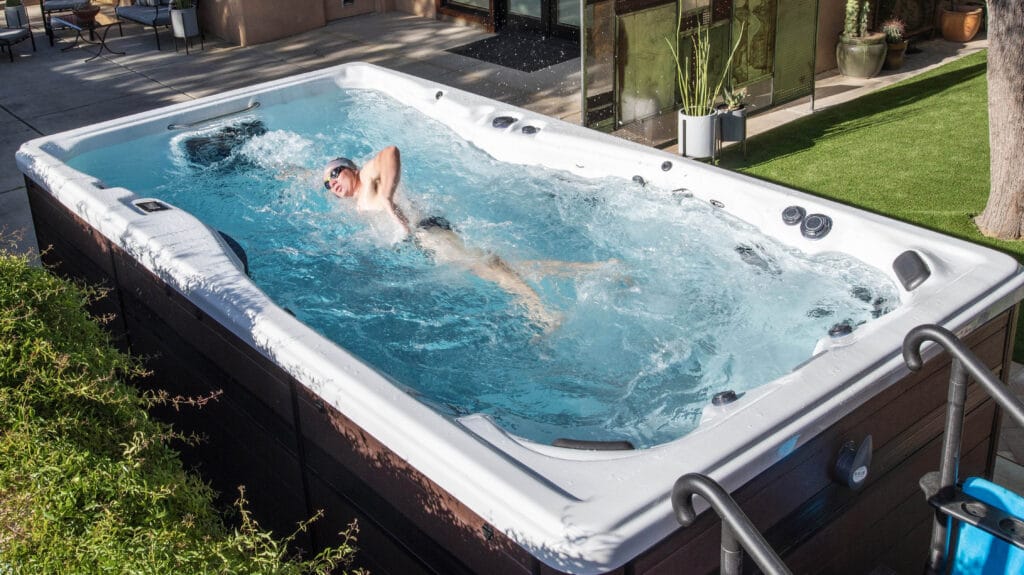 Swim Spa Comparison
H2X Challenger vs Michael Phelps Swim Spa
The H2X Challenger Series features three swim pumps to produce a clean, wide current of water. The jet system does not incorporate air into the water, reducing turbulence. Traditionally, jetted swim spas have not been able to produce this type of current.
With the Challenger, you can set the speed and easily adjust it based on the workout using the control panel. How fast can you swim in the swim spa? The system produces a current so you can swim a 1:20 100-meter pace.
Michael Phelps Signature Swim Spas offer a faster swim experience, allowing people to train at a competitive pace. The Wave XP Pro system produces a current equivalent to a sub-60 100-meter pace. The system makes it one of the fastest portable swim spas in the world.
The current is produced by a propulsion system. Now standard on all models, the Wave XP Pro system has speed settings that go from zero to 100, allowing you to customize your workout.
Winner: Both swim spas produce a smooth, wide current of water. The best choice will depend on how fast you need to swim and your budget. If you are a competitive swimmer, you will want a model from the Michael Phelps swim spa series.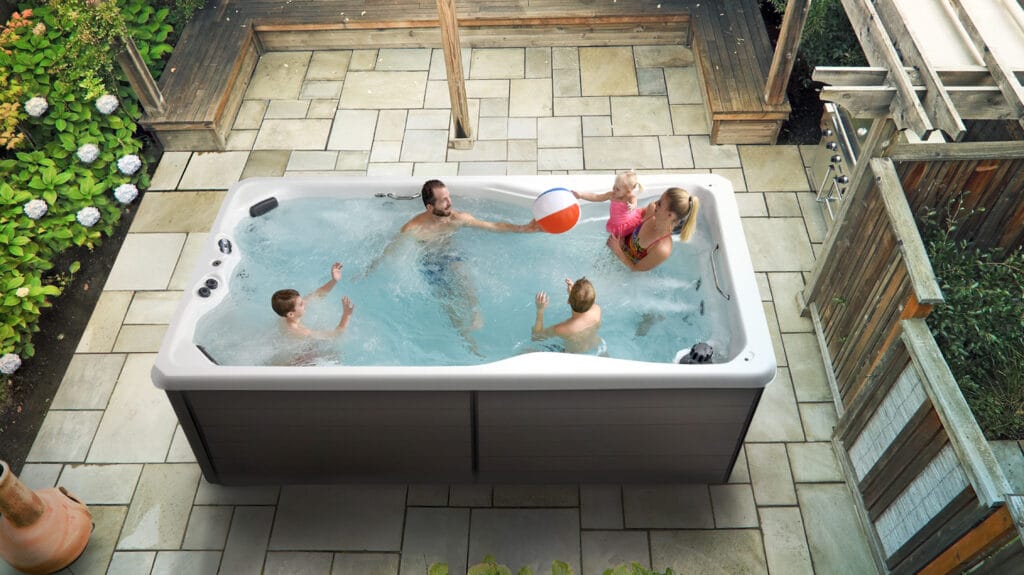 H2X Trainer vs H2X Therapool
It is hard to compete with the H2X Trainer 15D. The swim spa is Master Spas' best-selling swim spa. H2X Trainer Series swim spas is a traditional jetted swim spa that has two pumps to produce the water current.
Ideal for endurance or leisure swimming, you can hit a 1:45 to 1:50 100-meter pace in an H2X Trainer Series swim spa. These models, especially the Trainer 15D, are popular because you can play in your yard but still swim and exercise.
Alternately, the H2X Therapool Series is designed for aqua therapy, aquatic rehab, exercise, and relaxation. These alternatives to an in-ground pool are not designed for regular swimming.
Among the benefits of Therapool swim spas is the quality. They are built with the same attention to detail and premium components of other swim spas. However, they are available at a lower price point.
One of the popular swim spas is the Therapool D. It is an 11-foot swim spa that is 60 inches tall. It also has seating for five to six, making it ideal for recreation and relaxing.
Winner: Both swim spa series offer an opportunity for recreation, family fun, and aquatic exercise. If you want to be able to swim for exercise, the H2X Trainer Series would be the best choice.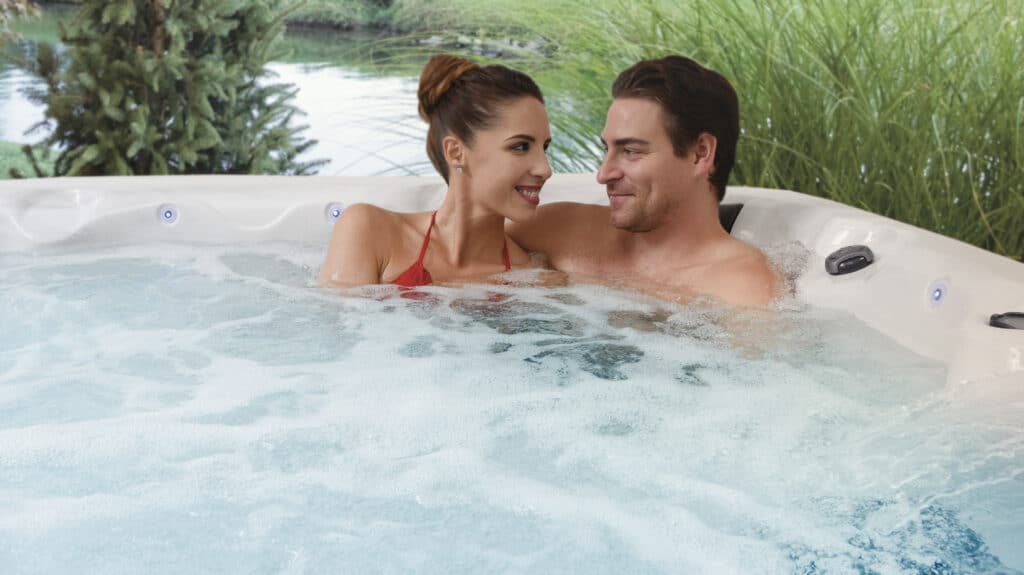 Hot Tub Comparison
Master Spas manufactures three lines of acrylic hot tubs — the Michael Phelps Legend Series, Twilight Series, and Clarity Series. 
Each hot tub line offers a different level of therapy and recreation. The best-selling hot tubs from Master Spas are the Twilight Series TS 7.2 and the Clarity Series Balance 7.
How do these spas stack up in this hot tub comparison?
TS 7.2 vs Clarity Series Balance 7
The TS 7.2 is a six-person hot tub that has 36 therapy jets. These jets are interchangeable so that you can customize your massage experience. The types of jets are the gentle jet, which feels like a palm; the spinner jet, which feels like a hand squeezing; and the deep tissue, which feels like a thumb.
In addition, the TS 7.2 has LED lighting, two water features, and two pumps.
The Clarity Series Balance 7 has a large footwell, plenty of seating, and room to move around. It is a six-person hot tub with 38 hydrotherapy jets. Each seat has a different jet pattern, allowing you to enjoy a unique massage as you rate from seat to seat. A popular feature in the Balance 7 is the cool down seat. The seat is at a higher level, allowing you to cool down without getting out of the hot tub. The design of the lounge seat also allows you to sit on either side.
There's also LED lighting, backlit cupholders, and a water feature. It also has two pumps to power the massage jets.
Winner: The Twilight Series TS 7.2 is all about therapy and using the massage jets to improve your well-being. The Clarity Series Balance 7 also offers plenty of hydrotherapy. However, people love the Balance 7 as a place to entertain and for its price point.