"Where there is love, there is life," Gandhi said.
And what better way to celebrate the season of love than the place where you spend your life. While depictions of the perfect Valentine's Day are at dimly restaurants and swanky cocktail lounges, your home can be the backdrop to a romantic and comfortable Valentine's Day.
Celebrating Feb. 14 at home gives you an opportunity to incorporate favorite memories while starting new traditions. It's also a way to take advantage of what you love most about your home, including your Master Spas hot tub.
If you want to show your appreciation for loved ones this Valentine's Day, try incorporating some of these ideas into your celebration.
Valentine's Day at Home Ideas
1. Set Up a Romantic Setting
When you are celebrating Valentine's Day at home, it's important to set the scene. You don't want to be reminded of dishes that need to be done or emails that need to be checked. However, you can create a romantic getaway with the thoughtful use of candles, flowers, and other decor.
Consider adding touches of red and pink to your decor. If you plan to spend part of your Valentine's relaxing in your Master Spas hot tub, consider adding festive throw pillows and a thoughtful porch sign. Work with a local florist to add seasonal planters with hardy greens and festive touches.
You can also turn on the water features and LED lighting of your hot tub. The soothing sound of the water and the ambient glow of the lights will help you create a romantic setting.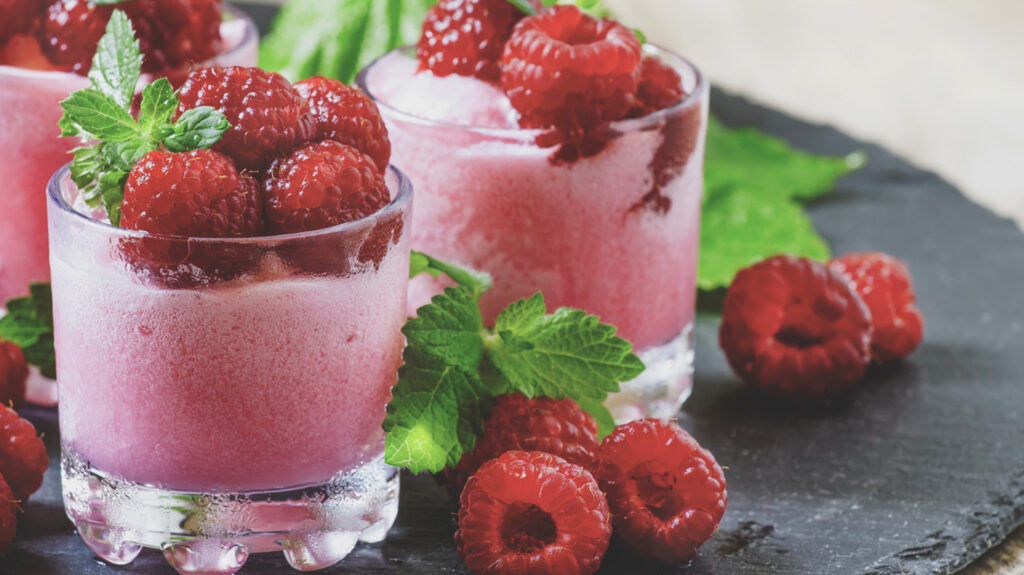 2. Whip Up a Family Mocktail
Will this Feb. 14 be a family affair? Include your children in the festivities by mixing up a mocktail that everyone will love. For example, a raspberry sherbet punch is a fun refresher and only requires a few ingredients. To make the punch, you'll need lemon-lime soda, lemon juice, lime juice, and raspberry sherbet.
3. Special Features
Avoid the competition for the best reservations and the crowded date night spots. When you celebrate Valentine's Day at home, it's important to have a menu you will fall in love with.Be sure to choose ingredients that you enjoy at a restaurant but don't always use at home. Fresh fish, a hearty pasta, or perfectly prepared steak will make it feel like a special occasion.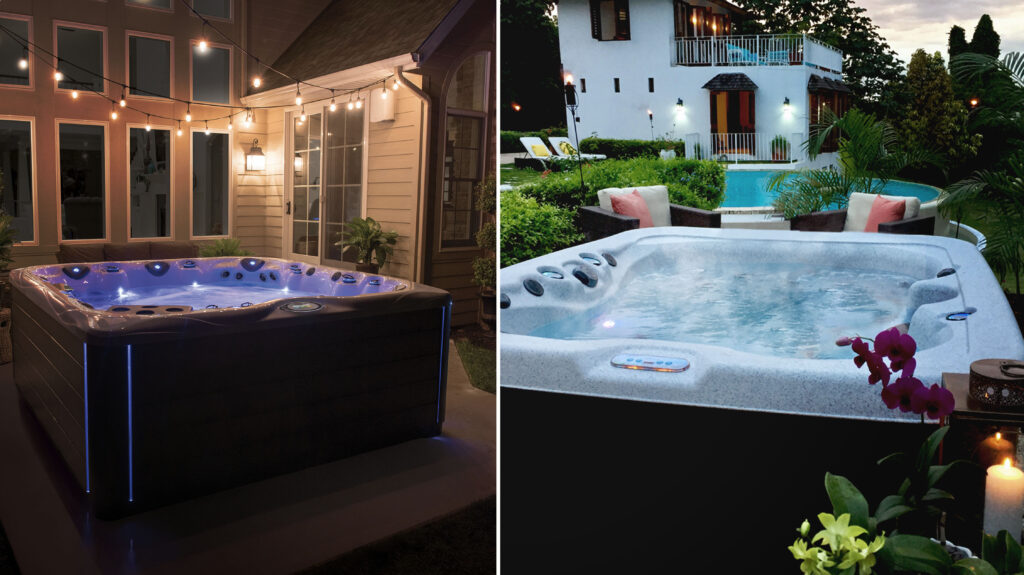 4. Looks Like Love
Outdoor lighting can be functional — illuminating a walkway or putting a spotlight on the patio door. More than that, lighting can also set the mood for a space.
Turn your backyard into a romantic getaway with an easy lighting set-up. Morrocan-style lanterns create a unique, attractive aesthetic. You can also add fairy lights around your space, and these lights are often available in different colors. Select lights that add a warm, soft glow to your space.
Related post: Hot Tub Lighting Ideas
5. Surprise
Channel your inner cupid and surprise your loved one with a thoughtful gift. Consider a splurge-worthy blanket that will keep her warm on the coldest of nights or an experience, like a virtual tasting or the delivery of her favorite food.
6. Personalized Playlist
Mixed tapes might be a thing of the past. However, you can surprise your loved one with a personalized playlist. Select songs that are special to you as a couple. Or, you could go the cheesy route and pick the rock ballads of the 1980s.
We put together this Valentine's Day playlist. This playlist features classics such as "I Will Always Love You" from Whitney Houston and "I Swear" from All-4-One. But there are selections, too, from Taylor Swift and Camila Cabello. Whether you stream it on waterproof speakers installed in your backyard or turn it on as you enjoy dinner, it is sure to set the mood for a sweet night at home.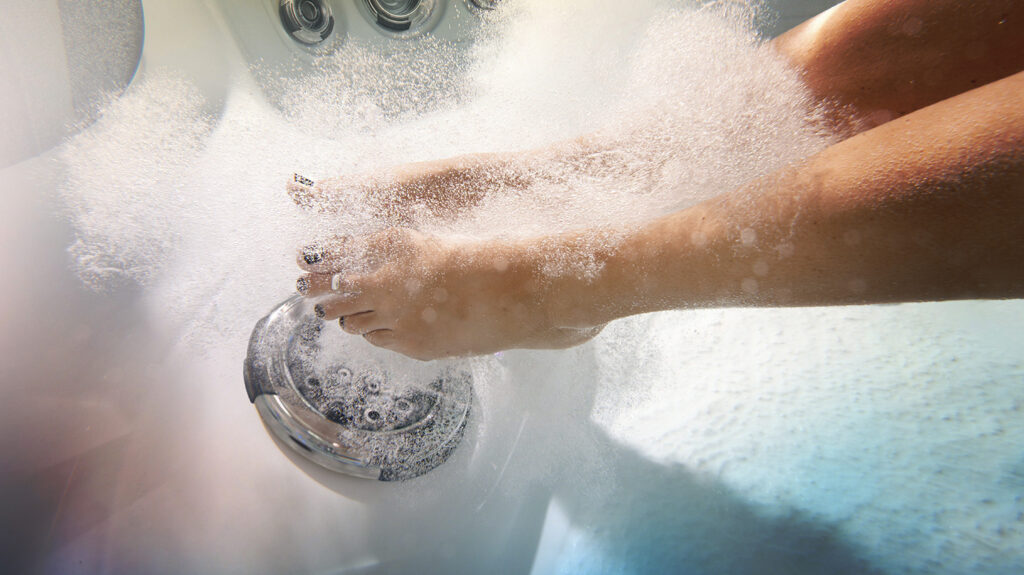 7. Good for the Soles
There's no denying that a foot massage can help you relax. But a good massage offers more benefits. Foot massage can increase circulation, ease tension, and reduce pain. Select hot tubs by Master Spas also feature Master Blaster foot massage jets. Each jet features 14 individual nozzles to target your tired soles.
8. Warm Up by the Fire
A fire pit can create a focal point in your backyard. Turning on your outdoor fire feature will help you turn up the ambiance of your at-home Valentine's celebration. You can cozy up together with a soft blanket, enjoy your favorite beverage, and have a heart to heart.
The fire pit can also be a way to stay warm after a soak in your Master Spas hot tub. Be sure to put out some "warm fuzzies" to keep you comfortable — a fleece-lined robe, oversized towels, and slippers with a rubber outsole.
Related post: Fire Pit and Hot Tub Backyard Ideas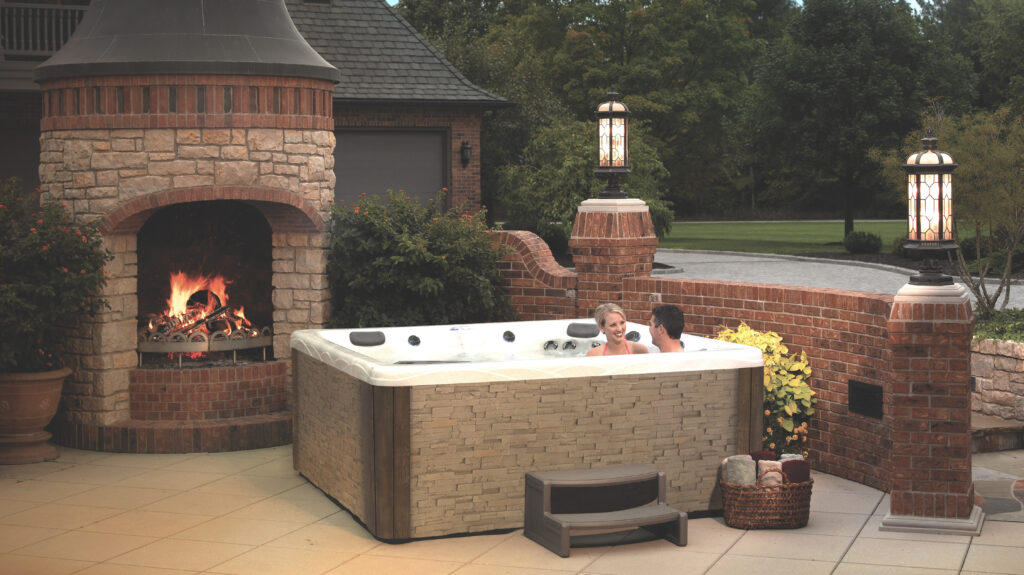 9. Dessert Bar
What is Valentine's Day without dessert? If you are celebrating at home this year, be sure to plan for a sweet treat or two. Popular Valentine's Day desserts include decadent chocolate cakes, chocolate-covered strawberries, and red velvet everything. While you can order a small cake from a local bakery, consider working with the shop to set up a personalized bar. Or, check out subscription options that include a variety of pastries. Little bites will allow your Valentine to enjoy all of the things she loves. Ideas for a Valentine's Day dessert buffet include macarons, mini cupcakes, chocolate-dipped strawberries, and cheesecake bites.
10. Movie on the Projector
There's something special and even nostalgic about watching a movie outdoors. The stars are overhead, and you can enjoy the fresh air. While drive-in theaters are closed for the theater, you can create an outdoor movie experience at home. Set up an outdoor projector near your hot tub by Master Spas so you can soak in the water as you watch.