Soaking in warm water has been used as therapy for centuries. It can relax muscles, increase circulation, ease achy joints, and reduce stress. These warm water soaks lead to an overall boost in your well-being. For some people buying a hot tub, that's what they want — a place to soak, relax, and feel good. Others, though, are looking for the bubbles. The massage jets. The opportunity to experience a spa massage without booking a spa appointment.
Hot tubs combine hydrotherapy and massage but there can be a difference between models. If you are shopping for a hot tub, knowing what you want out of a spa can give you the power you need to pick the best one for you.
Yes, you read that correctly: Power.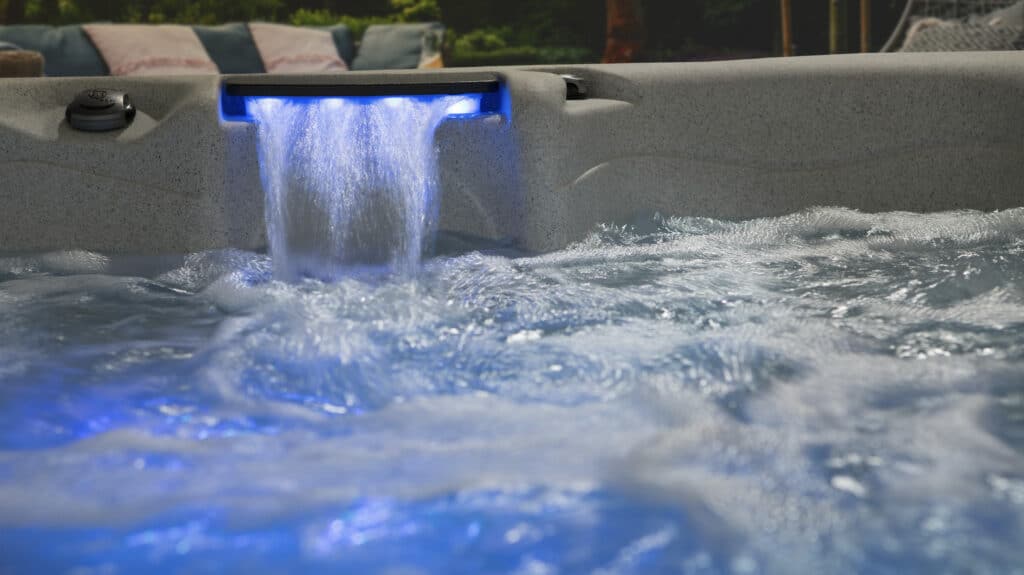 Most acrylic hot tubs require a 50-amp 220V electrical connection. These dedicated hook-ups require a licensed electrician for installation. Often called plug and play hot tubs, there are models that require a 15-amp 110V connection.
But what's the difference between the two types of hot tubs? After all, you can turn up the heat and turn on the jets in both.
Master Spas manufacturers three lines of acrylic hot tubs and a line of lightweight hot tubs, which includes 110V models. While they are made with premium components, the best hot tub depends on how you plan to use your spa.
Keep reading to learn more about the difference between 110V and 220V hot tubs.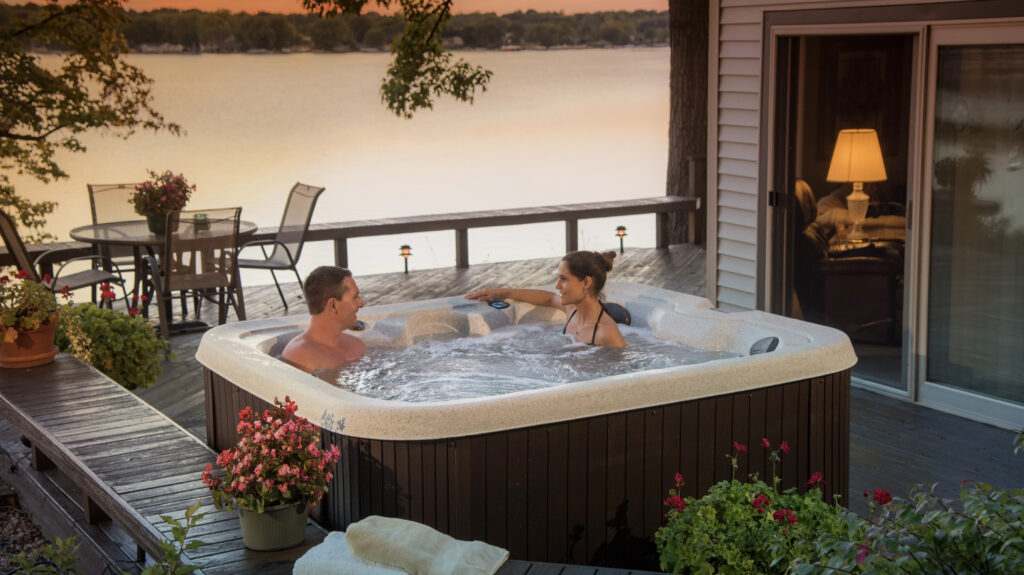 110V vs 220V hot tubs
110V hot tubs
Shopping for a hot tub on a budget can feel overwhelming. You want to get the spa that you have been imagining but not spend more than you anticipated. For some buyers, especially first-time hot tub owners, 110V hot tubs can be a budget-friendly option.
Often more affordable to install, 110V hot tubs are easy to operate and easy to enjoy. Put very simply: Plug in, fill up, and relax.
There might be a couple steps missing but you can skip the electrician and dedicated hookup with a 110V hot tub. The Getaway series from Master Spas also features a simple touchscreen panel to turn on jets and adjust the temperature.
Another benefit to 110V hot tubs is their portability. Whether you rent your home or plan to move, the Getaway series is made from a lightweight material that makes them easier to transport. Once empty, of course. And because they are durable, 110V hot tubs are a great option for vacation homes, too.
What customers are saying: "I've dreamed of having a wonderful hot tub and thanks to you, my dream has come true! I love it!" — Sandra, Ohio
220V hot tubs
When people think about a hot tub, they often think about the massage jets. Whether it's nestling into the seat and enjoying a back massage or relaxing in a lounger, one of the benefits of a hot tub is the targeted therapy.
Plug and play hot tubs feature massage jets but a 220V hot tub will be able to provide a stronger, deeper massage to target stress and pain points. In addition, they typically offer more variety in jet styles and arrangements so you can get the most out of your hot tub experience.
In addition, the additional voltage can power the amenities you expect out of a premium spa, such LED lighting and WiFi, which is a dealer-installed option available for select Master Spas models.
A 220V hot tub might be a more expensive product on paper. The price tag will likely be higher. In addition, owners will have to invest in a dedicated 50-amp electrical hook-up. However, owners will typically save more over the lifetime of the hot tub among the other benefits of 220V hot tubs.
Featuring a 4KW heater and multiple pumps, a traditional 220V hot tub is more energy efficient. For comparison, a 110V hot tub has a 1KW heater and one 2-horsepower pump.
But what do all those numbers actually mean? Your heater will not have to work as hard to heat the water and maintain the temperature. The result is a lower energy bill. And for people who live in colder climates or the snow belt, it means that the heater will not as run as often when compared to a 110V hot tub.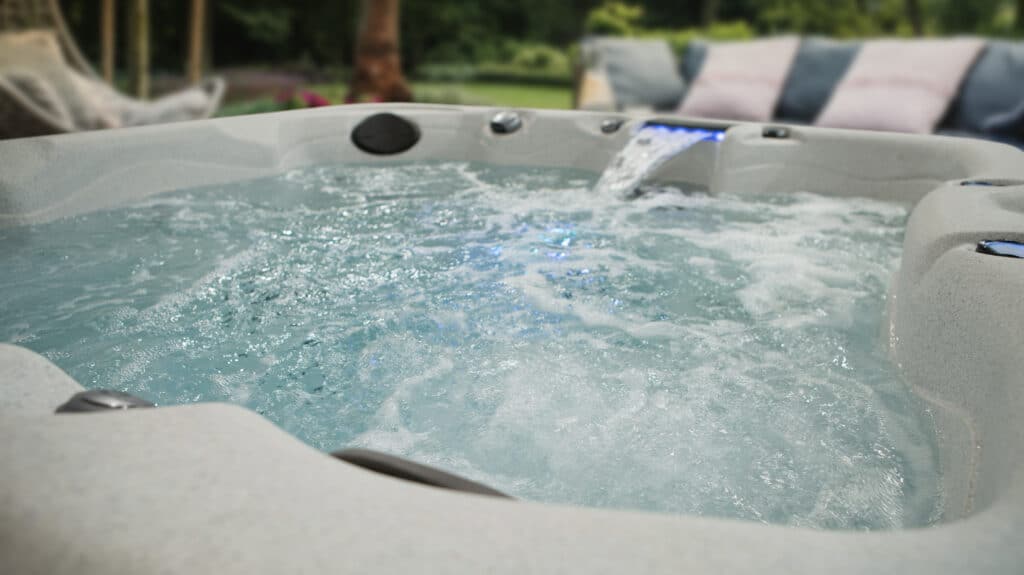 110V hot tub options
Master Spas manufacturers a unique line of lightweight, durable hot tubs. The Getaway series brings your next getaway to the convenience and comfort of your backyard. And many of the hot tubs require just a 15-amp 110V connection, meaning that you can plug and play.
Getaway Bar Harbor SE
The Bar Harbor SE is a budget-friendly hot tub that has room for up to five adults. While it's portable and lightweight, it has the amenities you would expect, including 25 jets and a cascading waterfall.
Getaway Ocho Rios SE
This four-person hot tub has an open seating arrangement. There are four bucket seats and 17 jets to help you relax in the comfort of your backyard. This portable 110V hot tub can also be converted to a 220V/50-amp spa.
Getaway San Miguel
This three-person hot tub is not only space-conscious but budget friendly. The San Miguel has 16 massage jets and easy-to-use touch panel. Another benefit of this lightweight hot tub is that it can be converted from 110V to 220V.
Which hot tub is right for you?
When it comes to finding the best hot tub, there's myriad models to fit your lifestyle and budget. Explore your options by the cost of the hot tub or number of seats. Or, contact your local Master Spas retailer to learn more about hot tub ownership. Wondering how much a hot tub costs? You can request a quote here.