Lighting can take a space from dull and drab to light and airy. It can change the mood from work to play, workout to relax.
And while we often think of lighting when it comes to the indoors, outdoor lighting solutions can transform your backyard space into one that you will want to enjoy night after night.
A hot tub by Master Spas can often be the centerpiece of a backyard design, and the right lighting can accent the investment in your wellness and outdoor space.
The right lighting can put a spotlight on your hot tub and spotlight the inviting space you have created.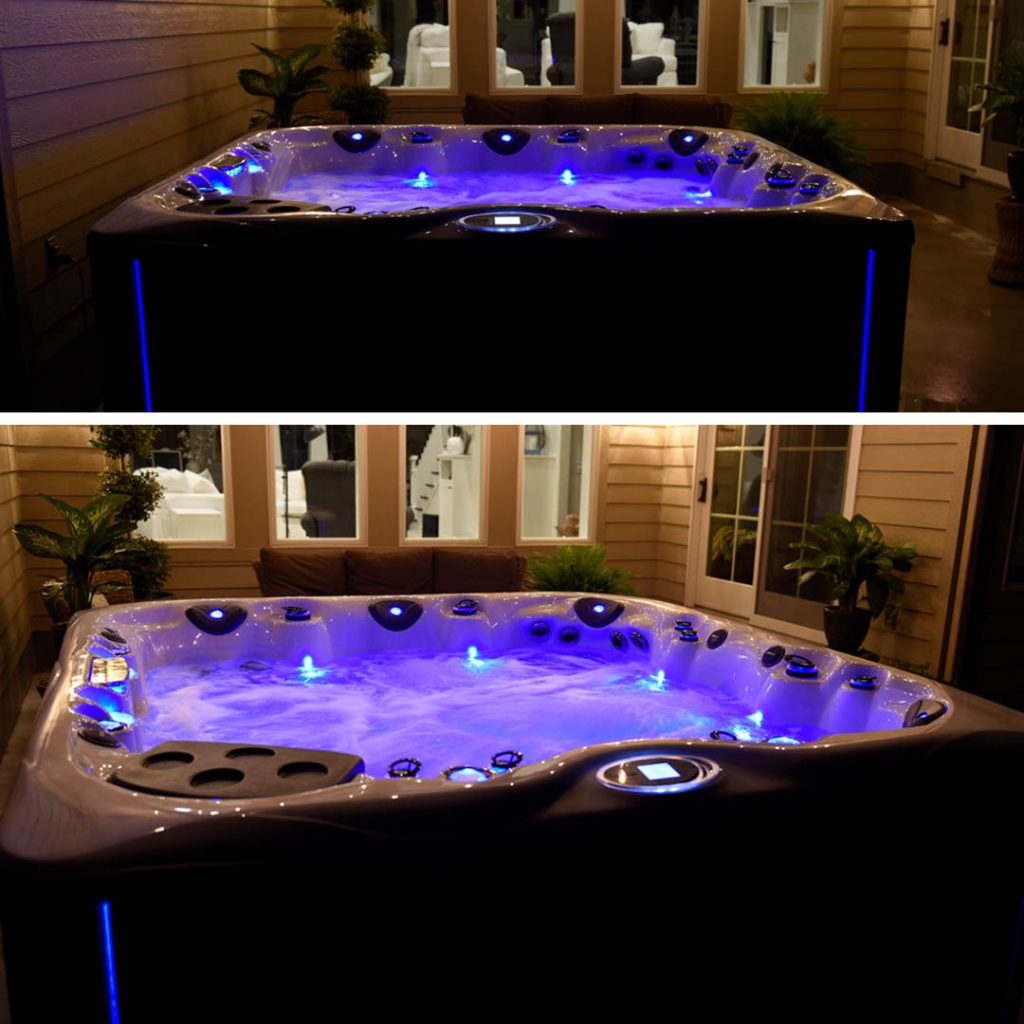 Hot Tub Lighting
The warm water and massage jets of a hot tub offer relaxation and therapy. But, the experience of soaking in a spa can be — and should be — more than the basics.
Master Spas hot tubs feature cascading waterfalls and LED lighting to enhance the customer experience. Whether you are taking 20 minutes at the end of the day or entertaining friends, the hot tub lighting features set just the right mood.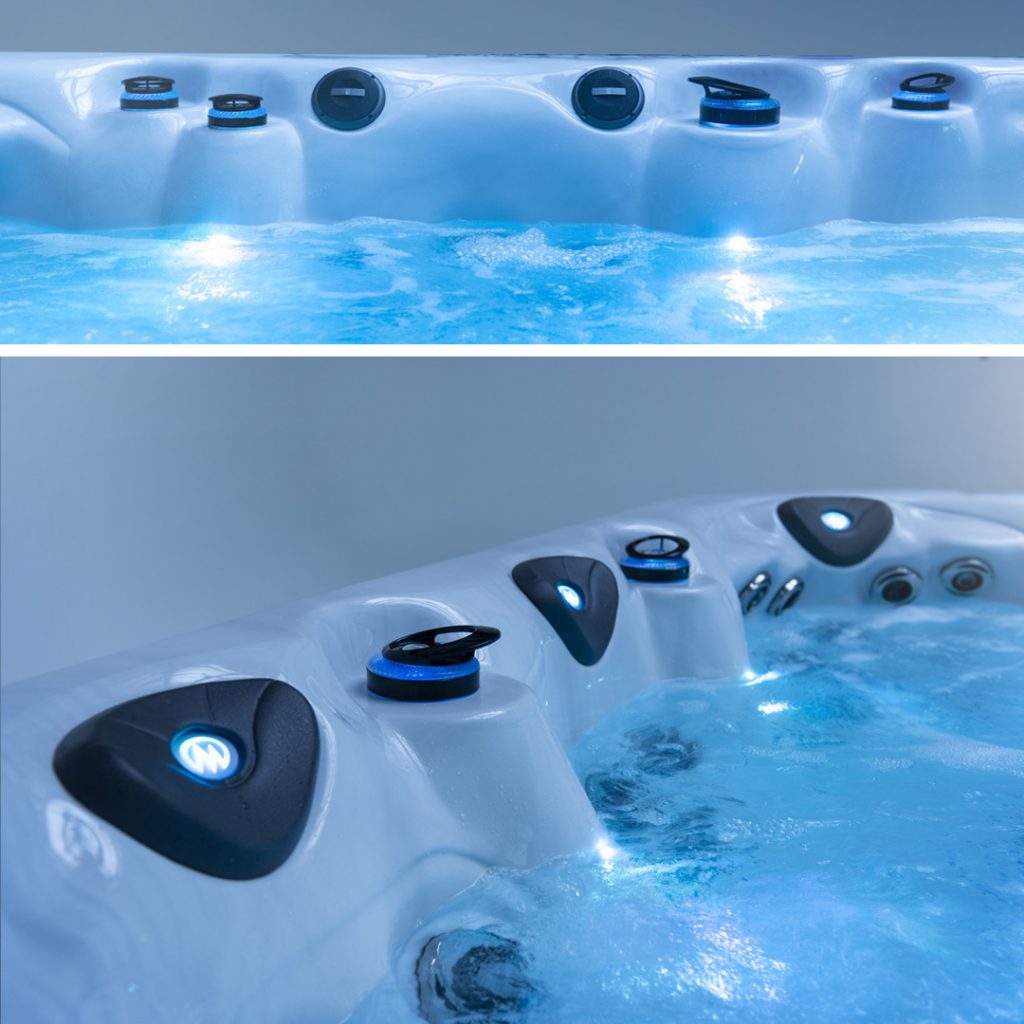 Hot Tub Lighting Options
Master Spas hot tubs feature a variety of standard lighting options, as well as premium upgrades. Options do vary between Master Spas acrylic hot tub brands. It's easy to find your favorite settings with the industry-best Balboa control panel. Easy to navigate, your favorite color takes just the touch of a button.
Waterline LED lighting
Backlit cupholders
Backlit waterfalls
Orion Light System. An array of colors illuminate controls, water features, under the water, and more. 
Afterglow Light Package. A premium option, this package adds some drama to your hot tub with lights that illuminate the jets.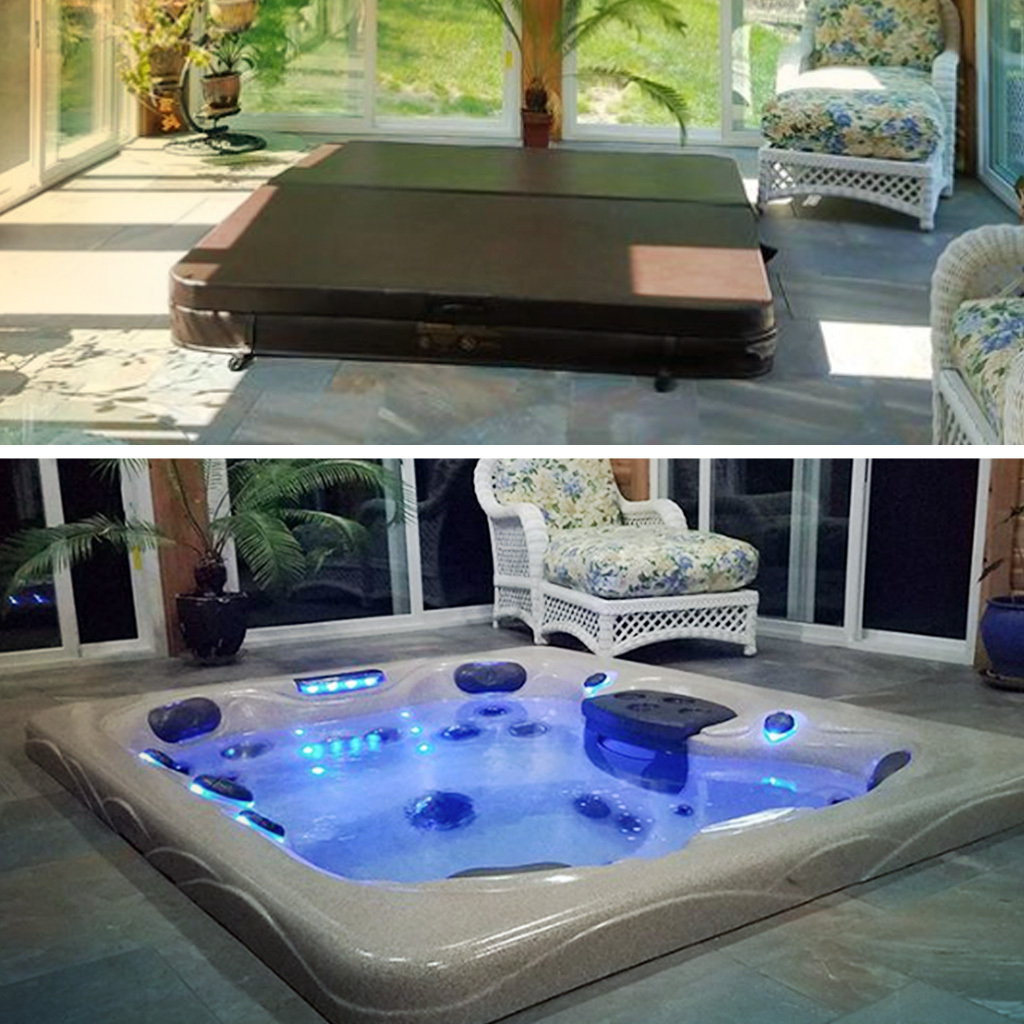 Hot Tub Lighting Ideas
Light the Way
When you are planning outdoor lighting for your backyard and hot tub installation, do not forget about the walkway. These lights will improve safety as you walk to and from your hot tub at night, as well as cast a soft glow throughout the yard. Energy-efficient LED lighting comes in a variety of styles and color so you can create a cohesive design. Flower and butterfly lights add a bit of whimsy while there are more minimal designs for a modern touch.
Many pathway lights are low to the ground. However, there are options that can be staked into the ground — adding height and dimension to your backyard. The stakes also allow you to switch out the lanterns so you can easily update the look of your outdoor living space.
Home Base
The best location for a hot tub is a convenient one, so that you can enjoy it more often. No one wants to sprint across the yard in the snow, after all. Most hot tub owners choose to install the spa on a patio or deck, where it's an easy walk. As you plan your hot tub lighting, rethink your outdoor fixtures that are on the back of the house and garage. Many options that are just as stylish — if not more — than indoor light fixtures, and they are a great way to complement the architecture of your home.
Do you need hot tub installation tips? Download the Hot Tub Planning Guide.
Strings Attached
String lights are a popular and easy way to amp up your outdoor lighting. But when considering hot tub lighting ideas, be mindful when using the fixtures around water. Choose a solar option when possible. String lights can be placed on poles or hung from the roof of a pergola.
Related post: Pergola Designs to Inspire Your Backyard Makeover
Go Out on a Limb
Trees are often incorporated into landscape not just for visual appeal but for the shade that they offer. It might seem counterintuitive, then, to look at trees as a way to light up your backyard. However, the limbs are a great way to illuminate areas in your landscape. Down lights can be installed in a tree, shining light on certain areas. Pendant lights can hang from the limbs, while up lights can be placed at the base. The best part is that the lights will not cast a harsh glare on your hot tub so you can enjoy a relaxing night soak in a hot tub.
No matter the lighting option, be sure to keep shape and style in mind. Go zen with fixtures that look like paper lanterns or add romance with those that look like candles.