Are you ready to say goodbye to spring and HELLO to summer days? Memorial Day is the unofficial start to summer and an opportunity to celebrate with loved ones.
But before you kick off the season, make sure your outdoor space is primed for a good time.
A bit of preparation and a few small touches will help you relax on Memorial Day — and beyond.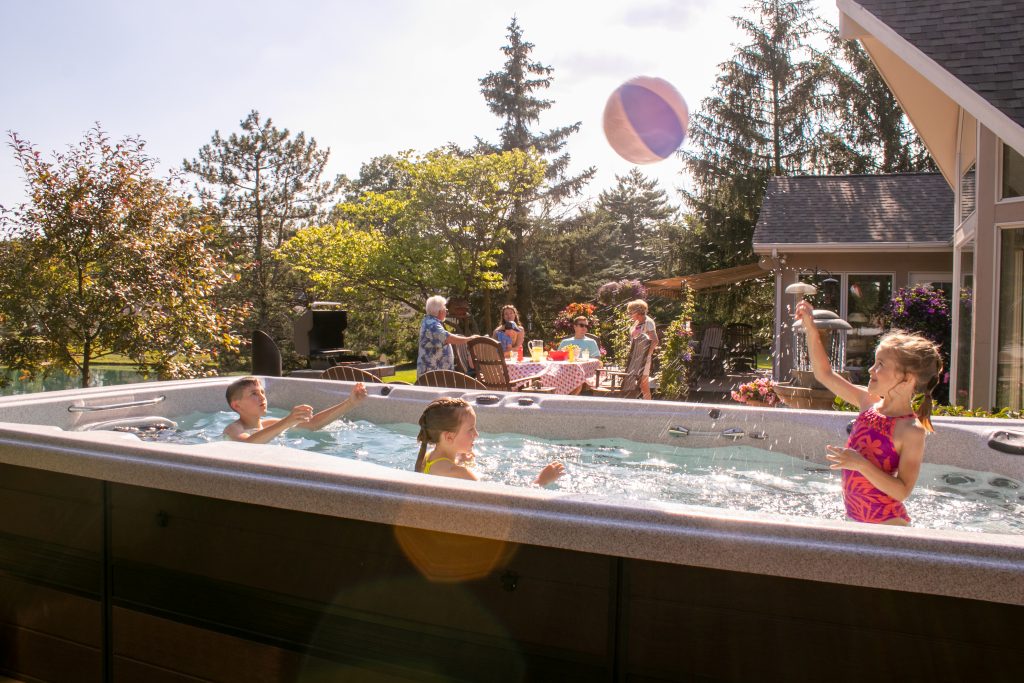 7 Ways to Plan for a Relaxing Memorial Day
Clean Start
It can be challenging to relax when things are out of place or in need of a refresh. Before you begin decorating for Memorial Day festivities, take an afternoon to tidy up your backyard. Wipe down your outdoor furniture, use your garden hose to spray down the patio, and organize your garden tools.
It's also a great opportunity to clean the cabinet of your hot tub or swim spa. Master Spas uses DuraMaster Premium skirting, which is durable and UV resistant. The cabinet requires only periodic cleaning. After spraying down your patio, use the garden hose to clean the cabinet. If necessary, use mild soap and water with soft cloth to wipe down cabinet surface. Be sure to rinse thoroughly.
Creature Comforts
The best outdoor spaces are the ones that are inviting and comfortable. Cozy pillows, soft throw blankets, and even a hammock with a patriotic nod will carry you through Memorial Day to Fourth of July to Labor Day. Select outdoor accessories that are tasteful and understated so that you are decorating once for summer and can spend more time enjoying your space.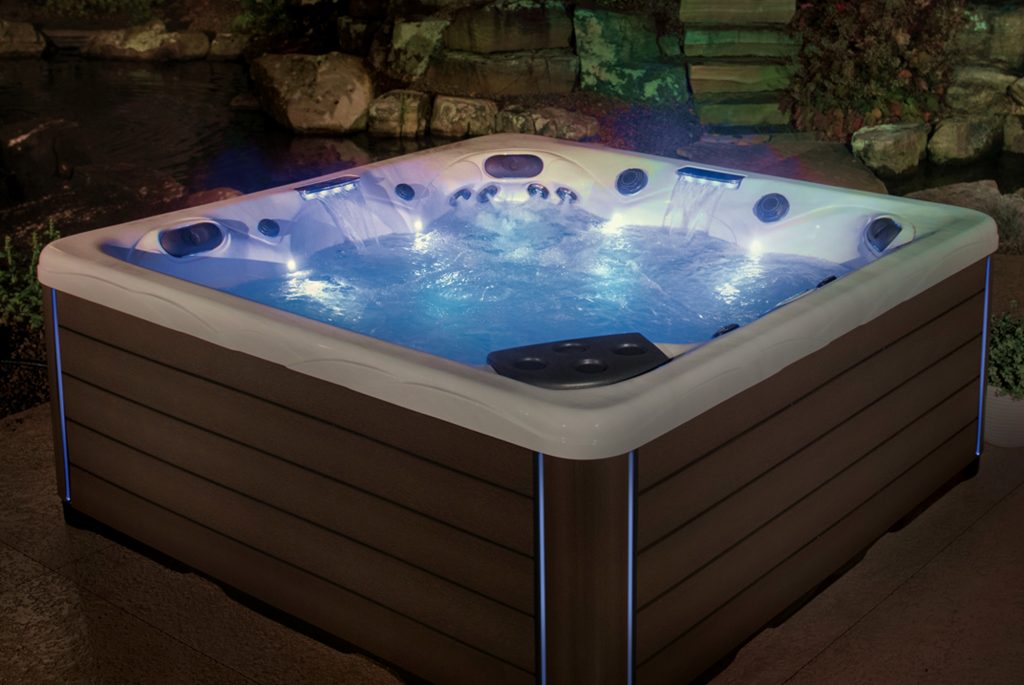 Into the Night
The sunset should not be the deciding factor as to when you abandon the outdoors. Enjoy your patio and backyard into the night with strategic outdoor lighting and a space to take in the stars.
Select hot tubs by Master Spas feature LED lights, which illuminates the waterline of the hot tub. The therapy seats with adjustable massage jets are an ideal spot to relax at the end of the night or continue the conversation with loved ones.
Petal Power
One of the most rewarding ways to transform your outdoor living space is with colorful blooms. The flowers can set the tone and add life to your backyard. Daylilies, sweet peas, and holly hock lend themselves to a cottage garden look. Alliums, bleeding hearts, and ornamental grasses are popular in coastal gardens.
But for Memorial Day, consider accenting your space with colorful annuals in variations of red and blue. Step outside your planter box and consider red-hued corn poppy, nasturtium, zinnias, and new varieties of petunias. Annual flowers that add a hint of blue are morning glory, salvia, larkspur, and cornflower.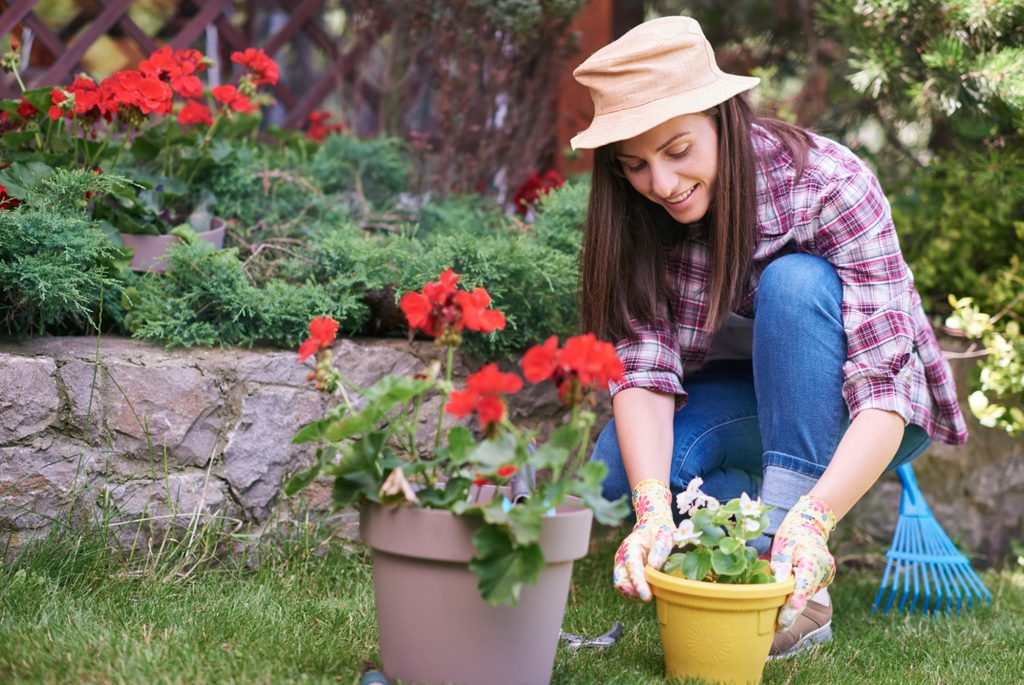 Set the Table
A stylish patio table can define your outdoor space, offering a place to sit, relax, and enjoy a meal or two. But, for Memorial Day, you can turn the tables on your outdoor vibe. Add a festive yet chic patriotic flair with a blue-and-white striped tablecloth. Red cloth napkins, mini American flags, and a bouquet of white peonies are a smart accent.
Small Touches
Sometimes, it's the little things that make a big difference. When it comes to preparing for your Memorial Day festivities, consider what will have the most impact. Maybe it's adding a patriotic swag to your fence or lining your walkway with mini American flags. Or, it could be adding the ingredients for an all American, all ages punch to your online grocery cart. Lifestyle expert Evette Rios likes to string kites in the trees for an unexpected flair.
Ultimate Relaxation
Are you planning a season of outdoor living and not just a weekend? A hot tub by Master Spas can complement your backyard design and add enhance your quality of life. The warm water and adjustable massage jets offer a space to unwind and reconnect with family — over the Memorial Day weekend and throughout the summer.
Contact a Master Spas dealer and learn more about how you can kick off summer with your very own hot tub.