From swinging on a playset to splashing in the pool, encouraging your children to be active does not necessarily mean a class or organized sport. Any movement that requires children to use energy counts as physical activity.
However, the fast pace of life, increased access to technology, and lack of physical education classes can limit opportunities for youth to move their bodies.
Only about 24% of youth ages 6 to 17 get the recommended 60 minutes of activity each day, according to the CDC.
But parents and adults can help set a positive example for children, offering encouragement and motivation to get in regular exercise.
A swim spa by Master Spas offers a safe space for children to get active and stay active. High-energy children will enjoy being able to challenge themselves while less active children will be attracted to the fun of the water.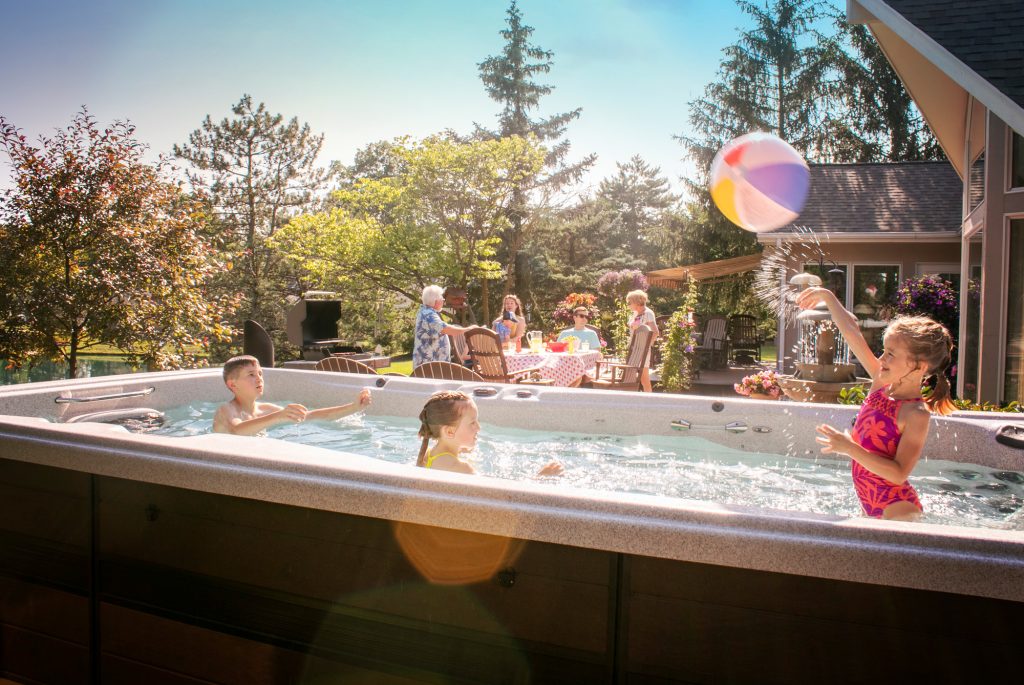 Benefits of Exercise for Children
The World Health Organization recommends that children ages 5 to 17 get at least 60 minutes of physical activity a day. But the hour of movement can be accumulated throughout the day by playing sports, games, swimming, biking, running, and jumping.
This activity offers numerous physical — and mental — health benefits for children. Research shows that physical activity in children and adolescents has a positive effect on brain activity, and symptoms of depression anxiety. It also helps with physical development and reduces the risk of chronic disease.
According to Swimming.org, swimming is a lifelong skill that benefits a child's well-being. It "keeps your child's heart and lungs healthy, improves strength and flexibility, increases stamina and even improves balance and posture."
Research also shows that regular physical activity can help children with Autism Spectrum Disorder, ADHD, and Type 1 Diabetes.
Other Benefits of Exercise for Children:
Promotes healthy growth and strong bones
Reduces symptoms of anxiety and depression
Better sleep
Improves confidence
Improves academic performance
Benefits of a Family Swim Spa
A swim spa by Master Spas offers families a place to enjoy quality time together in the convenience and comfort of the backyard. It can be a place to spend summer days, weekend nights, or create a family staycation.
And for families comparing a traditional in-ground swimming pool and a swim spa, a Master Spas unit offers additional benefits:
Lockable safety covers that keep children from getting in the swim spa unattended
Energy efficient and built-in heater allows you to extend summer. In fact, it can be used year-round — no matter your climate.
Some children might struggle with fear when it comes to the water. A swim spa is self-contained and intimidation free.
You can teach children to swim without trying to find a lesson that fits into your family schedule.
Adjustable water current that allows competitive swimmers to train when the pool is closed or family obligations keep them from practices.
A swim spa can be installed in nearly any backyard, no matter the size, and installation takes less than a day once your space is ready
Download our Backyard Planning Guide and take your first steps toward installing a swim spa.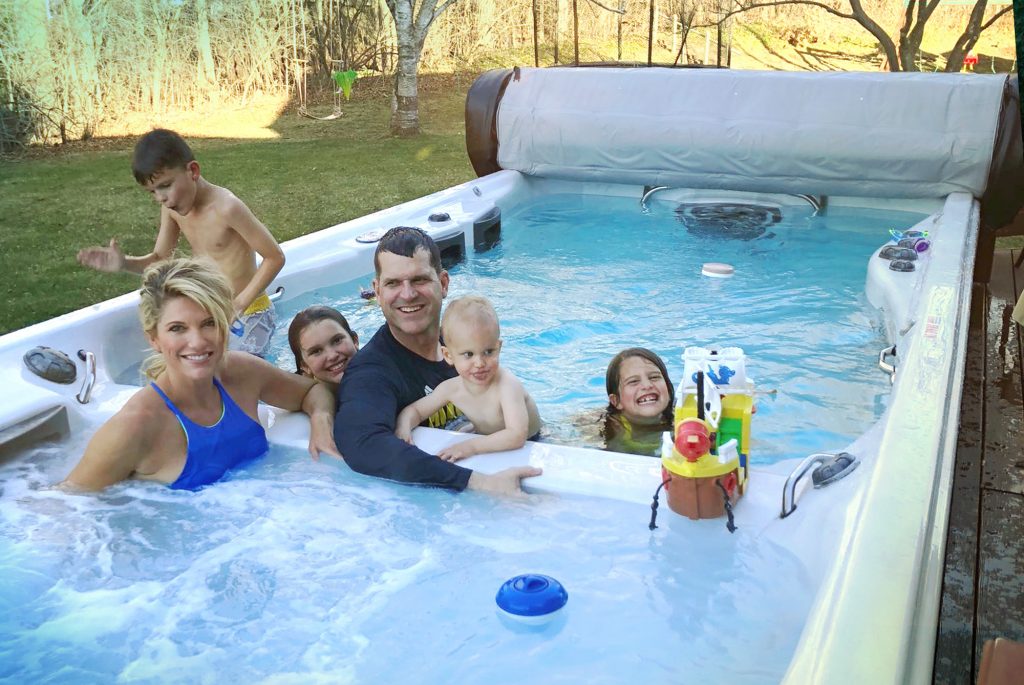 How to Get Kids to Exercise
Make it Fun. What is the most important component of physical activity for children? FUN. Research shows that you cannot underestimate the role that fun plays when engaging children in activity. "When participants see others having fun and learning new skills, they are more likely to par­ticipate and become or remain engaged learners," according to the American College of Sports Medicine.
And when you think back to your childhood, consider the activities that you most enjoyed. Was it playing catch with Dad? Hiking and exploring national parks? Or, playing a game of Marco Polo in the water?
The water is often the backdrop to our favorite memories, offering a place to be active. A swim spa by Master Spas is a year-round pool alternative that offers a place to swim, move, and play — for the entire family.
Involve the Whole Family
Children learn by example and when we model an active lifestyle, it will encourage children to do the same. After all, we all benefit from moving more. Find fun ways to incorporate activity into your family's routine. Maybe it's a nightly walk with your petsor a weekly bike ride.
Be Encouraging
For children who struggle to be active, it's important to offer positive feedback. They might struggle with self-esteem or worry that they lack certain sports-related skills. Offering encouraging comments can build confidence and foster a positive attitude toward exercise. When children feel good about themselves and exercise, activity will become something they want to include every day.
Make It Feel Like a Reward
Many of us have that one memory of gym class or sports when we were told to run an extra lap for being late or doing push-ups for talking. In other words, exercise became a punishment. Instead, make the activity feel like it's the reward. Research shows that if there is an intrinsic reward to activity, children will be eager to get moving.
The reward can be one-on-one time with a parent while going for a walk at night. Or, it can be a hike at a state park that has a unique landscape, like waterfalls and rock formations. A night-time swim in the swim spa can feel special. Set the water current to re-create the experience of a wave pool with the starry sky as a backdrop.
Create a Routine
Sometimes a schedule can feel overwhelming — with extra-curricular activities cutting into family time. But finding small ways to incorporate activity every day will make it feel more like something you do rather than have to do. Consider heading outdoors an "afternoon recess," with the entire family heading outside at the time when school would typically end.
Or, make the time after dinner and between bed a time for spending time together. A swim spa by Master Spas is the perfect place to wind up at the end of the night. The kids will began splashing around and not even think about whether it's exercise. While the younger members of the family move and play, you can enjoy the therapeutic benefits of the hydrotherapy seats.
Turn it Into Family Competition
We're not talking about a sports league or team sport. Whether it's a backyard obstacle course or taking a swim challenge in the swim spa, a family competition makes movement fun. Children will not even realize they are exercising, and it will help them feel invested in the activity. And when the competition involves the family, children will feel more comfortable and encouraged to participate.
So what is a swim challenge? Children (and adults) can test their speed, seeing how long they can swim against the highest current settings. Or, test endurance to see who can swim for the longest period of time.