Choosing the best accommodations for a vacation, whether it's a weekend getaway or a weeklong stay, is more than just a hotel happy hour and nice toiletries. Travelers are looking for more in their vacations. They want amenities that help them create a memorable experience.
While some people choose for the ease of a hotel, more travelers are using vacation rental sites like VRBO and Airbnb. They can filter their searches for the features and locations that will help them truly escape. They can choose properties with full kitchens and bicycles, pools and ocean views.
For property owners, it's important to make your vacation rental stand out from the rest. While you can't just create a view of the water or mountains, thoughtful design and amenities like a hot tub can help you attract more renters.
Designer Jess Davis transformed a turn-of-the-century cottage in St. Augustine, Florida, into a must-rent home for a beach vacation. Davis is known for her approachable yet sophisticated home design style and DIY projects.
The Shire is a 2-acre property that has views of a surrounding marsh, as well as the Atlantic Ocean. Guests can walk out to the pier or enjoy the view of the water while soaking in a Master Spas hot tub.
The Clarity Spas Balance 7 is ideal for a vacation home like the Shire. It's spacious enough for six adults, while easy to maintain.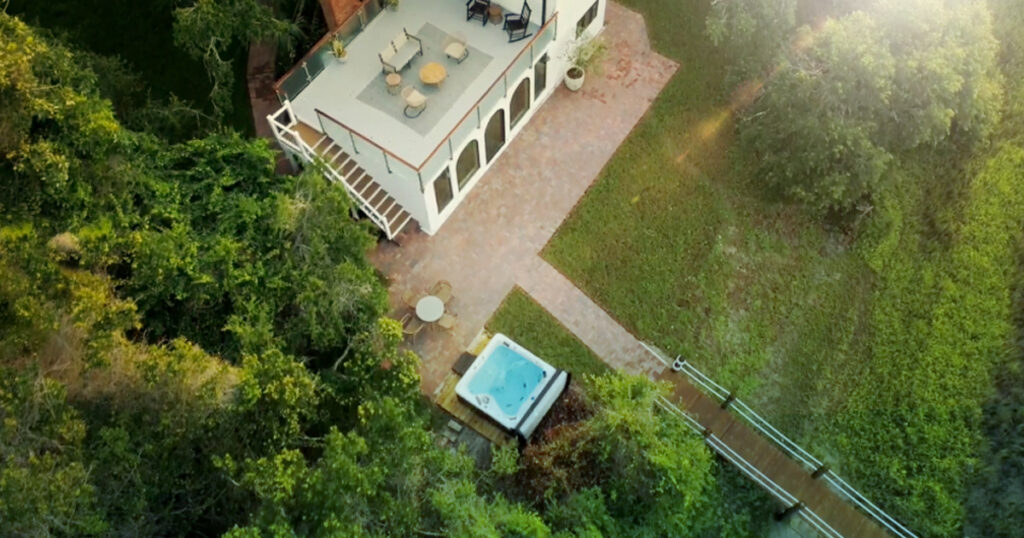 Vacation home with hot tub
There's no doubt about it — amenities matter. An Airbnb survey found that 97% of travelers say amenities affect their vacation. Some of the most popular amenities are about convenience — a coffee maker and free parking.
Also among the top 10 vacation rental amenities are features that add comfort — air conditioning, a pool, and hot tub.
A hot tub is something that guests can enjoy, no matter the season or location. While Florida is known for being the Sunshine State, it's not always pool weather. In fact, the temperatures can be in the 40s at night in St. Augustine. And, in the winter, the high temperatures might not hit 70 degrees — definitely not pool weather.
But when guests book Davis' Shire property, they can enjoy the water of the Clarity Spas Balance 7 without dipping their toes in the cold water of the Atlantic Ocean. Guests can easily access the hot tub from the steps coming from the rooftop patio or the patio door.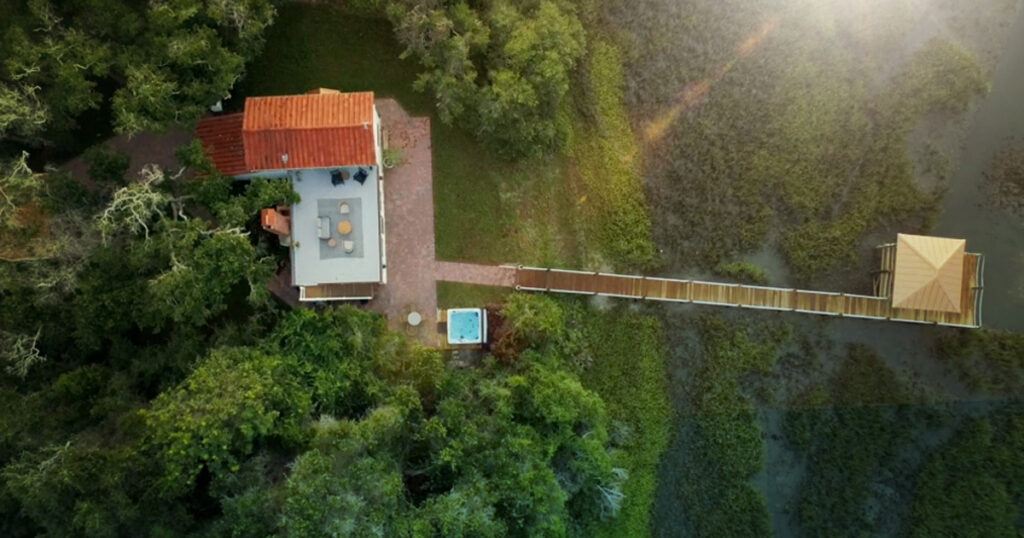 Should you install a hot tub in your vacation rental?
Vacationers want to check in to a property and check out from the stress of daily life. And what better way to do that than by soaking in your rental property's hot tub?
But hot tubs are not just a way to attract more guests to your rental and demand a higher rate. The spa could be the deciding factor for potential guests, especially if you have a cabin or mountain area property.
A vacation property with a spa can require additional upkeep. However, chemicals and maintenance do not have to be time-consuming.
Consider keeping a log that tracks any major repair work or mechanical servicing, as well as the next time it's due. This log is especially helpful if you are contracting with a company to add chemicals to the hot tub or service it between guests.
It's also important to include guidelines for using the hot tub in your rental agreement. Be sure that they know how to safely use the spa, set a maximum temperature, and remind them that they are using it at their own risk. A damages clause is also important to add to the agreement.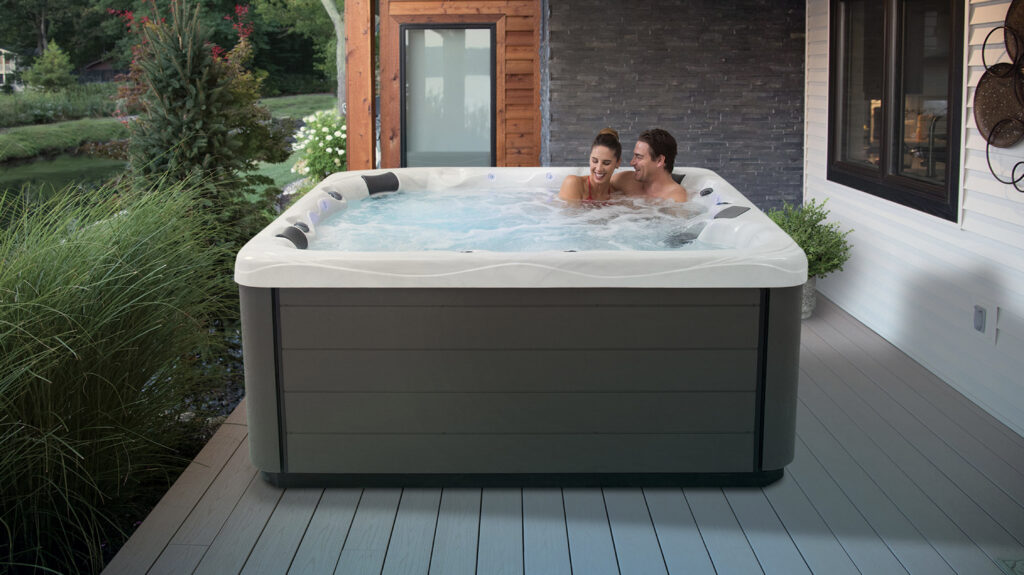 Best hot tubs for vacation rentals
Choosing the right hot tub for a vacation rental home can be overwhelming. You want a spa that's easy to maintain and will be reliable as guests check in and out. However, you want it to be sleek and inviting.
There's also a range in how much a hot tub costs. You want to buy a quality hot tub but still get the most return on your investment.
The Balance 7 is a budget-friendly hot tub from Master Spas that is ideal for your home or a vacation property. It's made to Master Spas' construction standards and offers myriad therapeutic features..
This six-person hot tub has 38 jets, including a full-size lounge and StressRelief Neck and Shoulder Seat. Enhancing the soaking experience are contoured spa pillows, ambient LED lighting, and soothing water features.
For vacation rental homes that accommodate more guests, the Balance 9 has room for eight adults and a large footwell for stretching out.
How to buy a hot tub
Are you ready to transform your vacation rental into an oasis? A Master Spas hot tub can help guests relax and unwind while staying at your vacation rental. You can click here to discover our secrets to creating a backyard oasis. Or, contact your local Master Spas retailer to learn more about swim spa ownership. Wondering how much a hot tub costs? You can request a quote here.