When Ohio native Meredith Kessler first introduces herself, she shares that she is a mother and a wife. But she is also a professional triathlete with more than 60 full-distance triathlons under her race belt. Racing triathlons for more than 20 years, she registered for her first 140.6 almost impulsively, after graduating college.
And she has not looked back since.
Kessler has broken the tape at 11 IRONMAN races and 23 70.3 IRONMAN races. She has swam, biked, and run thousands of miles over the course of her career — in races and in training.
With each session, there's the potential and push to sharpen the competitive edge. For Kessler, incorporating a Master Spas swim spa into her training and recovery has been pivotal. The pool-spa has allowed her to balance training with family life, as well as focus on her swim.
Kessler has a self-proclaimed ugly stroke, and a swim spa allows her to refine her stroke. In a video series with Master Spas, she shares her tips for training in a swim spa.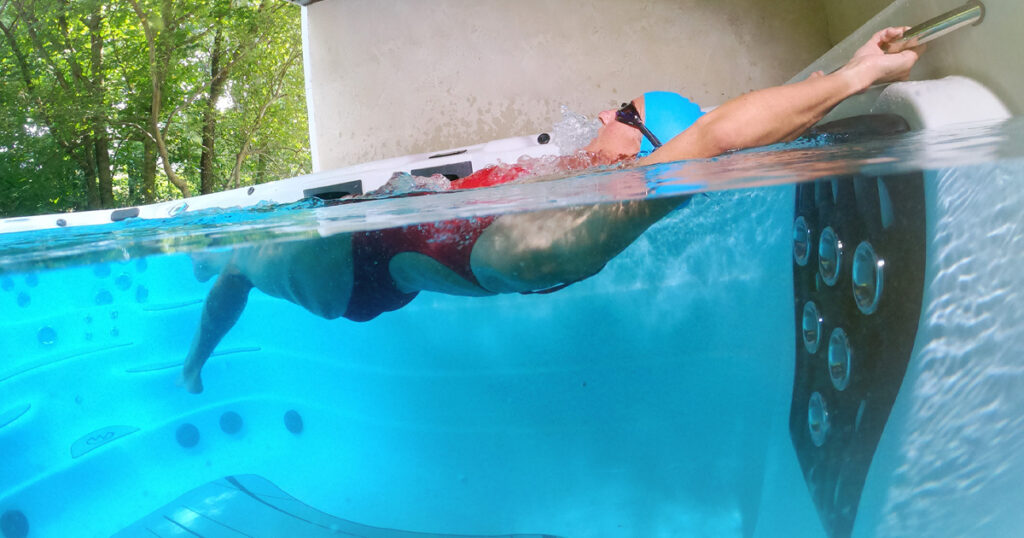 Swimming tips for spas with Meredith Kessler
Kessler loves to race and has competed at numerous full-distance triathlons. But it takes consistency to not just participate but perform at your best in that number of events. It's also important for her to keep training balanced, incorporating cross training and prioritizing recovery.
While swimming is an integral part of her training program, it's also crucial to her physical recovery and mental well-being.
Sessions in her Master Spas swim spa help her achieve both. She trains, recovers, and relaxes in an H2X Challenger 15D.
The H2X Challenger has a jet system that creates a continuous current of water for stationary swimming. You can adjust the flow of water to swim for recovery or at a harder effort. You can swim as fast as 1:20 per 100 meters in the spa. There are also hot tub seats and massage jets for recovery and relaxation.
In her Master Spas video series, Kessler shares her swimming tips for taking advantage of a swim spa's myriad benefits.
---
Kicking with fins
Improving your swimming kick might not make you exponentially faster in the water. However, a bad kick and poor body position can hold you back.
Whether you are training for a long-distance triathlon or swimming for fitness, it's important to work on your kick. A well-timed kick will help you stay near the surface of the water and almost create a gliding effect.
Kessler suggests incorporating kicking with fins into your swimming routine. Not only does kicking with swim fins help you find that good body position, it also aids in recovery. She finds that these drills in the swim spa help her flush out lactic acid and relieve soreness.
"My legs are really, really sore from strength, from running, from cycling," Kessler says. "(And kicking with fins) helps me parlay that into another really hard workout the next day."
You can perform kicking drills in the swim spa in a variety of ways. You can hold onto a kickboard and set the swim current at an easy pace. Another way to perform drills is to wear a snorkel and hold onto the stainless-steel bar at the front of the spa.
Kessler notes that if you are wearing a snorkel that your head should be between your arms and facing down.
But you can also wear fins as you just swim in the spa. Kessler suggests wearing paddles to help you keep your heart rate down. Adjust the flow of the current as necessary so that you can focus on the kick and maintain good body position.
---
Swimming with pool mirrors
Swimming is a sport where technique matters. Even small changes to your stroke or body position can lead to big improvements over time. However, it can be challenging to see the areas where you can improve. For most swimmers, the only thing you see is the black line at the bottom of the pool.
However, you can place pool mirrors at the bottom of the swim spa. The pool mirrors allow you to see your hand position, catch, and whether you are pulling through.
For Kessler, she has struggled with crossing over the center line when she swims. She tries to keep her hands at "11" and "2," a cue from her swim team days, but you can't see that in the water.
Pool mirrors in the bottom of her swim spa allows her to get instant feedback on her stroke and improve power in the water.
Other benefits of mirrors include counting your stroke and really focusing on how you move through the water. The result is a more powerful stroke that benefits your overall performance.
---
Swimming for relaxation
As a triathlete, Kessler has to balance three sports — swimming, biking, and running. But there's more to training than endless miles. She has to incorporate strength training and make time for rest and recovery.
But recovery is not just sitting on the couch and watching Netflix.
For Kessler, she finds long, gentle swims to be relaxing and good for her "chi." These swims for relaxation are done at a low heart rate and do not have a set distance or duration. Kessler will swim as long as she is feeling good and engaged. The swim could be anywhere from 10 minutes to 2 hours.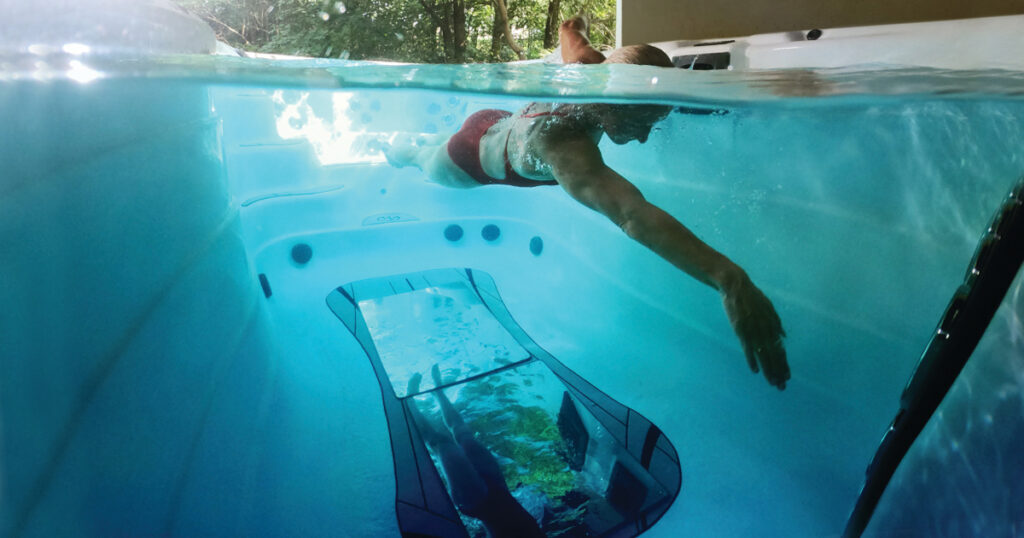 How to buy a swim spa
Do you want to be able to balance triathlon training with daily life? Having a Master Spas swim spa allows you to swim on your schedule while adding a fun factor to your backyard. You can click here to find out more about the benefits of hydrotherapy and relaxing in a swim spa. Or, contact your local Master Spas retailer to learn more about swim spa ownership. Wondering how much a swim spa costs? You can request a quote here.