Watching Ben Hoffman move through the water, it can be hard to believe that he once struggled to swim a length of the pool. But the professional triathlete did not have a swim background when he entered the sport as a college student.
And that's something you will find when you look at professional and age group triathletes. Some athletes might have spent their childhood on swim teams but many did not. It can be a big deterrent for people who are interested in the sport.
Hoffman has become a really good swimmer but it took incredible dedication, patience, and consistency. In addition, good instruction and feedback helped him develop good movement patterns.
Swimming, though, is a very technique-heavy sport. It's important to constantly reinforce those movement patterns. Hoffman complements his swim training with sessions in an H2X Challenger 18D Pro. This Master Spas swim spa affords him the space and opportunity to train — and relax — at home.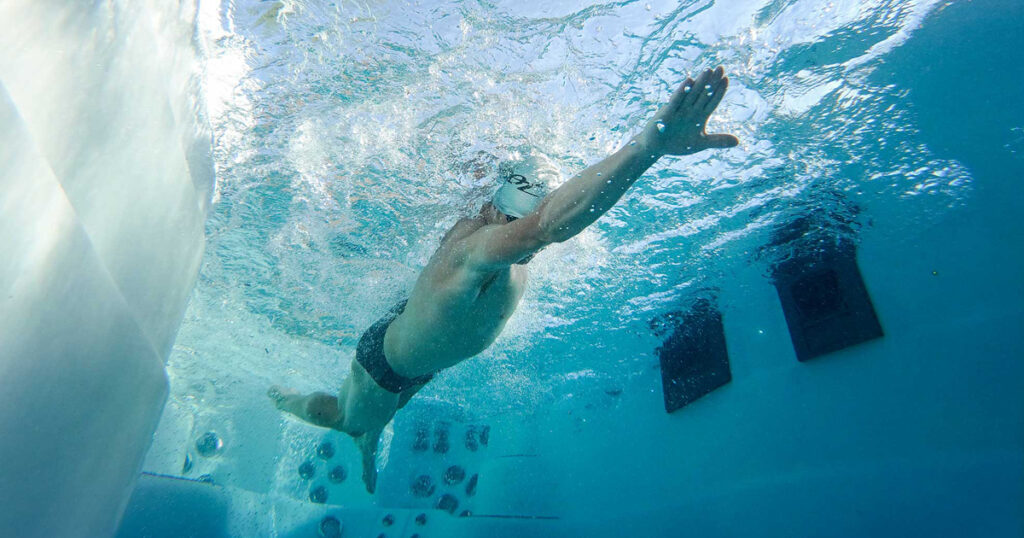 Swim spa tips with Ben Hoffman
Ben Hoffman was close to walking away from the sport of triathlon at the end of 2009. But in 2010, the Colorado native was able to win his first full-distance triathlon and secure some sponsorships.
But his professional triathlon career has not just been triumphs and podium finishes. He has also faced challenges, including a sacral stress fracture in 2018. This injury forced him to pull out of the IRONMAN World Championships that year and step back from training.
It was disappointing but he was able to step back, re-group, and come back stronger. He knew that swimming would be integral to his recovery, and a partnership with Master Spas allowed him to swim at his own pace in an H2X Challenger.
In this Master Spas video series, Hoffman shares his pro tips for using a swim spa to your advantage.
Must-have triathlon swimming gear
You don't need much to go for a swim — a suit, some goggles and, maybe, a cap. However, if you are training, there is gear that can help you improve your swim technique.
In this video, Hoffman shares how he incorporates must-have triathlon training gear into his swim spa sessions.
What are the must-have pieces of triathlon training gear?
Swim snorkel. A snorkel takes out the need to rotate your body and take a breath. Removing this motion allows you to focus on other elements of your stroke, including the catch. Another benefit to training with a swim snorkel as it allows you to recognize the feel of the water and create that muscle memory.
Pull buoy. In 2021, Hoffman was the first out of the water at IRONMAN Chattanooga. This swim course is popular among participants as you go downstream. After all, most people don't want to swim upstream as it requires more effort and strength. However, if you don't have good body position in the water, your legs will sink and the result is similar. Incorporating a pull buoy into your swim sessions helps you maintain a better body position.
Buoyancy shorts. Similar to a partial wetsuit, buoyancy shorts help create a lift and keep your lower body in a better position. Swimming with these shorts allows you to kick — something you can't do with a bull buoy. While these shorts can get a bad wrap, Hoffman says, they can be beneficial to help with position.
Relaxation and recovery
The H2X Challenger Pro has a jet system that creates a continuous current of water for stationary swimming. There's ample space for swimming each of the four strokes. You can adjust the flow of water to swim for recovery or at a harder effort. You can swim as fast as 1:10 per 100 meters in the spa.
But Hoffman has been surprised by how the swim spa has become not just a part of his training but family life. The recovery and relaxation are built-in to the spa.
Among the hydrotherapy features of this swim spa are the Xtreme Therapy Cove and contoured hot tub seats. The therapy cove features a unique pattern of jets designed to be used standing up, delivering relief to your back, hips, and legs.
Hoffman also likes to use the swim jets for a deeper massage.
One of the benefits of a swim spa is to be able to use it as a family pool when you are not training. Hoffman and his family spend time in the swim spa, splashing and playing. He can also work with his children on early water skills.
Stay cool
Tucson, Arizona, gets more than 350 days of sunshine a year. For Hoffman, that means he can train outdoors year-round.
But it can be hard to stay cool in the heat of summer, especially when the temperature is above 100 degrees.
Hoffman's pro swim spa tip for beating the heat: Installing shade sails over his swim spa.
The shade sails create a canopy over the swim spa, keeping the water at a comfortable temperature. It's helpful, though, to install the sails at a lower height to maximize the protection from the sun.
Shade sails can be removed during the winter, Hoffman says, when temperatures are milder.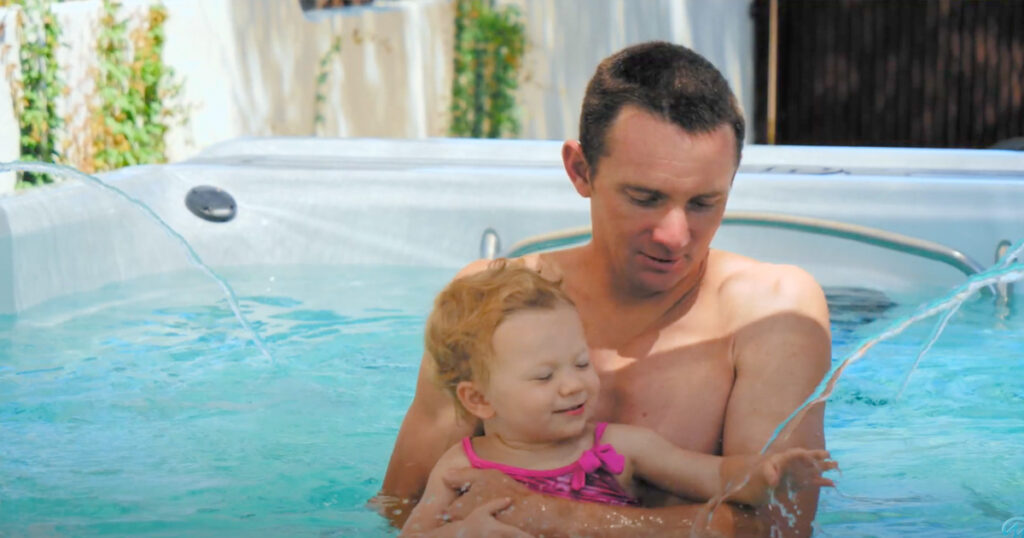 How to buy a swim spa
Do you want to be able to balance triathlon training with daily life? Having a Master Spas swim spa allows you to swim on your schedule while adding a fun factor to your backyard. You can click here to find out more about the benefits of hydrotherapy and relaxing in a hot tub. Or, contact your local Master Spas retailer to learn more about swim spa ownership. Wondering how much a swim spa costs? You can request a quote here.