And the hot tub dimension you're not factoring in!
Your 20 minutes soaking in a hot tub is about the experience. (OK, let's be honest, it's probably closer to an hour.) You are enjoying the way the jets feel on your back, the way your body relaxes in the warm temperature. Your head is resting on a comfortable spa pillow, not pondering life's great questions. As you relax, you are most certainly not thinking about the hot tub's dimensions.
But, the dimensions of your hot tub can play a factor in your enjoyment and ownership experience.
Master Spas manufactures a variety of hot tubs in a variety of sizes to fit a variety of spaces and backyards. When you are shopping for the best spa, it's important to consider hot tub dimensions in addition to the fun things — like jets and LED lighting.
There are a few standard hot tub sizes — 78 inches by 78 inches, 84 inches by 84 inches, and 94 inches by 94 inches. The depth (or height) of the spa can vary depending on the model.
How do you choose the hot tub with the right dimensions? There are some factors that will guide your decision.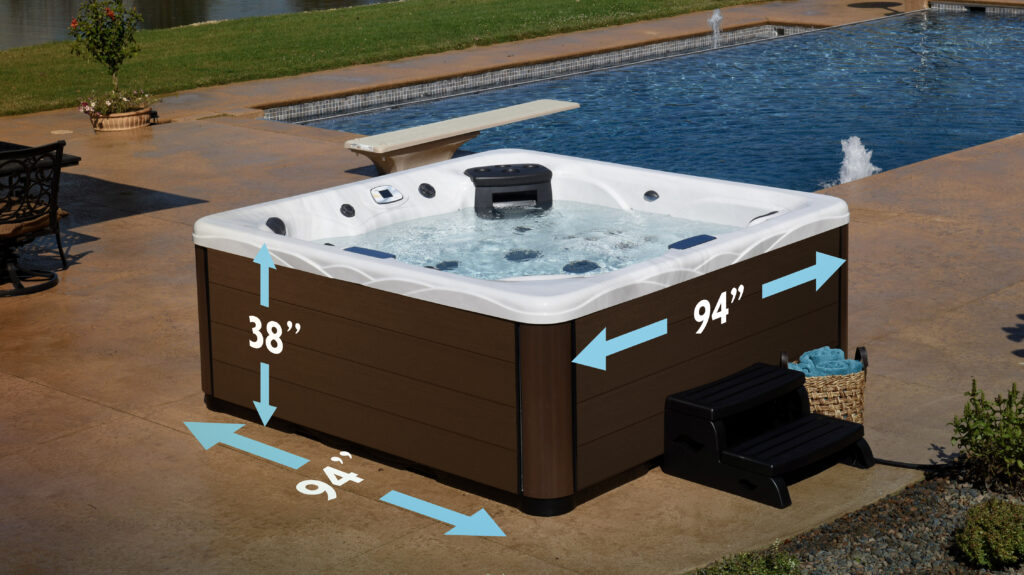 How Big is a Hot Tub?
Before you buy a hot tub, it's important to know just how big it is. The average hot tub size is between 7 feet square and 8 feet square. However, there are variations — some are as big as 9 feet wide and 9 feet long. There are space-saving spas, which seat two to three people.
You will need a space that is larger than the hot tub dimensions. Why? You need to plan for access to the service panel, clearance for a cover lifter (if using), and a space for the stairs.
In addition, contractors typically recommend adding one foot to the spa dimensions — at minimum — when pouring the concrete pad. The extra foot will give you six inches of room on each side.
Access to the location of your future hot tub is also important. If you have a fence, the gate should be wider than the height of your spa. Hot tubs are often delivered on their side, whether by dolly or forklift. In special circumstances, they can be delivered via crane.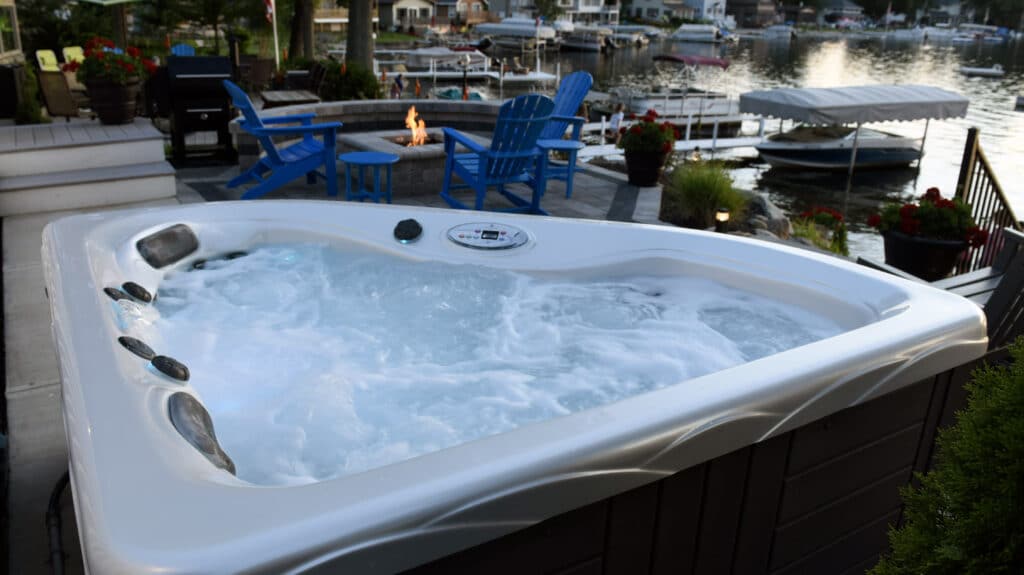 Comparing Hot Tub Dimensions
Many hot tubs can fit in one of three categories — small spas for two to three people; medium size hot tubs for four to six people; and large spas for seven or more people.
Small hot tub size: Master Spas makes two small hot tubs. The dimensions of the Getaway San Miguel are 69″ x 79″. For the TS 240, a corner hot tub, the dimensions are 78″ x 78″.
Medium hot tubs: The most popular hot tub size is 84″ x 84″, which is about 7 feet by 7 feet. Among the models available in this popular hot tub size are the Clarity Spas Balance 7, Twilight Series TS 7.2, and the Michael Phelps Legend Series LSX 700. Hot tubs with these dimensions are roomy enough to soak with friends but it doesn't overwhelm your space.
Large spa dimensions: Maybe you have a big family or you like to entertain. Or, you want a hot tub big enough to throw in a float and relax in the summer. (Yes, it's a thing and, if you haven't tried it, you should!) A hot tub with dimensions like 94" by 94" can help fit your needs.
Looking for a more spacious spa? Among the biggest Master Spas models are the Clarity Spas Balance 9 and Michael Phelps Legend Series LSX 900, which both have dimensions of 108″ x 94″.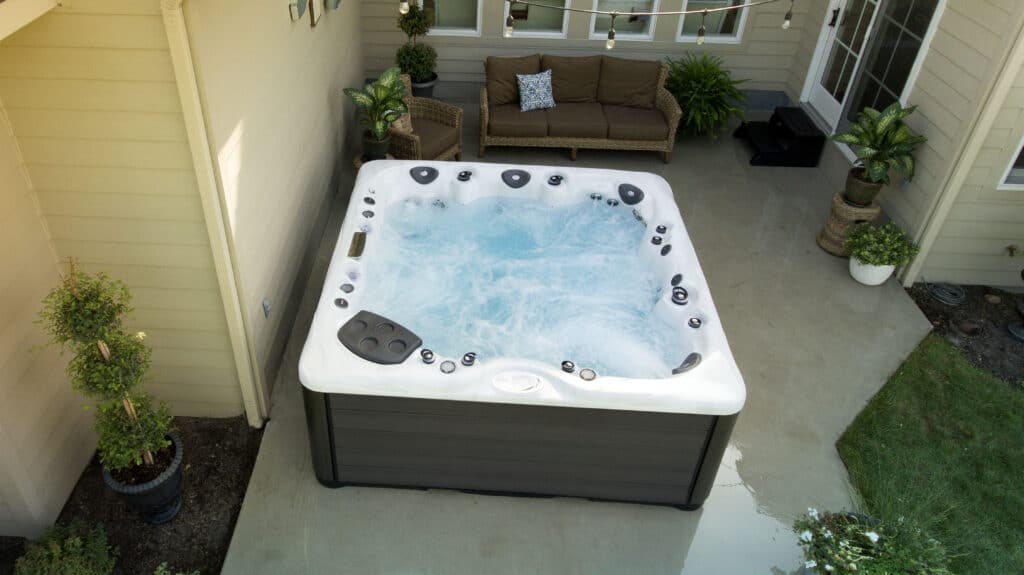 Most Important Dimension?
Many people talk about how big a hot tub is based on how many seats there are. However, there is another important dimension: Height.
Why should you consider height when looking at spa dimensions?
First, as mentioned above, the height can affect how the spa is delivered. A model that is not as deep can fit through a narrower entrance. If you want your hot tub installed indoors or on a screened in porch, it will need to fit through the doorway. The spa will be delivered on its size so the height is the dimension you most need to consider.
Master Spas manufacturers spas that are 34 inches tall, including the Twilight Series TS 67.25. The dimensions of this space-saving hot tub are 70″ x 84″ x 34″.
OK. Time to hit pause and rewind. Remember, the warm water, the jets, the pillow underneath your head.
When considering that soaking experience, a hot tub with added depth and room in the foot well might be more comfortable. Increased depth will affect the buoyancy of the water, relieving even more stress and pressure on the joints. Plus, if you are taller, you will have more room to stretch out and relax.
Are you ready to relax?
What size hot tub is best for your backyard? Contact your local Master Spas retailer to learn more about what model will work best for your needs and space, as well as spa ownership. Wondering how much a hot tub costs? You can request a quote here.