Red, white and … WOO HOO. When it comes to summer celebrations, a Fourth of July bash is the season's all-star. There are hot dogs on the grill, fresh watermelon on the buffet, bomb pops in the freezer, and drinks in the cooler. Friends are chatting and laughing while the youngest guests enjoy playing with sparklers.
But how do you make your party the best one yet without spending a week cleaning, prepping dishes, re-creating Pinterest tablescapes, and balloon arches?
The Fourth of July is the perfect time to throw a "pool" party. A Master Spas swim spa will be the instant centerpiece of your get-together. Whether it's swimming or splashing, relaxing or floating, guests will soak up the fun — allowing you to keep other elements of the party laid back.
Your swim spa party will be the one that will have guests talking long after the fireworks show is over.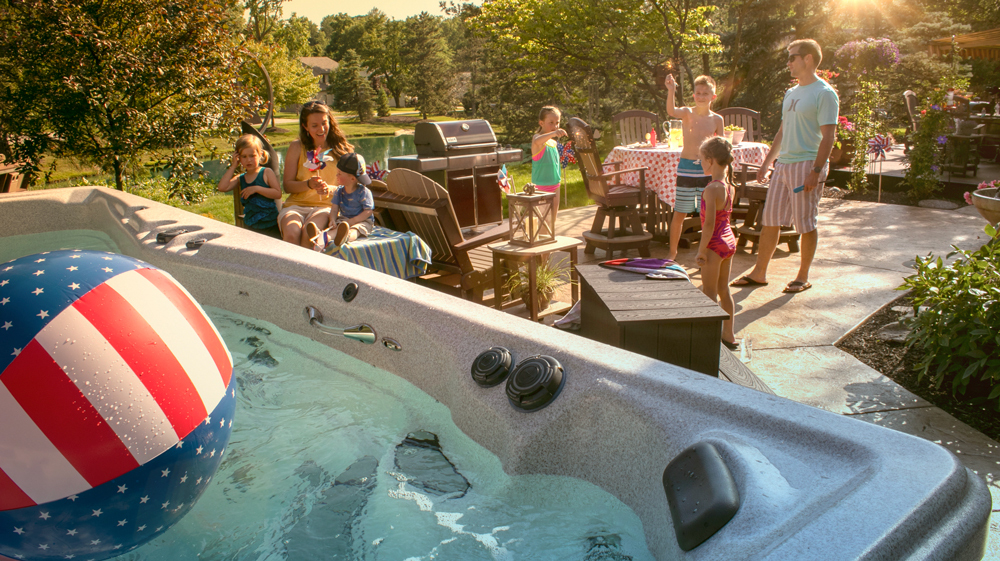 Fourth of July Pool Party Decor
The best part of a July 4 pool party? There's no reason to stress coming up with a theme … stars and stripes forever!
You can easily make your party a spectacular extravaganza, exploring Pinterest and creating a list of DIY crafts. However, simple patriotic decor will create a fun, nostalgic vibe that will set the tone of your Fourth of July pool party. After all, your guests will want to be in the water rather than on the patio admiring a perfectly hung paper lantern display.
Oversized pinwheels are easy to find, and they can be used as lawn ornaments. Pop a few into your flower bed or alongside your patio walkway. You can also use small American flags in flower arrangements or on their own in a mason jar. Pillows in red and blue gingham can cozy up your patio.
Another simple idea is to purchase potted annuals, like red geraniums or white petunias, and place them around a flower bed or on your patio. Blue and white hydrangeas look beautiful in a vintage watering can or metal vase.
Swim Spa Games for July 4
Fun is endless when you have a Master Spas swim spa. An alternative to an in-ground pool, you can swim, play, and relax in the crystal blue water.
But when you are hosting friends and family, it's always a good idea to have a few activities planned.
Among our favorite water games for children are a floating ring toss, treasure hunt, and hot potato.
But you can also get the whole gang involved by hosting a swim challenge. Choose a speed or setting on your swim spa and challenge guests to swim as long as they can.
Searching for an activity to get the kids out of the swim spa? Consider setting up a tie dye station. Invite children of all ages to create their own beach towel designs, perfect for the next swim spa party. You can also have other pieces to tie dye, such as tube socks, bandanas, and tote bags.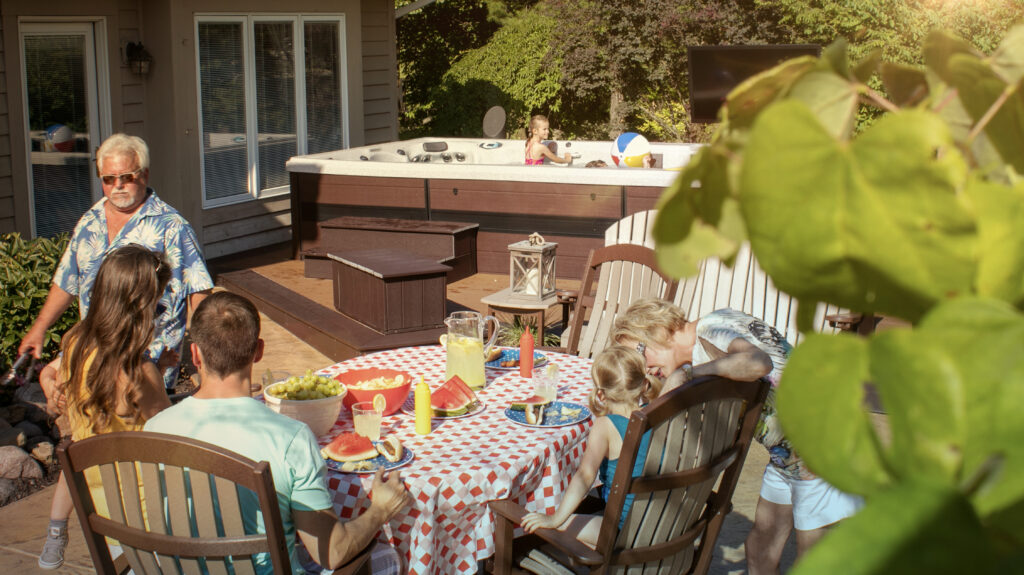 A Patriotic Pool Party Menu
When it comes to a party-worthy menu for July 4, it's hard to go wrong with barbecue favorites. Hot dogs, hamburgers, ribs — they are all crowd-pleasers.
But your heart might skip a beat when an excited guest runs from the table to the swim spa with a barbecue mustache and ketchup all over his hands. The condiment combo is sure to turn your freshly cleaned filters into a disaster.
Consider a tasty meal that's as flavorful as it is mess-free. Marinated chicken is an easy dish to prep the night before and can be thrown on the grill when it's time to eat. You can still go for a barbecue flavor by marinating the chicken in olive oil, barbecue sauce, chili powder, and smoked paprika. Or, surprise guests with a teriyaki or lemon chicken.
Vegetable skewers and grilled potato kabobs make for a fun, portable side dish. Or, consider a deconstructed pasta salad with tortellini, grape tomatoes, mozzarella bites, and black olives on a skewer.
If your guest list has a lot of littles, you might want to consider individual bags of chips and snacks. Wet hands reaching for a pretzel will make for a soggy snack bowl.
You also want to be sure to have a cooler of refreshing drinks, from lemonade to flavored sparkling water. It's easy to get caught up in the fun and forget about staying hydrated.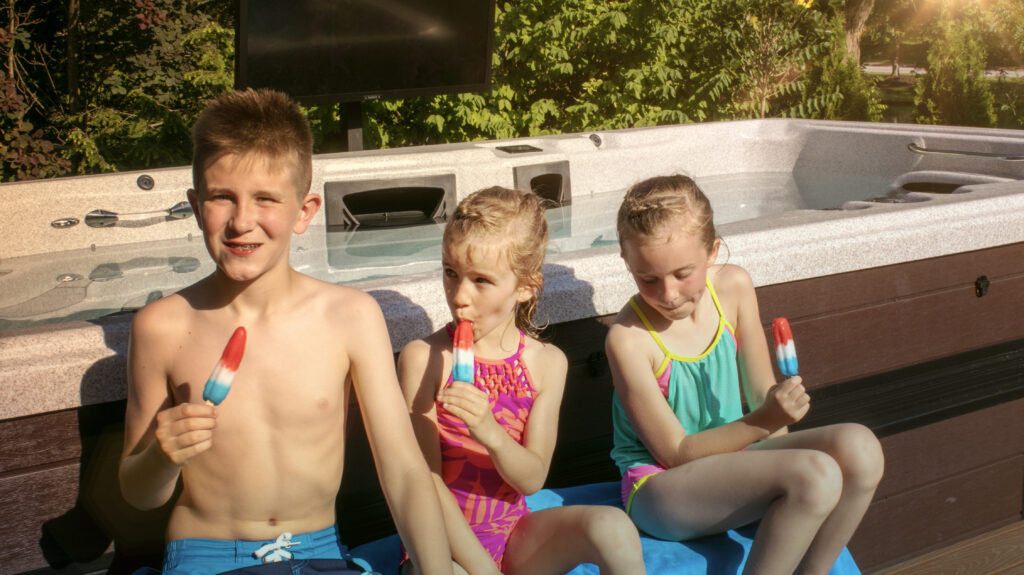 Perfect Patriotic Playlist
Do you want your party to R-O-C-K the USA? Well, you might just need the perfect playlist for your party.
These patriotic party hits will keep the energy high while showing some All-American spirit.
You won't be surprised to see "Firework" by Katy Perry and "Born in the U.S.A." from Bruce Springstein on the playlist. But there are some unexpected nods to the red, white, and blue on this playlist, including "Chicken Fried" by the Zac Brown Band and "Life is a Highway" by Rascal Flatts.
Waterproof speakers placed around the swim spa and patio make it easy to stream your favorite tunes.
Swim Spa Safety
You can hear your mom's voice in your head: It's all fun and games until someone gets hurt.
But there is truth in her words.
You want everyone to have fun at the party but you want them to be safe, too. It's important to share water safety rules and swim spa guidelines with people attending your July 4 pool party.
There are the obvious rules — no running on the deck and walking slowly up the steps — but there might be some that surprise guests.
Swim Spa Guidelines
Encourage children to wear rash guards to protect their skin from the sun. Sunscreen and other lotions and body oils can negatively affect your water quality.
Designate a child spotter to make sure that kids are playing safely.
No diving, jumping, flipping. A swim spa is not deep enough to do those safely. To get into the swim spa, people should walk down the steps.
Pushing someone in might seem funny but it's not. Don't do it.
Do not pee in the swim spa. It's not just gross but it will mess up the water chemistry.
Glasses and bottles should not be used near the swim spa. Broken glass is dangerous, especially around the water.
Fourth of July Party Favors
There's no mandate to have favors for guests, especially if it's a casual get-together in your backyard.
However, it's a thoughtful touch to offer guests something to take home with them after they have left your Fourth of July swim spa party.
But what's a good party favor for July 4? Think about the items that will be fun and functional around the swim spa.
Patriotic Party Favor Ideas
Red, white, and blue tumblers. Why is this a great party favor idea for the Fourth of July? Plastic cups are the best bet around the swim spa, and guests can use them throughout the day.
Patriotic beach balls
Basket of red, white, and blue flip-flops
A favorite Fourth of July party favor idea is to make gift bags for each guest. You can add festive patriotic items like stars and stripes sunglasses, sparklers, confetti poppers, Pop Rocks, Cracker Jacks, individual apple pies, and more.
Don't forget, too, that if you have a tie dye station, those items count as a party favor!