Getting the keys to your new house is exciting. But when you unlock that door, your anticipation can be replaced with an overwhelming feeling. From unpacking boxes to cleaning the bathrooms, it can feel like there's so much to do. You just need a place to unwind and get away from the mountain of boxes.
If you bought a home with a hot tub, then you have the perfect escape. The warm water can improve circulation, ease sore muscles, and reduce inflammation. You can turn on the hot tub jets and enjoy a therapeutic massage — especially beneficial after a long day of moving.
However, before you take that first dip and turn on the jets, there are some important steps you need to take as a new hot tub owner. You want peace of mind that the hot tub is safe and clean.
By following this guide, you can ensure that your hot tub remains a source of relaxation for years to come.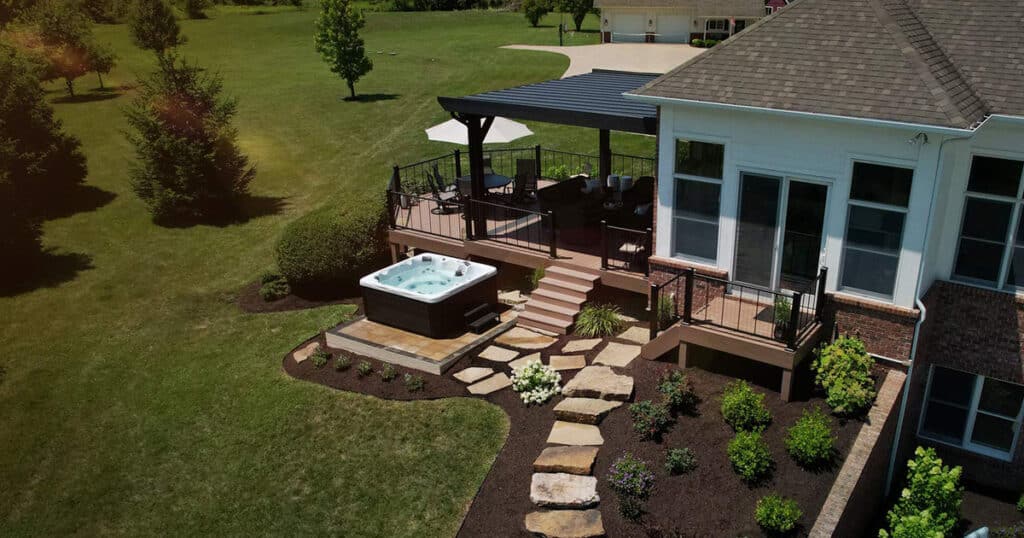 Before buying a house with a hot tub
From location to layout, there's plenty to consider when you are looking at a home listing. You want a home that you don't just like; you want a house that you love.
As you look at homes on the market, there's one listing that grabs your attention. It has everything that you were looking for. More than that, you see an outdoor hot tub listed among the home's features.
But before you close on the home, you want to work with your real estate agent to make sure it's the best move.
Review the sales contract
When you are buying a house, you are buying, well, the actual house. The contract is often for the structure and the land. However, sellers can often include appliances and furniture in the contract as a way to sweeten the deal.
If there's an existing hot tub on the property, be sure to address the hot tub in the sales contract. Is the spa included in the sale of the hot tub? Or, do the homeowners plan to move it with them? A third option could be that the homeowners plan to sell the spa before closing.
Be sure to tell your real estate agent whether you want the hot tub and include it in your bid.
Assess the hot tub's value
An outdoor hot tub is a worthwhile addition to any backyard. However, what the spa is worth during the sale of a home can vary. Talk to your agent about what the spa adds to the overall home value as it pertains to the sale. This is especially important if the homeowner wants you to pay an additional cost for the spa.
Request an inspection
An inspection is often a crucial step in the home buying process. The inspector examines various aspects of the property, including the structural integrity, plumbing, and electrical systems, identifying any potential problems.
If an outdoor hot tub is included in the sale, you can request a special inspection. Have a certified spa tech look at the condition of the spa, the components, and wiring. You want to be sure that it's in good working order and has a dedicated GFCI circuit.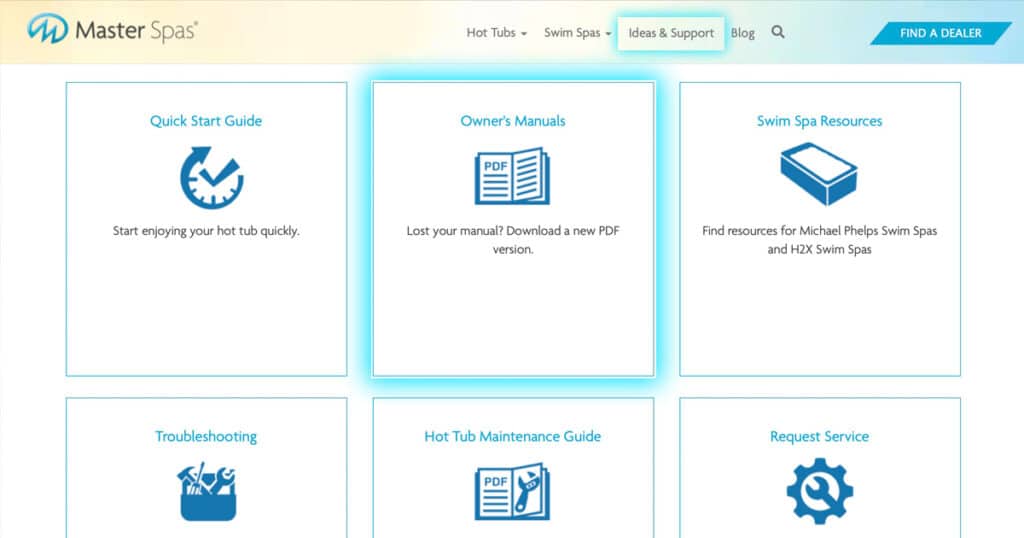 Tips for buying a house with a hot tub
Owning a home with a hot tub can elevate your relaxation and enjoyment to a whole new level. But if you have never owned a hot tub before, you want to feel confident that you can take care of it.
The first step in being a responsible hot tub owner is to educate yourself about your specific hot tub model. Owner's manuals for Master Spas hot tubs are available online, as well as other resources for maintaining a spa. You can find information about new spas but older models as well.
Read the manual to understand how to operate, clean, and care for your hot tub properly. When properly maintained, a Master Spas hot tub can provide many years of relaxation.
Inspect and clean
Starting with a clean and well-maintained hot tub sets the stage for hassle-free ownership.
When you move in, or even before, check for any visible damage, leaks, or issues. You can also remove the hot tub cabinet and double check that the fittings are secure.
Once moved in, drain the hot tub (if it isn't already) and clean the spa surface, as well as the jets. You can use a mild surface cleaner or a solution made with vinegar and water. Be sure to rinse the tub thoroughly as residual cleaner can cause foaming. You can remove any standing water with a shop vac.
Replace filters
Spa filters are a key feature of any water care system. They help remove dirt and debris from the water, keeping it clean and clear. And with Master Spas hot tubs, the Eco Pur system also kills bacteria and other organics that can affect the water quality.
Typically, you should rinse the filters once a week, use a cleaning solution every month, and replace them every six months. But if you are buying a house with a hot tub, it's a good idea to start fresh with a new set of filters.
You can buy replacement filters and other spa maintenance essentials at your local Master Spas retailer.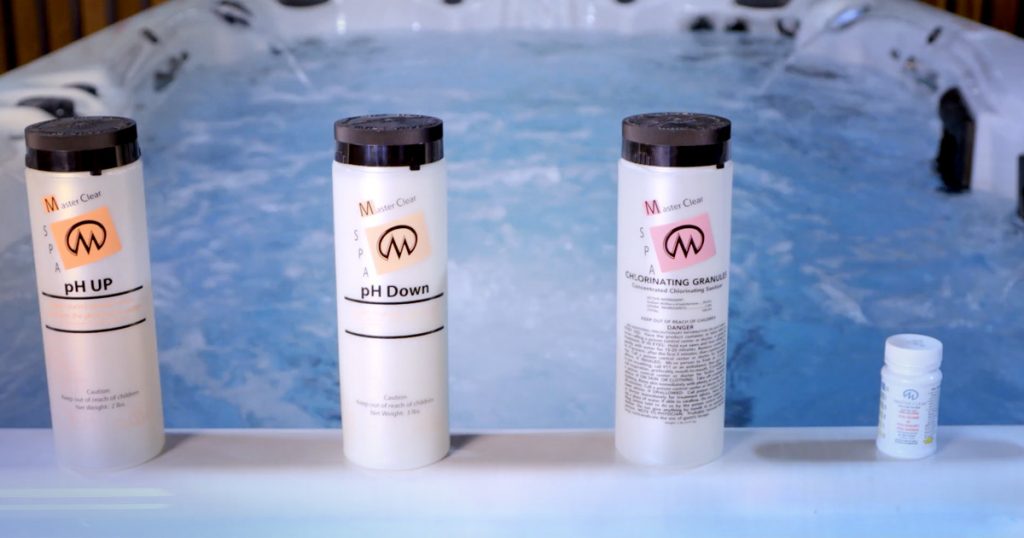 Understand water chemistry
Chemicals are essential to the safety and enjoyment of your hot tub. But if you are a first-time spa owner, you might wonder if it's a complicated process.
You don't have to stress about keeping the chemicals balanced. Taking time to learn the basics and a water care routine can help you keep the water clean and clear. 
When you refill the hot tub, use a test strip to check the alkalinity and pH levels. You will always adjust the alkalinity first and then the pH. Once those levels are in the proper range, you can add your sanitizer. For Master Spas hot tubs, the recommended sanitizer is dichlor granules. Chlorine works alongside the minerals filtration system to purify the water.
As a general guideline, your water's alkalinity should be between 80 and 120 ppm. The ideal pH range is between 7.2 and 7.8. Recommended chlorine levels are between 1 and 3 ppm.
Establish a maintenance routine
Regular maintenance will not only prolong the life of your hot tub but also provide you with a more enjoyable and hygienic soaking experience. As a new hot tub owner, you should expect to regularly check the water throughout the week and balance as needed. Once a week, you should use oxidizer or a non-chlorine shock product, which can refresh the water.
In addition, your hot tub maintenance should include cleaning the filters once a month. You should also expect to drain and refill your spa every six months.
It's important to keep in mind that you might need to adjust your water care schedule, including draining and refilling the spa, based on how often you use it.
Create a safe sanctuary
A backyard hot tub is more than a place to unwind. It can be a way to enhance your physical and mental well-being. But to truly relax, you need to create a safe space.
Be sure to keep the water below 104 degrees, install adequate lighting for night soaks, and always keep the spa covered when not in use. Master Spas hot tubs come with a UL-certified lockable cover, which also helps maintain water temperature.
Buying a house with a hot tub can elevate your relaxation and enjoyment to a whole new level. These tips will help you be well-prepared to care for your hot tub properly, ensuring it remains a favorite feature of your new home.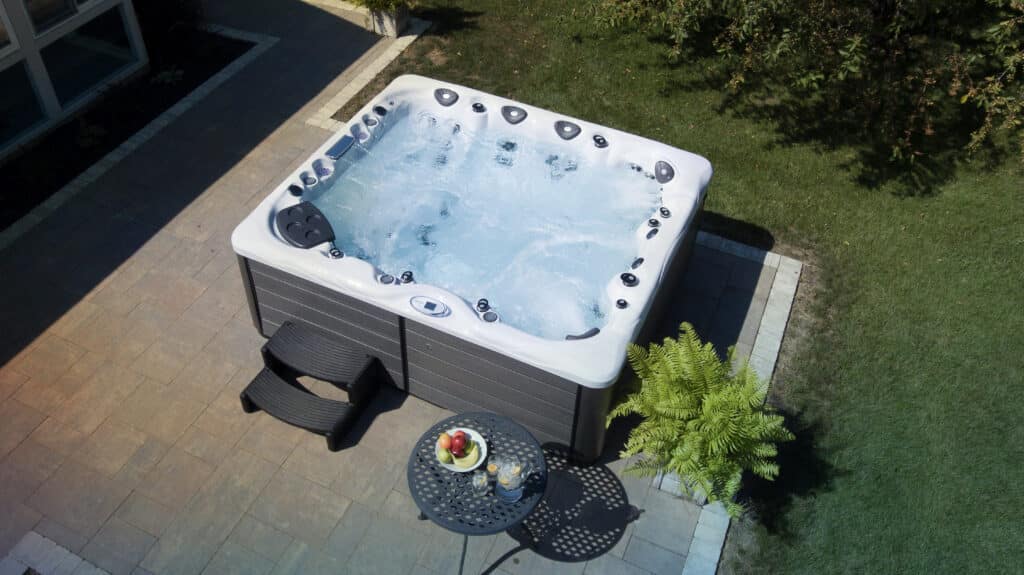 How to buy a hot tub
Look forward to spending more time in your own backyard oasis. A Master Spas hot tub can be enjoyed safely by the entire family. You can click here to learn more about the benefits of hydrotherapy. Or, contact your local Master Spas retailer to learn more about spa ownership. Wondering how much a Master Spas hot tub costs? You can request a quote here.