A well-designed outdoor space can provide a refreshing escape from the heat, allowing you to relax, unwind, and enjoy the best that summer has to offer. It can be a comfortable space to relax, read a book, or enjoy a cup of coffee. It's also the perfect space to enjoy time with family and friends, whether it's hosting a barbecue or playing outdoor games.
But if you don't love your space, there's still time to get the most out of your backyard this summer.
Refresh your outdoor seating or add some pops of colors with annuals. For the ultimate transformation, consider investing in a swim spa. Offering the combined benefits of a pool and a hot tub, a Master Spas swim spa is the perfect addition to create an oasis that will have you lounging and enjoying the great outdoors all summer long.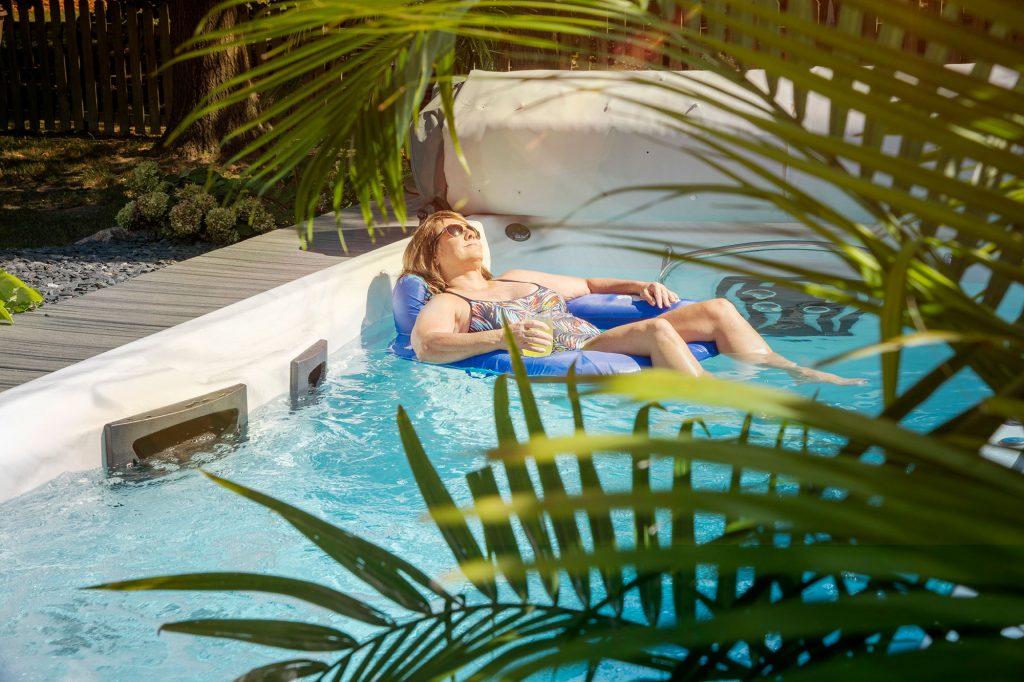 9 summer backyard ideas
Summer can be the perfect time to get away from the stress of daily life. But you don't have to book a hotel or stand in the TSA line to enjoy some fun in the sun.
With these backyard ideas, you can enjoy the perfect summer escape in the comfort of your own home.
Refresh outdoor seating
One of the best spots at a vacation resort might be poolside. It's not just hopping in the water for a refreshing dip but the comfy, chic loungers that line the deck.
With the right patio furniture, your backyard can quickly rival your favorite hotels. It's important that your outdoor furniture feels comfortable and cozy while being able to withstand the elements. And it can often be an investment, with outdoor furniture comparable in price to living room sets.
Translation: You are not likely to buy new patio furniture every year.
However, you can update your outdoor seating area with new cushions, pillows, or cozy throws. Add pops of color and patterns to create a vibrant and inviting atmosphere for lounging and entertaining. Think oranges, yellows, and cerulean. Patterns can be bold geometrics and florals. Alternatively, stripes and woven materials can complement your space.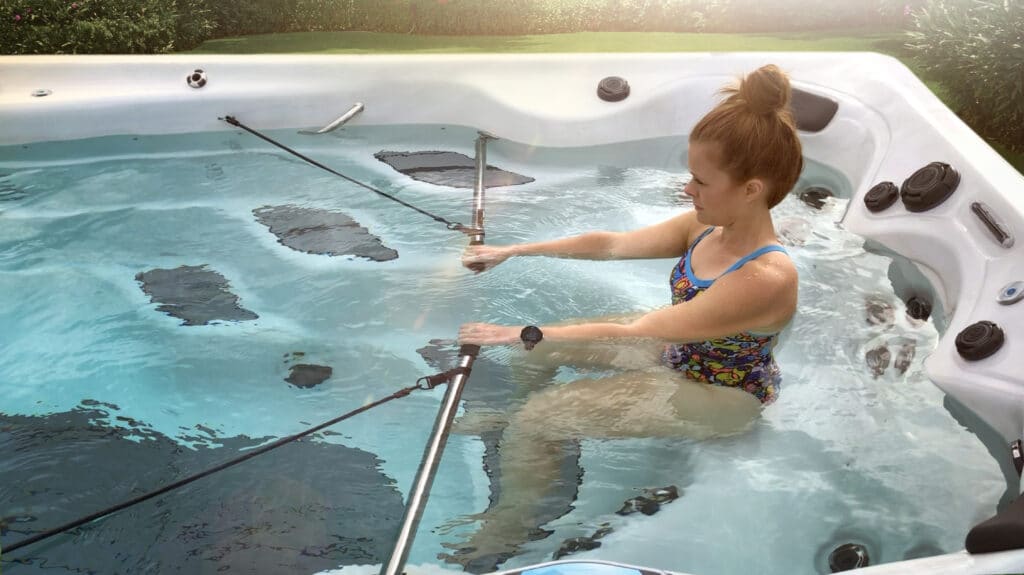 Exercise outdoors
Take advantage of the warm weather by moving your exercise routine outdoors. And it's not just because it's good for your body. Research shows that exercising outside is good for your brain, too. For example, people who walked outside had better cognitive function — aka your ability to think, reason, and solve problems — compared to people who walked inside.
There are myriad ways to get moving this summer. You can take your yoga practice to the deck or use resistance bands at the park.
Swimming, though, might be the perfect outdoor summer workout. But you don't have to head to a nearby lake to swim outdoors. A Master Spas swim spa provides an open swimming experience in the convenience of your backyard. With an endless water current, you can swim in place in clean, clear water.
Not a swimmer? Consider water running or a water circuit workout using rowing bars and resistance bands.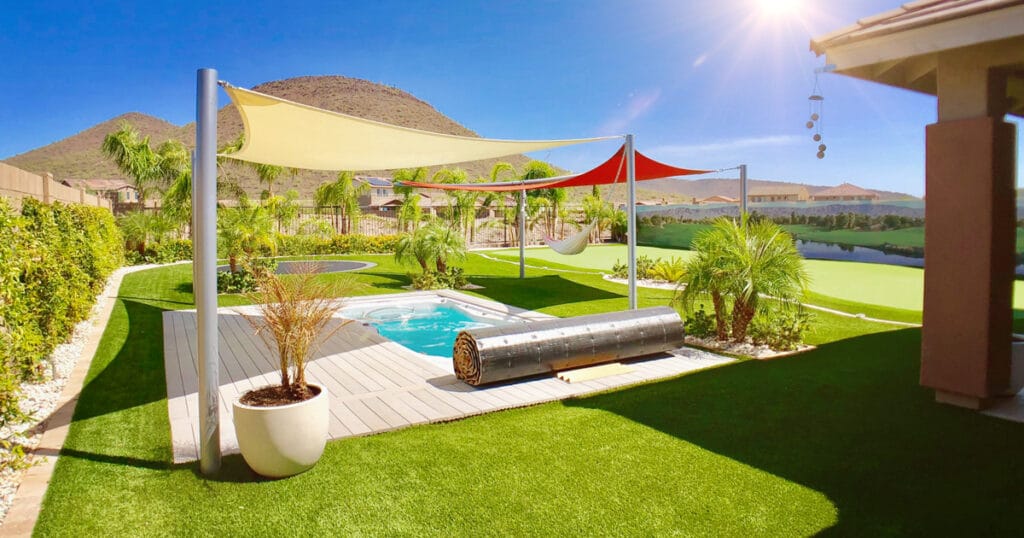 Add some shade
Some days you don't want to slap on some sunscreen to read a book outside or fire up the grill. Other days, you just want to get a break from the intense summer sun.
Create a comfortable retreat from the sun by adding shade to your backyard. Install a pergola or canopy to provide shelter from the heat and create a cozy space for relaxation. You can also use umbrellas, privacy screens, or even a retractable awning to keep cool during the hottest hours of the day.
A growing trend is the use of shade sails. Offering a practical and stylish solution for creating shaded areas in outdoor spaces, shade sails are available in various shapes, sizes, and colors. You can install a shade sail over a patio, deck, or seating area to provide shade and make the space more comfortable — whether you are relaxing, entertaining guests, or enjoying meals outdoors.
Shade sails can alo be used to create shaded areas around your swim spa or even over the water. The sails help protect you from the sun's rays as you swim or just splash in the water.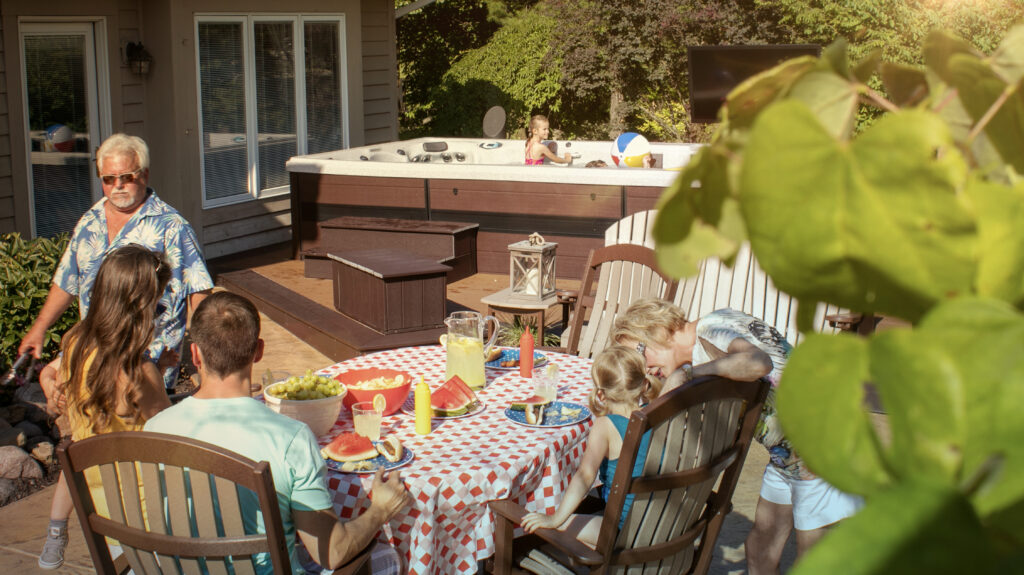 Host a Fourth of July party
There might not be a more iconic way to celebrate summer than with a Fourth of July party. Whether it's heading to the lake for a long weekend or watching a local parade, the holiday is surrounded by traditions.
But there might not be a better way to ring in Independence than with a backyard party.
You can invite over family and friends for a barbecue, serving up classic summer dishes like burgers and hot dogs. Add a modern twist by adding a toppings bar or gourmet smores station. Strawberry lemonade and kid-friendly punch will pair well with your menu and keep you cool over the Fourth, which is almost always hot.
And don't forget to transform your backyard into a festive space with all things red, white, and blue. Ribbon pinwheels, colorful balloons, and string lights are the perfect backdrop to outdoor games.
Cook outside once a week
Expand your culinary horizons by taking your cooking skills outdoors. It's an opportunity to expand your culinary horizons and discover new favorites. You can explore different recipes, experiment with marinades and rubs, and try out new flavors and ingredients.
Bonus: Outdoor cooking often means less of a mess in the kitchen. With grilling, for example, you typically have fewer pots, pans, and utensils to clean.
Create a reading nook
Summer can be a busy time of year. From seasonal sports leagues to outdoor festivals, there's so much that can fill your weeknights and weekends.
But you need an opportunity to escape reality … and dive into a book.
Consider transforming a quiet corner of your backyard into a cozy reading nook. Set up a comfortable chair or hammock, add some outdoor cushions, and create a tranquil ambiance with soft lighting and potted plants. This is the perfect spot to unwind with a beach read and soak up some vitamin D.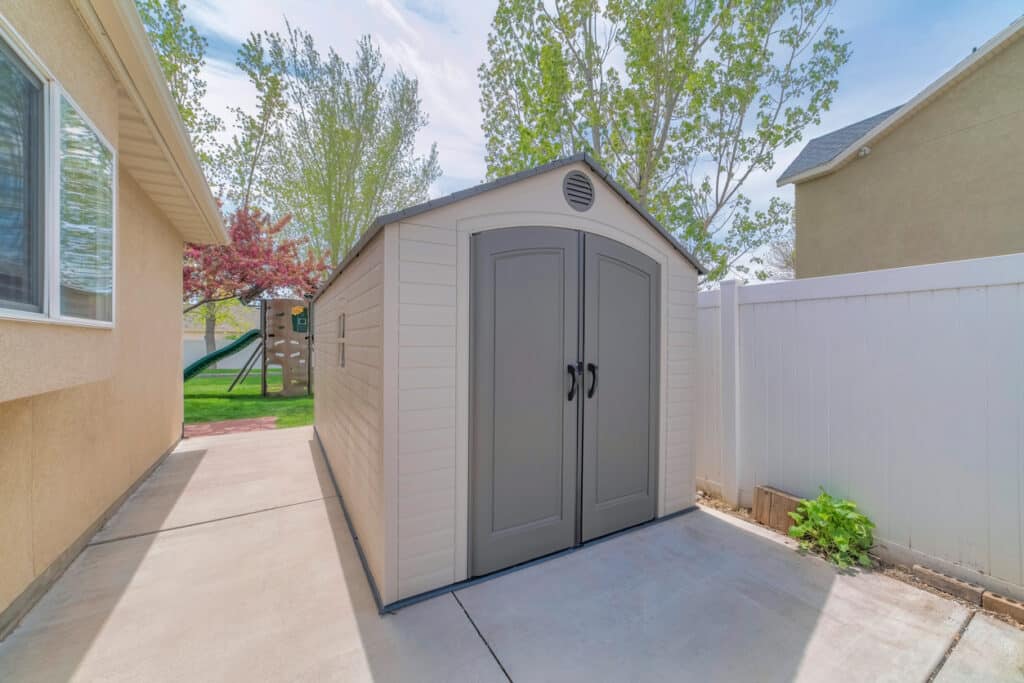 Smart storage
Keep your backyard organized and clutter-free with smart storage solutions. Consider building or buying a shed to store gardening tools, swim spa supplies, and other outdoor equipment. This will help keep your space tidy while ensuring everything you need is easily accessible.
You can choose an option with an elevated design, which complements your overall landscape and backyard. Depending on your preferences, you may want to place it in an area that offers some privacy or blends well with the surrounding landscape.
Set-up a gardening station
If you have a green thumb, create a dedicated gardening station in your backyard. It's the perfect spot to create containers of colorful annuals, plant an herb garden, or repot your favorite houseplant.
A workbench can be used for starting seeds and arranging tools. Open shelves or cabinets are the perfect spot to store gardening tools, pots, seeds, fertilizers, and other supplies. You can install hooks on the side for towels and gardening gloves.
This area will serve as a hub for all your gardening activities, from repotting plants to starting seeds. But it might make your summer a little brighter, too. Researchers at Princeton University published a study in Landscape and Urban Planning that connected high happiness levels with household gardening.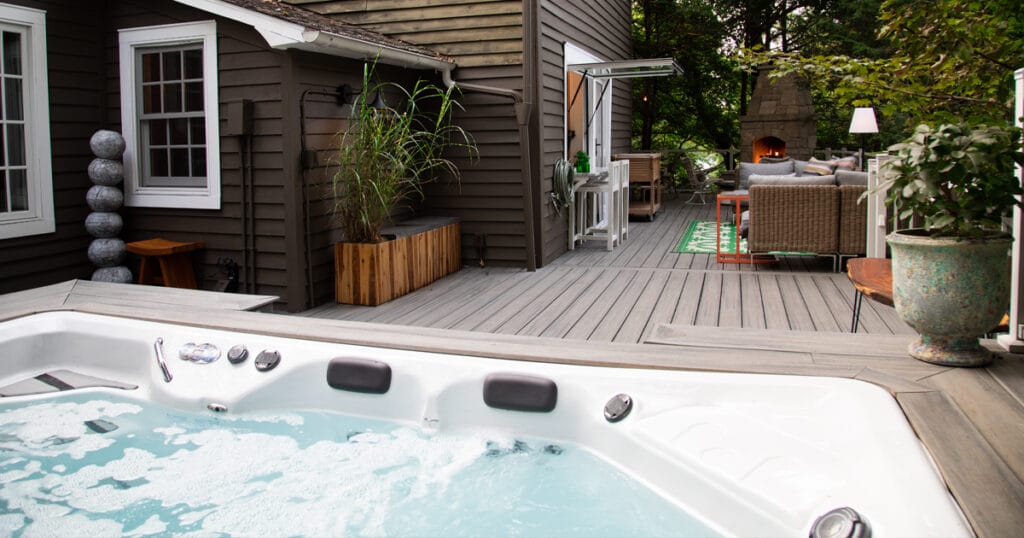 Invest in a year-round oasis
Spending time in your backyard should not be limited to the summer season. With a Master Spas swim spa, you can enjoy the benefits of a pool and the therapy of a hot tub. It's an ideal addition to your summer backyard oasis but, unlike a pool, you can use it year-round. The temperature can be adjusted to suit the season, allowing you to take a refreshing dip during the hot summer days or enjoy a warm soak during the cooler months.
After a long day of work or play, unwind in the comfort of your swim spa's hot tub seats. The warm water and targeted jets provide a soothing and therapeutic experience, relieving muscle tension and promoting relaxation. It's like having a personal retreat in your own backyard.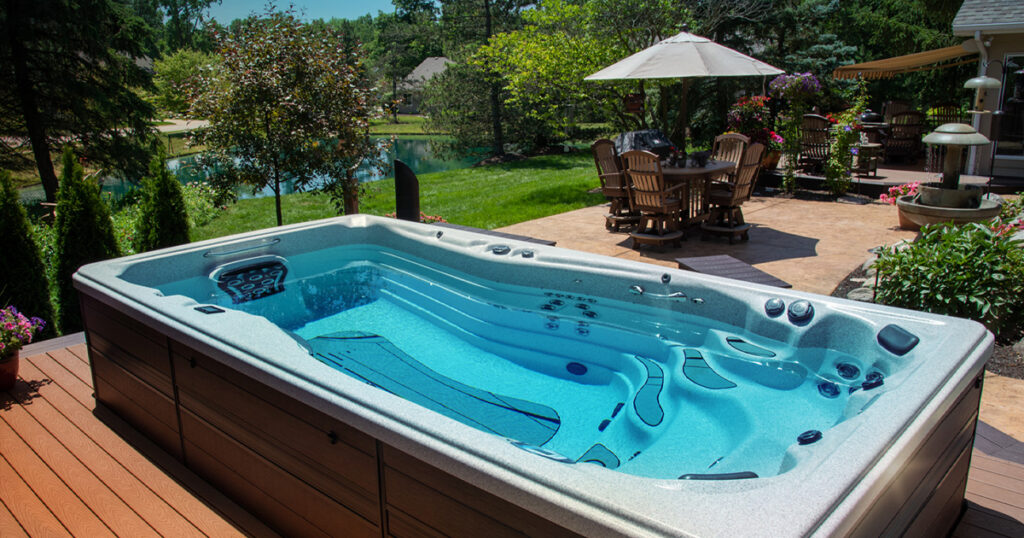 How to buy a swim spa
Do you want to be able to swim, exercise, and relax at home? Having a Master Spas swim spa allows you to swim on your schedule while adding a fun factor to your backyard. You can click here to find out more about the benefits of hydrotherapy and relaxing in a hot tub. Or, contact your local Master Spas retailer to learn more about swim spa ownership. Wondering how much a swim spa costs? You can request a quote here.