Nature deficit disorder? It sounds like a made up condition but it's a real thing. The phrase describes how we are missing out on the benefits of being outside. Instead, we spend more time indoors and in front of screens. In fact, the data show that the average American child spends about 4 to 7 minutes a day playing outside.
But you can change that. By creating an inviting backyard that is as beautiful as it is fun, you can encourage your children to spend more time outdoors.
The ultimate family backyard incorporates play elements in a safe environment, while still having space to relax and entertain. It will be a place that the entire family will benefit from.
These ideas, including installing a Master Spas water feature, will transform your outdoor living space into the ultimate family backyard.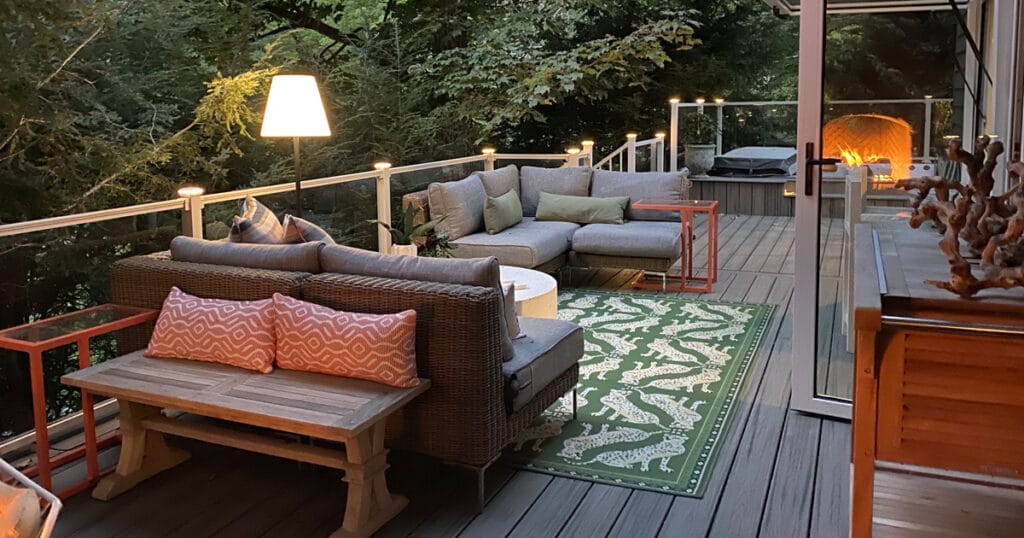 Benefits of being outdoors
Have you ever noticed that just going outside can help you improve your mood? From the fresh air to the vitamin D to the change of scenery, the act of spending time in nature can have a positive effect on your health.
Research shows that adults — and children — who spend more time outside are happier. More than that, when it comes to children specifically, going outside can help improve anxiety, confidence, and responsibility.
How can spending time outside do that?
Confidence. According to a study commissioned by the Wildlife Trusts, four out of five children report feeling more confident after spending time outside. Children are able to try new activities and discover that they can accomplish things that seem challenging. In addition, they can have the freedom to select an activity or use their imagination to create a new game.
Responsibility. With freedom comes responsibility, and your outdoor space can be a place to nurture that. Children can take on age-appropriate chores or even tend to their small garden. They can find joy in growing something from a seed and knowing they helped it blossom.
Exercise. Children, just like adults, should be active to maintain a healthy lifestyle. According to the CDC, school-age children and teenagers should be moving for 60 minutes a day. It's important, though, to encourage physical activity that is unstructured and fun. With the right backyard design, whether it's a slack line or swim spa, your children will want to go outside and get moving.
When you look at the design of your backyard, you can create a space that makes it enjoyable to be outside. Not only will your family be able to enjoy the time together but realize the benefits of spending time in nature.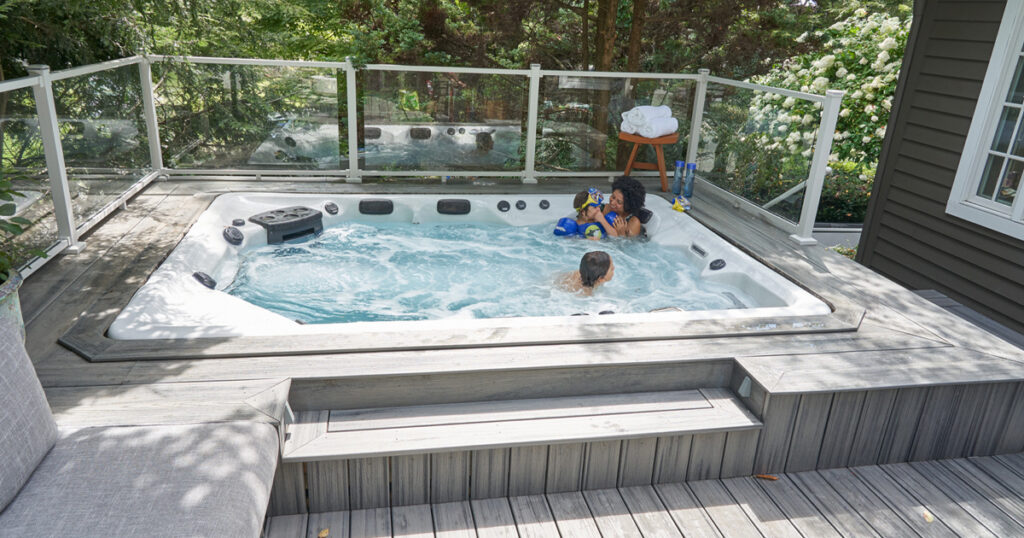 Family backyard ideas
Your own backyard is the most convenient and the safest place to spend time with the people you love the most. If you want to create a family friendly backyard, these ideas will help you create an active space that you can enjoy year-round.
Plan for the future
Swings, spiral slides, elevated tunnels, a rock wall ladder, and a raised clubhouse. The ultimate family playset can keep children entertained for hours on summer days. However, children grow from toddlers to teens in what seems like a blink of an eye. As they age, the large playset goes from a backyard feature to eyesore.
As you design the ultimate family backyard, be sure to plan for the future. A large playset might be a wise investment if you have several children or a large extended family.
However, they do take up a large amount of space that you might want to use for entertaining, a soccer net, or a family swim spa.
Splash away
Some of your favorite childhood memories might be of running through the sprinkler on hot summer days. But if you look back to that time, how many times did Mom and Dad join in on the fun?
A water feature is a must-have for any family backyard. Not only will it give the kids a place to play during the summer months but it can be a place to swim and relax for the adults. With the right water feature, your house will become a destination for family and friends.
There are a lot of options, though, to add a water feature to your backyard. There are splash pads, plunge pools, and elaborate in-ground swimming pool installations that feature waterfalls and diving cliffs.
But you want a place that you can enjoy while the children are living at home while planning for the future. A hot tub or swim spa can be used year-round for relaxation, family time, and hydrotherapy.
A swim spa is the ultimate family backyard pool alternative, with space to swim and splash. Children can play with friends, while Mom and Dad can enjoy at-home water exercise and hydrotherapy.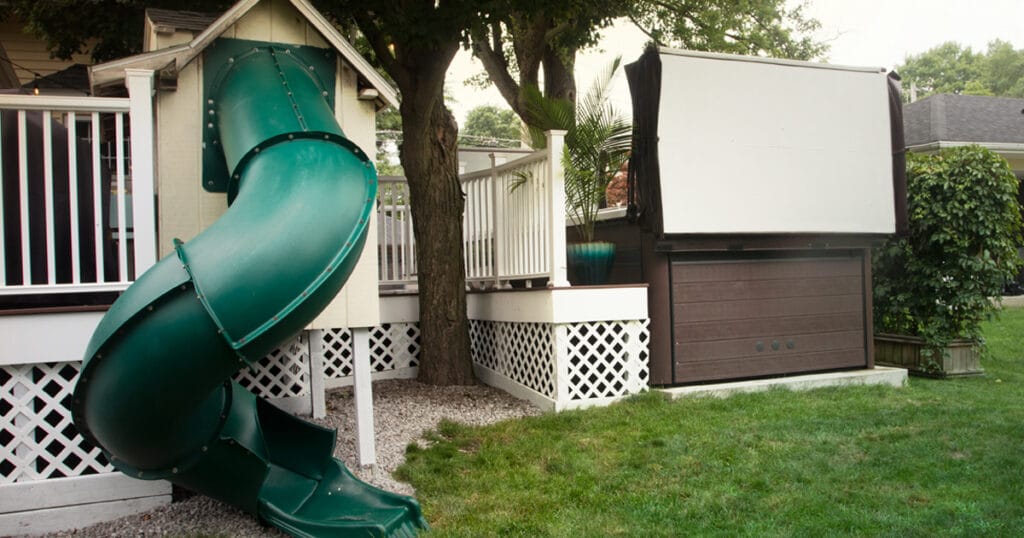 Play equipment
It's important for children to have a place where they can explore the natural world. Even better? If you can design your backyard in such a way that they want to be outside.
There are myriad ways to incorporate play outlets into your backyard without building a swing set. A tire swing, sand box, hammock, slack-line kits, and tree climbing grips can turn your landscape into a fun zone — all in the span of an afternoon.
If your family loves sports, you can easily add features like a putting green, basketball hoop, or soccer net. These additions are space-conscious, as well as be used for many years.
Incorporate shade elements
"It's too hot! I don't want to go outside!"
It can sometimes feel like your kids will find any reason not to turn off the game system and head outside. But it is important to focus on comfort and safety when planning your family backyard.
Shade sails, portable umbrellas, and canopies are among the options to incorporate shade. Sails can be anchored above a play area or swim spa, making the space cooler and more enjoyable.
When kids are comfortable, they will be inclined to take advantage of other elements in your family-friendly backyard.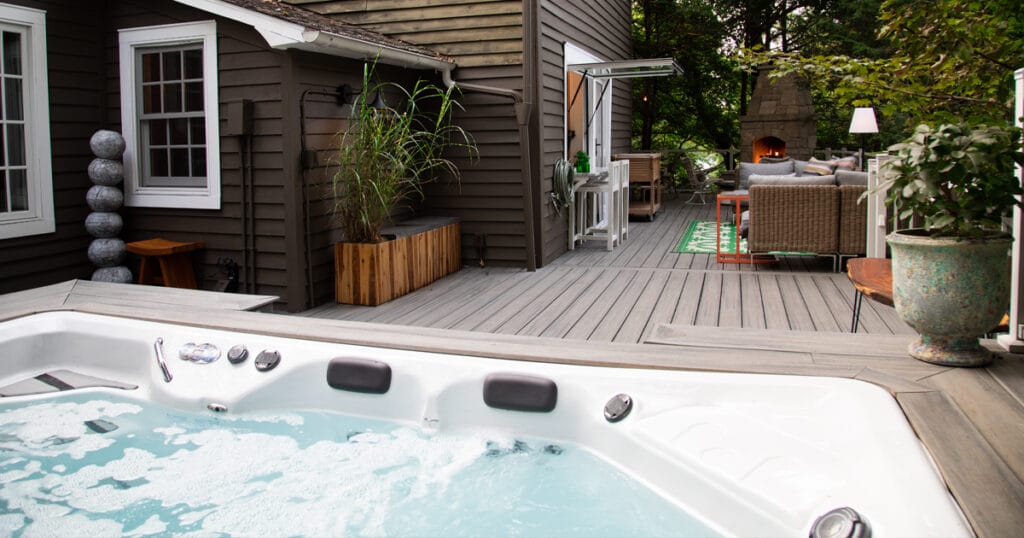 Create zones
Just as it's important to create an inviting space that sparks your children's imagination, the adults need a space, too.
As you are planning your family backyard, consider creating different areas that will encourage you to cook, dine, and "play" outside, too. Important features include an outdoor grill or kitchen set-up, entertaining space, and a spot to relax.
Outdoor kitchens are one of the patio trends getting an upgrade in 2022. These outdoor kitchens include not just a grill but an oversized grill, pizza ovens, drink taps, and outdoor refrigerators.
When it comes to relaxation, the ultimate backyard accessory is a Master Spas hot tub. You will be able to enjoy the experience of a spa — just by walking out the backdoor. In addition to helping you relieve stress and unwind, a Master Spas hot tub provides soothing hydrotherapy. Premium jets are strategically placed throughout the spa, providing relief to the areas where you need it most.
Take a seat
The right patio furniture can help you create a comfortable space for conversation, dinners, and relaxation. Many outdoor spaces now feature dining tables, living room-style furniture, and chairs made for curling up with a book.
When it comes to choosing the best patio furniture for your family, be sure to select a roomy dining table. It's perfect for serving family meals outdoors during the week or hosting friends on the weekend.
Do you have young children? It's important to factor in comfort as well as durability. Make sure to choose pieces that can stand the test of time as your family grows up.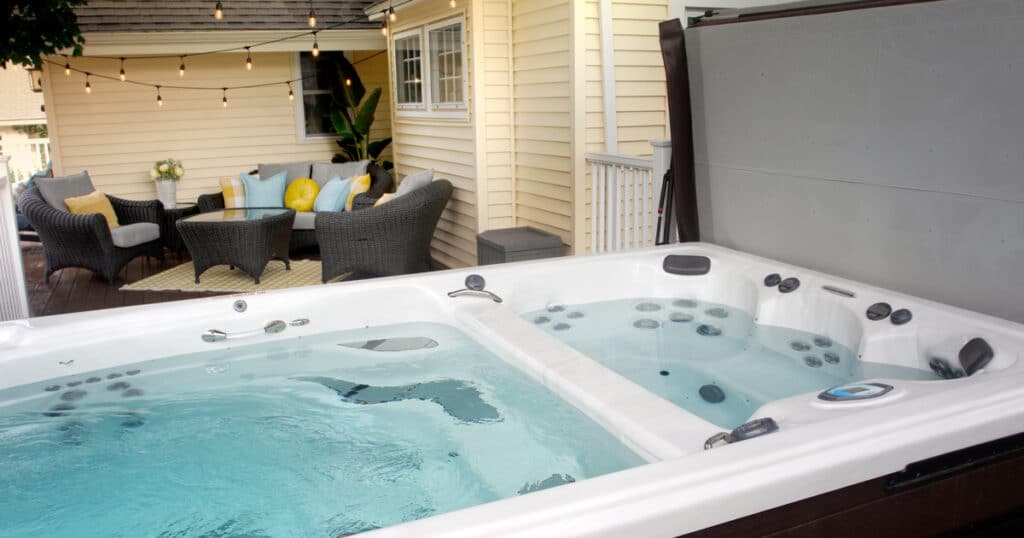 At-home oasis
We all need an opportunity to get away — even the youngest members of the family. And your backyard might be the private retreat that you need and want.
Create areas in your backyard that invite you to escape the everyday stresses. Hanging tents, which you can suspend from mature trees, are cozy spaces for children to read. Tuck a comfortable bench into a flower bed so you can enjoy the fragrance of nearby flowers.
But the ultimate invitation to unwind in the outdoors just might be a hot tub. While you can always read inside, even adorn your home with bouquets, the most popular place to install a hot tub is outdoors.
You can soak in the warm water and take advantage of the hydrotherapy jets all while enjoying the fresh air. Even as the weather turns cooler and you find yourself staying inside more, a Master Spas hot tub can be used year-round.
An unexpected benefit? Master Spas owners have discovered that sitting in a hot tub as a family provides opportunity for connection and conversation.
Rebecca from Massachusetts says, "My family and I are really enjoying our hot tub! We love that it brings us together in such a relaxing and healthy way! It's such a wonderfully therapeutic presence in our yard, and I know that all my family members appreciate the convenience and privacy afforded us by having our own spa!"
Smart landscaping
Color, varietals, and layout might be the first things that you consider when you think about your backyard landscape. However, if you are designing a family-friendly backyard, you need to make sure that your plant choices are safe. What do we mean by "safe" plants? Avoid bushes that might have poisonous berries or flowers with thorny stems. Before buying any new plants, be sure to look up to see if there are any potential dangers.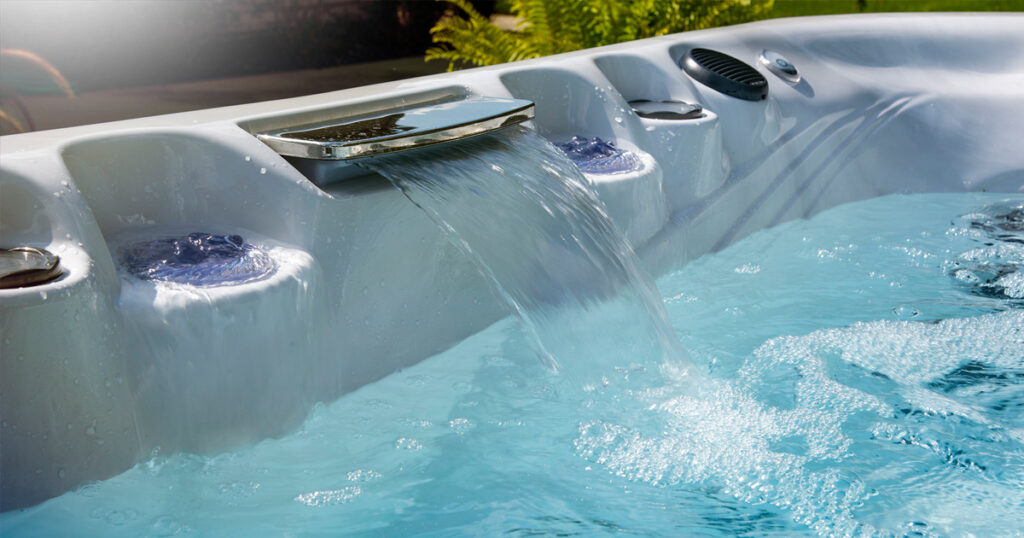 How to buy a swim spa
Are you ready to create the ultimate family backyard? Having a Master Spas hot tub or swim spa is a way to reinvent family time while adding a fun factor to your backyard. You can click here to find out more about the benefits of hydrotherapy and relaxing in a hot tub. Or, contact your local Master Spas retailer to learn more about swim spa ownership. Wondering how much a swim spa costs? You can request a quote here.