Your outdoor deck is a place where you can host friends and family, enjoy a meal outdoors, or simply relax and read a book. But you want to take it to the next level. You want to put a hot tub on your deck.
But can you actually install a hot tub on a deck? What about an elevated deck? Yes and yes.
Installing a hot tub on your deck will help you get the most out of your investment. The closer the hot tub is to your house, the more likely you are to use it. You can relax in your very own private retreat or entertain family and friends — all by walking out your patio door.
Master Spas recommends that you have your deck evaluated by a qualified professional. The contractor will look at the structural integrity and make sure that the structure can support the hot tub.
Related link: Download our Hot Tub Planning Guide.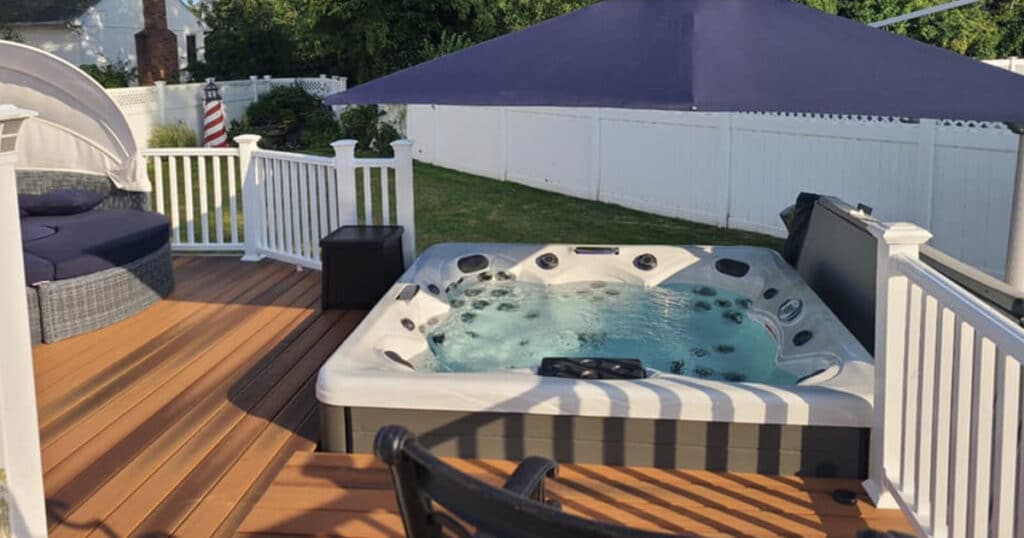 Hot Tub on Deck Considerations
Weight of the Hot Tub
The Michael Phelps Legend Series LSX 900 is one of the largest hot tubs by Master Spas. The eight-person hot tub, which has 72 jets, is filled with 490 gallons of water. When it's full, the hot tub weighs nearly 7,100 pounds. That's about the size of a small pick-up truck.
Smaller spas, like the Twilight Series TS 6.2, weight 3,800 pounds. The TS 6.2 is a space-saving five-person spa.
Age of the Materials
If you are considering installing a hot tub on an existing deck, it's important to take into account the age of the deck. The wood on an older deck might be weathered and need to be replaced. More than that, the construction standards might differ from today's guidelines. Everything from lag screws to joist hangers to the location of the main beams can influence the structural integrity of the deck.
Access to Deck
Stairs might be a great way to access the deck and hot tub from another part of your yard. However, the steps could also give strangers access to your deck. Depending on your backyard and neighborhood, you might not be concerned about a passersby. However, it is something to consider if your deck is near your master bedroom.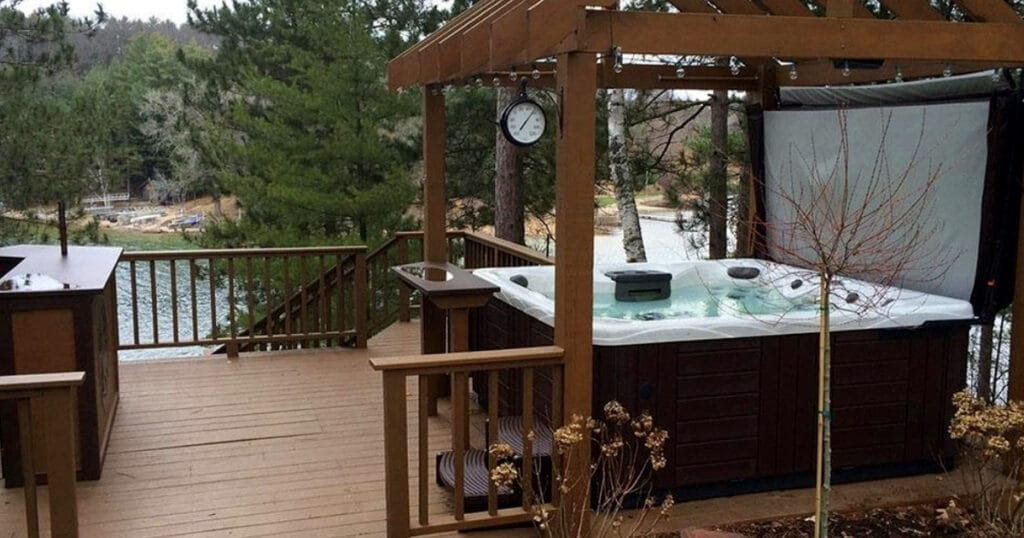 Size of the Structure
Not many things sound better than walking out the patio doors of your master bedroom and hopping into a hot tub. But if your spa will overtake the space and not leave you room for seating and other accessories, it might not be the best option. Consider whether you are willing to lose space for a couch, table, and other outdoor furniture for the hot tub.
Water Source
What's a hot tub without water? If you are planning to put your spa on a second-floor deck, consider how you will fill and drain it. Do you have a spigot nearby or will a garden hose be able to reach it?
Master Spas recommends changing the water every six months. Where will it go when you drain it?
Cost
A contractor might give you a plan for reinforcing your deck so that it can handle the weight of a filled hot tub. But the deciding factor might not be the contractor's blessing. It could be the cost. Some homeowners can be surprised to hear just how much it will cost to reinforce a deck, with some projects going over $5,000. Even a simple railing and replacing boards can cost $500 or more.
The project cost does not have to dampen your plans. You might want to consider putting the spa on a concrete pad or another flat, level surface that can support the weight.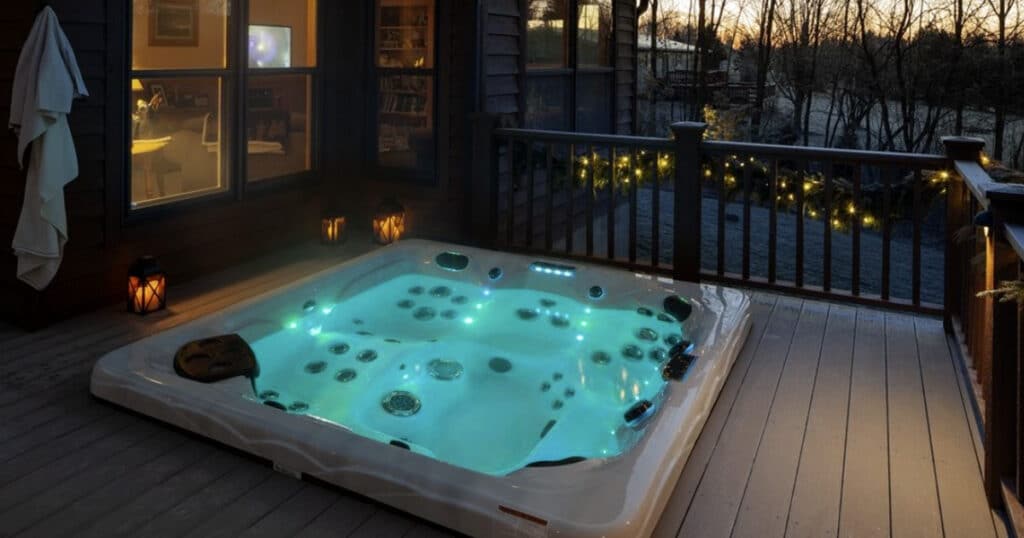 Another Option: Recessed Hot Tub in Deck
For many, the appeal of putting the hot tub on a deck is convenience. But if the project seems overwhelming, a recessed installation could upgrade the structure without being reinforced. Not only will you get the location you crave but the look of a resort hot tub.
For an in-ground spa look, the contractor will cut out a section of the deck just large enough for the hot tub. Underneath, the team will build a mini-deck with new footings that can support the weight of the hot tub.
When you choose an in-ground hot tub, one thing to consider is whether you want the spa surface to be level of the deck or a few inches above. A flush install offers a luxe look while a partially recessed design offers more seating for entertaining.
Be sure to plan for access around your hot tub. Master Spas recommends three feet on every side so that you can easily access equipment, if need be.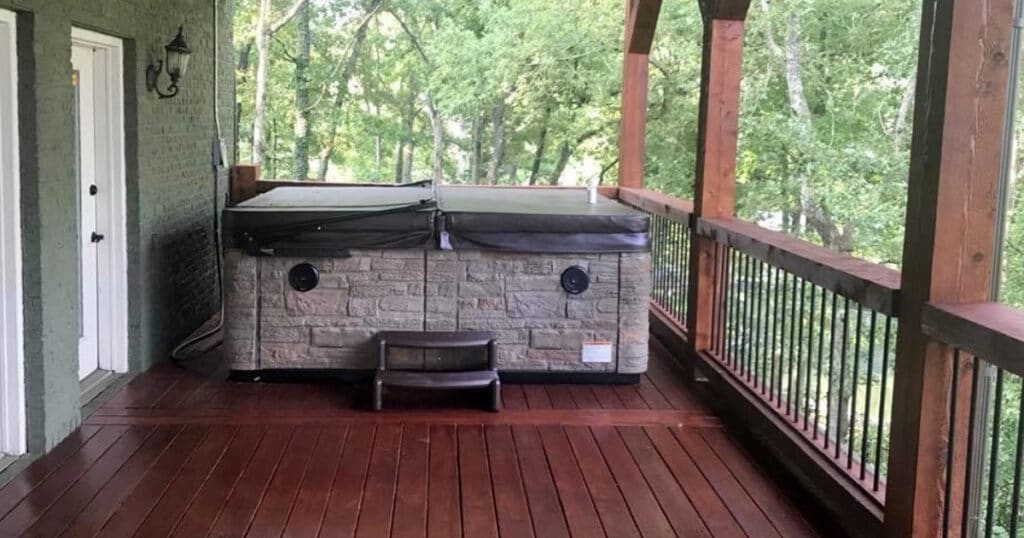 If You Like This Post …
Most Popular Backyard Design Ideas