The warm water, bubbles, spending time with loved ones … there's a lot to enjoy when you have a hot tub. But the one element to being able to truly set your mind at ease might surprise you. Hot tub safety helps you create an environment where everyone can enjoy the water without worry.
Master Spas hot tubs are designed to be easy to use and easy to enjoy, with many safety features built-in. However, owners can take steps to ensure a safe soaking experience.
From balancing chemicals to securing the cover, these hot tub safety tips will give you peace of mind.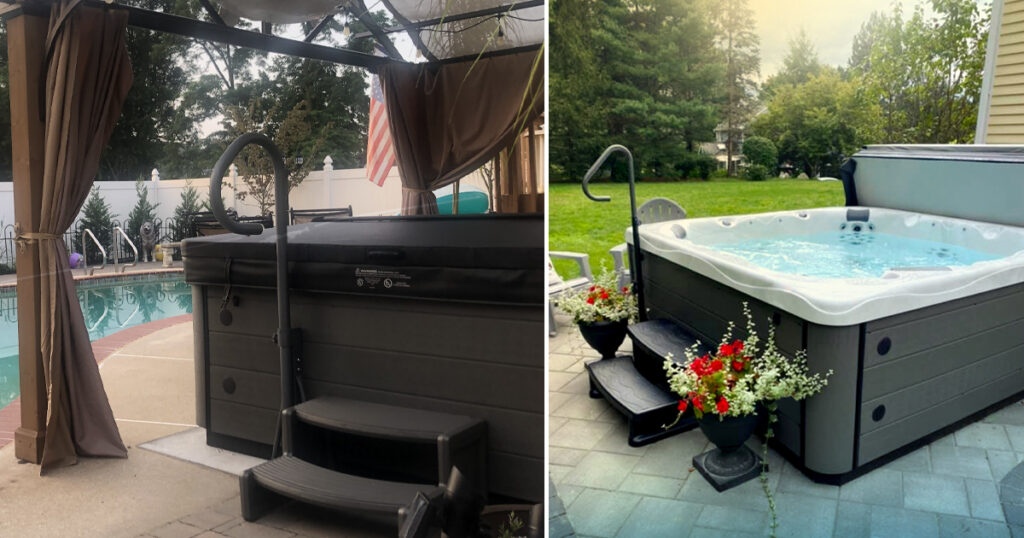 Hot tub safety tips
Hot tub safety does not mean taking the fun away. Providing a safe environment for yourself, family, and guests can help you get the most out of your investment.
These safety guidelines are important for every hot tub owner — and user — to know.
Safe entry and exit
The first step to enjoying your spa is hopping in. As you are planning your installation, be sure to consider the best way to get in and out of the hot tub.
Do you have an above-ground hot tub? Non-slip spa steps will make it easy to enter and exit the spa. If you struggle with balance or are worried about falling, consider installing a handrail to prevent falls.
A hot tub installed in a deck might not need a set of spa steps. However, depending on the decking material, you might need to add a waterproof sealant to prevent splinters. Non-skid maps can also help you avoid slippery spots on the deck when you get out.
Hot tub chemicals
You pull back the cover of your hot tub and step up the spa steps. Looking at the water, it's picture perfect: warm to the touch and almost an icy blue. But your water is more than just its good looks. When it's clear and fresh-smelling, the water is safe to use.
When it comes to hot tub safety, balanced (and treated) water is a must. Hot tub water without chemicals can be a place for algae, bacteria, and viruses to grow. It's important to use products that balance the total alkalinity and pH levels, as well as sanitize the water.
It's good practice to do a three-step check of the water before getting in. First, look to see that your water is not cloudy. Cloudy hot tub water is a sign that your chemicals are not balanced or the filters need to be rinsed. Second, take a deep breath. The water should smell fresh — not of chemicals. If you notice an odor, the total chlorine levels might be high. What should you do if your water smells? Oftentimes, adding non-chlorine shock will help.
And don't forget to follow the manufacturer's directions for adding chemicals to your hot tub. Products should be added one at a time and not mixed together. Also, do not premix dry products in water before adding them to the spa.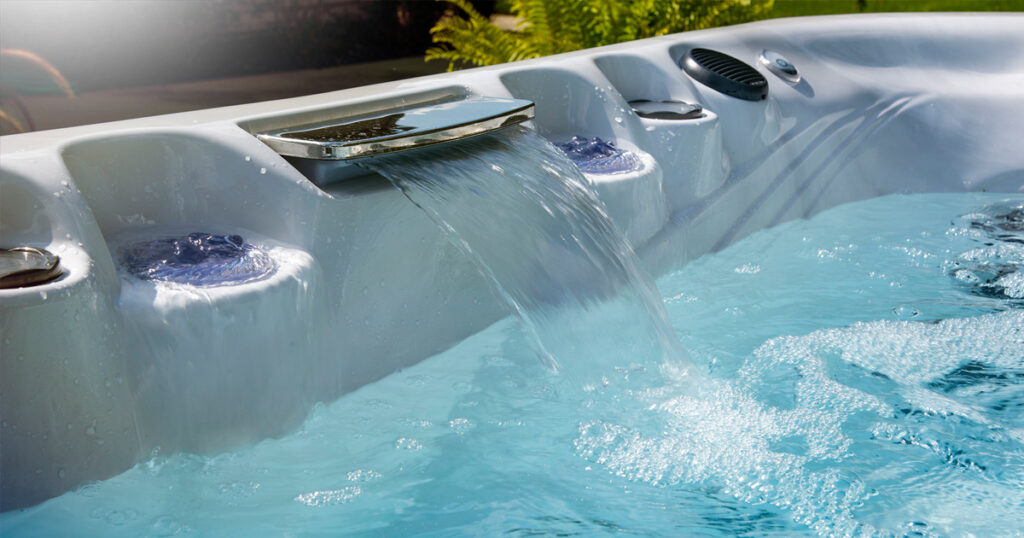 Spa supplies
On the topic of hot tub chemicals, an important safety step is properly storing products. Chemicals and other supplies should be kept in a cool, dry location that has good ventilation. Be sure that they are out of reach from children and any pets.
Avoid a break
Master Spas covers feature a lockable latch to maximize safety. They are made at our facilities in Indiana and are designed to snugly fit on the spas.
Whether you want to sip on a cup of coffee during your morning soak or enjoy a cool drink on a summer night, it's important to consider the type of dishware you are using around your spa. Any beverages around the hot tub should be in plastic cups, bottles, or cans that won't break if it gets knocked over. Snacks should be on plastic or paper plates.
If a glass cup or plate breaks around a hot tub, you will have to drain the spa —which will definitely dampen the fun.
Many Master Spas hot tubs have cup holders but a spa tray is a safe place to put drinks and snacks as you soak.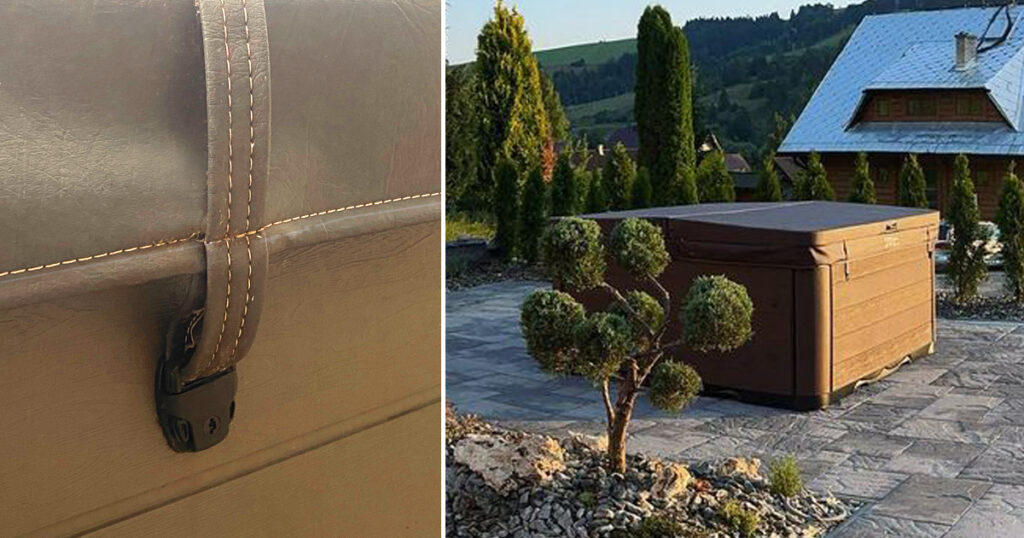 Spa covers
Your hot tub cover helps protect your water and keep it clean and clear, as well as lock in the heat. Your cover, though, is also an important safety feature. It's important to keep the cover on and latched when you are not using the hot tub.
The right temperature
A soak in a hot tub can feel soothing to the body and the mind. It's important, though, to keep the temperature in the safe zone. For safety, Master Spas hot tubs go up to 104 degrees. However, many people prefer to keep it between 100 and 102 degrees. Experts recommend soaking for 20 minutes at a time. If you plan to hang out longer, consider lowering the temperature. In addition, monitor how you feel and stay hydrated.
Family fun
One of the benefits of owning a hot tub is the opportunity to spend time with the entire family. Whether you have kids at home or grandchildren come to visit, it's important that they can safely enjoy the spa.
Before children get in the spa, be sure to make any guidelines or rules clear. For example, children should not run around the spa or get rowdy in the water.
A good safety rule to follow is to lower the temperature if you think kids will be in the water. The Pool and Hot Tub Alliance recommends a water temperature of 98 degrees.
Also, children should always be supervised when in the water.
Electronics
Your hot tub might be connected to a power source. However, as a general rule, water and electricity don't play nice together.
It's important to never use plug-in electronics or extension cords around your spa. Rather, use battery-operated and Bluetooth electronics on your patio.
If you are draining your spa and need to use a wet-dry vac or sump pump, be sure to follow the manufacturer's directions. You also want to wear rubber-soled shoes and avoid standing water. As you clean your spa, be sure to keep your hands as dry as possible.
Your safe haven
Look forward to spending more time in your own backyard oasis. A Master Spas hot tub can be enjoyed safely by the entire family. You can click here to learn more about the benefits of hydrotherapy. Or, contact your local Master Spas retailer to learn more about spa ownership. Wondering how much a Master Spas hot tub costs? You can request a quote here.