Say goodbye to summer with a splash. Labor Day weekend is often the last time when friends and family can get together to swim, splash, and play before the weather cools and the fall calendar takes over.
But while you might be celebrating summer's end, the weather over Labor Day weekend can still be perfect for hanging out by the swim spa. A backyard pool alternative, a swim spa is the perfect place to hang out and relax with friends and family over the long holiday weekend.
Host a Labor Day get-together that everyone will love without the stress of hosting a big bash. With a subtle nod to Americana and a few short-cuts, you can have fun with your guests.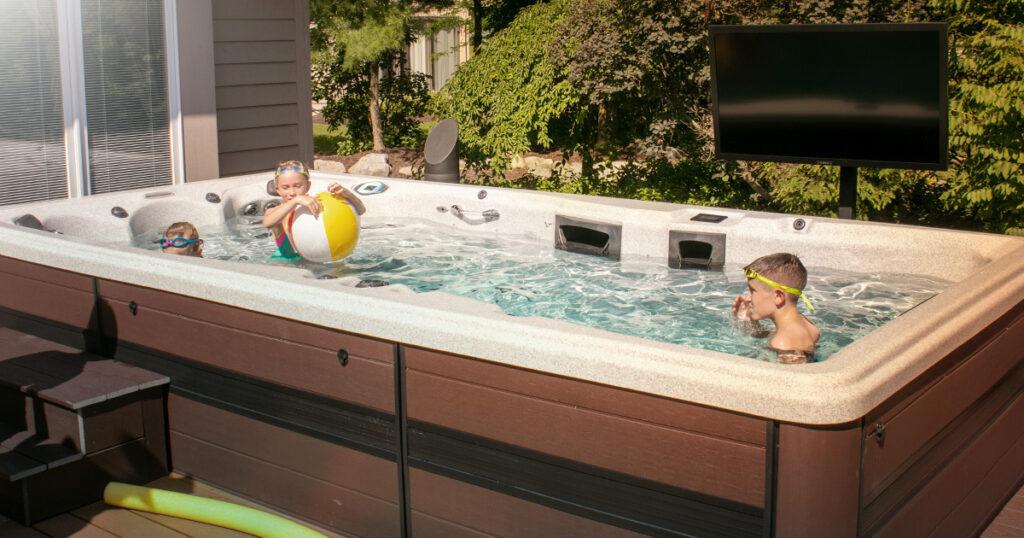 Swim Spa Safety
A swim spa by Master Spas offers families the chance to be active, enjoy quality time, and have fun. But it's important to promote swim spa safety, especially if you are hosting a Labor Day party.
Just like a pool, a swim spa is a body of water, and there can be a chance for an accident.
Sharing the rules with your guests and encouraging safe behavior, everyone can relax and have fun.
Swim Spa Safety Rules
Rinse off before getting in the swim spa. Lotions and body oils can affect the quality of the water.
Children should be supervised at all times.
If someone is not a confident swimmer, keep pool noodles, life jackets, and water wings on hand.
No diving, backflips, or jumping into the spa.
Do not push others into the spa, especially if they are not expecting it.
No glasses or other glass containers near the swim spa. A broken glass can cause a nasty cut. In addition, if there's glass in the spa, you will have to drain it.
Related post: Swim Spa Party Rules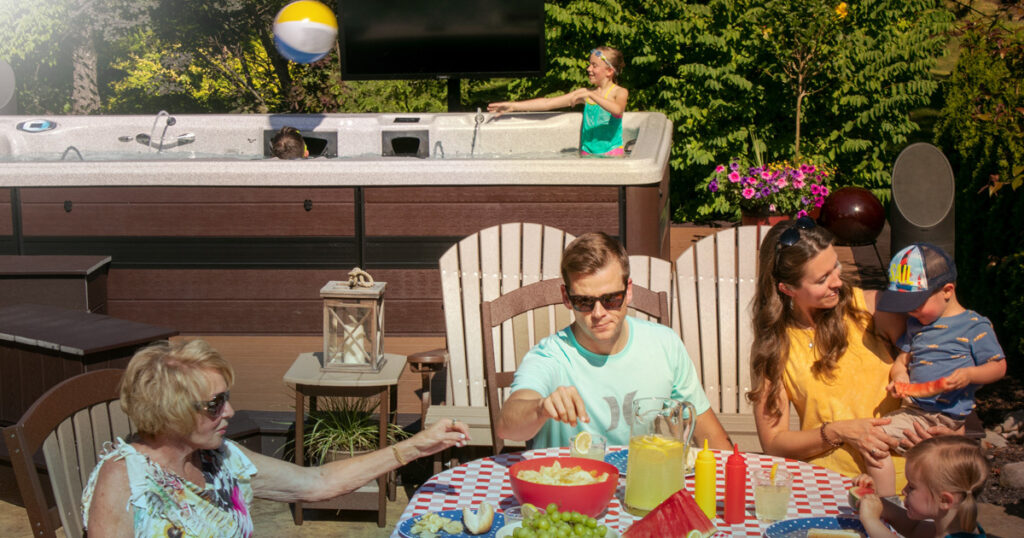 Labor Day Party Tips
Plan the Menu
A party is not a party without food. Celebrate the American spirit with a nostalgic menu of hot dogs, grilled corn, and a veggie-packed pasta salad. Sliced watermelon and fresh berries are refreshing and tasty. Individual bags of chips are also a great idea. Not only is it more sanitary but you can offer more flavor options.
But don't forget to consider the mess factor and clean-up. Barbecue ribs might be delicious, however, if kids are in and out of the swim spa, oils and sauces can affect the quality of your water. Can't have a party without your famous baked beans? Make sure to have plenty of wet wipes and napkins on hand.
Pick the Décor
Choose festive and fun décor that celebrates the USA. Consider red, white, and blue beach balls that can float in the swim spa while doubling as a toy for kids in attendance. Another great option is to use a star stencil made of cardboard and spray paint the shape across the lawn. It's simple and fun, and it's an activity that the family can help with before the party.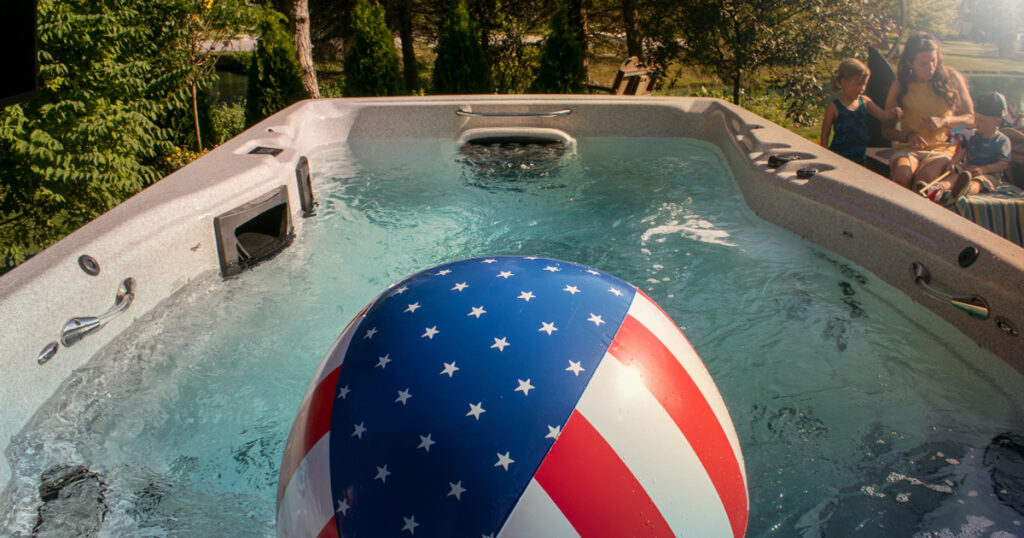 Swim Spa Accessories
Your swim spa by Master Spas is the centerpiece of your backyard, and it is sure to be the star of the party. Make it inviting for your guest list by having the perfect accessories. Use stylish baskets to store dry towels and be sure to have another for the wet towels. Have some water toys on hand for younger guests, such as rings and fish.
Related post: How to Make Swimming Fun
Lawn Games
Your guests won't want to be in the swim spa for the entire party. Be sure to keep the kids (and adults) entertained with some family-friend lawn games. Choose a bean bag toss set that has an Americana design or go with oversized versions of your favorite board games like Jenga.
Summer Blooms
Fresh flowers can be a stylish way to dress up your party. But bouquets from a florist can add to the cost to your party. Consider shopping your local nursery for colorful annuals and fall-friendly mums. Bonus: Many plants are on sale this time of year. By choosing some lush perennials, you can get décor for this year's Labor Day party — and next year's!
Pay Attention to the Details
Bring your Labor Day party together by paying attention to the details. Subtle holiday-themed décor and flair will create a cohesive look. Choose red, white, and blue tableware. Wrap plasticware in colorful napkins and tie with a patriotic ribbon. If your menu includes pasta salad, choose bright red tomatoes and creamy mozzarella. But don't worry: No one will fault you for skipping the blue in this dish.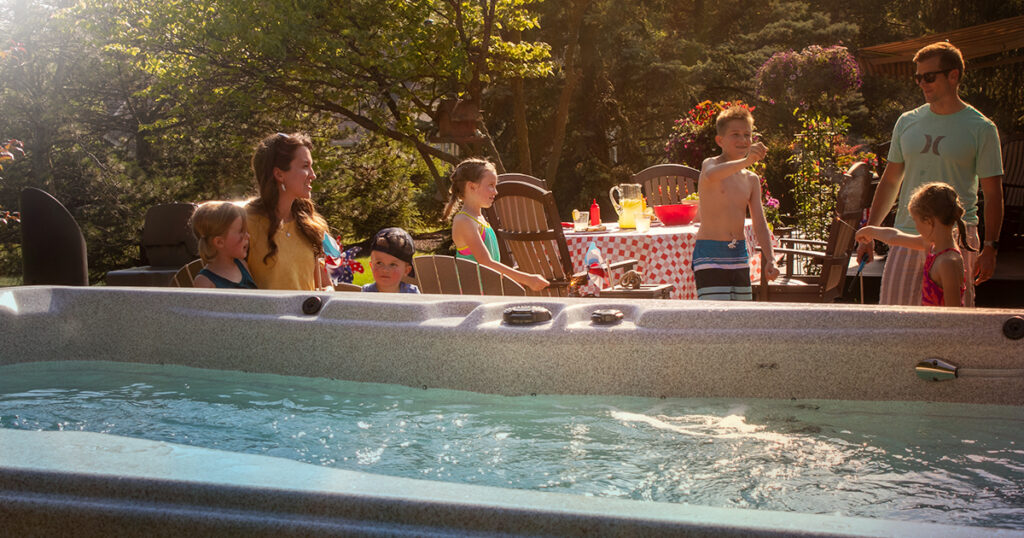 Crystal, Clear Water
Create an inviting space to play with clean swim spa water. Taking time to balance the chemicals and even shocking the spa water will help you avoid any last-minute issues, such as cloudy or green water.
The EcoPur Charge Water Filtration System makes it easier to care for your swim spa water with less chemicals. Swim spas also feature an ozone system that gets rid of the things you don't want in your water so it's clean and refreshing for your Labor Day party — and every time you want to use your swim spa.