Fall is approaching, and cooler weather will soon arrive in many parts of the country. But as tempted as you might be to store your patio furniture for the season, there are ways to enjoy your backyard all year-round.
A Master Spas hot tub or swim spa helps you extend your outdoor living season while providing you space to relax and reconnect with family and friends.
In a FOX & Friends segment, TV personality and contractor Skip Bedell showcased the benefits of owning a Master Spas hot tub or swim spa.
"(A hot tub is) great to get your muscles relaxed," Bedell says during the segment, which aired September 14, 2022. "We went through a tough time with the pandemic. Stress relief, anxiety — it's a great way to relieve tension.
" … It's fun for the entire family."
'Hydrotherapy everywhere'
A Twilight Series TS 7.2, Michael Phelps LSX 900, and H2X Challenger 15D were on the plaza as part of the FOX & Friends segment.
The line-up showcases some of the best-selling models from Master Spas, which is the world's largest swim spa manufacturer. It is also the largest hot tub manufacturer that builds 100 percent of its product in the USA.
The TS 7.2 is a six-person hot tub, and it offers comfort, therapy, and relaxation. There are 36 high-powered massage jets, which were strategically placed to relieve aches and pains. The StressRelief Neck and Shoulder Seat also features bio-magnetic therapy to increase circulation and relieve muscle pain.
But Bedell is partial to the LSX 900, which he has in his New York backyard. One of his favorite features is the Xtreme Therapy Seat, which has 27 jets. The jet placement creates a whirlpool like effect,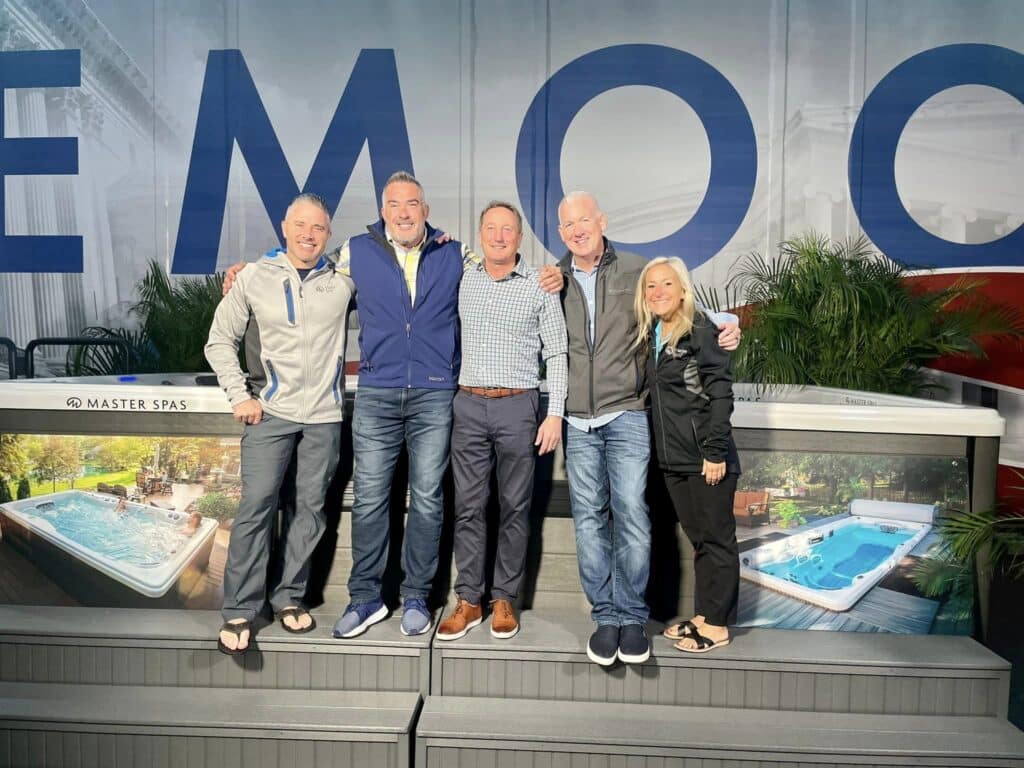 'You're always winning'
But the "mac daddy" of the segment was the H2X Challenger 15D swim spa, which was filled and ready for swimming. A swim spa combines the benefits of a pool with the therapy of a hot tub.
H2X Challenger swim spas have an airless jet system, which creates a continuous water current. Like a treadmill for runners, the water current allows you to swim in the convenience and comfort of your backyard.
And, because it's heated, you can even swim in the winter, Bedell says.
"You can swim against the current and do endless laps," he says. "You swim in place. It's amazing for exercise."
The whole family can also play, Bedell adds. "And you're always winning!"
Master Spas swim spas are also designed for relaxation. With contoured therapy seats and hot tub jets, you can realize the benefits of hydrotherapy. The neck and shoulder seat has out-of-water jets for tension relief. The stand-up Xtreme Therapy Cove targets the low back, hips, and legs. 
How to buy a swim spa
Do you want to be able to swim, exercise, and relax at home? Having a Master Spas swim spa allows you to swim on your schedule while adding a fun factor to your backyard. You can click here to find out more about the benefits of hydrotherapy and relaxing in a hot tub. Or, contact your local Master Spas retailer to learn more about swim spa ownership. Wondering how much a swim spa costs? You can request a quote here.