You've made the decision to add a new swim spa to your home. You're thrilled about the many benefits it provides; it's low maintenance, more energy efficient than an inground pool, heated for year round enjoyment and it has a built in current for exercise.
But how will the swim spa fit into your outdoor living space? You want the space to look cohesive, beautiful and welcoming. Jake Steward, lead designer for Ventures Design, a premium landscape design and build firm operating in Southeast Michigan and specializing in high-end entertainment spaces, offers some insight on how to design a gorgeous outdoor living space that seamlessly integrates your new swim spa.
"When adding a swim spa or hot tub, having it feel as if it was built-in is important." says Steward "Having some grade elevation is ideal, but you can also build vertically, adding a raised deck around the swim spa." Venture's Skusa build is a prime example of an outdoor living space with a beautifully integrated swim spa.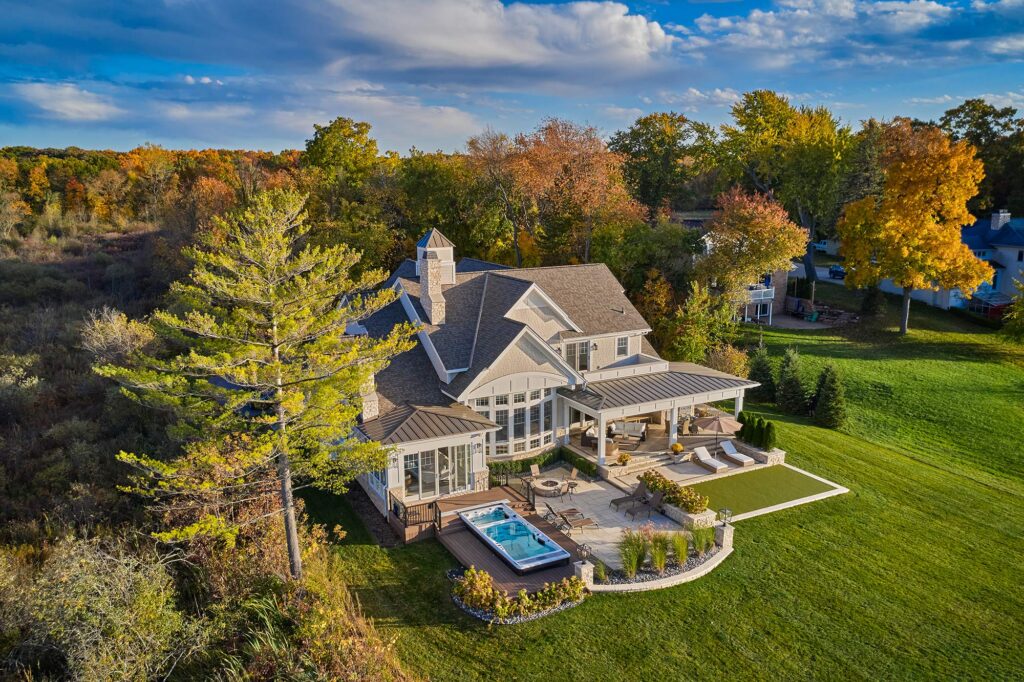 Behind the build: Dual-zone swim spa install
Just off the home's sunroom is a custom deck with an inset H2X Trainer 19D by Master Spas; a dual-zone swim spa that has a generous swim area and a separate hot tub. Rather than designing one large deck, Steward created an outdoor living space that transitions from deck, to multi-level patio, to putting green, to a raised covered porch. While it sounds chaotic, the elegant design is anything but. Steward played with elevation throughout the build, with the multi-level patio and deck, the combination of raised and ground level planting beds, retaining walls and stone pillars. The final effect is a graceful, cohesive space that effortlessly integrates the swim spa. 
"Aesthetically, you want to avoid having a flat platform with a spa sitting on top," advises Steward. "There are a lot of ways to play with elevation around the swim spa. You can create retaining walls, tuck them into a hill, surround them with plantings or decking on the sides. It also helps to give them a more intimate environment, creates privacy, and can reduce wind exposure. Other things that are important to think about when choosing where to put your spa are sun exposure, distance to your house if you are using it in the winter, and of course local building codes."
Let's explore some of Steward's suggestions and look at the pros and cons of each.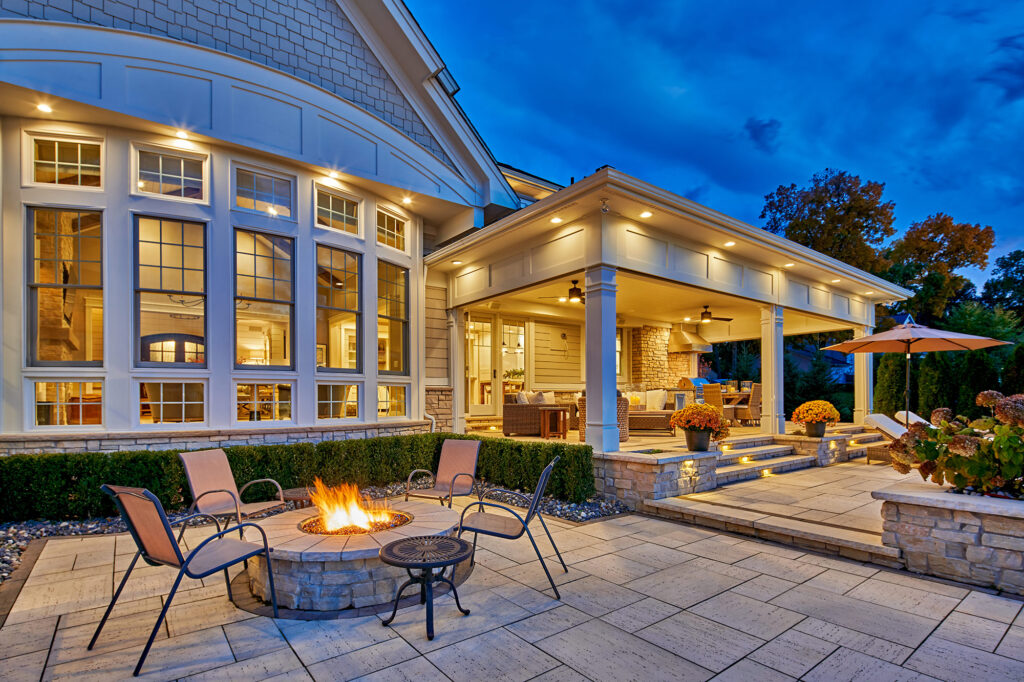 Ways to landscape around your swim spa
Decorative walls
Building decorative walls around your swim spa is a great way to integrate it into your outdoor living space. It is a more cost effective option than submerging the spa inground or having it built into a deck or patio. The walls can be built on one or multiple sides. Materials can be customized to fit the aesthetic of your home and existing hardscaping; brick, ledgerock, stone veneer and wood are all wonderful options. You can add raised beds, or plant rock gardens if you want to soften the hardscape and thoughtfully placed landscape lighting can create the perfect ambiance for an evening swim.
In-ground swim spa
Many people choose to fully submerge their swim spas for a look similar to an inground pool. This option is more expensive and certainly more permanent than building around the spa. The installation of a fully recessed swim spa will require an electrician and plumber, excavation of the cavity and pouring of a concrete foundation in preparation. While it is a larger undertaking than some of the other options, the final look can be well worth the effort. A fully submerged swim spa gives the look and feel of an inground pool with all the benefits of a swim spa.
If you live in a colder climate, like Michigan, a submerged swim spa is one of the only cost-effective ways to have an inground pool you can swim in year-round and there's something pretty remarkable about stepping out into a snowy backyard, uncovering your pool and comfortably swimming "laps" in the depths of winter!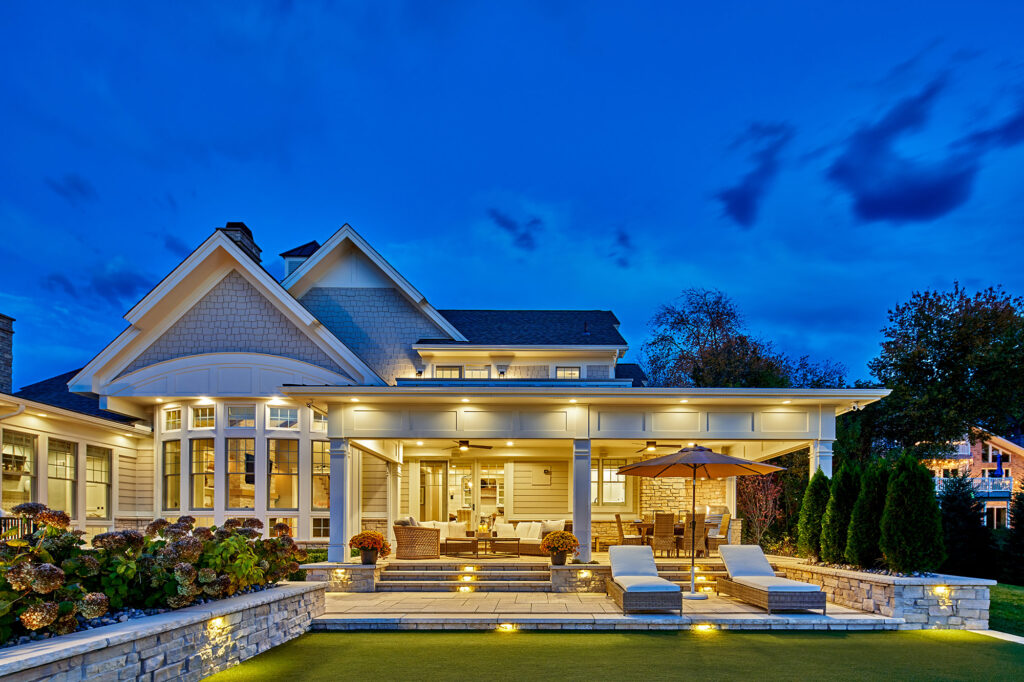 Deck or patio
Having your swim spa inset on a deck or patio is another wonderful option. This can be done by modifying an existing deck or building a new custom deck or patio around your swim spa. There are countless options when designing a custom deck or patio. You can inset the spa so it is flush with the platform, have it partially inset or build a multi-level platform like the Skusa build, where one end of the swim spa is flush with the deck platform and steps lead down to a lower level where the spa is partially inset.
Building a custom deck or patio has many advantages. Top among them is the opportunity to customize the rest of your outdoor living space. With a custom hardscape you can add in features like a built-in fire pit or outdoor kitchen as well as your inset swim spa.
Built-ins
One of the best ways to integrate your spa into a space is to build multi-functional elements. Many of Ventures most luxurious builds feature inset spas with bar elements. Whether you're building a surrounding wall or having the swim spa set into a deck or patio, building a custom bar can elevate the space to new levels. Having a bar along one side of the spa with seating on the outside allows for connection between people enjoying the spa and those who choose to stay dry. Whether it's playing a game of cards, enjoying a cold drink or even helping your children with homework from the comfort of your spa, there are few things more luxurious.
Another popular choice is to have a wall mounted all weather TV. Building a wall along one side of your swim spa can add privacy, reduce wind exposure and serve as a mounting surface for an outdoor TV, shelving for candles, drinks, even hooks for a bathrobe. Get creative with your custom build, the possibilities are endless!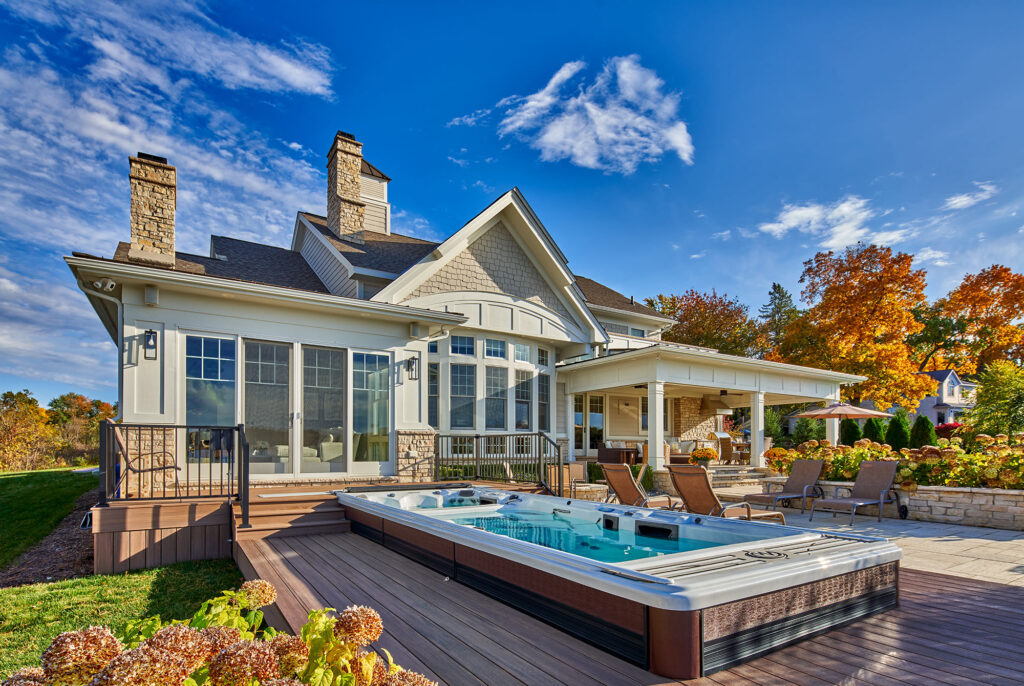 Pergola
Adding a custom shade structure such as a pergola or pavilion over your swim spa is functional as well as visually appealing. Shade structures offer protection from the elements, be it shade from the sun or coverage from rain and snow. They also provide privacy, can house other amenities such as an all-weather TV for entertainment while enjoying your spas hydrotherapy jets, and are a perfect base for string lights and climbing vines if you want a more ethereal atmosphere surrounding your spa.
Landscaping around your swim spa
Landscaping on its own can be a powerful tool in integrating a swim spa into your outdoor space. Ventures uses landscape beds in almost all builds to soften the line between hardscape and landscape. Adding a stone garden or a row of ornamental grasses between a patio and lawn, smooths the transition, adds visual appeal and guides foot traffic through the space. Arborvitae or boxwood hedges can do wonders to refine a space and make it feel complete. Herb gardens with lavender and rosemary are not only beautiful, they smell incredible and are a natural deterrent to pests like mosquitos.
Landscaping can and should be a part of all of the above. But it can also be a stand alone option for integrating your swim spa if you need something more cost effective.
See more inspiring outdoor builds by following Ventures Design on instagram @venturesdesign