Your summer days were spent tackling the project list, staining the fence and building an outdoor fire pit. But while the seemingly endless days at home are a thing of the past, it's time to enjoy the fruits of your labor. And what better way to kick off a season of outdoor fun than Memorial Day weekend, the unofficial start to summer.
The best Memorial Day weekend is a mix of relaxing (hello, extra day off) and activities that are fun for the whole family. Your yard, fresh off a makeover, will be the ideal spot to host a variety of Memorial Day activities. Invite over friends and family, or enjoy quality time with the members of your household.
No start to summer is complete without some time by the water. If you invested in a Master Spas swim spa, it's likely that you have been using the pool alternative all year. No need to open it for your first party of summer! But family and friends will love to relax in the therapy seats, and kids can enjoy some water games as the adults snack.
Before the doorbell rings, you can kick off Memorial Day weekend with a few fun activities. Decorate your house with a patriotic theme or organize a neighborhood bike parade, keeping the meaning of Memorial Day close to heart.
Are you ready to kick off the celebrations and fun?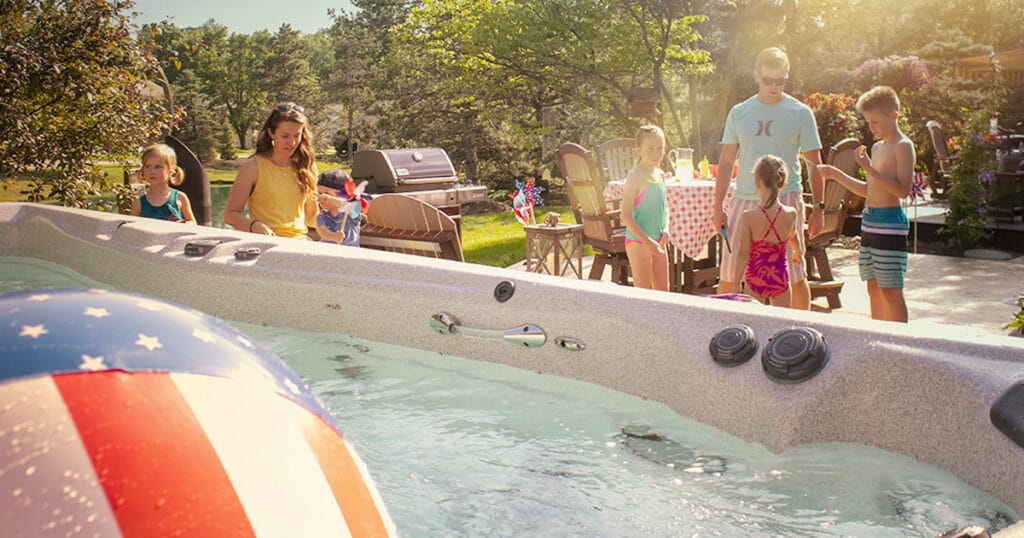 Fun Memorial Day Weekend Activities
Decorate Your House
It's time to bring out the red, white, and blue. Memorial Day is a day, foremost, to remember those who have died serving our country. But it's also a time to celebrate the freedom they fought for. Memorial Day decorations are full of American spirit, whether it's a border of American flags or red, white, and blue bunting.
For an outdoor Memorial Day BBQ, consider making bunting from red, white and blue bandanas. Or, create a centerpiece with patriotic-themed baseballs and American flags. Or you can use red gingham fabric and blue and white paper lanterns to decorate your porch.
Patriotic Planters
Memorial Day weekend is a perfect opportunity to add annuals to your landscape or into patio planters. The weather is warm and the risk of frost is in the past. Red geraniums are a classic choice for your porch. You can also mix it up with white petunias and blue delphiniums.
In addition, planters are a great way to add seasonal color around your Master Spas swim spa. Make a statement with an oversized planter or choose a smaller arrangement that's easy to move around and update as the summer months go by. You can even group smaller planters together to add visual interest, choosing containers and flowers of varying heights.
Home and garden stores are a one-stop spot to pick up containers and flowers but you can find cool options in unusual spots. Keep your eye out at antique shops, yard sales, and online marketplaces. A favorite Memorial Day flower arrangement contains a unique planter — vintage potato chip cans.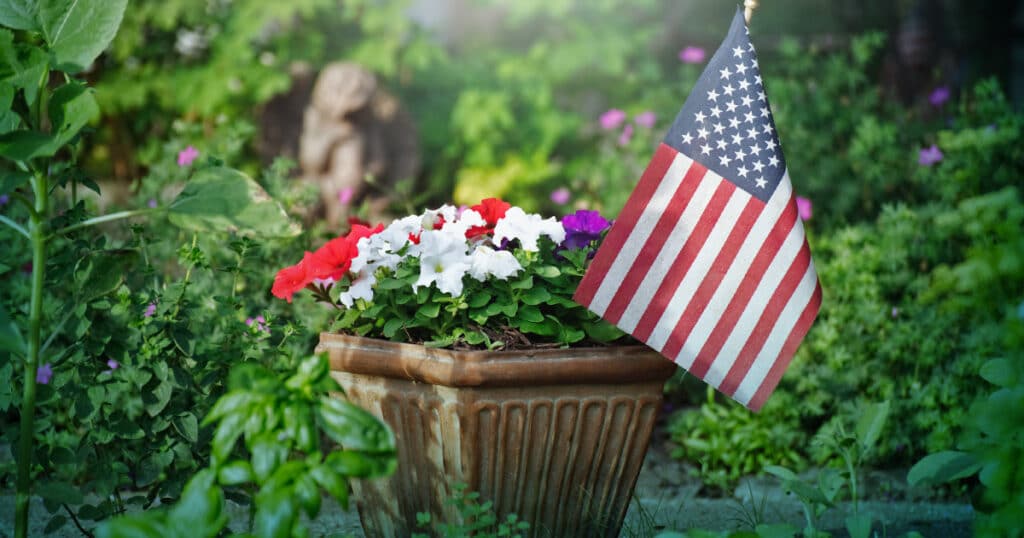 Organize a Neighborhood Bike Parade
Parades are synonymous with Memorial Day. While it's always fun to go to the big festivities, it's also nice to find a way to get the neighborhood involved. A bike parade is a fun activity for the holiday weekend. Invite neighborhood children to participate, create a safe route, and set up a bike decorating station at the start. From balloons to streamers, flags to stickers, kids will love dressing up their bikes (or scooters!) in red, white, and blue. Encourage families to wear their favorite patriotic garb, too.
On your bike parade route, you can also include stops at the homes of neighborhood veterans. Children can place flags in their yards or deliver a special card as a thank you.
Enjoy Your Backyard
The holiday weekend is often full of get-togethers and family fun. Be sure to make time, though, to enjoy your backyard. Relax in the hammock (maybe even take a nap) or enjoy a cup of coffee on the patio before you start the day.
If you are in need of some relaxation, turn up the temperature and soak in the therapy seats of your swim spa. Adjust the pressure of the massage by turning up (or turn down!) the jets and use the diverter, as well.
Swim Spa Fun for Everyone
A Master Spas swim spa will be the focus of attention for party-goers and family members, alike. Children will love splashing around, searching for dive rings, and tossing a beach ball. Adults will love having a place to relax and are sure to appreciate the therapeutic benefit of the massage jets. Before everyone arrives, make sure your water is balanced and you have a supply of dry, clean towels.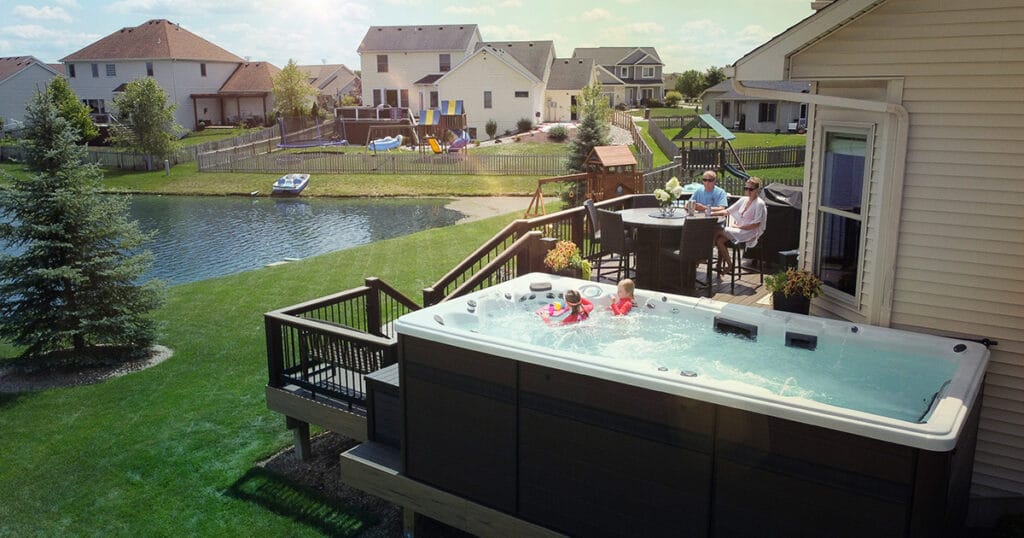 Snacks and Drinks
Memorial Day menus are traditionally filled with grilled fare — hamburgers, hot dogs, and corn on the cob. While we can't say no to a slider fresh from the grill. But it's important, too, to have plenty of drinks and snacks on hand. Whether you are hanging out with the family or entertaining guests, it's nice to have food available for noshing. Fresh fruit is always refreshing but put a twist on it with watermelon salad and strawberry slushies. You can get the kids involved by making homemade blueberry and strawberry ice cream. BLT cups are also a fun twist on the Memorial Day menu, as is a buffalo wing-inspired coleslaw.
Lemonade is always refreshing on a summer day. Make a splash with guests by adding strawberry syrup and freshly sliced berries. Another option for your Memorial Day menu is a fruity ice cream float. Alongside vanilla ice cream, offer fruit-flavored sodas like orange and strawberry. Be sure to check your grocery for artisan-style sodas that will elevate your backyard party.
Be sure to have paper plates and plastic cups on hand. Not only does it make clean-up a breeze, disposable products are safer when you are hanging out by the swim spa.
Main Dish
Hosting a holiday weekend get-together does not mean that you have to spend hours prepping dishes and flipping grilled chicken breasts on the grill while everyone hangs out. Turn your party into a potluck and not just that, suggest a theme. Some people might roll their eyes, and we get that. But it can be a way for people to try new dishes and also make sure you don't have 10 pounds of potato salad. You can go for an all-American theme or a "roots" theme, asking people to bring a dish that represents their heritage.
Tie Dye
In case you missed it, tie dye is IN — in a big way. From trendy athleisure outfits to band tees, it seems like tie dye is everywhere. But while you can pick up pieces at the store, guests can make their own party favors. For Memorial Day, you can stick with red and blue dyes, and have several stations set up. Be sure to have a variety of supplies on hand, including squeeze bottles, rubber bands, buckets of water, zip-close bags, and plastic gloves. It might be helpful, too, to have ideas and directions printed out.
At-Home Concert
You don't have to head to a large or crowded venue to enjoy live music. If your friends are musicians, encourage them to bring their instruments. You can set up a small stage on the patio or gather around the fire pit. Whether it's a couple people strumming guitars or a full band, live music will bring energy to your Memorial Day weekend party.
Made in the USA
Master Spas makes 100 percent of its swim spas and hot tubs in the USA. Operating out of a state-of-the-art, 36-acre campus, Master Spas is the largest swim spa manufacturer in the world. It's also the largest portable hot tub maker to manufacture all of its products in the USA.