Master Spas hot tubs are fully insulated so that you can enjoy a hot tub year-round, whether it's a crisp fall day, snowing, or a summer evening.
But an outdoor hot tub is not ideal for everyone, with some preferring the added convenience, comfort, and privacy of an indoor hot tub.
An indoor hot tub can be a part of a new home build or a renovation. Can you picture it? An updated master suite with a cozy two-person hot tub. Or, maybe it's adding that three-season room with a four-person hot tub the whole family can enjoy.
How do you install a hot tub indoors? There are other additional factors to consider.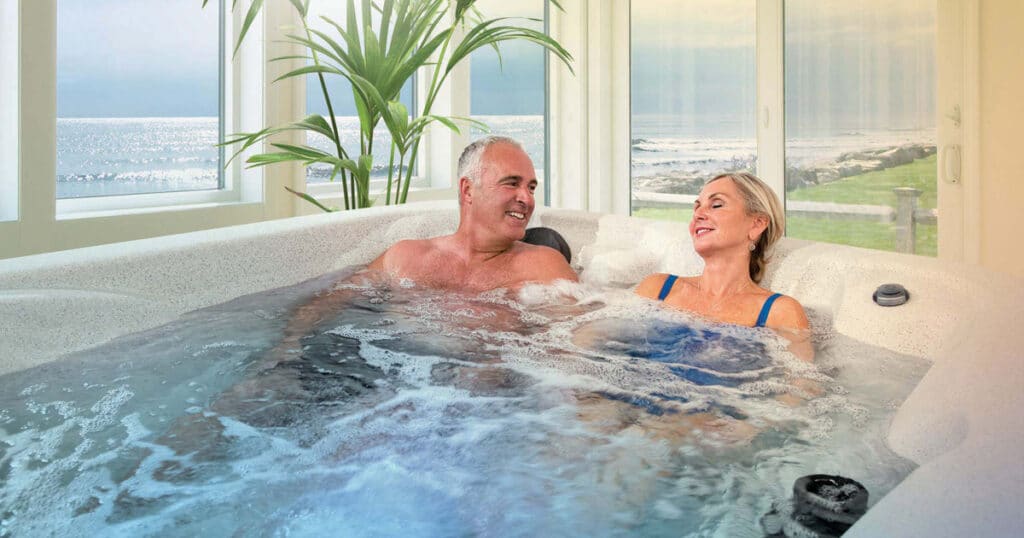 How to Install an Indoor Hot Tub 
Can you put a hot tub inside? Absolutely! But before you schedule your delivery, here are eight factors to take into account.
Hot Tub Size
Master Spas manufacturers a variety of hot tub sizes so that you can find the spa that fits your space and needs. While an eight-person hot tub is great for entertaining, it might not be the best choice for a hot tub room. Small hot tubs are ideal for an indoor installation. The Twilight Series 240, a corner hot tub, is among the most popular small indoor hot tubs. Or consider, a hot tub with a lower profile that will be easier to get through a doorway. Hot tubs like the TS 6.2 are 34 inches tall, making it easier to maneuver into your home.
Filtration System
Among the "cons" of putting a hot tub inside is that some complain of a chemical smell. Indeed, chemicals are required to keep your spa water balanced. But a hot tub with a quality filtration system can help you avoid a strong aroma. Master Spas hot tubs feature the EcoPur Charge water filtration system, which uses a unique design and minerals to keep the water clean. Less chemicals are needed to keep the water clean, clear, and fresh-smelling.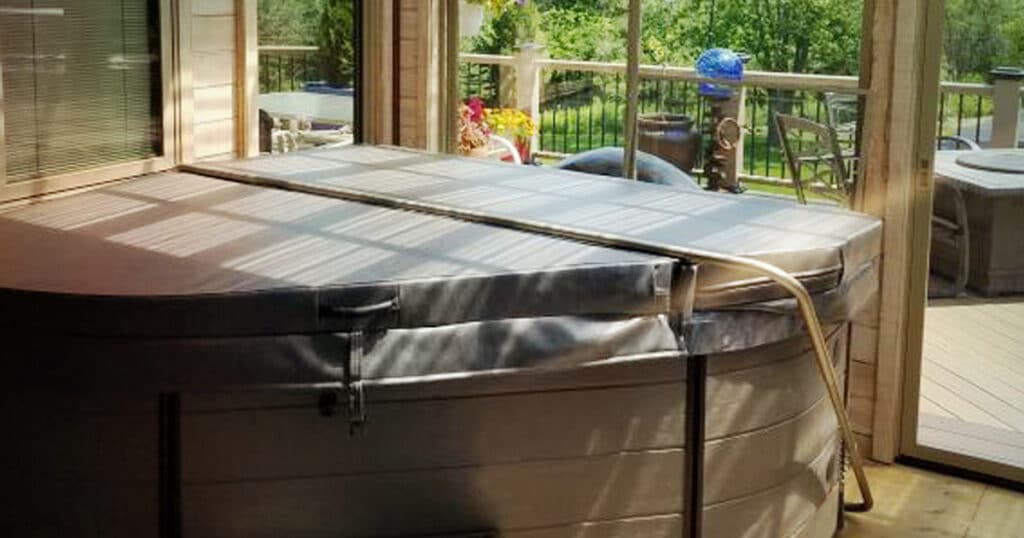 Water Access
Just as you would an outdoor hot tub, you need to be able to fill your indoor hot tub. A hose is the most efficient way of filling a hot tub, and it will need to be able to reach your spa. If you put a hot tub in a three-season room, you might be able to access the outdoor spigot. Or, if it is in a walk-out basement, there might water access in the laundry area.
Related video: How to Fill a Hot Tub
Drainage
Splashing on the floor or ground is inevitable when you own a hot tub. The water moves as you get in and out of the spa, as well as shift between the seats. Even a jet on full power can cause some spray. But you don't want water to damage the flooring of your indoor hot tub room. 
Before you install your indoor hot tub, be sure to think about flooring material and drainage. If your indoor hot tub is part of a renovation or new build, have the contractors install a floor drain. It will protect the flooring, as well as make it easier to enjoy your spa. 
It's also important to plan for routine water care. Master Spas recommends that your hot tub be drained every six months. When it comes time to empty your hot tub, where will the water go? You can attach a garden hose to the drain or use a sump pump to help remove the water.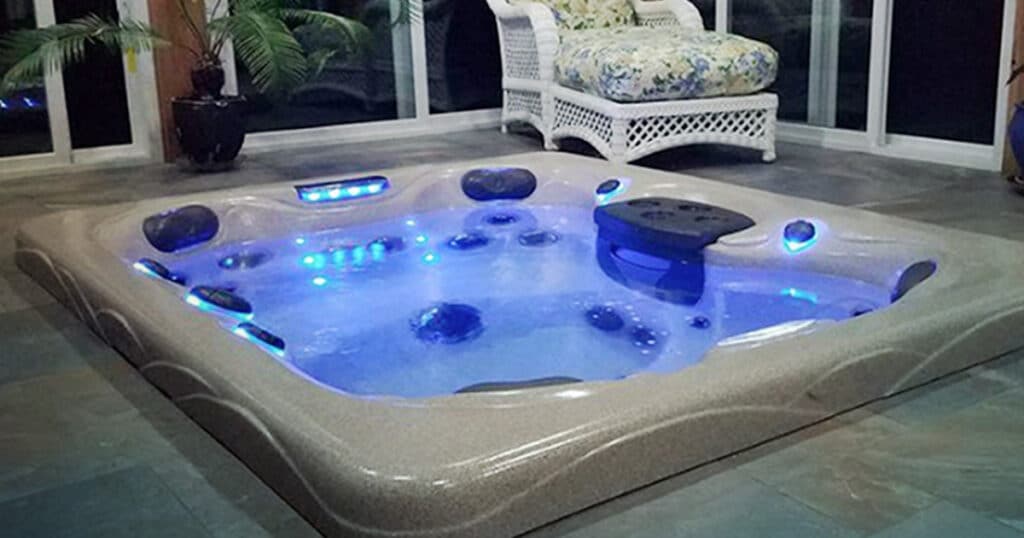 Power Access
To connect your hot tub to power, you can either plug it into a wall outlet or wire it directly to a 220v, 230v, or 240v connection through your home's central circuit breaker box. If you don't have a proper wall outlet, you'll need to install one in your hot tub room. To prevent moisture-related short circuits, you'll also need to install a ground fault circuit interrupter (GFCI) between your hot tub and power source as well. A licensed electrician should perform this work.
Foundation
Just like an outdoor hot tub, you need to have a flat, level surface that can support the weight of the hot tub. Even if you think the floor is supported, it's a good idea to contact an experienced contractor to evaluate your space.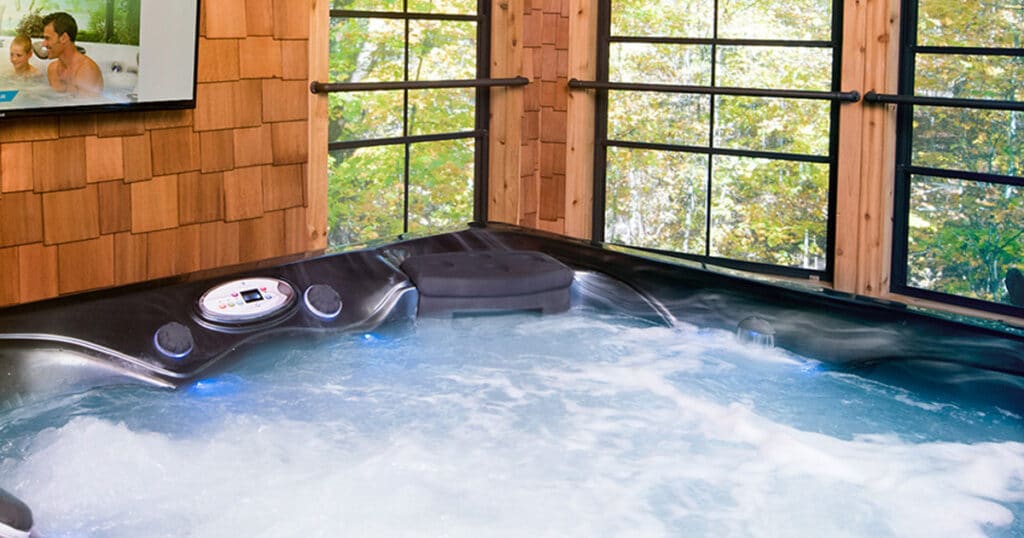 Ventilation for Indoor Hot Tub Rooms
The higher temperature of a hot tub, along with the water in the spa, can cause the indoor space to be humid. The moisture in the air can cause damage to paint, drywall, and your home decor. An indoor hot tub rooms will need additional ventilation. Look for an efficient ventilation system can help you avoid any dampness or odor in the space.
Installation Route
One of the biggest challenges of an installing a spa in an indoor hot tub room is getting it into the room. Before signing the contract, review the spa's dimensions and talk with a qualified salesperson about how it will be delivered. It's always a good idea to measure any doorways, hallways, or spaces that will be on the delivery route.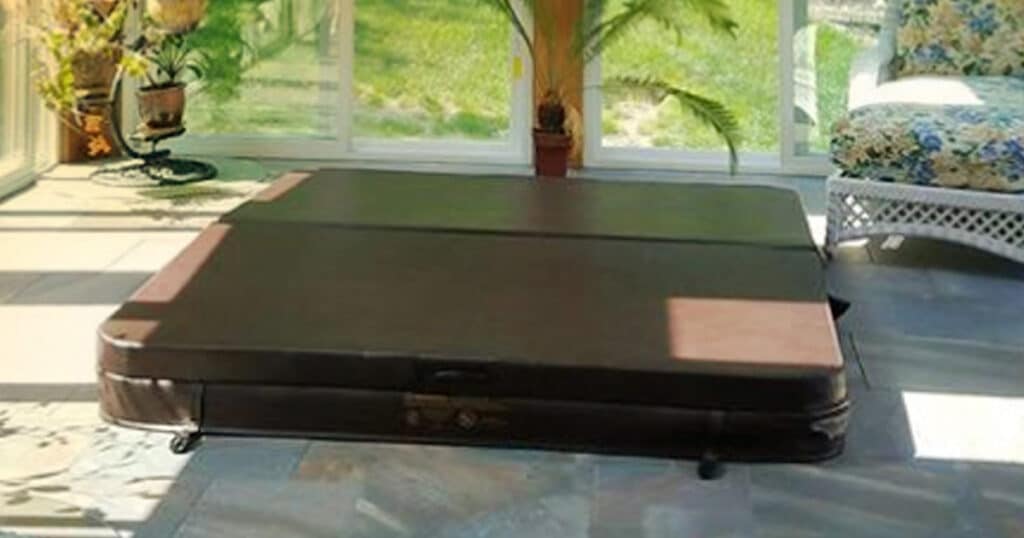 Benefits of an Indoor Hot Tub
Privacy
A homeowner can create a private outdoor oasis with thoughtful landscaping. But unless you live on a sprawling property, it can be hard to find a true sense of privacy. An indoor hot tub can help you avoid catching your neighbor's eye or hearing the neighborhood kids play.
Convenience
An outdoor hot tub can be installed just steps from your backdoor. But you can enjoy soaking inside without having to put on a robe or slippers. 
Weather Protection
Close that weather app. With an indoor spa you don't need to worry about whether it's going to rain or snow. You are also able to control the temperature of your indoor hot tub room that you can relax easier.