She's the person who always puts you first. She knows how to brighten your day when you need it. And she will always be your biggest cheerleader. Mom. When Mother's Day comes around, you want to show her just how much you appreciate her.
But many times, it can feel like Mother's Day is more chaotic and celebratory. Whether it's braving a crowded restaurant or trying to put together a gathering for other women, it's easy for Mom to become overwhelmed on a day meant for her.
But a Mother's Day celebration should be relaxing. You can treat your favorite women to the perfect day — in the comfort of home.
"A Mother's Day at home?" you ask. Yes! You can plan a thoughtful, fun day that will make her feel appreciated and loved.
These creative ways will help you honor the amazing mothers in your life — whether it's your own mom, wife, aunt, grandma or family friend.
Mom deserves to feel pampered year-round, thought. With a hot tub by Master Spas, she can realize the benefits of hydrotherapy — just steps from her backdoor. The hot tub's soothing waters are relaxing while the massage jets offer relief from stress.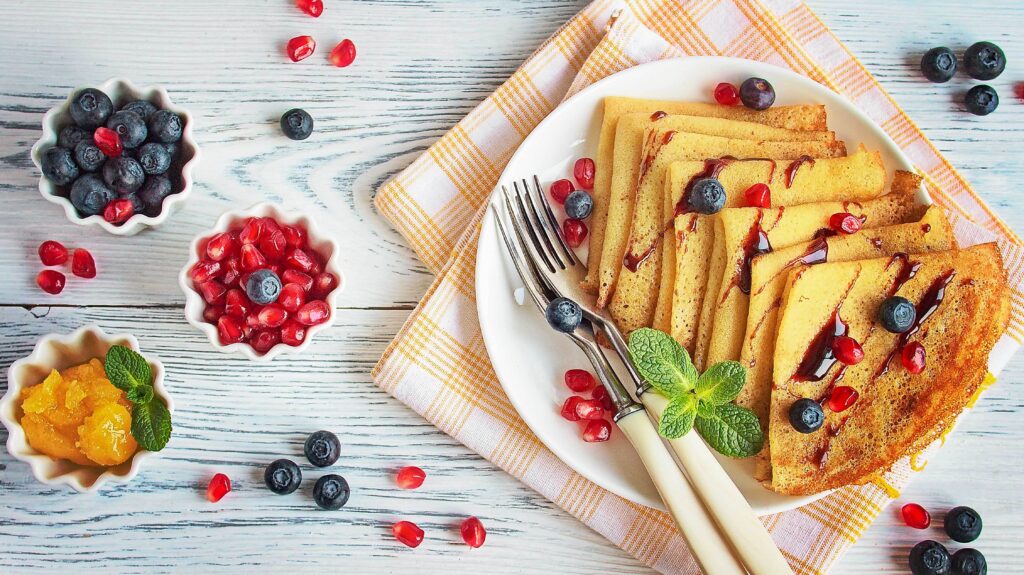 Mother's Day at Home Ideas
Go beyond the expected this Mother's Day with a special at-home celebration. The perfect day at home will include a balance of time with family, as well as some quiet moments to herself.
Crepe Brunch
Treat the women in your life to a well-deserved brunch for Mother's Day. While traditional fare often includes pancakes and egg casserole, you can take it to a new level with a crepe buffet station. Crepes are like a thin pancake that can be dressed up with a variety of toppings. Not only is it a way to satisfy picky eaters but it's fun to create new combinations.
For your crepe buffet station, we suggest having:
A variety of fruit, such as berries and bananas
Chocolate chips
Apricot jam
Lemon curd
Peanut butter
Chocolate hazelnut spread
Toasted coconut
Slivered almonds
Whipped cream
Powdered sugar
Also be sure to have her favorite brunch beverages, such as coffee with a variety of add-ins (cream, flavored syrups) and fresh juice.
Beautiful Tablescape
Do you know how many times your mom asked you to set the table? Mother's Day is the time to really set the table. For brunch, whether it's a crepe bar or carry-in from a local restaurant, a beautiful table will elevate your entire Mother's Day at home. Decorate the table with a beautiful bouquet, pretty linens and simple dishes. You can even incorporate some of Mom's china and tea cups for an upscale cottage look.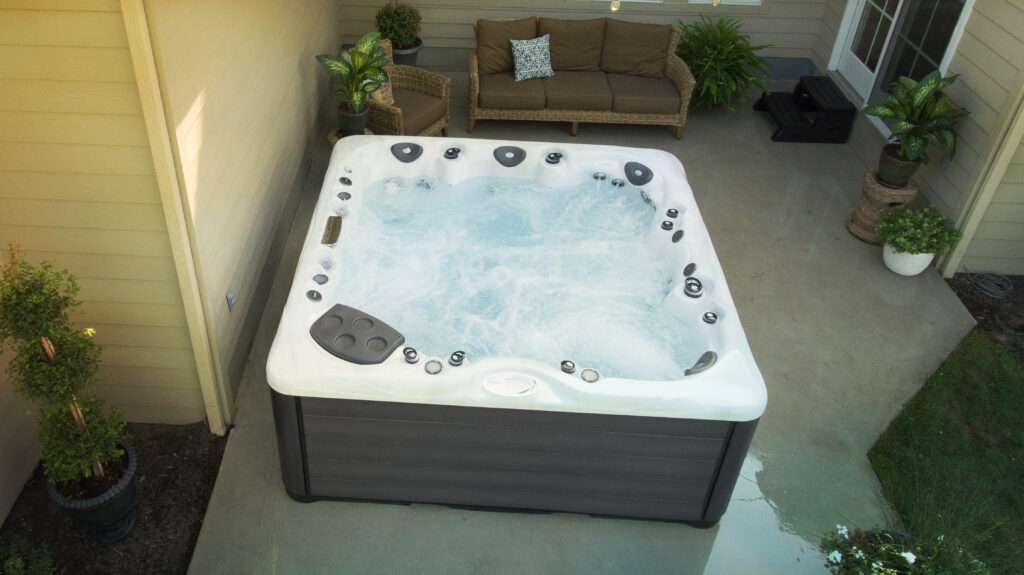 At-Home Spa Day
When you have a backyard hot tub, it means that every day can feel like a getaway. This Mother's Day, you can treat her to a spa-cation. Re-create some of the best experiences to help her unwind and feel spoiled. To start, turn on a chill playlist that will help set the tone for the day. Thoughtful place candles or lanterns around the space for light and consider placing bunches of lavender to fill the air with a sweet scent. As a gift, treat her to a new robe and slipper set — perfect for walking to and from the hot tub.
There are more ways, too, to help turn your backyard into a wellness escape this Mother's Day. Be sure to have plenty of sparkling water and tea for sipping while soaking. Fresh fruit always makes for a refreshing snack. And while you should not wear lotion in a hot tub, have a few of her favorite body care products nearby for a post-soak skin care treatment.
Related post: Treat Mom to a Relaxing Mother's Day
Flowers
Bright, beautiful blooms are a tried-and-true gift for any mom. But the best flowers for Mother's Day are the ones she will enjoy the most. Consider a trip to the nursery if your mom enjoys gardening. Or, surprise her with an artful arrangement from her favorite florist. If you live in a different area, you can order a bouquet (or three) online and have them delivered just in time.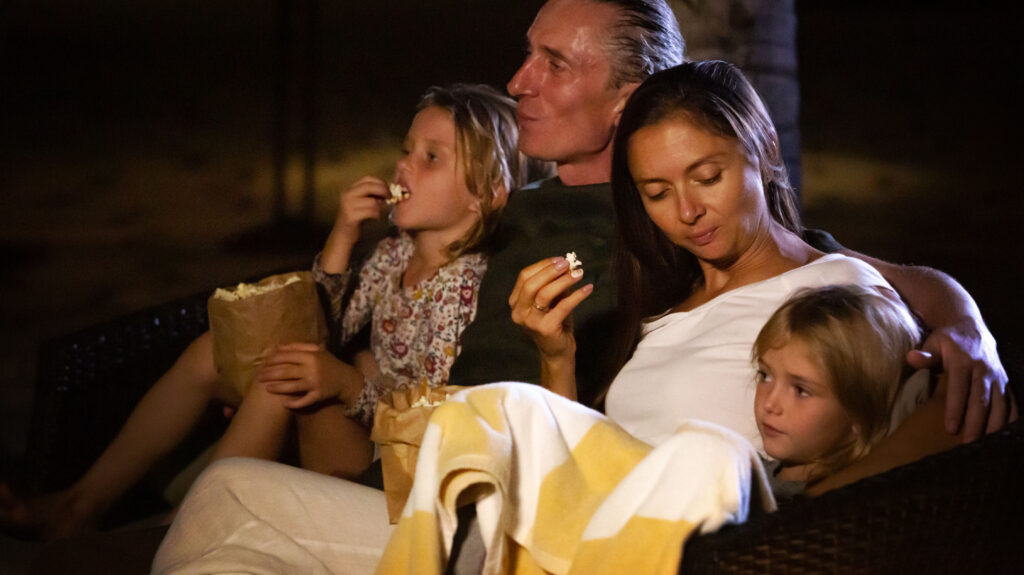 Outdoor Movie
Movie theaters might have comfy recliners but there's nothing like curling up with a good blanket and watching a movie at home. You can make a stay-at-home movie night special for mom by using an outdoor projector to create the drive-in experience at home. You can set up a screen or project it on the side of your house or garage. Set up a buffet with Mom's favorite movie theater treats and enjoy the show.
When it comes to seating, you have a couple options. Set up patio loungers in the yard, pile up blankets or watch the movie from the comfort of your Master Spas hot tub.
Related Post: Hot Tub Customer Reviews: Fun Family Time
Dinner at the Door
Mom needs a night off. While brunch might have been a hit, be sure that dinner is done, too. Consider using a meal delivery service to have her favorite dish show up at just the right time. Mom will appreciate that she does not have a meal to plan and she will love the thought even more.
End the Day with a Surprise
After a delicious dinner, Mom might think her Mother's Day celebrations are over. But you know differently. While you enjoyed the day at home, there's still room for a surprise — no matter your budget. Consider a thoughtful piece of personalized jewelry or a gift certificate to a class that she's always wanted to take. Or, maybe she deserves to get away. A trip to a new locale will be sure to make her Mother's Day at home one to remember.