A hot tub can add a beautiful water feature to your backyard. From the soothing sound of a waterfall feature to glowing LED lights, it can turn your backyard into a luxe sanctuary. But you want the hot tub to be less of the focal point and more of a place to enjoy your surrounding views.
With an in-ground hot tub, you can enjoy the relaxation and comfort of a spa while elevating your backyard landscape.
But can you install a portable hot tub in the ground?
Absolutely! With proper planning and preparation, you can create a custom spa look with the therapy of a portable spa.
Master Spas hot tubs can be fully recessed or partially recessed into the ground or lowered into a deck. Choose a model that meets your needs and create the backyard oasis you have been dreaming of.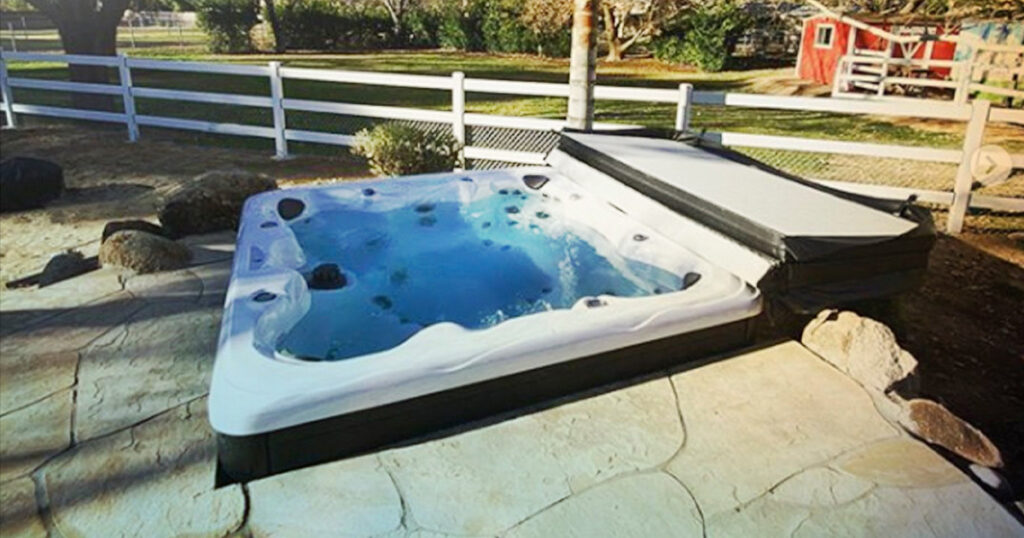 In-ground hot tub installation tips
A portable hot tub installed in the ground becomes a more permanent fixture of the landscape. If you plan to move or move the spa, it might not be the best installation.
However, if you are creating a long-lasting retreat, this installation can bring your vision to life. But as you plan your backyard project, here are some things to consider.
Site preparation
Any hot tub needs a solid foundation that can support the weight of the spa when filled with water. The same is true if you choose to put it in the ground. A concrete vault will provide the support the weight of the spa and can be a part of your in-ground spa design.
Hot tub drain
Partially or fully recessed installations need a floor drain system installed in the concrete pad. This system should be designed to move any water that may collect away from your hot tub. Why is this important? If the site has bad drainage, rain water can collect and damage the spa.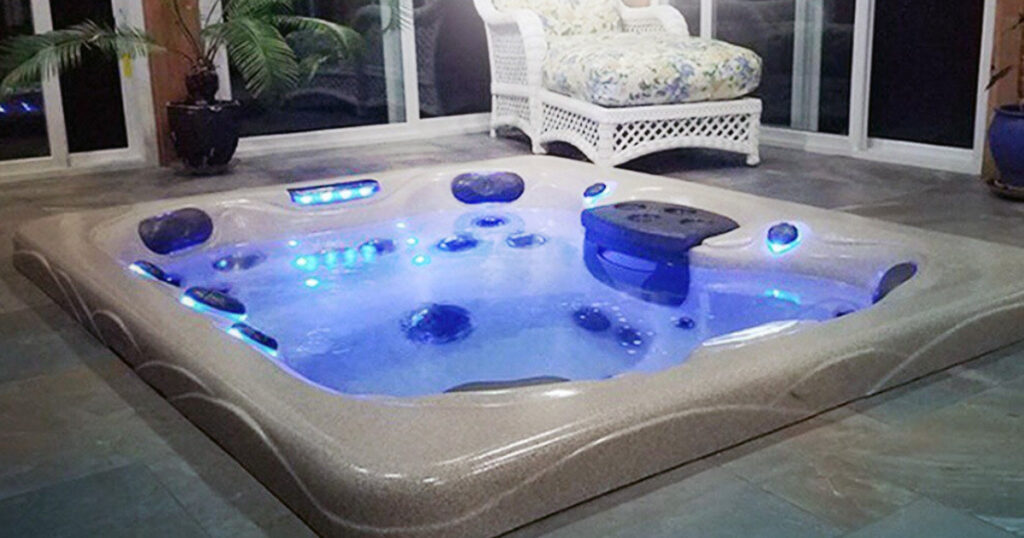 Trap door
Access to the service panel is important when you are planning your hot tub installation. Master Spas recommends planning for 3 feet around the perimeter. You can maintain the in-ground spa look by adding decking and building a trap door. Without convenient access to the components, any service calls could cost more.
Cover
You need a hot tub cover to keep out the elements, keep in heat, and keep family and pets safe. But a traditional hot tub cover and cover lift might not work for a recessed spa. Coordinate with your Master Spas retailer and contractor to find a safe, easy solution.
Hop in? 
An above-ground spa is easy to get into. You sit on the edge, swing your feet over and step into the hot tub. Depending on the height of the spa, you might have a set of steps nearby to help you get in. When you have a recessed hot tub, though, it might be more difficult to get in. You have to lower yourself to the ground before sliding in the water. And, if the jets are on, you might not be able to see the bottom.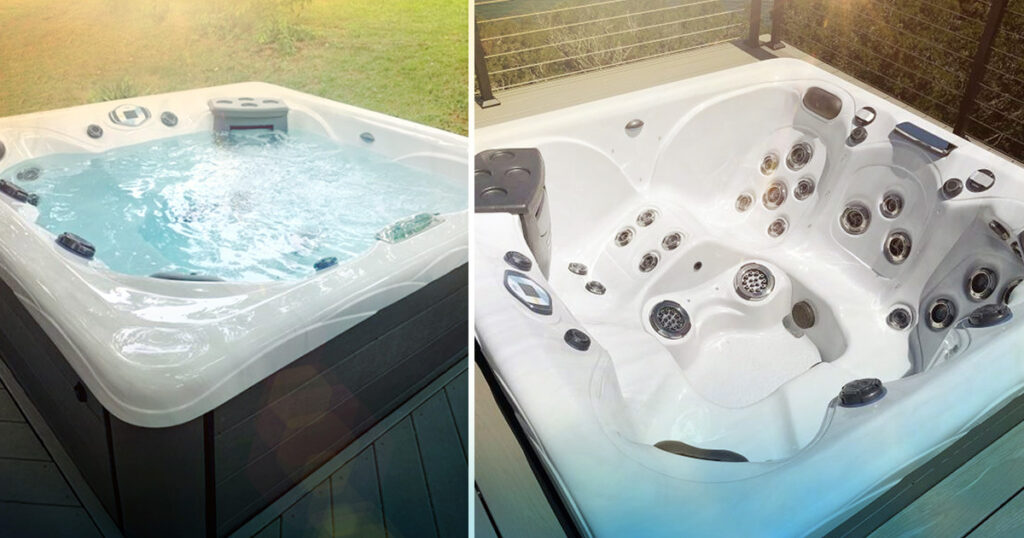 Should you sink your hot tub in the ground? 
A sunken hot tub allows you to enjoy an unobstructed view of the surrounding landscape as you soak away the stress. Choosing this type of installation allows for a custom look that you can enhance through your backyard design. Stone paths, a lush garden, or custom decking can complement the spa.
But it might not be the right choice for everyone and every space. Ask yourself if you are willing to spend the extra money on the installation and any future service. Are you in a forever home?
If you have some reservations, consider a semi-recessed hot tub. With this installation, about 12 inches of the spa is above the ground. Many people find it's easier to get in and out of the hot tub. Plus, you will have room for a traditional cover and cover lift.
Alternately, you can have an "illusion" hot tub design. With this backyard design, the hot tub is installed next to a raised deck. The top of the spa looks flush with the decking but part of the hot tub is exposed, with steps nearby so you can get in easily and safely.
Whether you choose an in-ground hot tub or another installation style, you can create a space that is both functional and beautiful. Through fencing, patio pavers, perennials and other landscape options, you can have your own oasis.
Need more help? Download our Backyard Planning Guide for installation requirements and tips.
Create a backyard oasis
Are you ready to turn your backyard into the retreat you've been dreaming of? A Master Spas hot tub can transform your space and make relaxation convenient and fun. You can click here to download our tips for creating a backyard oasis. Or, contact your local Master Spas retailer to learn more about hot tub ownership. Wondering how much a Master Spas hot tub costs? You can request a quote here.