Water is the great equalizer, according to Ben Gilliam.
Gilliam, who has been active throughout his life, is a swim spa specialist with Master Spas and fitness professional. An IRONMAN athlete himself, he has logged hundreds of hours as a triathlon coach and personal trainer.
But Gilliam sees the power in water and complements his land-based training with workouts in the swim spa. In addition, he recommends aquatic therapy and exercise to his clients.
During Master Spas' February Facebook Live, Gilliam and Mari Cuticelli demonstrated the benefits of exercising in water and, more specifically, in a swim spa by Master Spas.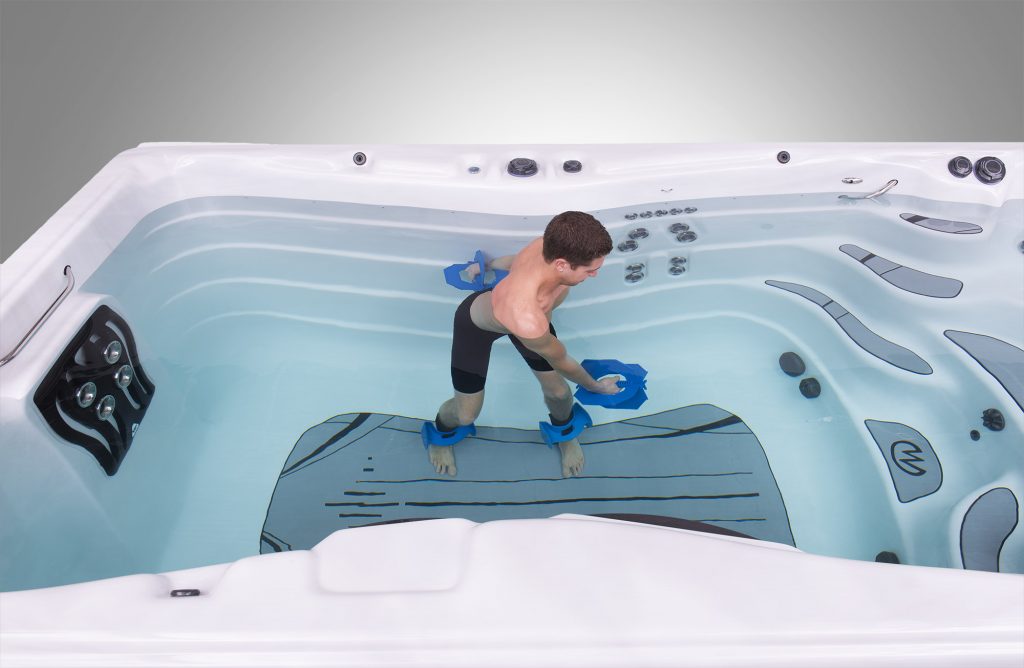 Benefits of Exercising in a Swim Spa
Exercising in a swim spa by Master Spas offers the benefits of cardiovascular and resistance training without the impact on joints.
Water's natural resistance and buoyancy helps the body feels more supported. Enjoy increased flexibility and mobility, as well as a sense of "weightlessness." People who exercise in the water often see improved balance, strength and endurance — as well as less pain.
But exercising in a swim spa offers additional benefits:
Master Spas swim spas feature SoftTread non-slip flooring, which offers superior traction. No need for water shoes!
Water is an ideal environment for all fitness levels. Exercise with a gentle current (or no current) as you get started. As you gain fitness, you can increase the difficulty by speeding up the flow of water or placing the equipment under water.
The water current forces you to recruit stabilizer muscles, which are vital to balance and injury prevention.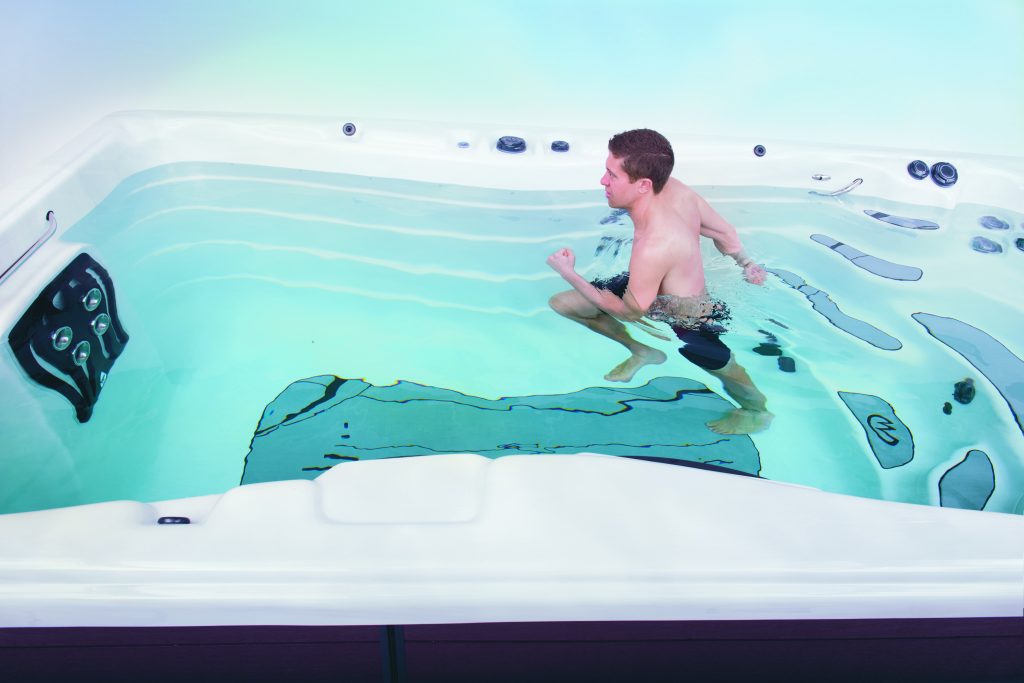 Water Exercises for Your Swim Spa
Interval training is efficient and fun, especially when you are in a swim spa by Master Spas. Not only do you combine resistance and cardio exercises, you can keep the workout fresh and make the time go by quickly.
Select four exercises that focus on muscular strength and add in two minutes of cardio. Repeat three times. In the Facebook Live demonstration, Ben and Mari demonstrated several moves that can be incorporated into your water aerobics routine.
Aqua jogging
Also called water running, this exercise can benefit athletes who are coming back from injury or those who want to increase the intensity without the stress on the joints.
How to do it: Run forward with high knees, using proper posture and opposite arm/leg motion. Use your arms to "scoop" the water if needed.
Related post: Maintain and Improve Fitness with Water Running
Bicep Curls
A bicep curl works the front of the arm. Using the dumbbells in the H2Xercise Kit, which comes with every swim spa by Master Spas, allows you to strengthen your arms. The water will add resistance, as will the current.
How to do it: Hold an H2Xercise dumbbell in each hand, keeping the dumbbells under the water. Stand with a tall, stable posture and keep your feet hip-width apart. Curl your arms from hips to shoulders, keeping control of the dumbbells against the water current. Return to starting position.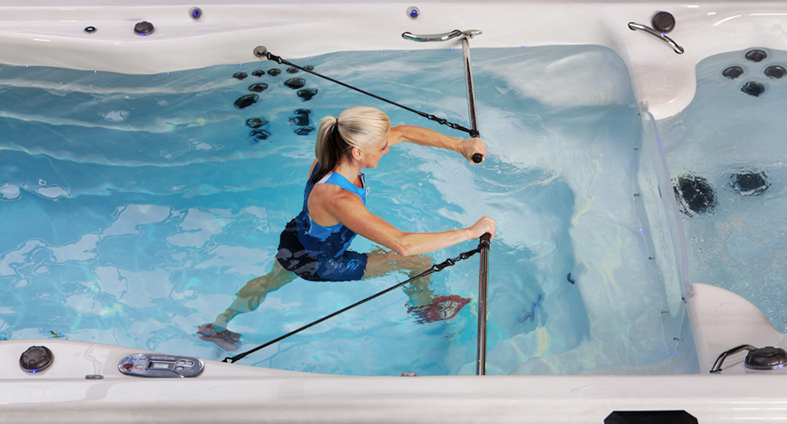 Rowing
Rowing bars are included in the H2Xercise kit. The bars easily snap into the sides of the spa, near the therapy seating. A cardiovascular endurance, rowing is an exercise that translates well to the water.
How to do it: Perform rowing motion in a seated position. Keep core engaged and use arms equally.
Knee Tucks
A great exercise for the abdominals, performing knee tucks against the current recruits the stabilizer muscles of the core.
How to do it: Holding the stainless-steel grab bar, extend your legs until you are in a streamline position. Engage your core and pull your knees into the chest, almost as if curling into a ball. Pause. Return legs to the start.
Trunk Rotations
Strengthen you core while taking advantage of the resistance of the water current.
How to do it: Stand on either side of the swim spa so that the water current is in front of you. Hold an H2Xercise dumbbell with both hands, keeping wrists straight. Stand with feet shoulder width apart and knees slightly bent. Keep head straight and arms extended in front at chest level. Rotate using hips, while keeping chin, chest and bell in line as you rotate slowly from side to side. Keep core engaged. Repeat.