Soaking up the starry sky on a warm summer night or taking off the winter chill on a crisp January day. There will be times when you want to enjoy that experience by yourself, relaxing in the soothing waters of your hot tub. Other days, you will want to share it with a loved or friend. But that can make buying a hot tub feel more complicated. How do you buy the right size hot tub when you are not sure how many people will use it?
Picking a hot tub that's the right space for your home and lifestyle is important. After all, no one wants to wish they had chosen a larger model.
If you have a small family or plan to entertain on occasion, a five-person hot tub might be the happy medium. It will be spacious enough that you have personal space when soaking with others. A five-person hot tub also feels comfortable when you are by yourself, offering multiple jet arrangements. You can stretch out, relax with a book, or listen to your favorite playlist.
Master Spas manufacturers several five-person hot tubs ideal for relaxing, whether you want a budget-friendly spa or a luxe model.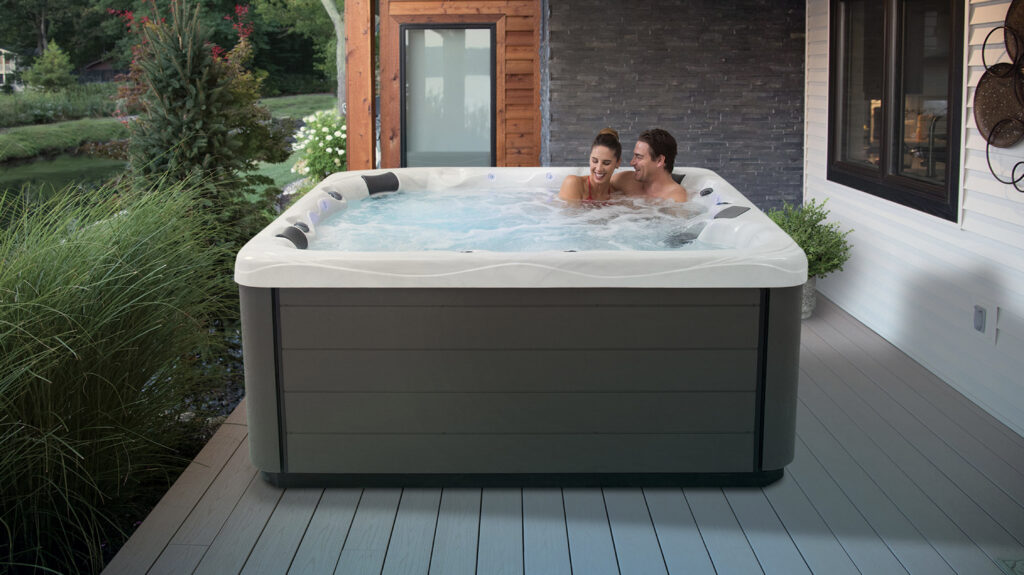 Best Five-Person Hot Tubs
Getaway Bar Harbor SE
Lightweight and durable, the Bar Harbor SE is a part of Master Spas' Getaway series. This budget-friendly hot tub is ideal for people who want to soak or add a spa to their vacation property. This hot tub has 25 jets, and a lounge seat for stretching out and relaxing. Rest your head on a comfortable spa feature or take in the LED lights and waterfall.
Customer Review: "Great hot tub for families! Easy to maintain and just the right amount of jets and space for a home of teenagers. Filter is easy to clean and does a great job with heavy use." — Wendy, North Carolina
Clarity Spas from Master Spas is an affordable line of acrylic hot tubs. One of the most popular hot tubs is the Balance 7. This five-person hot tub has 38 hydrotherapy jets, a full-size lounge seat, and a deep foot well. Soaking solo or with others, be sure to call dibs on the StressRelief Neck and Shoulder Seat. This seat has out-of-water jets that target the high tension area, as well as bio-magnetic therapy.
Customer Review: "This hot tub is an excellent upgrade for us. The size and ergonomics are wonderful. I love the fully adjustable jets — being able to angle the jets in any direction and dial up or down from full power to off completely is amazing. The LED lights are fabulous, the lounger is ergonomically comfortable and the cool down seat is a bonus. It is a beautiful hot tub and we are so very pleased with this purchase." — Erin, Ontario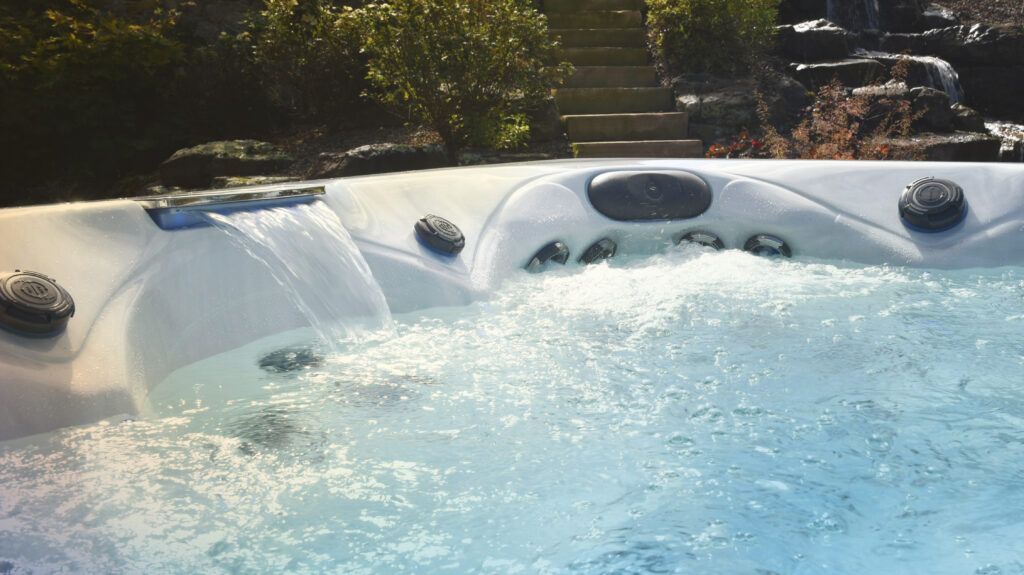 Twilight Series TS 7.2
The most popular five-person hot tub from Master Spas, the Twilight Series TS 7.2 checks all of the boxes for future hot tub owners. This spa features premium stainless-steel therapy jets — 36 of them, to be exact, LED lighting, and a water feature. The combination of water and massage jets are soothing, helping to alleviate pain, muscle aches, and reduce stress. Control the power of your hydrotherapy massage on the easy-to-use touchscreen panel.
Features: StressRelief Neck and Shoulder Seat, Master force Bio-Magnetic Therapy System, two water features, 26 jets, Master Blaster Foot Therapy, full lounge
Customer Review: "We use our hot tub almost daily. We spend more time connecting with each other, talking about life, and enjoying the cool winter evenings. It's so relaxing soaking in the tub and staring at the stars. Probably one of the best purchases we have made in recent years." — Ian, British Columbia
Michael Phelps LSX 800
For those who want the best of the best five-person hot tubs, the Michael Phelps LSX 800 delivers luxury and performance. The inviting design of the LSX 800 offers a place for those early soaks to catch the sunrise, as well as to host friends in the fall. This five-person hot tub has 70 hydrotherapy jets, powered by three pumps. The full-size lounge has a variety of jets that target the shoulders, back, and calves. Or, sit in a therapy seat and enjoy a therapeutic foot massage from the Master Blaster jets.
Customer Review: I've owned other hot tubs, but nothing compares to this one. We love our LSX 800 Master Spa. I start my day with a soak to loosen me up, absolutely the best purchase we could've made. — Tango 1, Ontario