Tim O'Donnell achieved a career goal in 2019, when he broke the 8-hour mark at the Vega IRONMAN World Championships. Recording the fastest ever time for an American on the Big Island, he placed second at the race.
While racing was paused in 2020, O'Donnell is looking forward to competing on the world stage in 2021. And he will have a new tool in his training arsenal — a swim spa by Master Spas.
O'Donnell is the newest brand ambassador for Master Spas, the largest swim spa manufacturer in the world.
Rising to the Challenge
O'Donnell is an accomplished triathlete with more than 50 podium finishes on his resume. As his wife is also a brand ambassador, he was able to take advantage of having an H2X Challenger 15D.
The swim spa was installed in early 2020, before life and training were interrupted by the pandemic.
"I'm incredibly excited to officially join the Master Spas family," O'Donnell says. "With Rinny already part of the team, I've had the luxury and pleasure of using our Master Spas Challenger over the past year. I immediately fell in love with all our Challenger has to offer: easy access to swim training, the benefits of hydrotherapy and of course the perfect way for us to play and relax with our daughter Izzy."
The Challenger series from Master Spas bridges the gap between traditional jetted swim spas and propulsion systems. The unique airless jet system creates a water current that is more efficient, powerful, and smoother than the competition. With the ability to control the resistance and temperature, novice swimmers to competitive triathletes can enjoy a continuous swimming experience that mimics open water.
A lifelong athlete, O'Donnell first joined the swim team when he was 5-years-old. He was a competitive swimmer in high school and at the U.S. Naval Academy. He was assigned to the U.S. Olympic Training Center in Colorado Springs, Colorado, in 2007. O'Donnell made the transition to professional triathlon in 2012.
He trains in Boulder, Colorado, where he lives with wife Rinny and daughter Izzy. The couple is expecting their second child at the end of 2020.
Welcome to Master Spas
"Master Spas couldn't be happier to welcome Tim O'Donnell to our family of brand ambassadors," says Kevin Richards, Vice President of Sales and Marketing. "Tim is a tremendous athlete and a leader in the triathlon community. The Master Spas family is excited to be a part of Tim's training and recovery as he competes on the world stage."
As a board member of the Professional Triathletes Organization, O'Donnell is an advocate for the sport and wants to give athletes a platform.
O'Donnell joins professional triathletes Mirinda Carfrae, Ben Hoffman, and Meredith Kessler as Master Spas brand ambassadors. Legendary swimmer Michael Phelps is also a brand ambassador.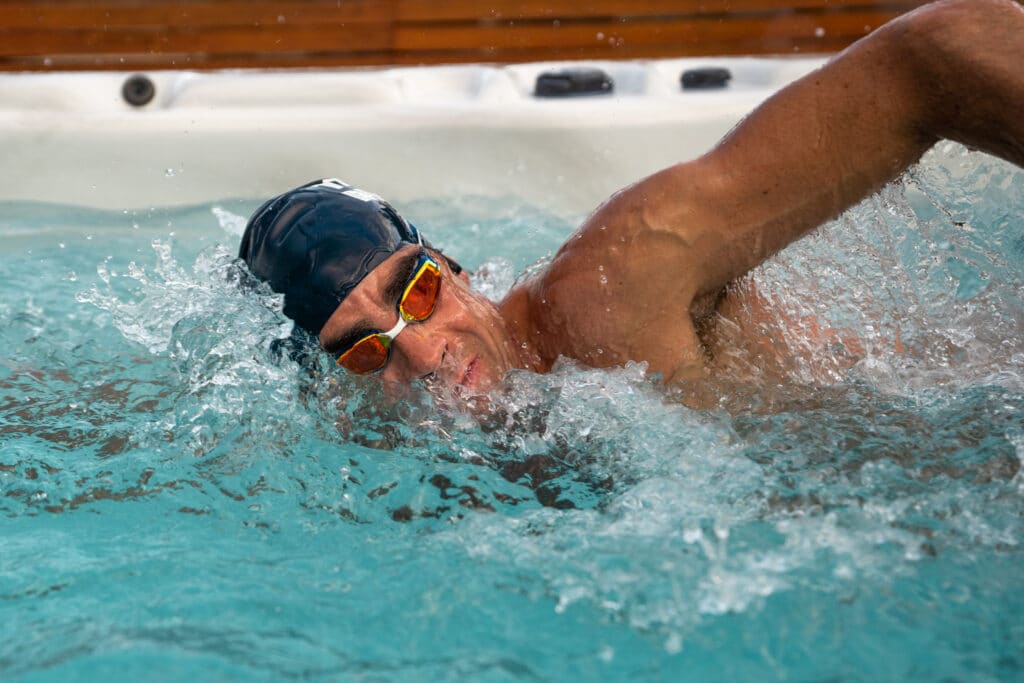 Train, Recover, Relax
Professional triathletes can spend six hours a day swimming, biking, and running. But recovery is as equally important as the time spent training.
A swim spa offers everyone from first-time triathletes to professional athletes like O'Donnell the chance to progress to a higher-level training without additional stress.
"I've loved being able to simulate open water training sessions in our Master Spas and I've been pleasantly surprised how swimming against the airless VIP technology jets has also allowed me to focus on my technique," O'Donnell says. "One of the best benefits of our Master Spas swim spa is of course the convenience! When you spend as much time training as we do, it's nice to stay home for a swim.
"Swimming isn't the only training I do in our Challenger, I'm a big fan of aqua jogging for active recovery. With the SoftTread Floor System I'm able to do my weekly aqua jog at home as well. Master Spas has been a great addition to both my training routine and to our family fun time. I'm looking forward to sharing our story and all the benefits Master Spas have to offer to endurance athletes and wellness-minded families everywhere."
The therapy jets, including the stand-up cove, allow athletes to get a custom massage without scheduling an appointment. The adjustable temperature and jets deliver relief from aches, improves circulation, and brings nutrients and oxygen to the muscles.
An easy swim, just 20 to 30 minutes, can also help keep the body loose and ready for the next session. Just steps from O'Donnell's patio door, the convenience of the swim spa makes it easier to fit in those much-needed sessions.
But it's also the family time that O'Donnell loves. Daughter Izzy loves to splash and swim in the swim spa, as Tim and Rinny take turns in the StressRelief Neck and Shoulder Seat. They can get in an extra massage while Izzy swims in the adjustable current of the Challenger.