Spring break is often synonymous with a beach vacation. While heading to a place where you can enjoy the sand and sun is fun for the family, a spring break trip is not always possible. But staying home does not mean that you can't have fun. A spring break staycation is a great way to create memories.
You can plan an activity for each day to make the most of your spring break staycation or choose a few to break the boredom.
These activities are easily adapted to your children's ages and how much planning you want to do. Keep in mind that a spring break staycation should be fun — not overwhelming.
With a swim spa by Master Spas, you can keep the kids entertained without leaving your backyard. Swim Spas feature a generous swim area that is perfect for splashing, swimming, and playing games. Even if you live in a cooler climate, the water temperature can be set
Plus, we hear kids don't mind the weather if they are having fun. They are always the first ones in the water and the last ones out!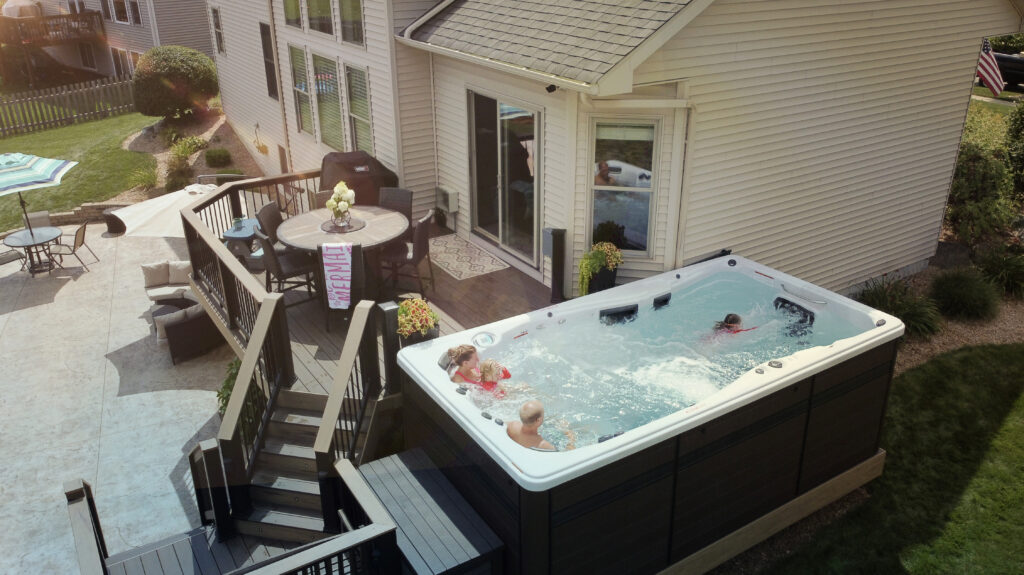 Spring Break Staycation Ideas for Families
Staying at home for spring break does not mean you need to miss out on the fun of a vacation. Whether you want to explore your city or enjoy your outdoor living space, these spring break staycation ideas will wow the family.
Outdoor Projects
An outdoor space that's organized and thoughtfully designed is one that you will want to use day after day. While you might not want to tackle a patio overhaul with your kiddos, you can plan a family-friendly outdoor project that will help improve the space. Consider planting an herb garden, assembling a birdhouse, or building an outdoor fire pit. Be sure to have a fun treat ready after all of your hard work.
Related post: One-Day Backyard Projects
Obstacle Course
Challenge your children to think outside the box and get moving with a backyard obstacle course. You can make the course as complicated (or basic) as you want. It also can be easily adjusted based on your children's ages and comfort levels. Some fun ideas include setting up a balance beam, bike ramps, and a tire run.
If you have a swim spa, you can also incorporate dive sticks or a task that involves hopping in the water. A swim spa by Master Spas is a safe space for kids to splash around. And even if it's not warm enough for a pool, the spa is insulated and you can set the temperature to your comfort level.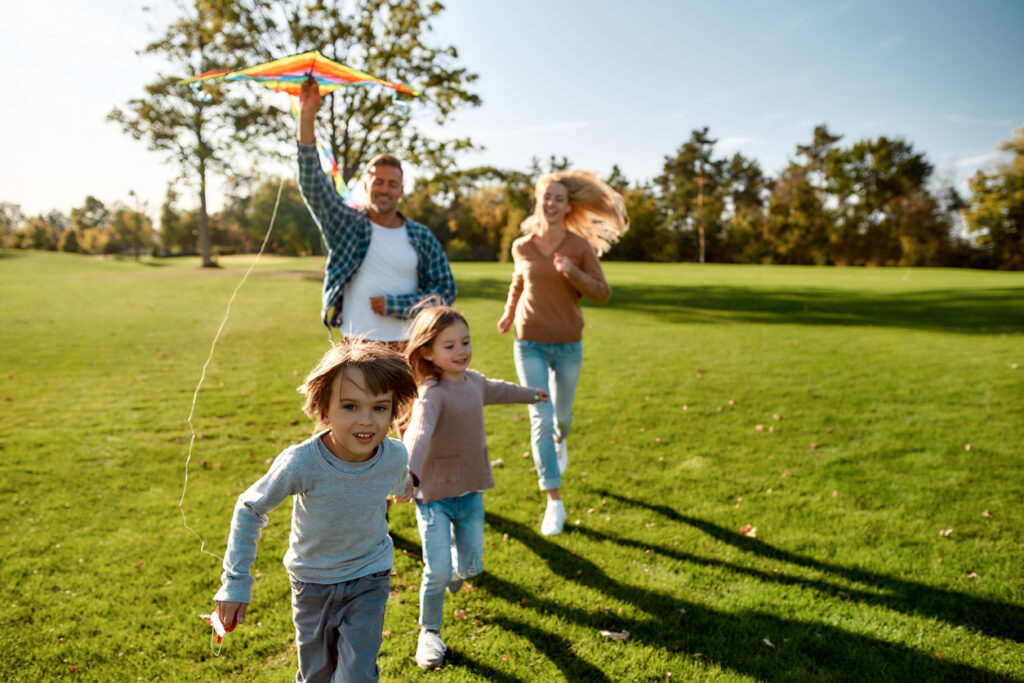 Plan a Park Day
Take advantage of what your city has to offer and plan to spend an afternoon at a nearby park. You can pack a picnic lunch and take a cooler with cold drinks. Don't forget to bring things to keep you entertained, such as kites, Frisbees, and a ball and gloves for a game of catch. Make it a party and schedule a time to meet-up with friends. Bonus: If you go as a group, you can divide up the packing list.
It's In-Tents
Pitching a tent in the backyard and sleeping under the stars is what childhood memories are made of. Make it an event by planning to spend the entire evening outdoors. Cook hotdogs over the fire, drink hot chocolate out of a thermos, and tell age-appropriate scary stories. And you can't forget the s'mores!
Outdoor Movie Night
Did you know that you can use an old sheet or drop cloth into a big screen? Grab a white cloth and screen one of your favorite flicks for an outdoor movie night. You can set up lawn chairs or grab picnic blankets and throw pillows so that everyone can spread out.
But what is a movie without popcorn and candy? If you are planning a family outdoor movie night, a popcorn and candy bar is a must. Grab fun-size bags of everyone's favorite candy and pick-up different popcorn seasonings. Your family will love getting to enjoy a little bit of everything and going back for seconds as they watch the movie.
Spa Day
A spring break staycation is a great time to take advantage of the outdoors. But don't forget that you can hang out at home, too. Plan a spa day for your girls and indulge in a little self care. Give each other manicures or make your own face masks.
Go Geocaching as a Family
Combining a child's natural curiosity with adventure, geocaching is a high-tech scavenger hunt for the whole family. To get started geocaching, start an account at Geocaching.com or download the app. Using the app, find a cache that you want to hunt for. You will follow the clues and GPs coordinates to find it. When you do, log it on Geocaching.com.
Some caches are easier to find than others. If you want to enjoy an afternoon of adventure, consider going hunting in an area with multiple caches.
Order of the Day: Takeaway
One of the best parts of a vacation is exploring the locals' favorite restaurants. Take a day out of your spring break staycation to enjoy the best of your city's restaurant scene. While you could restaurant hop, consider ordering carry-out from the restaurants and serving it buffet style. You can sample everything you love while finding your next order.
Great Kitchen Bake-off
Did you spend your winter binging episodes of the "Great British Bake-Off" and other cooking shows? Turn your kitchen into the tent and test your baking skills. Pick a favorite challenge from the show to replicate or prepare a recipe that you've always wanted to try. The whole gang will have fun in the kitchen. And, the best part is that you'll have a sweet reward for all of your hard work.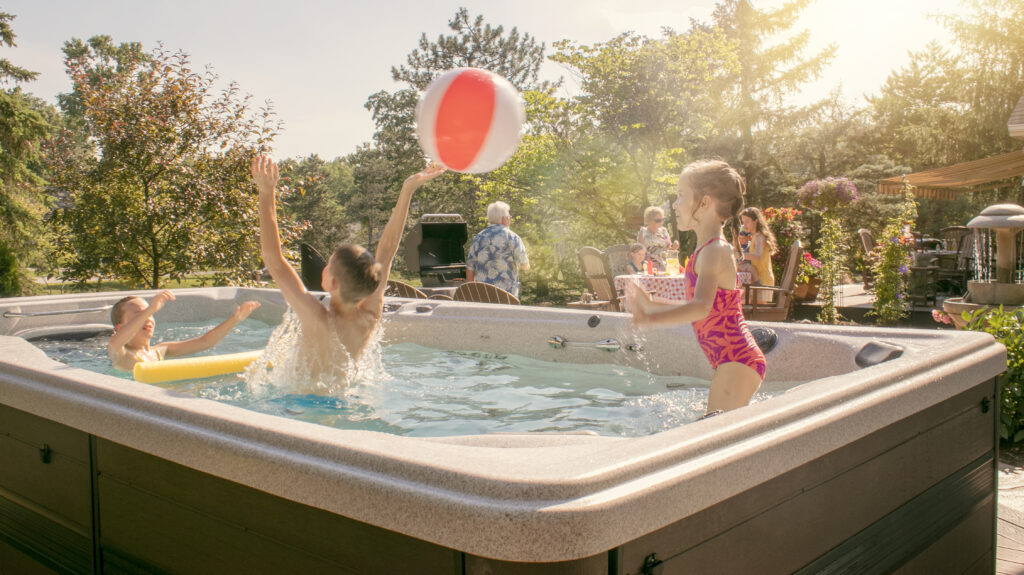 Family Swim Spa
A swim spa by Master Spas is not just a place to swim in place and exercise. But it's also a place to enjoy playing and splashing with the family.
The H2X Trainer 15D, the best-selling swim spa from Master Spas, has a spacious swim area. Children can dip below the surface to retrieve dive sticks. Or, they can hold onto a kickboard with the current on.
But it's not just about the fun. A swim spa is also a safe space where children can improve their comfort level in water and learn to swim.
LED lights and the optional Bluetooth stereo turn up the fun and help set the scene, whether you are hosting a family get-together or 10th birthday party.
What our customers are saying: "The H2X Trainer 15D is the best thing we've purchased in years. It is a fun spot for our family to gather on weekends and holidays. It is a great addition to our lives." — Perez Family, California