The mountains called — and they want you to have a pool. You can go for a swim on a warm summer day or float around while enjoying the surrounding landscape. You can entertain family and friends or curl up next to the water as you read a book.
However, while the peaks can provide a stunning backdrop to an at-home pool, they also provide a challenge to builders. There can be steep inclines, a high water table, and layers upon layers of rock. An in-ground pool in a mountainous area can take between three months to six months to install because of the rock removal and groundwater mitigation.
These homeowners created a backyard oasis that has the feel of an in-ground swimming pool without the time, expense, and excavators. A Master Spas swim spa with custom deck and design is the centerpiece, providing the perfect combination of recreation and relaxation.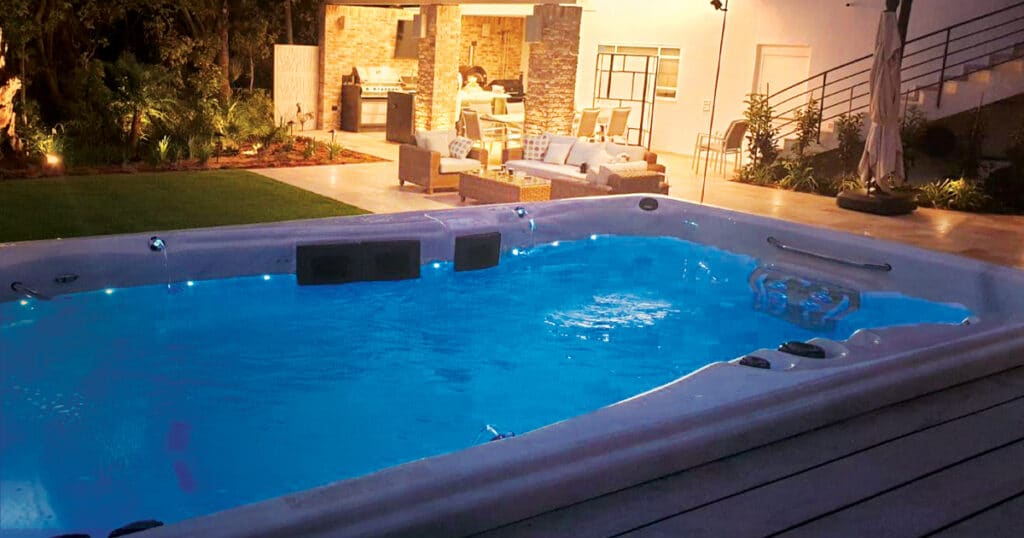 Swim spa installation tips
The swim spa has the feel of an in-ground pool when you are in the water. Stand in the swim area and rest your chin on the ledge as you look out at the mountains. Place a drink on the decking as you sit in the therapy seats.
However, the homeowners were able to achieve this without digging into the ground or investing it into a vault.
A swim spa is a portable unit that can be installed based on your vision for your backyard. You can choose to have it placed on a reinforced concrete pad; partially recessed into the ground; or fully in the ground in a vault. Other swim spa installation options include putting it next to a deck or oven on a deck so long as the footings are deep enough and it is properly reinforced.
When you are planning for your swim spa delivery and choosing a design, it's important to factor in your landscape, budget, and project timeline.
Questions you should ask:
Is your backyard difficult to access? Can machinery, like an excavator, get into your space?
What is the soil like? Is it rocky?
What is your budget for excavation? Some projects can cost more than $10,000.
Are you hoping to accept delivery in the next few months?
Depending on your answers, a custom installation that does not require a vault might be the best option. You can prep the space, pour a concrete pad, and have the swim spa put into place.
The overall design will elevate your backyard. In addition, this option will free up room in your budget to include the features that will make your backyard comfortable and fun.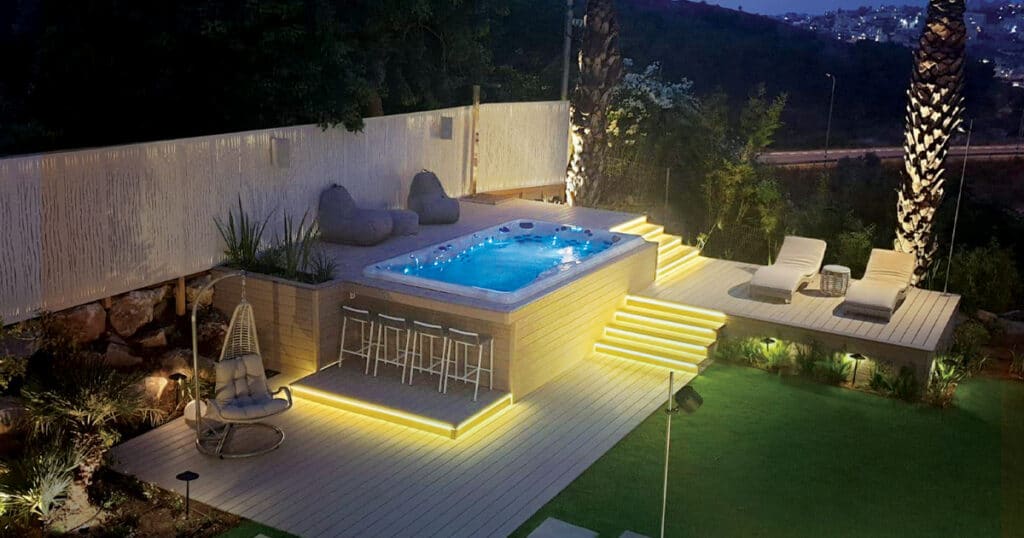 Mountain backyard ideas
This mountain backyard design affords the homeowner views of the surrounding landscape yet maintains privacy — no matter the season.
From the custom bar to ample seating, there are plenty of features to inspire your own backyard makeover.
All-season pool
Mountain nights can get cool. An advantage of a Master Spas swim spa is the built-in heater, full foam insulation, and easy-to-use touchscreen panel. You can adjust the temperature to enjoy it as a hot tub on chilly nights or even swim in the winter as snow falls.
The homeowners chose an H2X Fitness swim spa by Master Spas that provides space to swim, splash, and relax.
Deck
The homeowners took advantage of their outdoor space while making it low maintenance. They chose a composite material, which offers a modern look without the upkeep of a traditional wood deck. The custom structure features multiple levels, as well as a section that is built into the slope of the yard.
The deck design, which complements the existing patio. allows for multiple seating areas and raised planters. There's also a bar area, where you can sit on a stool or "swim up" and enjoy a sip of a refreshing lemonade on a hot summer day.
Lighting
The homeowners incorporated plenty of lighting, which is just about ambiance as it is safety. Lighting is built into the steps of the deck, illuminating the path to the swim spa. There are also landscape path lights and spotlights on the mature palm trees.
Seating options
You have more than one place to sit inside your home. You likely have a dining table, a couch, and accent chairs. There are places to enjoy a meal, watch TV, or just stretch out and relax. As the backyard becomes an extension of your indoor living space, it's important to plan for a variety of seating options.
This backyard has more than enough space to dry off after a session in the swim spa. The homeowners incorporated cozy areas for relaxing with a book and staring up at the stars. A hanging egg chair is on the low level deck, lounge chairs are paired up on an elevated portion, and there are also outdoor cushions for chilling out. The seating choices were made with comfort and relaxation in mind
Out of view
Privacy is an important part of any backyard design — even if you love your neighbors. While it blocks their view, it also helps protect how you see your space. You choose the view from your yard. Soak in the swim spa and look out at the mountains. Sit in a comfy chair and admire the place where the trees meet the sky.
There are a lot of options when it comes to creating privacy in your backyard. You can plant hedges, install a tall fence, or hire someone to do masonry work. These homeowners incorporated decorative outdoor privacy panels along the back of the deck. Along with the mature trees, these outdoor panels keep the backyard private and picturesque.
Landscape elements
When you are planning the landscape around your swim spa, it's important to choose plants and hardscaping that complement the surrounding area. This is especially true if you live in the mountains, as the soil can be rocky and the weather dry. The altitude can also affect how plants grow. Native plants have adapted to growing and thriving in what could be otherwise considered a dry, barren area.
In this backyard, adjacent to the privacy panels, there is a rock garden with ornamental grasses, miniature palms, and other plants. The result is a garden full of texture and interest.
To learn more about the how to transform your backyard with a Master Spas swim spa, find your local retailer.