A hot tub is supposed to help you relax and feel better — not cause you stress and anxiety. But if you are new to owning a hot tub, it might seem like they are hard to take care of. Friends share stories of trying to balance water chemistry while message boards talk about green water, cloudy water, and trips to the spa store.
What are those people not sharing? Whether or not they asked about the water care system when they purchased their hot tub. There are many features to consider when shopping for a hot tub – jets, lounge seats, and LED lighting. Those things enhance the experience of soaking in a hot tub.  A quality water care system, though, makes it easier to avoid stress. 
As you shop for a hot tub, a proper water care system should be on your checklist. Does it have a mineral filtration system or is it a saltwater hot tub? Ask to see the filter and see how it can be taken out. You can also ask your local hot tub retailer if the manufacturer has resources, like video tutorials, that make it easier to learn how to care for your hot tub.
Master Spas hot tubs feature the EcoPur Charge water filtration system, as well as an ozone system. Together, they make it easier to keep hot tub water clean and clear with less chemicals than other brands. In customer reviews, Master Spas hot tub owners boast about the benefits of a hot tub while appreciating that maintenance is easy.
Related video: How to Clean Hot Tub Filters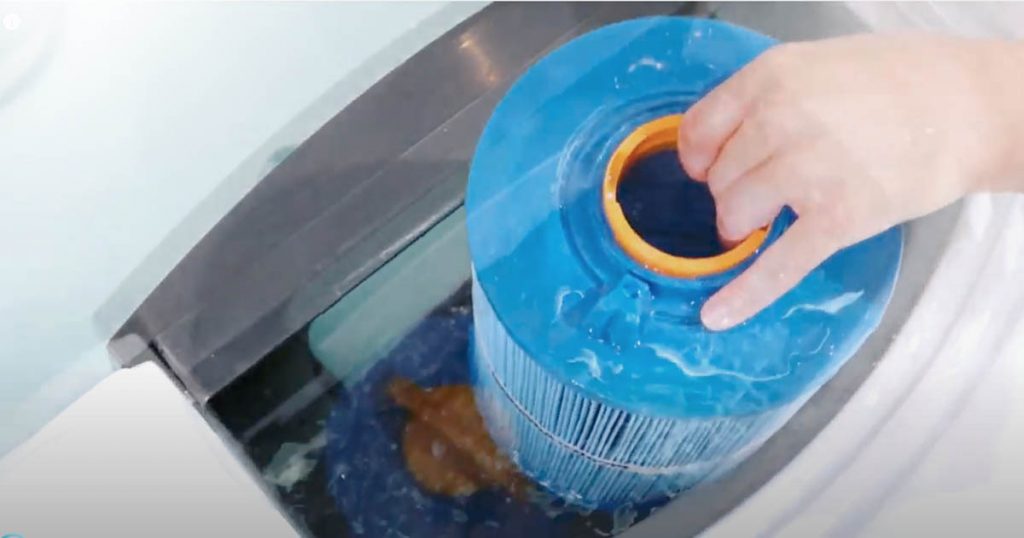 Hot Tub Maintenance Made Easier
A maintenance free hot tub might seem like a dream … because it is. While it would be great to not worry about maintenance or chemicals, every hot tub on the market requires some kind of upkeep.
However, there are hot tubs that are easier to maintain.
But what does easy hot tub maintenance look like? The best hot tub filtration systems have quality components that work together to keep your water clean. The system will do the majority of the work, consistently, so that you don't have to.
These hot tub filter systems operate as designed so long as you follow the recommended maintenance schedule. With the EcoPur Charge mineral filtration system, Master Spas owners can expect to add chemicals a couple times a week and rinse the filters once a month.
The design of the filter, which has a handle for easy removal, allows for the water to easily pass through the filter fabric. The pleats "catch" large contaminants and other particles that you don't want in your water.
And the charge core uses a unique blend of minerals to then purify the water. Copper and zinc, among other minerals, help reduce water-soluble heavy metals that are found in your source water and decrease the amount of chemicals needed to keep your hot tub water clean.
Related post: Should you buy a hot tub with a saltwater system?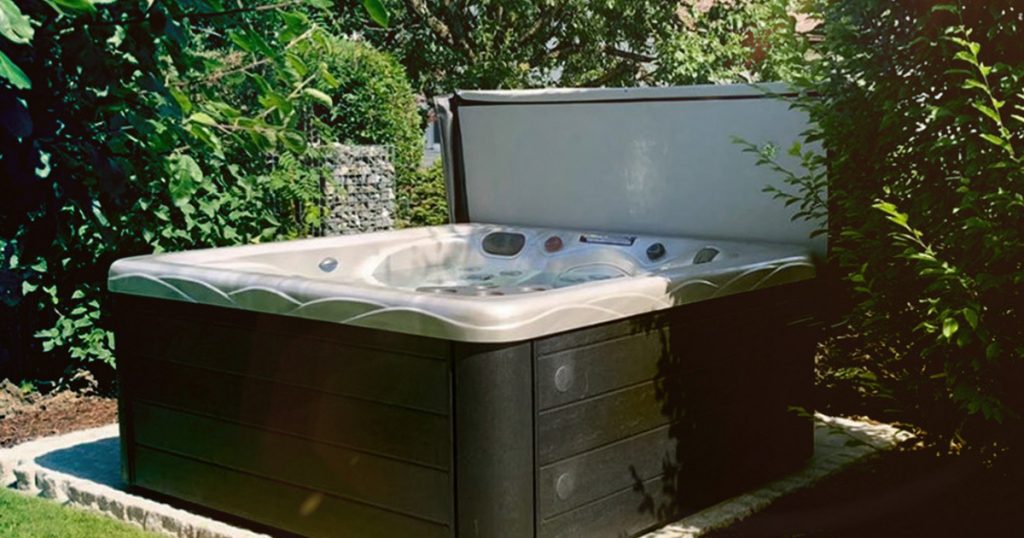 Best Hot Tub Maintenance Customer Reviews
"We were looking for a hot tub that would be great on the shoulder and neck area. The LSX 700 fit the need. We love using it during the day as well as evening. The Eco Pur filtering system works great, and it takes very little effort to keep it maintained. Thank you, Master Spas, for creating such a fun and relaxing environment."

— Michael Phelps Legend Series LSX 700 owner, Indiana
Relaxing Hot Tub with Less Chemicals
"We like the double pump system and ability to control all the jets. There are lots of jets — more than some other brands. We like the lounge chair as it's very relaxing. Total chemical use is less than some other brands, and the filters do work as advertised. Don't change water or filters as often. Maintenance has been less intrusive than I expected."

— Twilight Series 7.2 owner, Montana
Snowy Retreat
"We purchased a Twilight series 7.2 tub in February and within two days, the hot tub was delivered, placed and unwrapped in the snow. The dual turbine jets allow for a wide variety of jet configurations between the five seats without loss of power."

— Twilight Series 7.2 owner, Colorado
'I Feel 10 Years Younger'
"The water purification system is the best that I have ever experienced. Most hot tubs have an unpleasant chemical smell but not the TS 7.2. The filters take out all of the odor without disrupting the water chemistry. I have had it a month now and have not missed a single soak. I feel 10 years younger, and I would recommend this hot tub to anyone that is looking for a high-quality hot tub. Thank you Master Spas for a wonderful and beautiful spa!"

— Twilight Series 7.2 owner, Colorado
Hot Tub with Quality Components
"The fit and finish of the TS 8.25 is excellent. It is filled with insulation, burr and clamp plumbing, and uses Balboa equipment. It's awesome to come home after a long day at work and jump into the Twilight, without having to worry about overuse. It's built like a tank, and from examining it both in the showroom and during the install, I can attest to that. I looked at a number of spas before deciding on the Twilight. In the end, I asked myself a question: Are you buying a workhorse that's gonna give you the massage and relaxation you want and built to last a long time out of quality components … or are you buying a disco that has dancing water with proprietary components?"

— Twilight Series 8.25 owner, Texas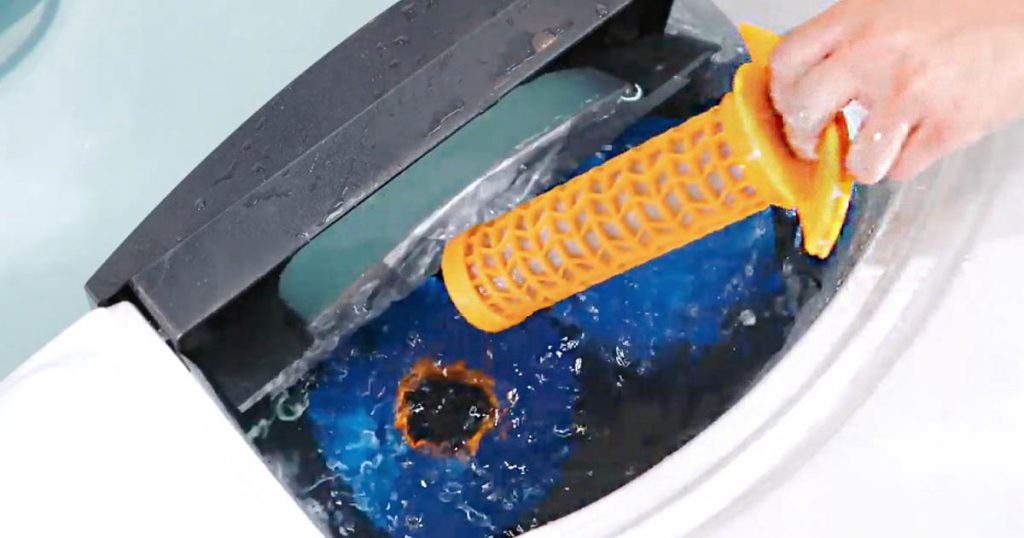 Best Investment Ever
"The hot tub is one of the best investments we ever made. After just 30 or 40 minutes in the TS 8.25, you feel like a new person and your body is so relaxed. We chose Master Spas for its reliability and its great insulation that it uses."

— Twilight Series 8.25 owner, New Jersey
Maintenance Easier Than Expected
"The spa was just as we ordered, and the delivery/set-up was glitch free. That was six weeks ago and so far, it has been easier than expected to maintain and the performance has been spotless. I have some hip/shoulder issues and the level of relaxation my wife and I derive from the HL-7 can't be overstated."

— HL7 owner, Texas
Helpful Online Resources for Hot Tubs
"Our spa was delivered one afternoon and by the evening, we were enjoying an aquatic massage in our new spa. Set up was simple. Between the website videos and step by step instructions in the owner's manual, we encountered no problems. Controls are easy to operate and the spa itself is well crafted, comfortable, and beautiful. My husband and I look forward to winding down every evening in our new spa."

— HL 7 owner, North Carolina
Affordable Hot Tub to Operate
"Things I didn't know: The spa remains hot and ready all the time — which actually is more efficient than cooling down and reheating and also allows for spontaneous use. There is very little impact on my electricity bill. Chemical use is minimal to maintain a perfect balance (and it is easier than it used to be). It is necessary to put a bit of chlorine in after each use, but there is never so much as to have a toxic chlorine smell. The spa motors are ridiculously quiet. All in all, I am quite happy with the Master Spas brand."

— HL 7 owner, Texas
Family Favorite Hot Tub
"This is the best hot tub my family has had. It's very easy to clean, with less chemicals compared to our other hot tubs. Just plain and simple EASY. Jets are good, lights are awesome, and even the kids can clean it!

— Balance 7 owner Michigan