You want your vision to come to life when you are planning for your swim spa installation. From the overall look to the location, you want to be able to walk out your back door to an inviting outdoor space.
But before your swim spa is delivered, you have to prepare your space. Whether you are reinforcing an existing deck or pouring a new concrete patio, Master Spas recommends working with a licensed contractor who shares your vision. A qualified contractor can help you create a space that flows while making sure it is ready for the swim spa.
The right contractor will make the project a positive experience and turn your backyard into the space you wanted.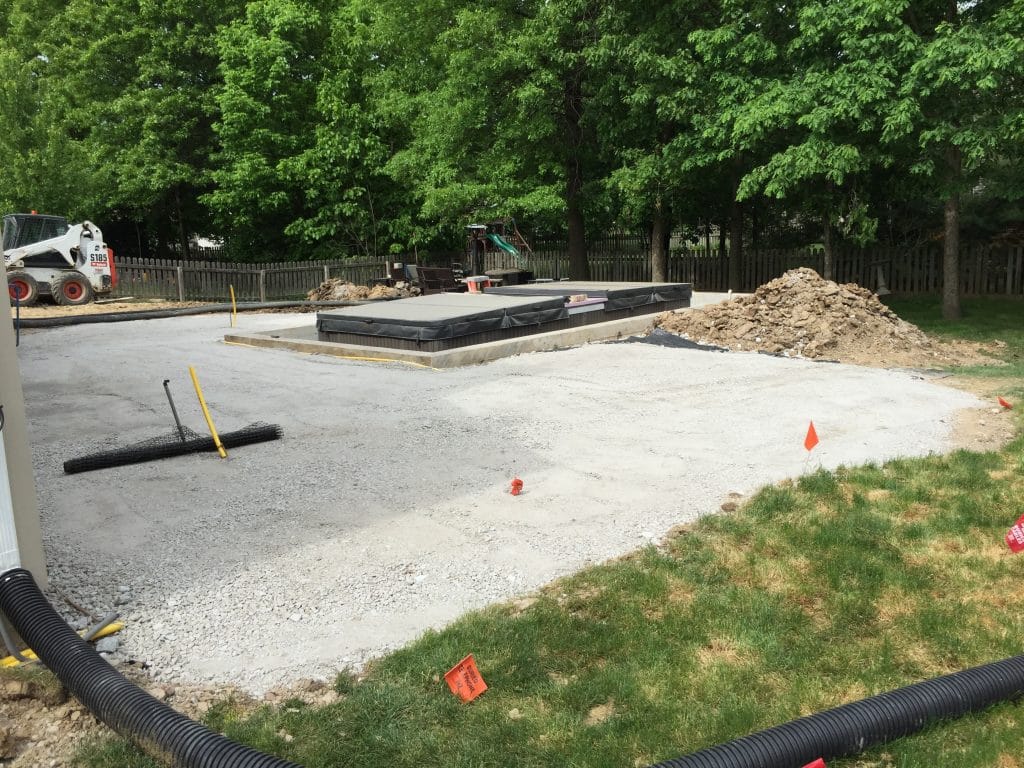 Hiring a Contractor
When planning for any backyard makeover, it is a good rule of thumb to get multiple quotes. It gives you an opportunity to see whether you connect with the contractor and make sure that your budget is reasonable.
As you talk with potential contractors, you can gauge their experience, work ethic, and excitement for the project.
Be clear about your budget as you discuss the project. While there can be unexpected costs that come up in a backyard makeover, you want to choose a contractor who respects your budget. It can be uncomfortable talking about money but you should get the most out of your investment.
Questions to Ask Your Contractor
Are you licensed and insured?
Have you ever worked on a project that included a swim spa or hot tub? Do you have pictures?
How long do you expect the project to take? What happens if there is inclement weather?
How early will you arrive at the house and do I need to be on the site?
How many projects does your crew work on at one time?
What potential obstacles do you foresee with this project?
Will the project require any subcontractors?
How long do you think the project will take?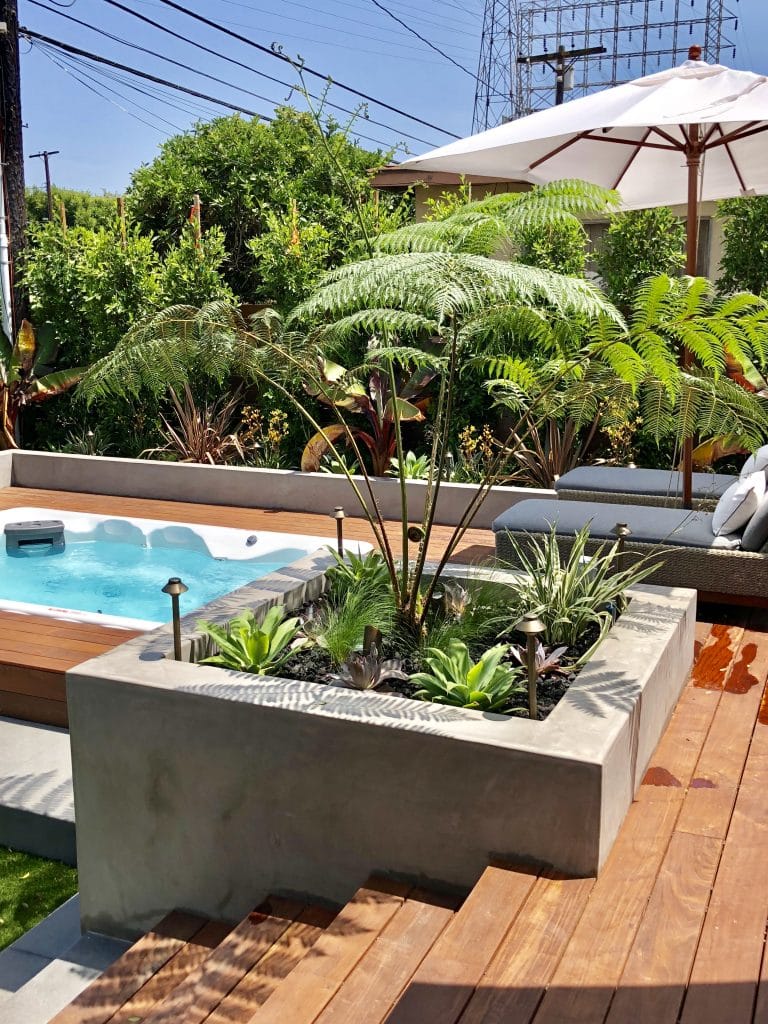 What Your Contractor Needs to Know
When working with a contractor for your swim spa installation, try to hire one who is familiar with the process. It will make the project go more smoothly and help you make your vision a reality.
But even the most knowledgeable contractor will want to know a few things about the swim spa before getting started.
Swim Spa Weight
The foundation will need to support the weight of the spa when filled with water. Some models can weigh up to 25,000 pounds when filled with water — about the size of two elephants. The weight of your swim spa can be found under specifications on the swim spa model webpage or in the owner's manual.
Power Source
Swim spas by Master Spas require a dedicated 240V/50-amp GFCI hook-up. While a licensed electrician should install the hook-up, the contractor will likely want to see the electrical diagrams. Also important: Whether a trench will be needed for the power line.
Power Lines
Swim spas should not be installed near low-hanging power lines. It's important that the contractor makes note of the power lines that connect to the house from a pole. If you have underground lines, it's important to have them marked before any digging takes place.
Equipment Access
Master Spas recommends that there be at least three feet on every side of the spa. In the event that your swim spa needs service, you want the technician to be able to have enough room to take off the skirting panel and access the equipment bay. If you are choosing a recessed installation or putting your swim spa in a deck, you will need a trap door or "bunker" access.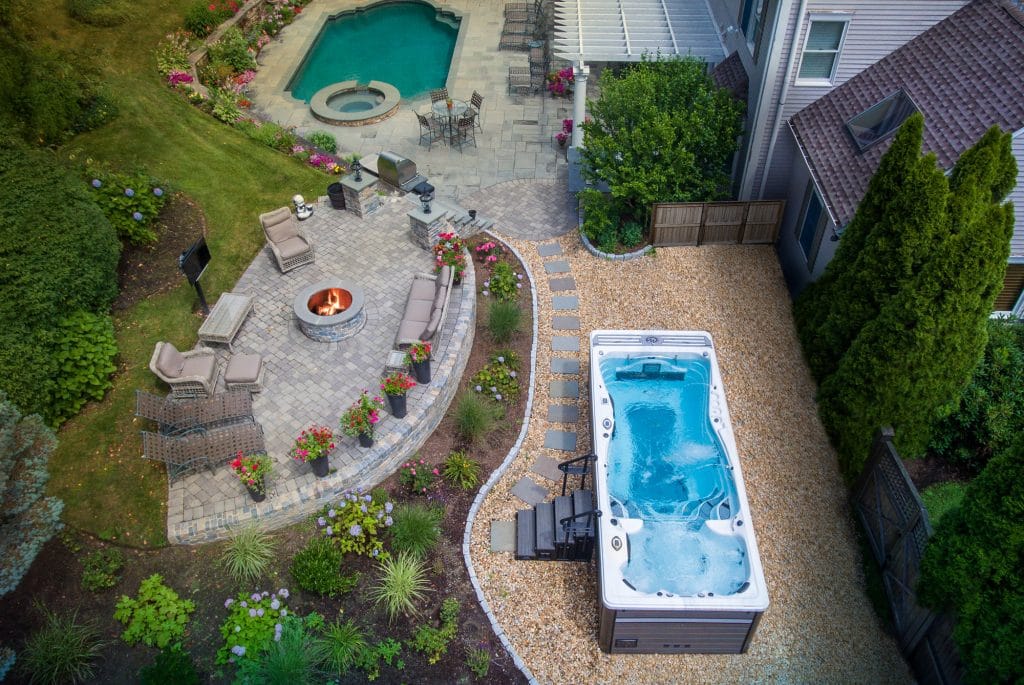 Swim Spa Planning Considerations
A contractor or designer can help you see how your space will look and feel with a swim spa by Master Spas. It might feel lush with plants used for privacy. It might feel cozy with private paths and gardens. Or it might be spacious with wide swaths of grass for guests to mingle.
But as you fine tune the plans, be sure to focus on what it will be like to use the swim spa — not just have one.
Talk with your contractor about:
Traffic flow around the swim spa and how you will get in.
The location of trees and how much sun the area gets.
The view of the neighbors — and from the neighbors' homes. Outdoor screens, fencing, and landscaping can offer privacy.
If children will be using the swim spa, will you be able to see them from other parts of the yard or windows from your home?
The size of the cover and whether you opted for a cover lift. You will need adequate space to open and close the swim spa.
How will the swim spa will be delivered? Will your Master Spas retailer use a forklift or a crane?
For more information about installing a swim spa, download our Backyard Planning Guide.