It's the end of the day. You might be tired or stressed — or both. All you want to do is relax and enjoy some time with your loved one.
Taking 20 minutes in the evening to soak in a hot tub sounds like a dream. The combination of hot water and adjustable massage jets would help you recover from the day, whether you had a hard workout session or tense meeting at the office. The targeted therapy can ease muscle aches, help with chronic pain, reduce anxiety, and help you to feel relaxed and revived.
However, you might think that there isn't room in your small backyard for a spa. Or, you might not need (or want) a spacious model as only two or three people soaking at a time.
The Twilight Series TS 67.25 is one of the best small hot tubs, according to customer reviews.
Small hot tub for deck or patio
A hot tub is an excellent addition to any backyard. However, you want the spa to feel a part of the space and not an afterthought. You can install it on an existing patio or reinforced deck, or spruce up your space just for the at-home spa.
Among the design options for a small hot tub are a covered deck, such as one with a pergola; placed on a concrete patio with a deck built around the spa; or recessed into the ground.
The TS 67.25 is a compact hot tub that can fit in nearly any backyard. The dimensions of this small hot tub are 70 inches by 84 inches by 34 inches. However, this three-person hot tub has the same hydrotherapy features as larger models. The TS 67.25 has 28 jets and delivers head-to-toe stress relief. Sit in the StressRelief Neck Shoulder Seat or enjoy an all-encompassing foot massage from the Master Blaster foot therapy jets.
Master Spas are also built to meet the most stringent energy guidelines, helping you spend less to operate the spa. The estimated monthly cost to operate this hot tub is less than $17.
Related post: The best hot tubs for small backyards.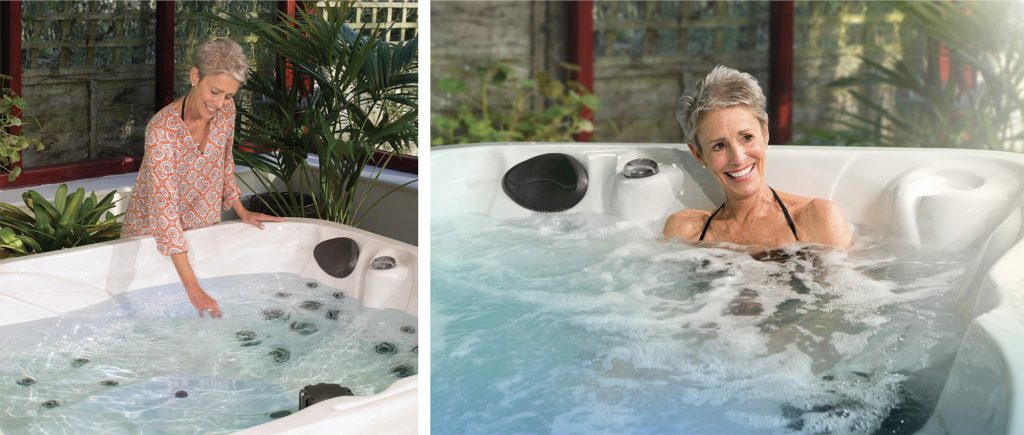 Hot tub features
One advantage of a three-person hot tub is that it does not require a lot of space. However, it has more versatility than a two-person hot tub. It can be a great option for people with small properties, retirees, or couples.
This three-person spa combines comfort and hydrotherapy so that you can relax and unwind at home.
There's a full-size lounge seat with adjustable massage jets, LED lighting, and relaxing waterfalls. These features and more set the mood so you can find the sanctuary you seek.
The TS 67.25 features include:
28 hydrotherapy jets
Master Force™ Bio-Magnetic Therapy System
Mineral filtration system 
LED lighting
Ozone water purifier
Have more space? Check out these amazing four-person hot tubs!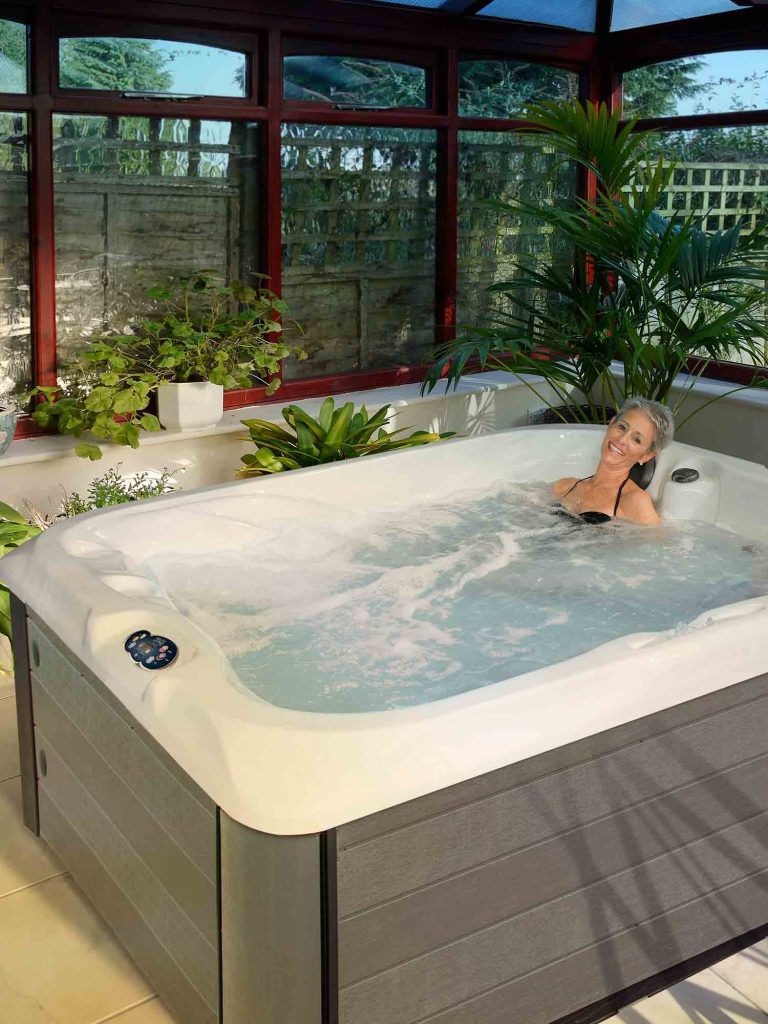 What Our Customers Are Saying
Why do Master Spas owners love this small spa? The TS 67.25 is energy-efficient and just the right size for small backyards.
Tech-Free Zone
"Not only is it relaxing and gives great massages, it improved our already good marriage…something we can do together, and we talk more because we aren't distracted by the TV, phones, iPad, etc."

— Randy, Kansas
Easy to Enjoy and Maintain
"We have had our TS 67.25 spa for a little more than a month now, and I can positively say that it has exceeded our expectations. We use it daily and, thus far, it has been easy to maintain and ready every time we want to use it."

— ppilot35, California
Quality Customer Care
"Everybody loves our new hot tub, and we are so happy with the ongoing support. The team will answer any simple questions that come up for its use and maintenance. I have never had any product with this ongoing support team that is outstanding!"

— Norman, Texas
Comfortable Small Hot Tub
"We were looking for a smaller tub. Our last hot tub lasted 18 years so we have pretty high expectations. So far we've found this tub to be solid, easy to use, and comfortable. It has jets right where I need them for arthritis in my neck and back."

— Dann, Kansas
Perfect Hot Tub for Small Space
"My wife and I needed a tub with plenty of jets, but in a smaller size due to where it was going to go. The TS 67.25 was perfect. We were using it the same night we received the tub due to the fast warming from the heater. It is beautiful and we use it every night!"

— Charlie, Nebraska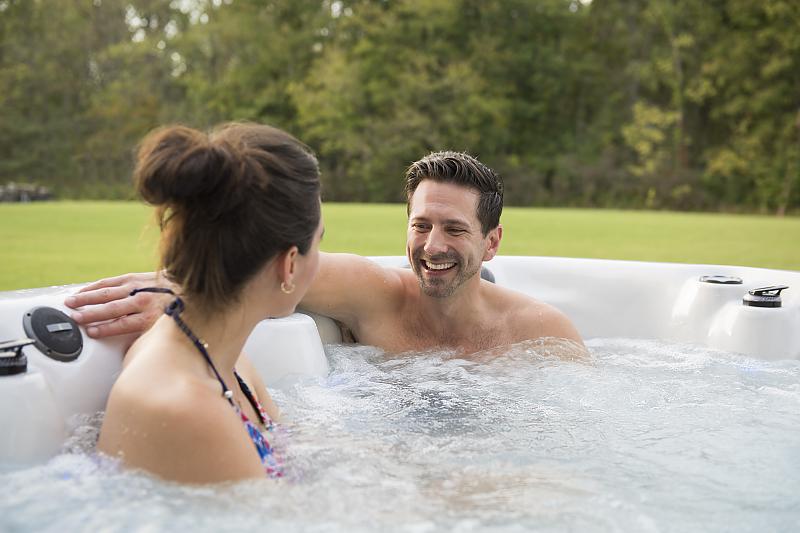 How much does a small hot tub cost?
Are you ready to invest in your well-being and backyard? Master Spas hot tubs can be enjoyed this year and many years to come. You can click here to learn more about the benefits of hydrotherapy. Or, contact your local Master Spas retailer to learn more about hot tub ownership. Wondering how much a Master Spas hot tub costs? You can request a quote here.
Do you like this post? Check out these, too!