Tips for buying a swimming pool alternative
If you are interested in buying a swim spa, one of the first places you might go to is the Internet. You might look for the best swim spa brand or explore the different swim spa models from Master Spas.
You might even look to see whether you can buy a swim spa online.
From groceries to clothing, medication to even cars, you can purchase most anything on a website. And, yes, you can order a hot tub or swim spa online.
Statistics show that 61 percent of shoppers have purchased a product online. Advantages to buying a product online are convenience and competitive pricing, and many shoppers are enticed by free shipping offers.
But it's not just about buying a new pair of shoes or your favorite protein bars. There's a growing number of people are open to purchasing big-ticket items from a website.
According to a report from Walker Sands, about half of people surveyed would consider making a big purchase online. Such items include cars, furniture, appliances, and homes.
If you are shopping for a swim spa, it is possible to buy a quality model without leaving home. By working virtually with a knowledgeable salesperson, you can get the best swim spa for you and your needs.
Explore H2X Fitness and Michael Phelps swim spa models
Virtual appointments available
Share measurements and photos
Online financing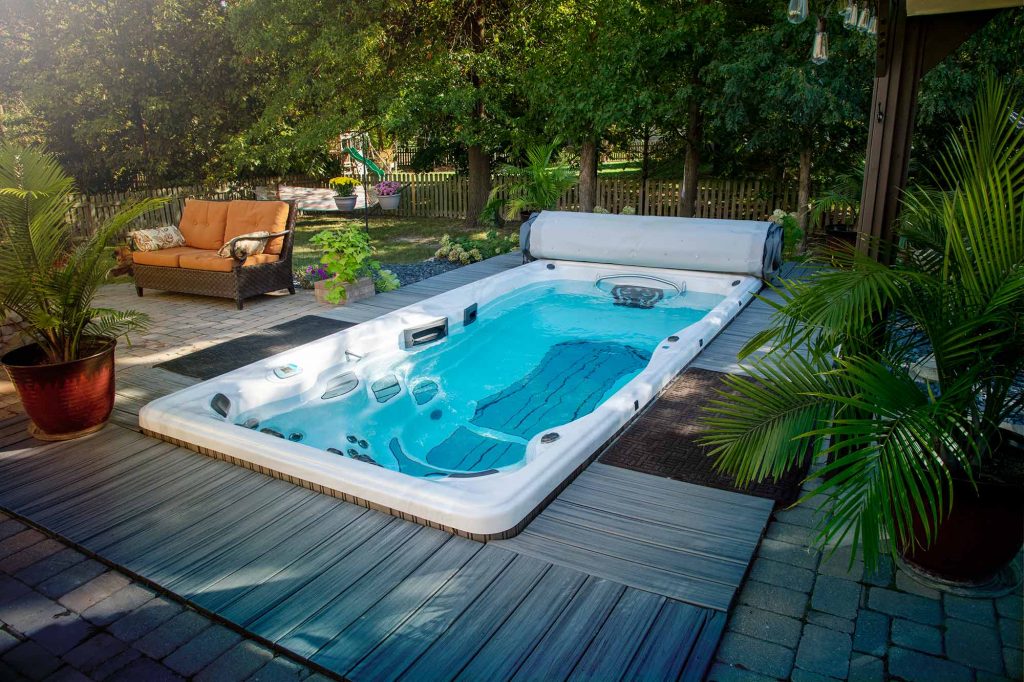 Buy a Swim Spa Online? 5 Things to Consider
The Best Swim Spa for Your Family
From sifting through swim spa brands to shopping their lineups, the choices can feel overwhelming. A website can provide you with information, but it can't interact with you. Find your local Master Spas dealer and set up a phone call or virtual appointment. A knowledgeable salesperson can discuss your needs, wants, and space.Maybe you are buying a swim spa because you have always wanted a pool but have a small backyard. Or, you are an avid swimmer and want the ability to swim at home. The salesperson might suggest an H2X Trainer 18D for the family that wants a swimming pool alternative. For swimmers, the Challenger series or Michael Phelps Signature Swim Spa Series will be a better fit.
Wet Test
What is it like to swim in a swim spa? How strong are the massage jets? You won't know unless you get in. When you shop online, you will have to trust the website and reviews. Even then, you won't really find out until the swim spa is installed and filled with water. Master Spas dealers offer the opportunity to "wet test" a swim spa so that you can see the benefits for yourself. Schedule a private appointment to see what it's like to swim in a swim spa.
Space for a Swim Spa
Where do you put a swim spa? A swim spa by Master Spas needs a solid, level surface that can handle the weight of the swim spa. It can be installed on a reinforced concrete pad or recessed into the ground. If you are incorporating the swim spa as part of a backyard makeover, a salesperson can help you make sure you are choosing the best location. He will make sure you are able to access the equipment for regular service and can properly drain the swim spa when necessary.
You can use online platforms to invite a salesperson into your home without visiting the showroom, though. Snap pictures of your prospective location and email them (along with measurements). Or video chat via Skype, FaceTime, or Facebook while giving a tour of your outdoor living area.
During the appointment, the salesperson can offer you a virtual tour of the showroom. Explore models that are in-stock and ready for delivery while relaxing in the comfort of your home. A swim spa by Master Spas can be installed in less than a day when your space is ready.
Download our Backyard Planning Guide.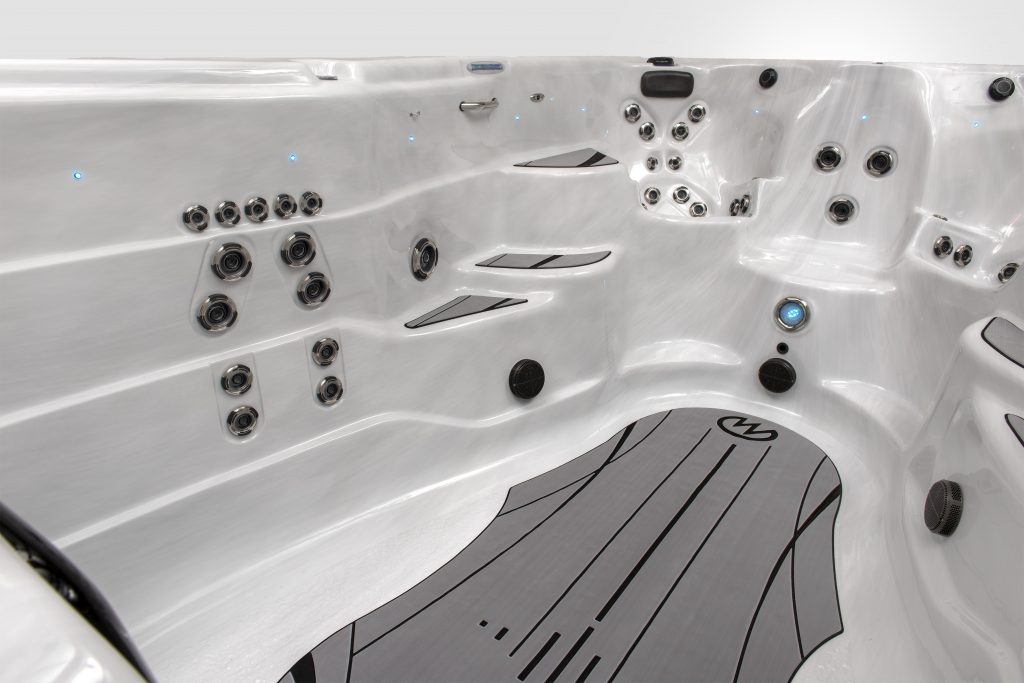 Make the Connection
Most swim spas will require a licensed electrician to install a GFCI electrical hookup. A contractor and/or landscaper might be hired to complete the project. When you buy a swim spa online from other outlets, you might have to do the legwork to hire the necessary labor. A Master Spas salesperson can help connect you to reputable contractors and electricians so that the installation is as stress-free as using a swim spa.
Swim Spa Maintenance 101
Any backyard swimming pool or swim spa will require regular maintenance to keep the water clean. If you are new to swim spa care, you might feel intimidated and wonder how to balance the chemicals. When you buy a swim spa online, you are left on your own to figure out the process. However, when buying a swim spa from a reputable brand like Master Spas, you get unmatched support. The knowledgeable salesperson can explain the maintenance process and direct you to the right products. Also, you will be able to take advantage of the Master Spas library of video tutorials.
If you have questions or need support, Master Spas also has service reps all over the country and an Indiana-based customer support team.