Make 20222 the year that you upgrade your outdoor space with the picture-perfect patio and a hot tub by Master Spas.
An outdoor living area can be an extension of your home, and it deserves the same design and attention to detail. From the surface beneath your feet to the lights overhead, your material choices give your backyard space a look and personality.
Do you want it to be modern? Or, do you prefer a rustic look? Do you want it to feel cozy and comfy or sleek with clean lines?
You can create a space that's relaxing and inviting while fitting your personal aesthetic with a hot tub by Master Spas. It can be used for entertaining, a family gathering space, or a solo retreat.
The energy efficient design and ability to soak year-round makes it easier to enjoy your outdoor living area no matter the weather, making the most of your investment.
We've gathered some of our favorite patios to inspire your 2022 backyard makeover.
Backyard design tips
A backyard makeover is not just about changing your landscaping. More than ever, it's about creating a space that you can live in. Features like a built-in bar and outdoor fireplace will encourage you to spend more time outdoors.
How do you create a living space outdoors?
Any backyard can be transformed with what you love about your indoor rooms — lighting, furnishings, and other decor. And what makes a room, from the floor to the ceiling to the walls, is also important to consider.
To get started on your project, all you need to do is look down. Do you have patchy grass or an overgrowth of weeds? You need to prepare the earth for the project, whether it's reseeding or leveling it out with a roller.
You want to make sure that the ground is properly solid and level, especially if you are installing a hot tub. A small concrete pad, surrounded by pea gravel or another natural material can blend in with your existing landscape.
Planting for privacy and outdoor structures, like a pergola, can also make you backyard feel more like a living space.
5 backyard ideas for 2022
Hot Tub with Built-in Bar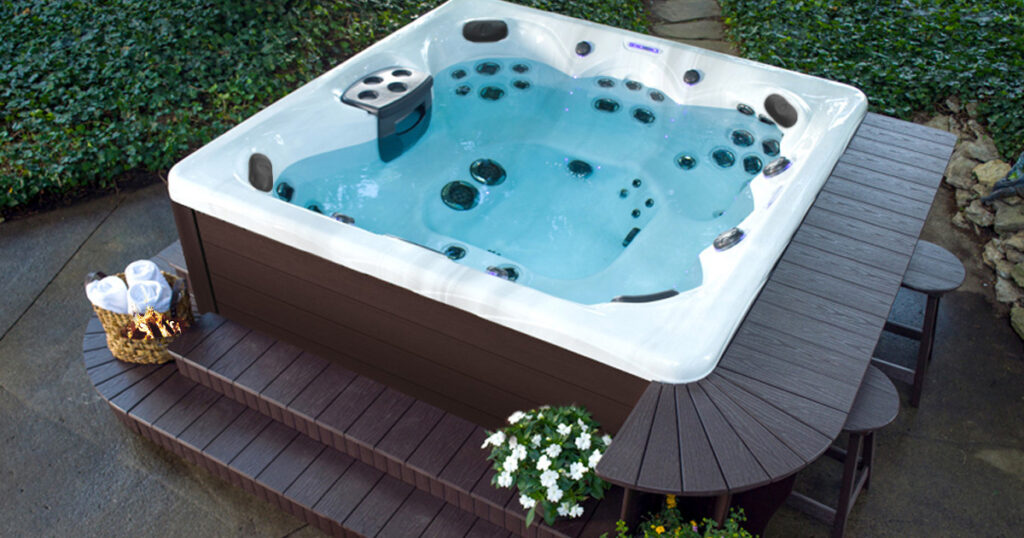 Why we love it: There are myriad reasons to buy a hot tub — relaxation, arthritis relief, sports recovery, improved mood. But sometimes, you just want to have a place to entertain friends and family. This backyard, which has a paver patio, swimming pool, and lush landscaping, is perfect for summer parties. The hot tub has wraparound steps for easy access and a built-in bar. Friends can chat while enjoying a cold drink in the summer or it's the perfect spot to place your coffee for a morning soak.
Paver Patio with Fire Pit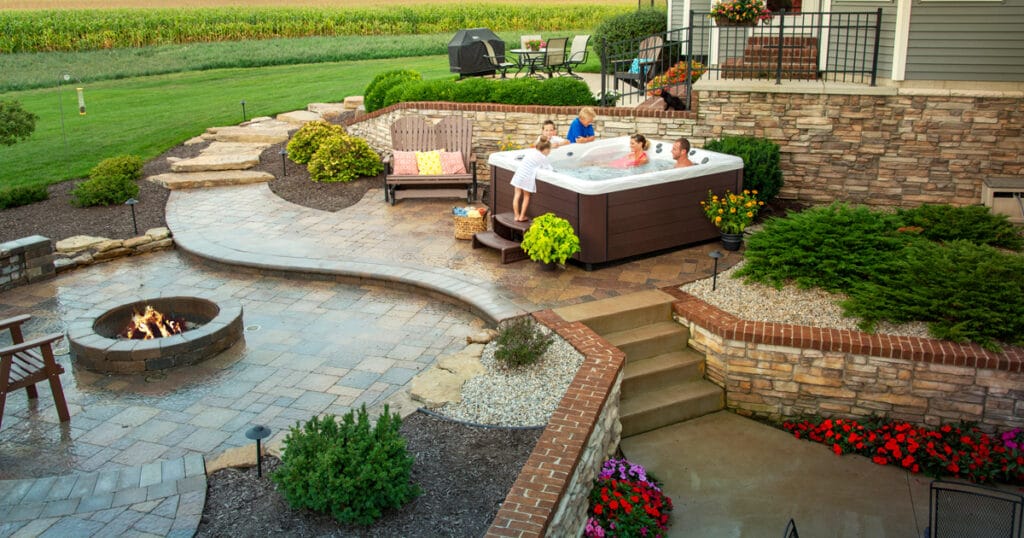 Why we love it: Relaxation is just a few steps away with this hot tub by Master Spas. The back door offers convenient access to the outdoor living space, which features bench seating, a built-in fire pit, and lighting. The multi-level patio with pavers adds architectural interest, while the rock garden and plants add dimension.
Lakehouse with Two-Person Hot Tub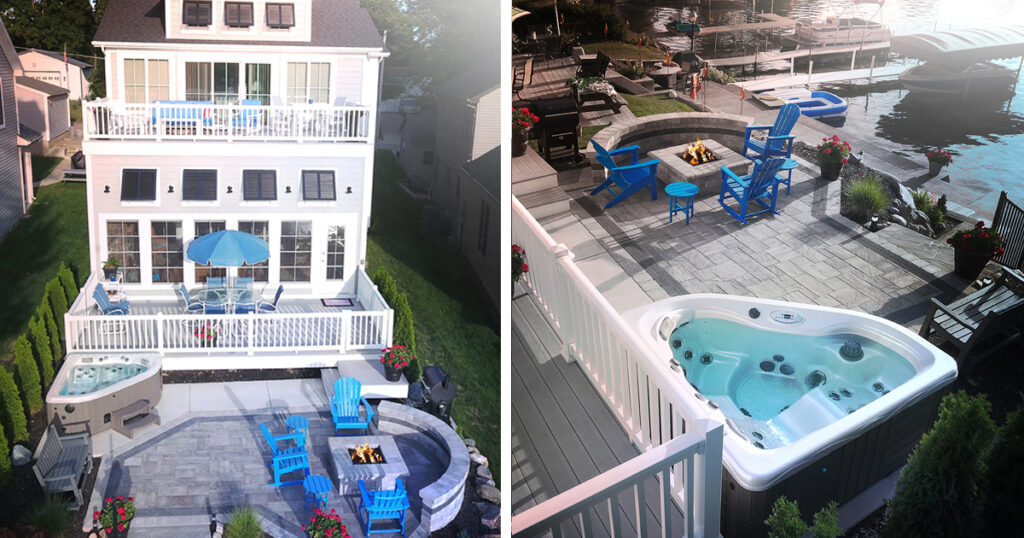 Why we love it: With multiple seating areas, brilliant blue furniture, and vibrant planters, this multi-level outdoor space is spacious yet cozy. A Twilight TS 240, a two-person hot tub, is tucked away next to the deck so that you can escape the busyness of the lake while taking in the views. The seating area around built-in fire pit is the perfect place to rest and talk after getting out of the hot tub. Enjoy a dinner al fresco on the deck or watch the sunset from the upper level.
Stamped Concrete Patio with Hot Tub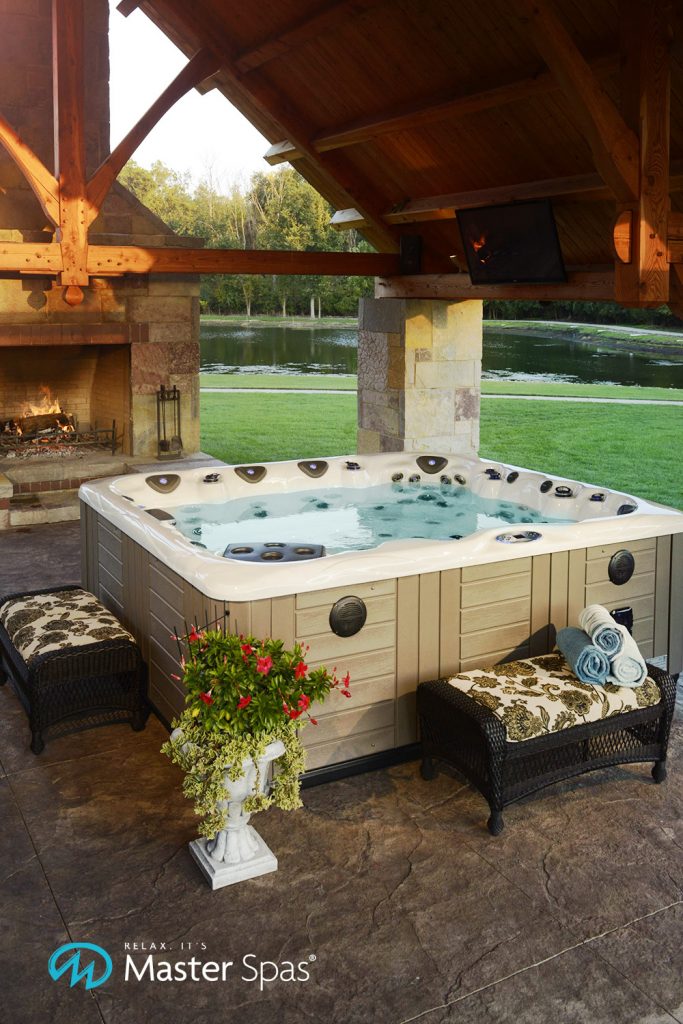 Why we love it: What's not to love about this hot tub installation? Grand in scale, there's an outdoor stone fireplace, covered stamped concrete patio, and complementary stone pillars. A spacious hot tub by Master Spas is protected by the cedar roof. As you relax, take in views of the pond or listen to the crackle of the fire. Planters filled with annual arrangements add color, and black wicker benches offer a cozy spot to rest after soaking in the spa.
Indoor Hot Tub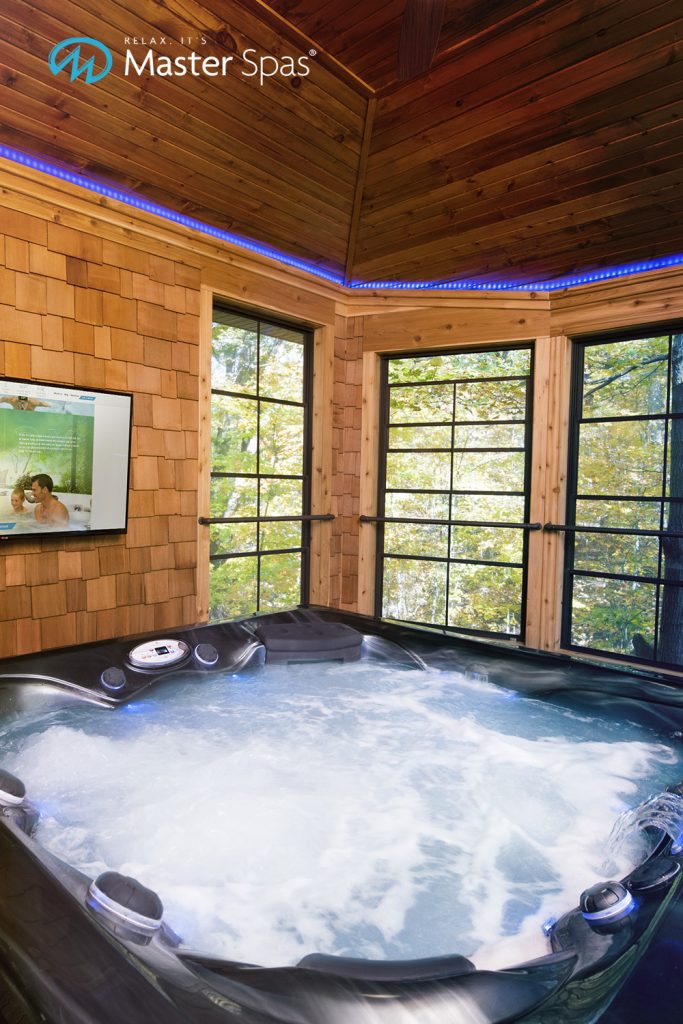 Why we love it: With large windows and cedar shakes, the space brings the outdoors in. Lounge in the luxurious Michael Phelps Legend series spa while taking in the wooded view. Rope lighting adds ambiance, and a high ceiling makes the room feels spacious.­­­ Hot tubs by Master Spas are designed to be used year-round but no one will complain about skipping the run from the backdoor to the spa.
Your backyard but better
Are you ready to upgrade your backyard in 2022? A Master Spas hot tub can help you relax and unwind in the convenience of your backyard. You can click here to discover our secrets to creating a backyard oasis. Or, contact your local Master Spas retailer to learn more about hot tub ownership. Wondering how much a hot tub costs? You can request a quote here.