Tim O'Donnell was a standout swimmer as a high school student. At his Pennsylvania prep school, he set multiple school records and earned all-state honors.
But just years before, O'Donnell was trying to keep up with his siblings as they participated in club swimming.
O'Donnell first began swimming at the age of 5 years old. It was not that he showed promise in the water. Rather, as the youngest of four children, it was easier on the family schedule if everyone was in the same sport.
Like any young child new to the sport, O'Donnell had room to develop. He was not the fastest, and his technique was not picture-perfect. He jokes that his brother was the MVP and he was the coach's award winner.
What O'Donnell did have was a positive attitude and the discipline to work hard — something that he carries with him even now, as a professional triathlete.
In a new video series with Master Spas, O'Donnell shares his best pro tips for incorporating a swim spa into your swim training. Now living in Boulder with his wife Mirinda Carfrae, O'Donnell trains in an H2X Challenger 18D Pro.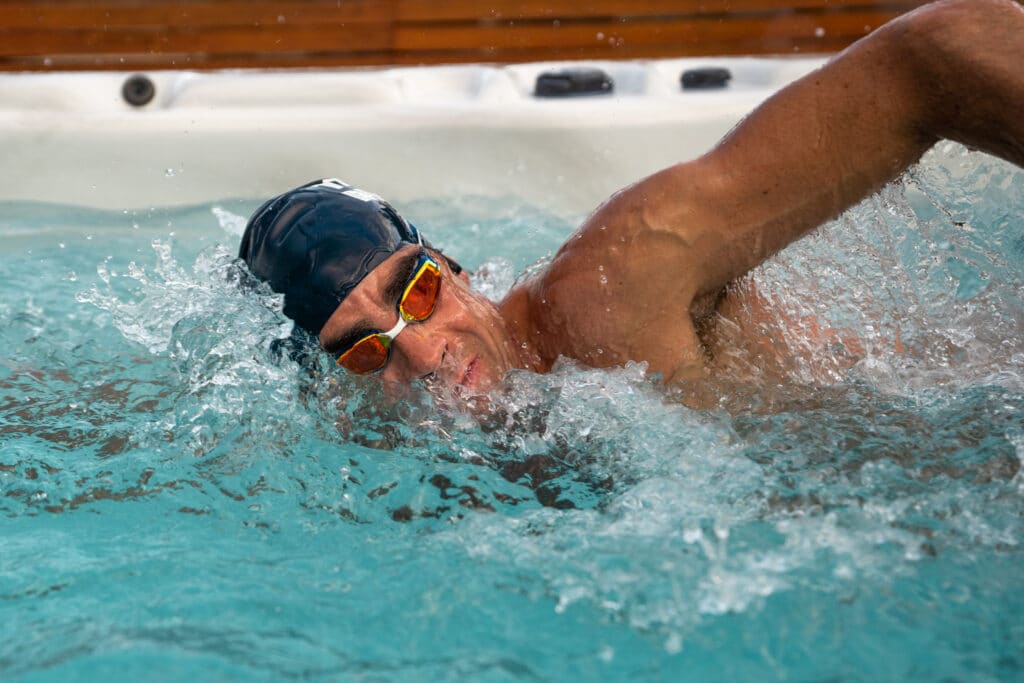 Swimming in a swim-in-place pool
Donning his U.S. Navy swim parka, O'Donnell heads out of the house and to his Master Spas H2X Challenger swim spa. 
The swim spa is designed to be used year-round — even when there's snow on the ground in the foothills of Boulder, Colorado.
For O'Donnell, a Navy veteran and professional triathlete, he can hop in for a workout when it's most convenient for his schedule, regardless of when the local pool is open. The convenience also helps him balance family life. Tin and Rinny share two children, Izzy and Finn.
(By the way, they also love swimming and splashing in the swim spa.)
While the kids might be more curious about floats and fun, for triathletes, swim speed is important. The H2X Challenger 18D Pro has three swim pumps, which produces a swim current that swims as fast as 1:10 per 100-meter pace.
For O'Donnell, who completes an IRONMAN swim in under 48 minutes, it "swims plenty fast."
Among the benefits of training in a swim spa include training for those open-water conditions. The spa offers a continuous swimming experience, which means you swim against a current of water without having to do flip turns. Each time you turn at the wall, you have a short break and those seconds of rest add up, O'Donnell says.
O'Donnell's pro triathlon training tips 
In a new video series with Master Spas, O'Donnell shares his pro tips for swimming and training in a swim spa.
Drills are an essential part of any swim session. Often incorporated into the warm-up, drills help you focus on individual elements of your stroke so you can make improvements to your form. These small changes can help you see big progress.
Aqua jogging for triathlon
Triathletes do more than just swim — they bike and run. Of the three disciplines, running has the most impact.
Whether you are injury prone or rehabbing an injury, deep water running can help you keep up your mileage without added stress on your body.
In a video tip, O'Donnell shares how he uses the swim spa for aqua jogging.
Unlike going to a pool for deep-water running, aqua jogging in a swim spa allows you to have that "push" off the floor. The goal is to have a full running stride, working on your knee drive. O'Donnell suggests wearing an old pair of running shoes and taking advantage of the swim spa's non-slip flooring system.
The water is chest-deep on most people, providing added buoyancy.
O'Donnell regularly incorporates aqua jogging for injury prevention. His go-to workout is to "run" for 30 minutes, gradually increasing the water current speed.
Single-arm swimming drill
Is there one drill that can improve your front crawl swimming? For many coaches, it's single-arm swimming. This drill allows you to isolate one arm and focus on your stroke. From the catch to the pull-through, you can break down each element to improve overall technique. 
In the swim spa, adjust the water current so that it's at a gentle or easy speed. You will swim the front crawl stroke with one arm while the other is next to your hip.
O'Donnell emphasizes that you should fully rotate with each stroke and breathe to the same side as the pinned arm. Don't forget to kick and fully engage your core!
For O'Donnell, many of his swimming workouts in the swim spa are time-based. When he includes the single-arm swimming drill, he does 30 seconds on his left arm, 30 seconds regular swimming, 30 seconds right arm, and 30 seconds regular swimming. He will repeat the drill for up to 10 sets.
Sculling drill to improve feel for water 
From the moment you step into the water, you feel the water. However, good "feel for the water" means something different for swimmers and triathletes.
When you have a good feel for the water, you are aware of how your swim stroke and body position affect your power.
Sculling is one one the most beneficial swim drills because it can improve your feel for the water. You can include this drill as part of your warm-up before the main set.
There are various ways to perform the sculling drill but O'Donnell demonstrates a basic version for the pro tip video series. Arms should be at the top of the water with elbows bent. Perform a sweeping motion with your forearms — almost like windshield wipers — and don't forget to kick.
In the swim spa, you should set the water current to an easy swim pace. Perform the drill for 30 seconds and rest or swim easy for 30 seconds.
O'Donnell recommends wearing a center swim snorkel. When you wear a swim snorkel, you don't have to rotate to breathe. This helps with body position and maintaining focus.
Triathlon training at home
Do you want to be able to balance triathlon training with daily life? Having a Master Spas swim spa allows you to swim on your schedule while adding a fun factor to your backyard. You can click here to find out more about the benefits of hydrotherapy and relaxing in a hot tub. Or, contact your local Master Spas retailer to learn more about swim spa ownership. Wondering how much a swim spa costs? You can request a quote here.