When you think about swimming at home, your might picture a lap pool or an in-ground swimming pool. And, more than likely, the backyard pool is more about recreation than fitness.
For swimmers and triathletes, they might think they need to have a large backyard and a big budget to really swim at home. But with a swim spa by Master Spas, athletes of all levels can take advantage of the continuous water current to get in an at-home swim.
Customers who are comparing swim spa and pool options often ask: Can I actually get in a good workout in a swim spa?
During a recent Facebook Live event, swim spa specialists Ben Gilliam and Mari Cuticelli fielded that question and more about swimming in a swim spa.
Triathletes and IRONMAN coaches, Gilliam and Cuticelli incorporate swimming in a swim spa as part of their training. They swim and exercise in the year-round pool alternative, which has a touchscreen panel that puts you in control of the temperature and pace.
What kind of snorkel should I use?
Look for a snorkel that is recommended for swimmers — not SCUBA divers. These snorkels come higher off the head and allow you to focus on swim technique.
Can you get a good workout in a swim spa?
Absolutely! The H2X Challenger swim spa series features three pumps, which allow you to adjust the pace of the water flow. You can set one pump on low and set the variable speed pumps between zero to 25. Or, if you need more of a challenge, consider turning the pumps on high.
Beyond speed, a swim spa provides a continuous swimming experience. There's no break, regardless of how brief, when you reach the end of the lane and need to turn. You will also have to recruit stabilizer muscles to focus on form and maintain good position.
How to stay balanced and centered in the water current?
Swimmers who struggle to stay centered in a the water current might need to adjust the speed or engage their core. However, the wide current of Master Spas' swim spas is more forgiving and allows you to stay in the center of the water flow.
What type of ground foundation is needed for a swim spa?
A swim spa requires a stable surface — whether it's a concrete slab or reinforced deck. There's also the option to have a recessed installation but that still requires a concrete vault. For concrete installations, you should go with a 4-inch-thick reinforced concrete base that can support 120 pounds per square foot.
For more information about installing a swim spa, download our Backyard Planning Guide.
Is a swim spa cover available?
Master Spas makes a traditional bi-fold cover, as well as a rolling cover, for its swim spas. Made with marine-grade vinyl and insulation, the covers are designed to snugly fit over the units. Master Spas only manufactures covers that are built to the strict ASTM-F1346 standard for lockable safety covers. Learn more about swim spa covers HERE.
When it comes to water care, can I use a saltwater system? Do I have to use chlorine?
Saltwater spas are advertised as being a better alternative to traditional filtration systems. However, using saltwater in a hot tub or swim spa can have negative consequences, such as damaged components and buildup on the acrylic. Master Spas swim spas use a mineral filtration system and trying to use a salt system will void the warranty.
Chlorine is the sanitizer preferred by Master Spas. If an allergy exists, bromine can be used.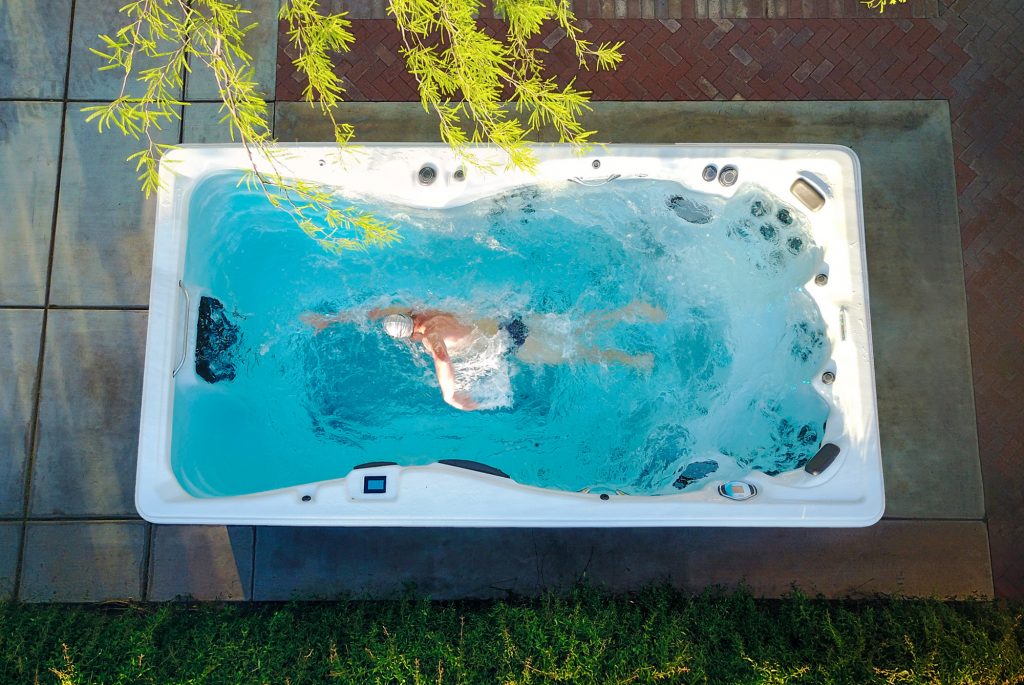 Does the swim spa run year-round?
Yes. Master Spas has designed its swim spas to with energy-efficient materials, such as full-foam insulation, so that they can be used year-round — no matter the climate. Master Spas has owners all of the world, including Canada, the United States, Germany, and the U.K. — all of which experience cold weather.
How hot does a swim spa get?
The water temperature can be set up to 99 degrees. The ideal water temperature for swimming in the mid-80s but aquatic therapy should be up to 92 degrees. If you want to lounge in the therapy seats and relax, take advantage and set it at 99.
Master Spas does manufacture dual temperature units, which has a barrier between the swim area and the hot tub. The hot tub side of the units can be heated to 104 degrees.
Is it possible to change the pace of the water current easily?
The AquaSpeed VSP system of the H2X Challenger allows you to pre-program a workout or use an existing workout. With these workouts, the system will automatically change the speed of the current. Some swimmers, though, prefer to just hop out of the current as needed and then swim back in.
Can someone sit in the hot tub seats while someone swims?
Yes! You might get splashed but it's easy to relax while your family and friends work.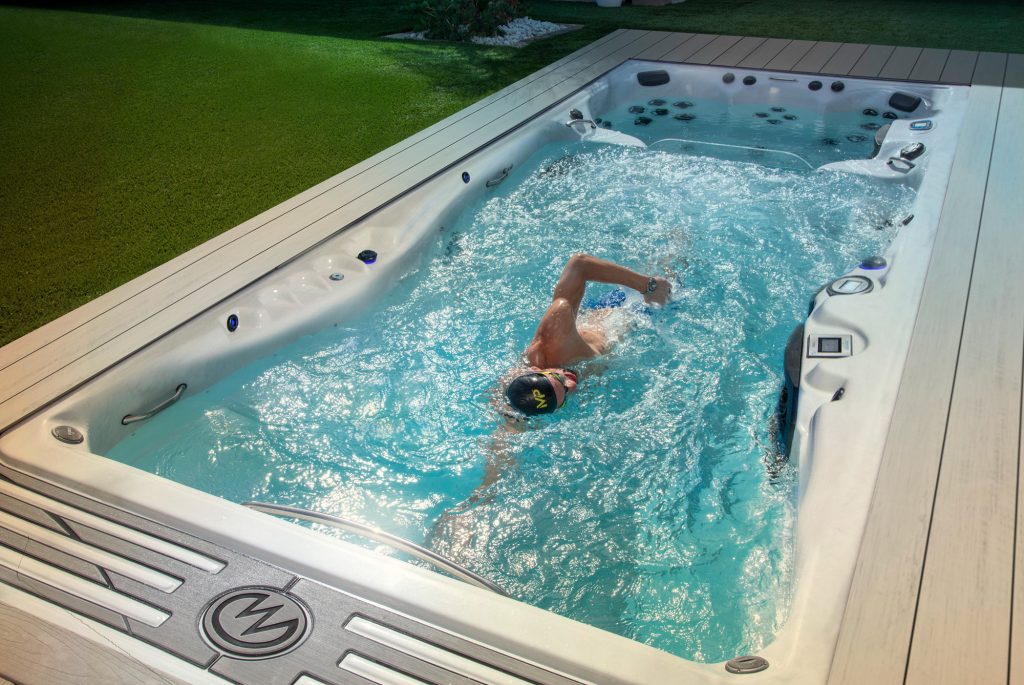 How do you measure distance in the swim spa?
You can use a GPS multisport watch that counts strokes and estimates distance from that metric. You can also count strokes, especially if you know your stroke rate per 50 meters.
How do you do kick drills in a swim spa?
Kick drills, which are often a part of a workout for swimmers and triathletes, are a great way to strengthen the lower body.
Wear the swim snorkel, get in a streamline position, and kick your legs. Gilliam suggests setting the pumps on low. You can also use a kickboard or pull buoy to maintain your body position.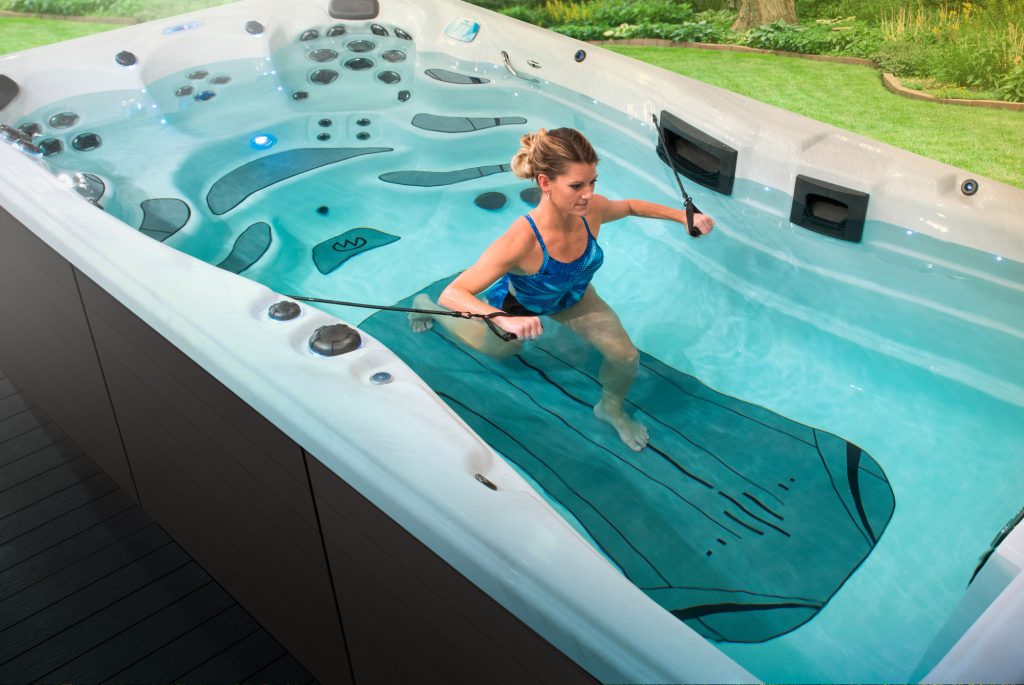 What are the advantages of the SoftTread Non-Slip Flooring?
The SoftTread makes it possible to walk, jog, and exercise in the water without the use of water shoes. In addition to preventing slips and falls, it makes easier to get in and out of the swim spa while providing a bit of cushion.
For more information about Master Spas swim spas and to request a quote, go to the dealer locator.