Called the jewel of Patagonia, Aysen is an isolated region in Chile. The area is stunningly diverse, with the landscape featuring glaciers, rivers, rainforests, and mountains. It is one of the most sparsely populated areas of the country and yet it is home to one of the most extreme events in triathlon.
Patagonman®.
Patagonman is a multisport event that will take place on December 4, 2022. Competitors will swim 3.8 kilometers in a fjord before taking on a hilly and winding 180-kilometer bike course and running 42.2 kilometers on trails.
"I first heard of this race many years ago," professional triathlete Ben Hoffman says. "I have always dreamed of racing in the iconic Patagonia landscape in some of the most extreme conditions that are offered for a race."
The Master Spas brand ambassador will be on the boat for the start of the 2022 race and is looking forward to the "true test of endurance."
Hoffman is an eight-time IRONMAN champion who lives and trains in Tucson, Arizona. In addition to running the desert trails and biking the Arizona mountains, Hoffman complements his training with sessions in an H2X Challenger 18D Pro. This Master Spas swim spa affords him the space and opportunity to train at home — even for a race like the one in Chile.
The H2X Challenger Pro has a jet system that creates a continuous current of water for stationary swimming. Hoffman can adjust the flow of water to swim for recovery or at a harder effort, swimming as fast as 1:10 per 100 meters in the spa. But the swim spa also provides the therapy of a hot tub with built-in seating and massage jets.
Hoffman recently took time to share how he is preparing and training for the Patagonman Xtri.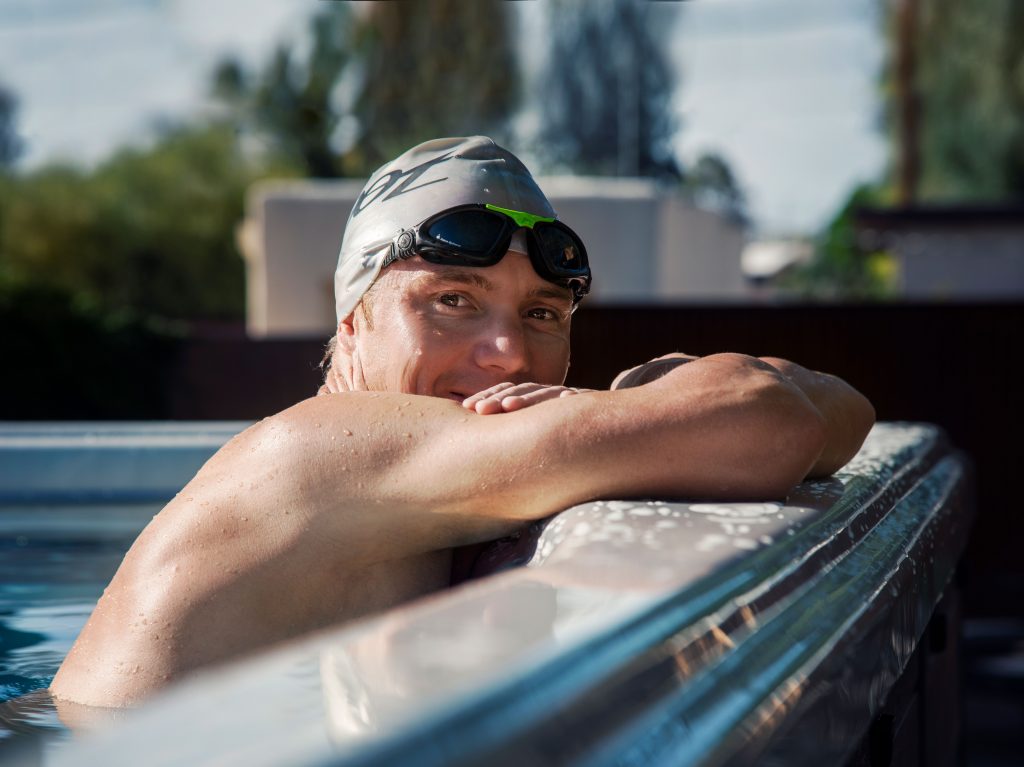 8 questions with Ben Hoffman about Patagonman Xtri
For Ben Hoffman, the Patagonman race has been on his list for years. However, the timing just didn't work out.
But now that the time has come, he's excited to race and share the experience with his family. An added bonus: A little time exploring Chile with everyone after the race.
What makes the race "extreme"?
There are many factors that make this race extreme, starting with a very cold open water. The water temperature will be in the range of 48 degrees to 52 degrees, and the first part of the swim takes place in the dark before dawn. Secondly, the bike is a challenging point-to-point affair with plenty of climbing at the base of the Andes range. There are some rough "gravel" sections too. Finally, the run is largely offroad with some hard sections that require total attention and effort. Just covering the Iron distance is hard, but doing it in these conditions and on this course will make it truly extreme!
How does your race prep differ from an IRONMAN® race or more traditional triathlon?
I have been doing a lot more off-road training for the run. I even took a recent trip to California to spend an extended period in the ocean at 52 degrees to help dial in my equipment choices and get used to the shock of those cold temperatures. Finally, I made some adjustments to my bike fit to be more upright for the climbing and rough roads, and I have been playing with different gear that I will need for race day in my training.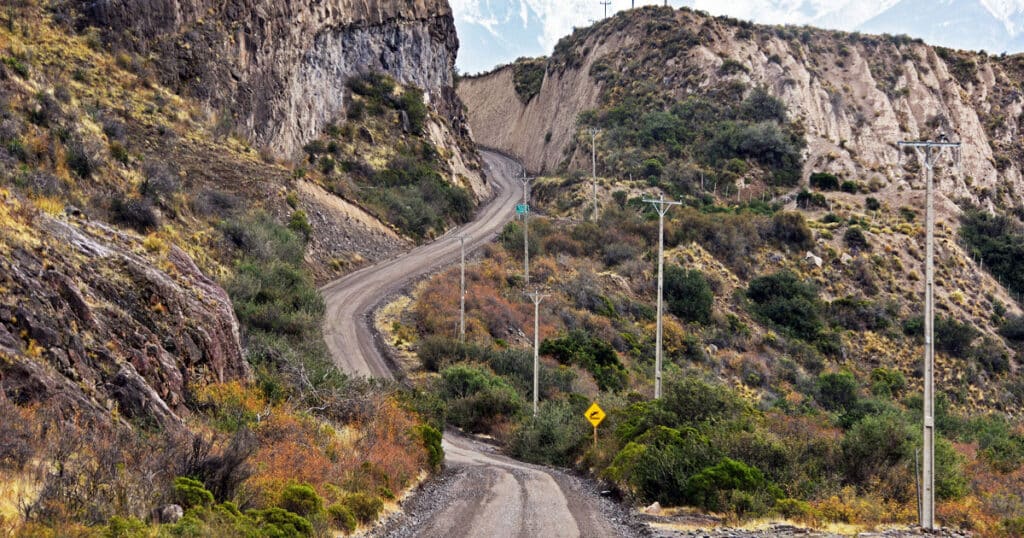 Speaking of the swim, what are some of the specific challenges?
The main one is remaining calm when the capillary shock hits from your face being submerged in the cold water. It instantly impacts breathing and sends the body into fight or flight mode. It's also much more challenging to be powerful and smooth when the muscles are cold and less limber. So doing a proper warmup, wearing extra gear, and starting hard are all important. Being able to sight in the extremely low light conditions will also be important for staying on course and not adding any distance to the already challenging swim.
How do you prepare for those challenges?
Besides swimming in the ocean in California to mimic the conditions, I also do several longer swims in the spa where we have turned off the heater and allowed it to cool down as much as the current climate will allow, around 66 degrees. This isn't as cold as the swim will be, but it's great practice, especially when I do it without a wetsuit. Additionally, I have been doing some earlier morning rides after getting the training kit wet in the spa to prepare myself for how chilly the first couple hours on the bike will be. Practicing these situations, including my transitions with toweling off and putting on more clothing, will help me be ready for the day.
The swim is point to point, fjord to lake. What makes that special?
Being in the interface between glacial meltwater and ocean water is special, as well as jumping from a boat to start. The conditions will be variable, both in temperature and light, so I am looking forward to the moment I stand up on dry land! The scenery is truly unrivaled, so hopefully I have a minute to glance around and enjoy it, too.
What advice would you give to a triathlete thinking about Patagonman or another extreme triathlon?
I would say to do your homework and talk to others who have done the event and ones like it. There are many logistical factors to consider that are different from a normal Ironman event, and being prepared for all eventualities is key. Also, find a very good team to help support you in the lead-up to race day and during the event. Finally, practice putting yourself in the conditions you will face so nothing is too overwhelming or new on the day.
How do you prepare mentally for a race like the Patagonman?
I like to envision all the different scenarios that could arise, both good and bad, and then make plans for each one. My physical training is also a big piece of the mental side, because it gives me confidence that I am ready when I do the proper sessions. At the end of the day, it's about controlling what you can, and not spending energy on the things you cannot. That's how I prepare myself mentally for the long and demanding day ahead.
How do you plan to recover and relax after this year?
This will definitely be the last race of 2022 for me! I normally don't go this late into the year, but this was an opportunity I could not pass up again. Afterwards, we will enjoy some vacation in Chile. Then it's back home to Tucson…. where we will crank the spa to max temp and get nice and warm!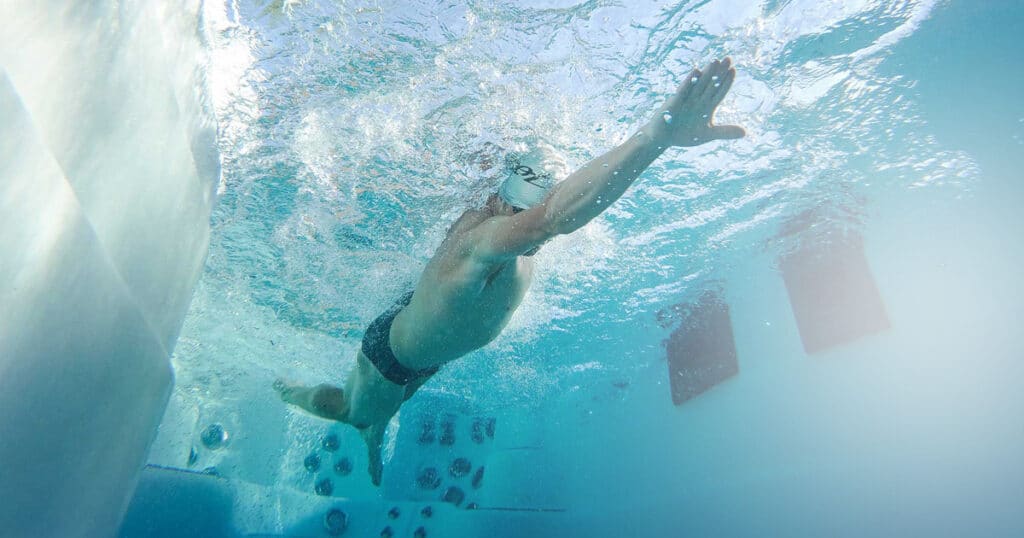 How to buy a swim spa
Do you want to be able to swim, exercise, and relax at home? Having a Master Spas swim spa allows you to swim on your schedule while adding a fun factor to your backyard. You can click here to find out more about the benefits of hydrotherapy and relaxing in a hot tub. Or, contact your local Master Spas retailer to learn more about swim spa ownership. Wondering how much a swim spa costs? You can request a quote here.