You want the place you live not to be just a house. You want it to be a home – a forever home. For you,this place is one that fits your needs now but will grow with you in the future.
Forever homes often have larger kitchens, more bedrooms, and space for outdoor living. But the concept can also include the flexibility to add on or upgrade spaces to fit your needs and wants. Ån extension to your home not only increases the space but is a great investment in the property and your family.
And that's just what an Indiana couple did. A custom addition designed around a Master Spas dual-zone swim spa helped them create a space they could enjoy year-round. The H2X Challenger 19D is not only ideal for stationary swimming and fitness but relaxation and recreation.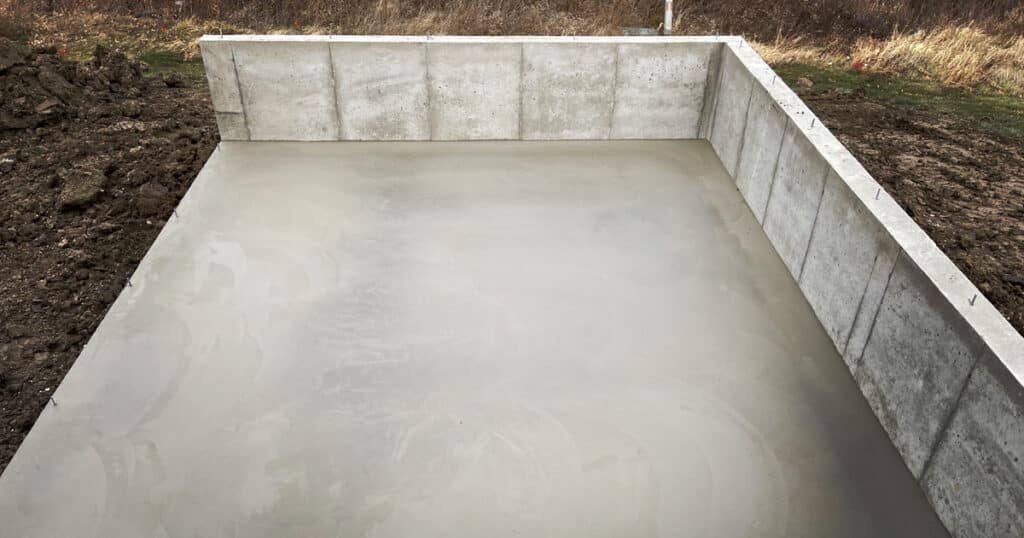 Before the addition of an indoor swim spa room
The couple worked with Miracle Contracting to construct a custom indoor swim spa room that is just as striking as it is functional. A new type of project for the northeast Indiana company, the Miracle team integrated ventilation, luxury vinyl flooring, and unique features.
But the start of any good project is doing the groundwork, especially for a custom indoor swim spa room. For production manager Toby Harrison that meant creating a solid foundation for the dual-temperature swim spa, which weighs more than 23,000 pounds when filled with water.
A 6-inch reinforced concrete slab was a must, he says. But Harrison wanted to further support the homeowner's investment. The Miracle team poured an additional footer, measuring 24 inches wide and 12 inches deep, where the center of the spa would be.
The following steps in the process included partially framing the floor, delivery and installation of the swim spa, finishing the flooring structure, and completing the space.
When it came to the overall design of the space, Harrison and his team wanted to make the space as problem-proof as possible. The result was a well thought out project that includes everything the homeowners need to use the space now — and in the years to come.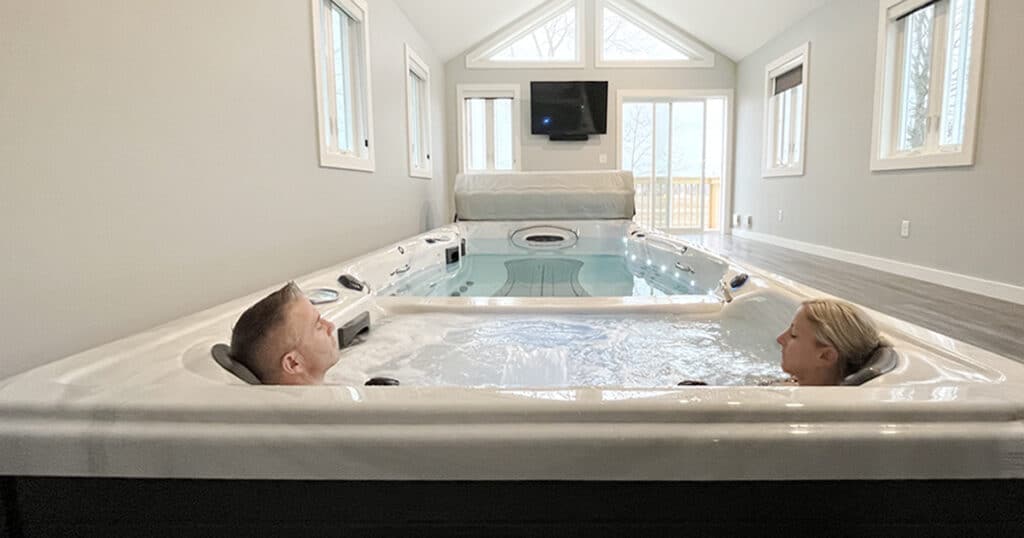 Features of an indoor swim spa room
Master Spas swim spas are designed to be used year-round, in any climate. But for an Indiana couple, an indoor swim spa would make access to the water that much more convenient.
But there are additional considerations to keep in mind when you choose to install an indoor swim spa.
Humidity and ventilation
The H2X Challenger 19D holds more than 2,000 gallons of water. "That's a lot of water," Harrison says.
The water, combined with a warmer temperature, will increase the humidity in the room. And for Harrison, "humidity was a concern from the very beginning." It was imperative to factor in the moisture and humidity control into the design.
But how much humidity will there be when you install a swim spa indoors?
It's not as easy to plan for as one might think, Harrison learned. There are myriad factors that can affect the humidity in a room when you have an indoor swim spa. The size of the room, the temperature of the water, number of people using the spa, and how much water is displaced are all considerations.
Natural ventilation, like windows or French doors, can help control the humidity. However, in the winter when temperatures are far below freezing, the homeowners might not want to open a window.
The custom swim spa room has three exhaust fans for ventilation. Exhaust fans are rated by CFM, and fans in residential structures must be below 400 CFM before being tied into the HVAC system. Harrison chose the fans because each was rated at 130 CFM, which is a total of 390. It gave the homeowners the max humidity control without the added cost of integrating the ventilation into the home's HVAC.
But when you take out humidity, you have to add dry air in. So Harrison was mindful to have intake tubes to bring in air.
More than just the exhaust, the material choices were important to Harrison.
Blue board drywall, often used in bathrooms, is ideal for any space where there's a lot of water. The material is water resistant and prevents mold growth. A moisture-resistant paint from Sherwin Williams was used to coat the walls.
Access to equipment
An indoor swim spa, especially with a custom deck that makes it look built-in, can be a stunning extension of your living space.
But it's important to make sure that there's access to the equipment panel.
The homeowners' daylight basement had a window that had a view of the backyard. Harrison and the team at Miracle Contracting converted the window into an access door that leads to a crawl space.
Master Spas recommends that homeowners allow for 3 feet of clearance on all sides of the swim spa.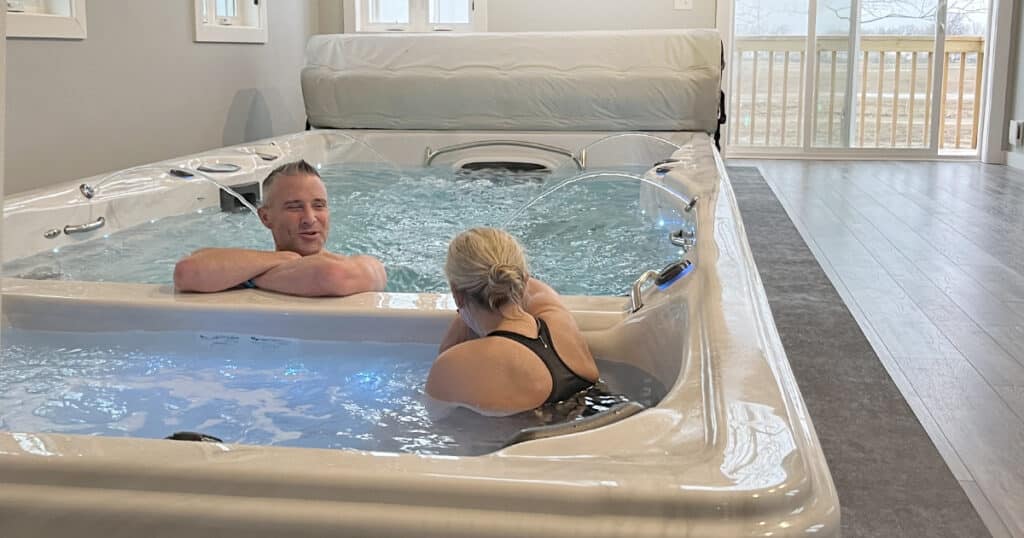 Source water and drainage
Master Spas swim spas are self-contained. What does that mean? All of the components, including the plumbing, are inside the cabinet. But you will still need to be able to fill and drain your swim spa.
Some people might choose to run a hose in from an outdoor spigot or hook it up to an indoor sink.
Neither option is convenient, especially when you want to enjoy the benefits of an indoor swim spa or there is snow falling.
Harrison included a hot and cold water hookup into the space. The easy access to water was more than worth it to easily fill the spa. But the future-proof design feature also gave the homeowners flexibility to install a bar or kitchenette in the space, he says.
Indoor swim spas require drainage for any water that splashes out of the water. But Harrison and the homeowners were not so concerned with any splashing that could occur. The luxury vinyl plank that they selected is extremely durable and water resistant. Any spillover could be easily mopped up after a swim or soak.
In the rare event of a failure or leak, Harrison did want to avoid water backing up into the basement or home.
There is a drain in the slab that has a drain tile that isn't tied into anything else, Harrison says. The water simply goes out to the back of the property.
Livable space
An indoor swim spa room can make it easier to incorporate swimming and water exercise into your weekly routine. But it's also a space where you can relax and spend time with family and friends.
It was important to Harrison to make sure that there was enough room. It was not just about fitting the swim spa but considering how the homeowners would use the space. Working with the homeowners, they expanded the original design.
"We ended up stretching it out longer to accommodate the cover and size of the spa," Harrison says
The new plan gave them plenty of room to add furniture, gather, and simply move around. The space also features a mounted television and patio furniture. You can dry off in a wicker chair or enjoy the big game from one of the hot tub seats.
"This project was a challenge and not something I've never done before," Harrison says. "But it was fun."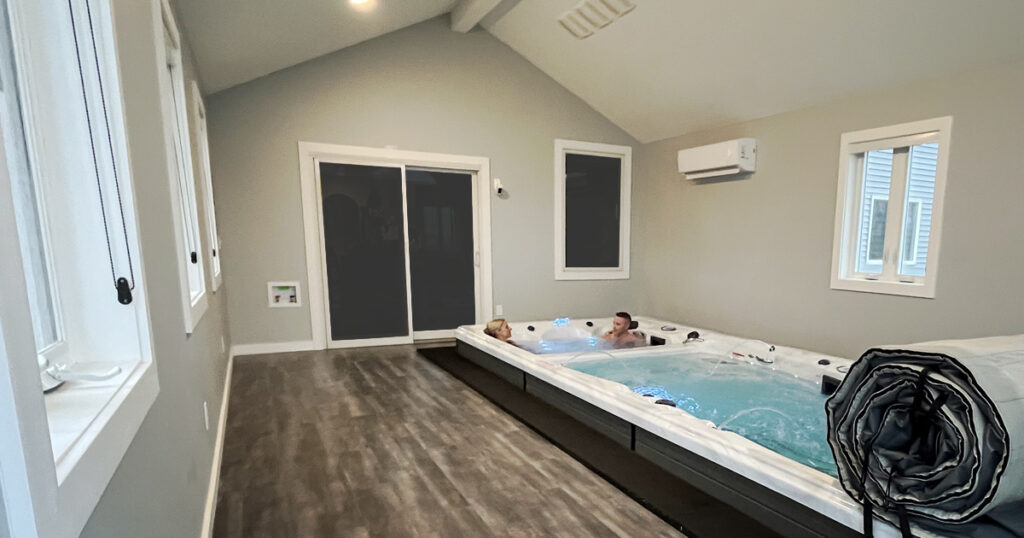 Choosing a dual-zone swim spa
Are you ready to turn your backyard into an oasis with a hot tub-pool combo? Having a dual temperature swim spa at home makes it convenient and fun to incorporate swimming, exercise, and relaxation into daily routine. You can click here to find out more about the benefits of water fitness and hydrotherapy. Or, contact your local Master Spas retailer to learn more about swim spa ownership. Wondering how much a Master Spas swim spa costs? You can request a quote here.