E hele kāua! Or, in English, let's party!
After three years, triathletes are headed back to the Big Island of Hawaii for the World Championships.
The Master Spas team will be making a splash, too, in Kona as it supports professional triathletes and ambassadors Ben Hoffman and Tim O'Donnell.
The professional men's race will be Oct. 8, 2022, in Kailua-Kona. It's the first time the World Championships will be back in Kona since 2019. Professional women and some age-group athletes will race on Oct. 6.
The finish on Ali'i Drive is often the final finish line of the year for many triathletes, whether they are professional or competitive age-groupers. It's an honor to be able to line up on the beach for the race, which includes a 2.4-mile swim, 112-mile bike ride, and 26.2-mile run.
The race is as exciting as it is grueling, and Master Spas is excited to be a part of the action.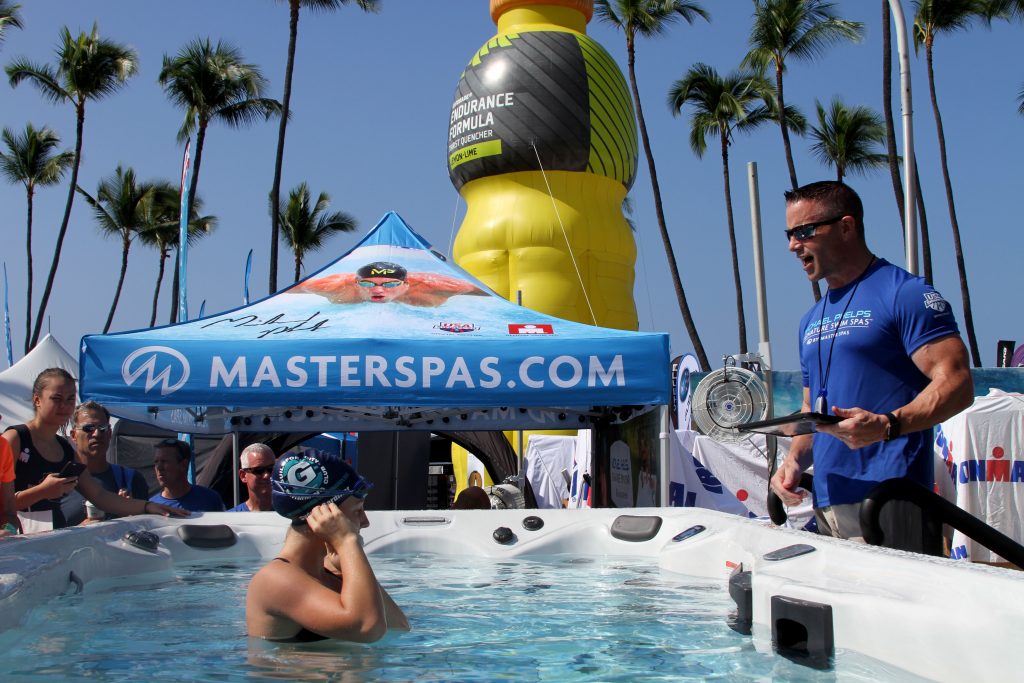 Feel the energy
For a week in October, Kailua-Kona, Hawaii, becomes an epicenter of triathlon. Athletes descend on the island, all with the goal of having their best day on the race course.
Master Spas will be at Kona Sports Center, which is conveniently located on the Queen K just outside of the town center. Athletes are invited to visit the Master Spas aid station after a bike ride on the Queen K or run in the Energy Lab. There, they can relax and recharge, as well as  swim in the H2X Challenger 15D swim spa by Master Spas.
The H2X Challenger swim spa was designed with the triathlete in mind. The innovative jet system creates a current of water that mimics open-water conditions, helping athletes improve their confidence and endurance in the swim.
Eight-time IRONMAN Champion Ben Hoffman has been incorporating a Challenger 18D Pro into his training for Kona, and athletes can see what it's like to go meter for meter in a pool alternative.
Hoffman, along with Tim O'Donnell and Mirinda Carfrae, will be participating in events at Kona Sports Center during race week. Learn more about how they are training, the importance of recovery, and more during this unique opportunity.
The Master Spas booth at Kona Sports Center will be manned Monday, October 3, through Friday, October 7. The booth will be closed on Thursday, October 6, when the professional women and some age-group athletes are racing.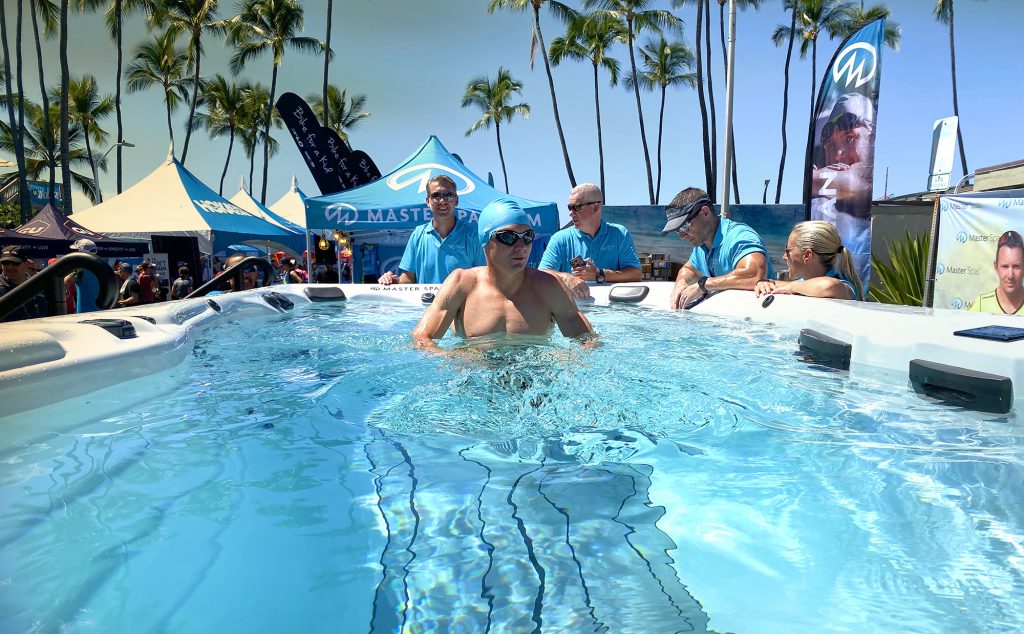 Test your limits
Master Spas manufactures two unique brands of swim spas, providing athletes of all levels a backyard pool alternative so they can train year round. Swim, aqua jog, exercise, and more so that you can balance your training with the demands of life.
More than that, it can help you prepare for triathlon events like the World Championships.
"Swimming in a swim spa is much more similar to swimming in the open water, which is what we're essentially training for as triathletes," Carfrae says. "Swimming in a pool is fantastic because you can get in a really good workout and you know how fast you are going. But having the opportunity to swim continuously is way more similar to what we would be doing in a race."
For Hoffman, the swim spa is a chance to get in an extra swim workout, recovery session and utilize an underwater camera to get feedback from his coach.
"Coming from a non-swimming background, swimming is something that I have to focus a lot of energy on. I always have to find those little tweaks, improvements in order to maintain that front-pack swim, which is so critical for my performance in the sport," Hoffman says. "The swim spa offers me a way to hone in on my technique."
But a swim spa is for more than swimming and training. Along with the best of a pool, swim spas offer the therapy of a hot tub. Among the features of the H2X Challenger series are hydrotherapy jets and the unique stand-up Xtreme Therapy Cove. The jets deliver a therapeutic massage to sore muscles, whether you have had a tough workout or stressful day.
Follow us in Kona
While the Master Spas team is in Kona, they will be sharing their experiences on Facebook and Instagram. Get a first-person account of what it's like to experience Kona in 2022, meet athletes, and hear what people have to say after swimming in the Challenger.
How to buy a swim spa
Do you want to be able to swim, exercise, and relax at home? Having a Master Spas swim spa allows you to swim on your schedule while adding a fun factor to your backyard. You can click here to find out more about the benefits of hydrotherapy and relaxing in a hot tub. Or, contact your local Master Spas retailer to learn more about swim spa ownership. Wondering how much a swim spa costs? You can request a quote here.